Get to know the Internet's favorite new First Order soldier.
"Traitor!" So bellowed a baton-wielding First Order stormtrooper, and the rest is Internet meme history.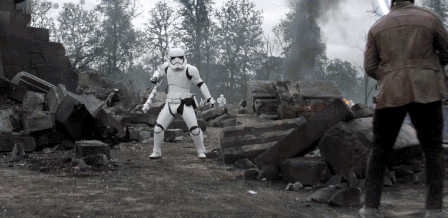 First glimpsed in a teaser for Star Wars: The Force Awakens, this mystery trooper -- who confronts a lightsaber-brandishing Finn -- has inspired countless memes, fan art, and Twitter jokes. (The above GIF, by the way, is available in the Star Wars app, should you need to send to a traitorous friend.) He's been lovingly dubbed TR-8R (because, well, why not?), but there's more to this bucket head than fleeting viral popularity. So unlearn what you have learned about TR-8R, because StarWars.com has exclusive intel on Star Wars' biggest Web star since Darth Jar Jar.
His name is FN-2199. But his friends call him "Nines." As detailed in Greg Rucka's excellent book Before the Awakening, Nines trained and served on a squad with Finn (then FN-2187) in the First Order. That explains why he seems just a little extra angry upon seeing Finn during the attack on Maz's Castle. You can see FN-2199 in the image below by Phil Noto from Before the Awakening -- he's the trooper seated in the background with red hair. Who'd have thought?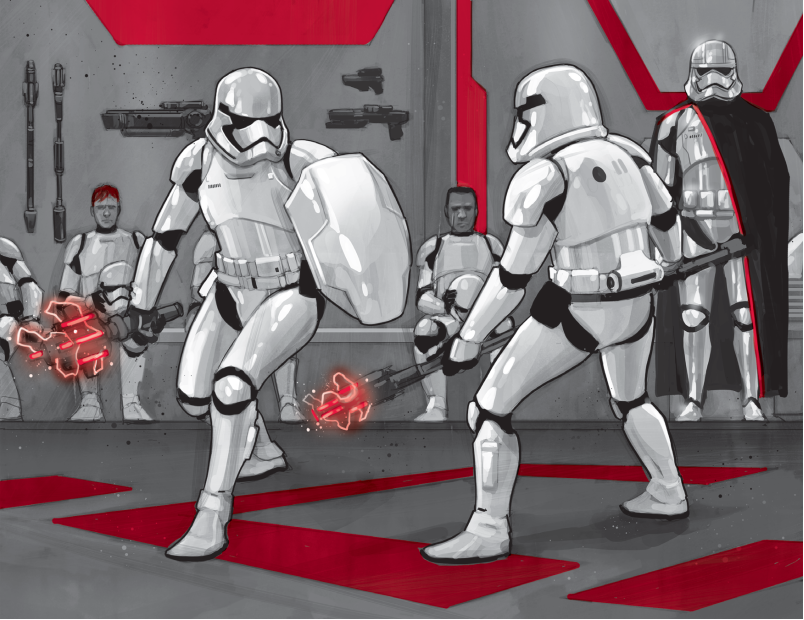 There's a reason that Nines gets to use an awesome weapon (which is called a Z6 baton). He's riot control, and part of an elite squad that enforces order or squashes uprisings. While their weapons are non-lethal in theory, the Z6 can definitely cause harm or kill an opponent when used with brute force. Look, if a lightsaber can't cut it, you know it ain't good news.
You've heard his work before. Kind of! FN-2199's voice (including, of course, "Traitor!") was provided by David Acord, a Skywalker Sound sound editor. Acord's production credits include Attack of the Clones, Revenge of the Sith, Star Wars: The Clone Wars, Star Wars Rebels, and Star Wars: The Force Awakens. Pretty good training for a stormtrooper. (Inside the armor is Liang Yang, a veteran stunt performer. Without his baton spinning, you wouldn't be reading this.)
So there you have it -- the stormtrooper behind the meme. Let's hope we haven't seen the last of Nines. Or TR-8R. Who wouldn't want to see round two...and all the memes it could inspire?
StarWars.com. All Star Wars, all the time.