The comic's writers share insights into penning lessons from the galaxy's favorite holiday.
This November, you don't have to travel to Kashyyyk to celebrate the lessons of Life Day.
StarWars.com is thrilled to announce a new Marvel comic book one-shot, Star Wars: Life Day #1, featuring four unique stories by Cavan Scott, Justina Ireland, Jody Houser, and Steve Orlando. Today, we also have a first look at the cover art by Phil Noto below!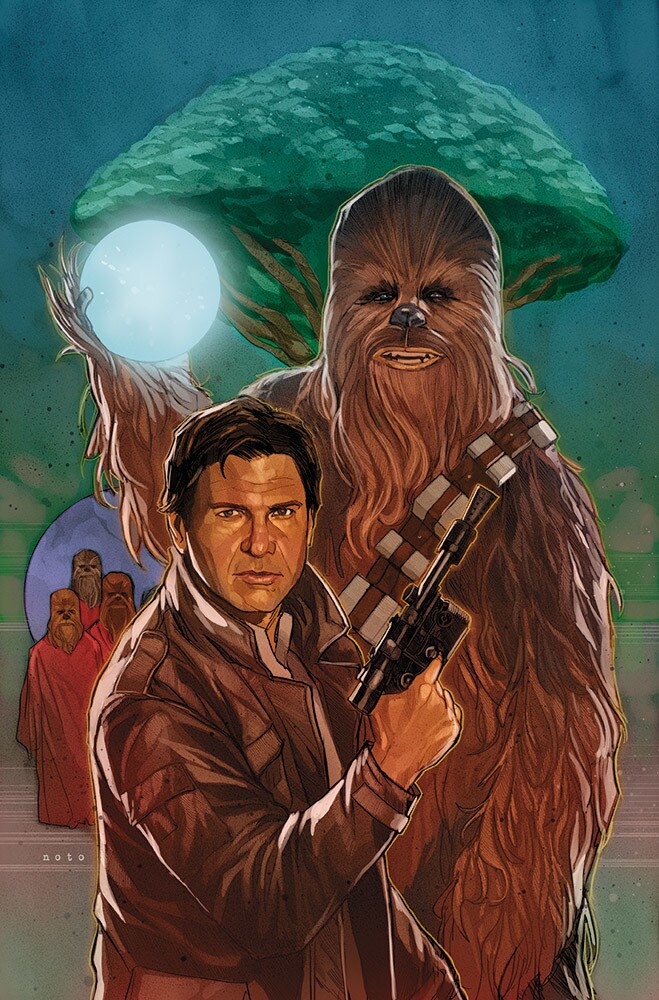 STAR WARS: LIFE DAY #1
CAVAN SCOTT, JUSTINA IRELAND, JODY HOUSER AND STEVE ORLANDO (W)
IVAN FIORELLI and more (A) • Cover by PHIL NOTO
VARIANT COVER BY CHRIS SPROUSE • VARIANT COVER BY JAN DUURSEMA
THE GALAXY'S FAVORITE HOLIDAY!
Happy LIFE DAY! Celebrate the galaxy's favorite holiday with a collection of festive tales from all across the STAR WARS SAGA! Life Day is the last thing on HAN SOLO'S mind when he and CHEWBACCA find themselves outgunned and under fire. But Chewie won't give up hope, remembering the lessons of Life Days past and present. As for Life Days yet to come... well, they'll have to survive the night first!
"Being part of this Life Day Special is a surreal, exciting moment in time, for this writer who, as a kid, would routinely watch Return of the Jedi every Sunday after skiing, and pour over the nooks and crannies of Star Wars lore," Orlando tells StarWars.com. "And nothing was more mysterious to me than the often alluded to, never rebroadcast, Holiday Special. To be able to celebrate concepts introduced there, not to mention to be handed the keys to the Millennium Falcon, is the perfect Life Day gift in of itself."

Houser says she's excited to return to writing for a galaxy far, far away. "And even better, in the spirit of Life Day, I get to do it with friends," she adds.
Writers also include Scott and Ireland, who are currently adding to the lore of
Star Wars: The High Republic
.
"With the galaxy's greatest holiday approaching, it's been great to add a little festive cheer to Han Solo and Chewbacca's life," Scott muses. Each writer has penned a very different Life Day tale, Scott promises, "from the days of the High Republic to the struggle against the Empire and beyond. There are carols and parties and decorations and… blaster fights and sarlacc pits? Well nothing says peace and harmony for all beings than a slavering, tentacled monster, does it?"
And Ireland's tale has a direct link to another fan-favorite Wookiee character first introduced in
Light of the Jedi
. "I'm really excited to have a chance to tell a Life Day story about the furriest Padawan around, Burryaga!" she says. "After all, you can't spell 'Life Day' without 'Areeeeeoooo!'"
Take a closer look at other Marvel comics headed to store shelves this November.