Today's double-barreled announcement - that The Walt Disney Co. is buying Lucasfilm Ltd. and that more Star Wars movies are going to be made starting almost immediately - has me pinching myself - but this is no dream. For me, and for countless millions of fellow Star Wars fans worldwide, this thunderclap couldn't possibly be any better. Let me explain.
Many friends and I have wondered for years: What's the future of Star Wars? More to the point, is there a future for Star Wars? We remember the dark years after 1986 when some had declared Star Wars dead. But I remember interviewing Lucas Licensing president Howard Roffman while working on my first Star Wars book. "We're just taking breather, Steve," he told me. "When the public is ready for more Star Wars then Star Wars will be ready for them."
It was 1991, and the first new Star Wars novel in eight years, Tim Zahn's Heir to the Empire, unexpectedly shot to #1 on the New York Times Bestseller list. A few years later merchandise reappeared, then the hugely successful Special Editions, and finally the prequels. It was another great run; then in 2008 we had the start of the excellent Star Wars: The Clone Wars animated series. But my friends and I were still concerned.
From my perspective, having worked as a reporter and editor at the Wall Street Journal for 26 years - some of that time covering Hollywood - I was familiar with the life cycles of great companies that couldn't survive the loss of the creative genius who founded them. In fact, The Walt Disney Co. was nearly a prime example. With Walt's death in 1966, the company seemed to lose its way. In 1984, it fought off a corporate raider who wanted to split up the company. Since then it has gone through two distinct periods of revitalization, first under Michael Eisner and, since 2005, under Bob Iger - earning Disney the mantle of one of America's most beloved companies.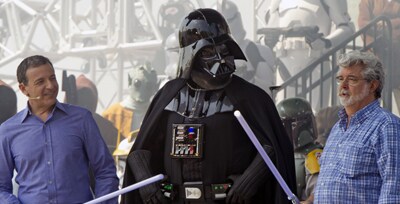 George Lucas has had a long relationship with Disney. When he was 11 years old he took his first ever plane trip to be in line the day Disneyland opened to the public. He has worked closely with Disney Imagineering and ILM to develop the Star Tours and Indiana Jones attractions at several Disney theme parks, and has long had ideas for other park adventures. Star Wars Weekends at Walt Disney World have been a huge success for more than a decade.
But after the prequels, George was very clear that his days of making Star Wars movies were over. Little did I know that, behind the scenes and very quietly, George had started to come up with some storylines for at least three new movies set in a period sometime after Episode VI: Return of the Jedi. I think the fact that George found so much enjoyment coming up with new ideas for The Clone Wars series spurred him on. He just needed to find the right person - and the right set-up - to carry on the Star Wars legacy.
He found that person in Kathleen Kennedy - a longtime friend, superb producer, and prolific moviemaker - and brought her in as his successor.
When Kathleen held a series of company meeting last month, she made it clear she had accepted George's offer so she could use Lucasfilm's great assets to make movies, and was excited by the prospect of working with a new generation of writers and directors. And she dropped broad hints that she'd help bring Star Wars back to the big screen with George there to provide creative guidance. So part one of George's conundrum was solved.
When George started talking about retirement several years ago, many of us were concerned. We felt strongly that it would take more Star Wars movies to ensure the survival of the brand; Expanded Universe fiction, merchandise, and even great TV series weren't enough. In my mind, at least, the best possible endgame for Lucasfilm would be an acquisition by Disney. These are two companies that have family entertainment in their DNA; they complement each other in so many ways. In fact, when Star Wars premiered in 1977, more than a few reviewers said it was the kind of film that Disney should be making.
But Disney is a huge public corporation; wouldn't Lucasfilm and Star Wars get swallowed up? The evidence is to the contrary. Look at the acquisition of Pixar, and more recently Marvel. While Disney has integrated some of their functions, both units have been given the kind of creative independence that has enabled them to flourish and continue the broad success that made them interesting to Disney in the first place. The Avengers, for example, was made after Disney acquired Marvel. It has become one of the most successful films of all time, and the franchise has never been stronger.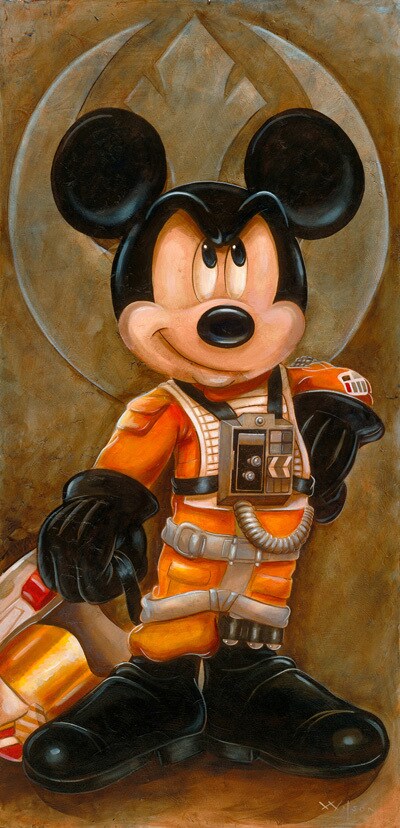 Even though I dreamed about such a merger of titans, I was still shocked to hear the news - pleasantly shocked to be sure. While things will develop over months and years, and thus many specific questions remain to be answered, there is so much that the companies bring to each other that the possibilities are endless. Besides Star Wars on the big screen, new television shows and a more active online presence are also great possibilities. Perhaps someday the fan dream of a full-blown Star Wars Land will become a reality. Or even smaller dreams, like Star Wars Weekends at all Disney parks, not just Walt Disney World.
Disney has shown through successful recent initiatives like its D23 fan club, magazine, and conventions that it values fans highly. I felt privileged that the main people behind D23 came to talk to me in advance to see how Lucasfilm handled the care and nurturing of fans.
So today I'm celebrating. And I feel very much like an 11-year-old George Lucas must have felt standing in line in 1955, waiting for the gates to open to see how another icon had turned fantasy into reality.
Steve Sansweet is Lucasfilm's Fan Relations Adviser after serving as head of Fan Relations for 15 years. He is currently chief executive of Rancho Obi-Wan, a non-profit membership museum that houses the world's largest private collection of Star Wars memorabilia: www.ranchoobiwan.org