The new 13-episode collection arrives December 6!
While they make a living scavenging throughout the galaxy, the Freemakers are finally coming home.
LEGO Star Wars: The Freemaker Adventures - Complete Season One, chronicling the story of three siblings in a galaxy far, far away, arrives on Blu-ray and DVD for the first time on December 6. The 2-disc sets feature all 13 episodes from the animated series' debut season and some brick-tastic bonus features, including "The Freemaker Adventures: Meet the Freemaker Family," a fun collection of clips, behind-the-scenes footage, and cast interviews, and "Freemaker Salvage and Repair," where you'll visit the salvage shop as Rowan, Kordi, and Zander take you on a tour of the family business. In addition, each Blu-ray and DVD set includes six exclusive magnets. Get a first look at the box art below!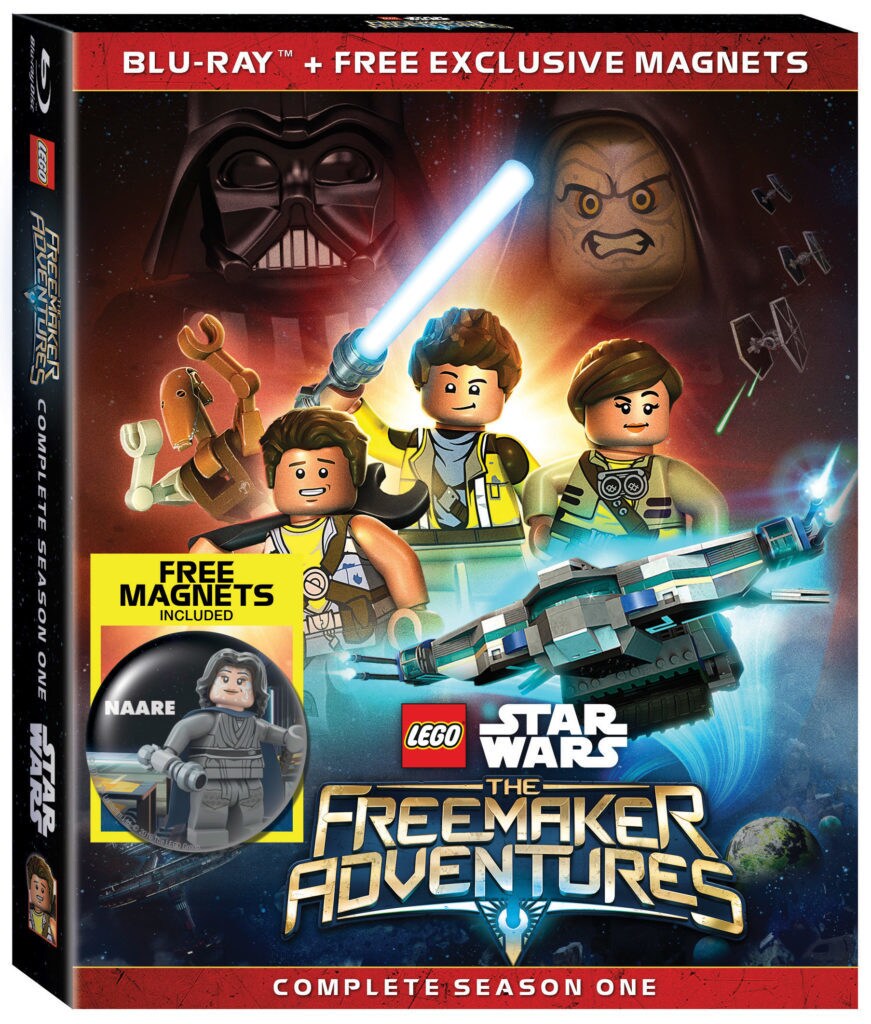 The series, set between The Empire Strikes Back and Return of the Jedi, stars three Freemaker siblings who scour the galaxy for useful debris that they use to build new vehicles of their own design. Rowan, the spunky Force-sensitive 12-year-old with a thirst for adventure, is voiced by newcomer Nicolas Cantu. His quick-witted older sister, Kordi, voiced by Vanessa Lengies (Glee), manages the family business and is the glue that holds the family together. Ace pilot and charming rogue Zander, voiced by Eugene Byrd (Arrow), is the oldest brother and the family's self-proclaimed starship connoisseur. Lucasfilm's Matthew Wood voices R0-GR, also known as Roger, a refurbished battle droid from the Clone Wars adopted by the Freemaker family. When Rowan discovers a natural connection with the Force through an ancient artifact -- the Kyber Saber -- he and his family are thrown into an epic struggle against the Empire to restore peace and freedom to the galaxy. Together, they explore new worlds, meet new characters and Star Wars icons, and have an unforgettable adventure.
Disc Specifications:
Format: 2-Disc Blu-ray; 2-Disc DVD
Ratings: US: TV-Y7-FV, CE/CF: G (anticipated)
Run Time: Approximately 286 minutes; thirteen 22-minute episodes
Aspect Ratio: 1:78 (Widescreen)
Audio: 5.1 Dolby Digital
Languages & Subtitles: English, French, and Spanish
StarWars.com. All Star Wars, all the time.