The actor, cosplayer, and mom of two shares why Star Wars has always been such a deeply personal passion.
Krystina Arielle had only been in Los Angeles for a couple years, after driving her most prized possessions cross-country from her home state of Georgia, when she stumbled upon the red carpet premiere for Rogue One: A Star Wars Story. From the outside looking in, she could just glimpse the spectacle inside, but she vowed then and there to have the chance to see it for herself one day. "I want to go to one of those!" she says.
A year and a half later, that's exactly what she did. Modeling a Lando Calrissian-inspired cosplay, Krystina landed an invitation to be among the fans attending the world premiere of Solo: A Star Wars Story. In very L.A. fashion, she had previously met Donald Glover on a local playground and mentioned her love of Star Wars and cosplay. When the actor saw her flanking the red carpet he paused to say hello. "He was like 'Hey! You do have a Lando cosplay!'" she recalls with a laugh.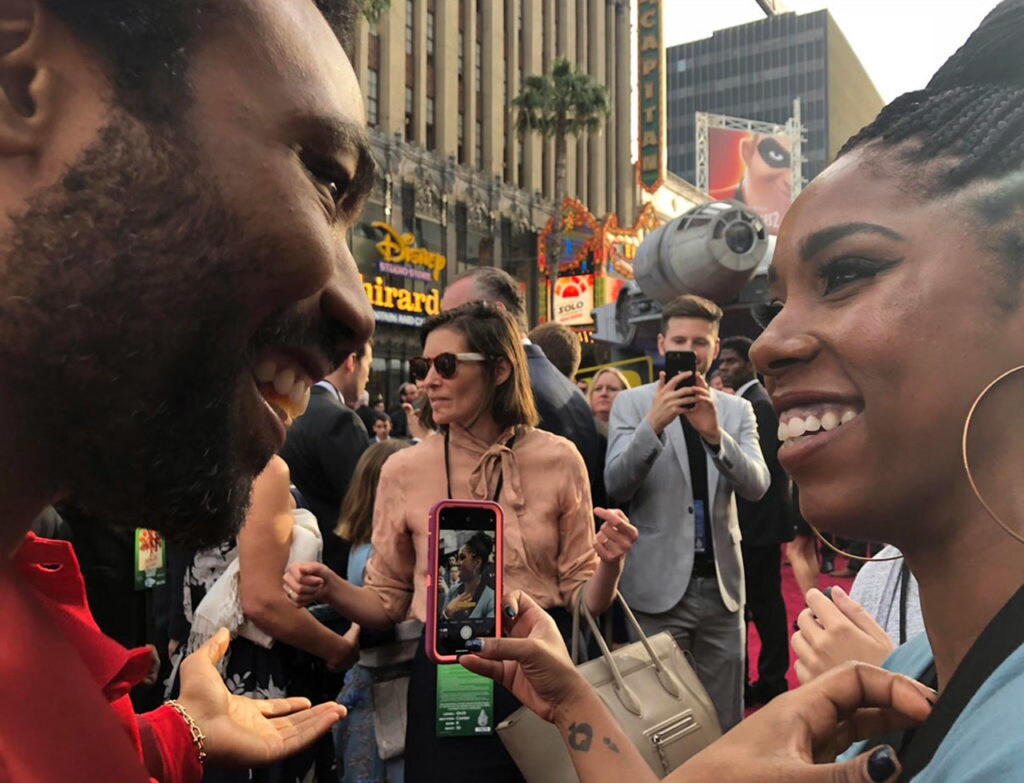 Billy Dee Williams, who originated the role, also stopped to talk to her, she says, and Thandie Newton, who played Val in the film, darted across the red carpet to embrace her. "Thandie Newton -- in her heels -- runs past Rupaul, and gives me a hug," Krystina says with wide-eyed wonder.

For the longtime Star Wars fan, it was an unforgettable night. Today, she shares her love of the galaxy far, far away in a more formal fashion, as the host of the new online series, Star Wars: The High Republic Show. The show combines Ariellle's passion for pop culture with her infectious smile and exuberant laugh, welcoming fans along for a journey discovering the new era in Star Wars storytelling. There will, undoubtedly, be puns and campy, sometimes over-the-top humor. "I just think that puns are fantastic," she says.
Before you watch along, allow us to introduce the fan, cosplayer, wife, mother, actor, tabletop gamer, and host...
All in the family
For Krystina, her love of Star Wars is deeply personal and started, as it has for many fans, when she was still young enough to spend her mornings lounging around in her favorite pink footie pajamas. She discovered Star Wars not through the films but through the Ewoks cartoon when she was about 3 and a half. A love of science-fiction and fantasy runs in her family. "I watched it with my grandpa, Jack. I watched it with my stepdad, Jerry Gaines," she says. "He passed away April 25th from COVID and a lot of things are very dear because they're things that I shared with him or things that I shared with my grandfather. To be able to lean into my interests for my job now is really pretty cool."
By the time Krystina was in high school, the prequels were in theaters. Star Wars: Attack of the Clones was the first Star Wars movie Krystina saw on the big screen, she says, and she was hooked. Already a fan of Hayden Christensen and Natalie Portman -- "I had watched every Natalie Portman move that exists," she says -- their portrayals of Anakin Skywalker and Padmé Amidala captured her imagination. "There's something about Star Wars that I just kind of fell in love with."
Years later, when Krystina was pregnant with her now 1 and a half year old son, she paid homage to the queen and senator with a cosplay of the flowy purple and cream gown from Star Wars: Revenge of the Sith. Krystina's only regret? She didn't get a chance to recreate every pregnant Padmé look over those nine months. "I wanted to do the 'Anakin you're breaking my heart' outfit," she says, her voice morphing into a recreation of the line. "Padmé's all the months pregnant with twins and is out in these streets with this amazing outfit, a low braided bun, with one piece down -- which I did try to do on my hair the other day. I think about that a lot."
The power of cosplay
Krystina's affinity for cosplay started organically during a St. Patrick's Day trip to Atlanta, Georgia, that happened to coincide with MomoCon. When they started seeing covetable costumed characters roaming the streets, Krystina says she turned to her best friend and said, "Follow the people with the tails!" The convention was in the same hotel where they were staying and inspired Krystina to attend her first DragonCon soon after, dressed as Star Trek icon Lt. Nyota Uhura.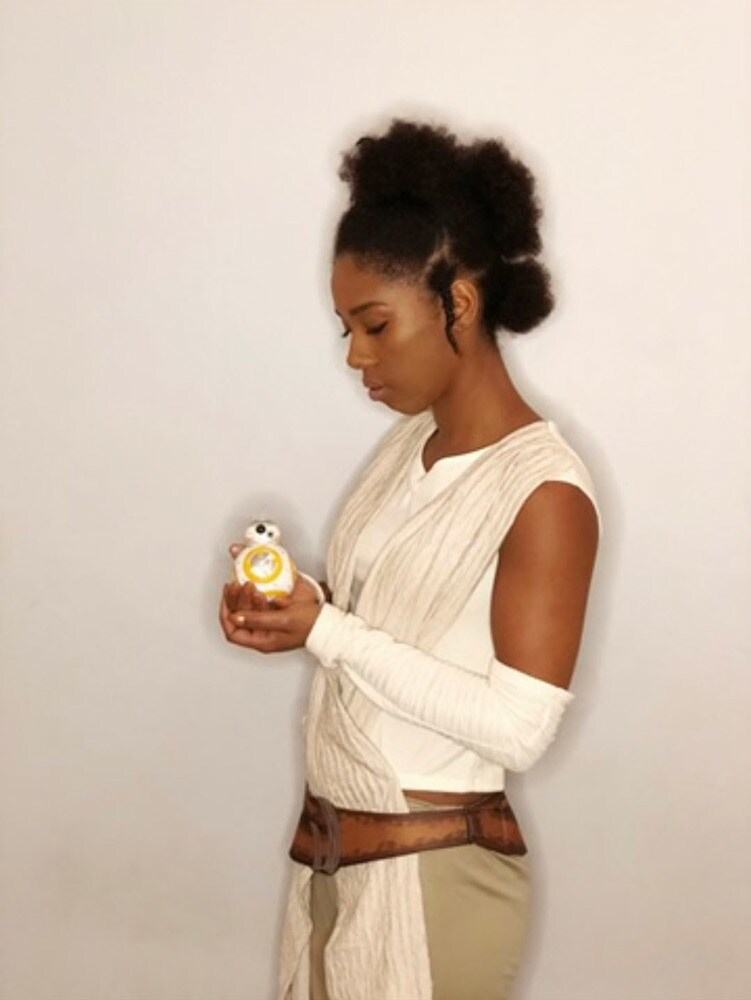 After moving to L.A. in 2014, trekking cross-country with a car packed full of her clothes, costumes and books, she got more into the cosplay community. In the years since she's dressed as Padmé, Lando, and Rey.
"I just love putting on costumes and becoming characters. And I like not necessarily doing a cosplay of an actor playing a character, but being myself as a character. So reimagining the hair, putting different kinds of touches on it, just being able to feel powerful as character or feel evil as character." For instance, as Rey, Krystina sports three Afro puffs, putting her own unique spin on the scavenger from Jakku. "The one thing I truly, truly want to do is a full Han Solo with two puffs," she says, positioned like Leia's trademark buns. "I'm waiting until my hair gets much bigger for an in-depth Leia. It's my goal to try out every different Leia hairstyle in a natural hairstyle fashion."