Editor's Note: Even though it has been 35 years since Star Wars was released in theaters, and almost 30 since Return of the Jedi, we remain fascinated with untold stories and unseen assets that take us inside the production of the movies. Few people are more devoted to unearthing and telling these stories than Lucasfilm's J. W. Rinzler. With an unprecedented level of access to the Lucasfilm archives, and to the cast and crew who helped create Star Wars, Rinzler has authored definitive accounts about The Making of Star Wars
and The Making of Empire Strikes Back
, and is now hard at work on The Making of Return of the Jedi. And, with all of his spare time, Rinzler has agreed to join us a regular contributor to the blog. Read on as he introduces himself and shares more about what you can expect in his future posts!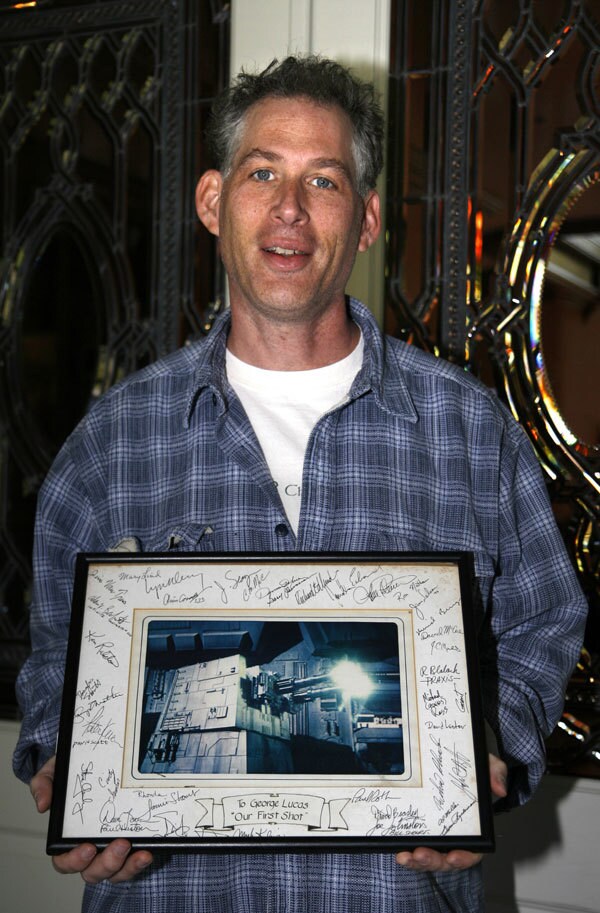 With the signed photo that ILM gave George Lucas upon completion of their first ever visual effects shot for Star Wars, in front of the Main House, SR (we reproduced this in the Making of ESB book).
I've been tasked with writing about myself, so here goes…
I've been at Lucasfilm for more than 10 years. Started at Skywalker Ranch, in the Carriage House, and then was blessed with everyone else by being the first tenants at Big Rock Ranch and now at our SF campus in the SF Presidio. I nearly didn't make it through my first interview, though, and then, without missing a beat, effectively messed things up while waiting to hear if I got the job. But somehow it worked out. (I tend to over-think things…)
I applied through an online classified—I didn't even know Lucasfilm had a book department, LucasBooks. Frankly I didn't even know about the Expanded Universe. I just loved George Lucas's films. American Graffiti was the eye and ear opener for me, though Star Wars wasn't far behind.
I was hired as the nonfiction editor, which, by LucasBooks' strange definition, also included all of DK's Star Wars books because they are not story driven (but they are). Then Lucy Wilson, director of publishing and Lucasfilm's first employee (since 1974, now retired), threw in Scholastic's Boba Fett middle-grade fiction series. I went to the first story meeting with Lucy and Howard Roffman, president of Lucas Licensing (till recently), and exhibited my expertise by mispronouncing "Coruscant." Howard suggested I "get with the program." I've been trying to ever since…
In fact since then I've edited over a hundred Star Wars titles, from sticker books and kids' readers to heavyweight coffee-table books, such as The Cinema of George Lucas, Rogue Leaders, and the latest tome on Industrial Light & Magic. Because I was the nonfiction editor I segued (it's a long story if I don't use the word "segue") into writing behind-the-scenes books (mornings and weekends) about the making of the films, starting with Revenge of the Sith, through The Making of Star Wars and The Complete Making of Indiana Jones. Right now I'm hard at work (up at 4 am in the morning) on the first draft of the Making of Return of the Jedi. A few weeks ago I had a long sit-down interview with George about the film, which will be the subject of tomorrow's post.
I've also been fortunate enough to work on many of George Lucas's special book projects, such as Star Wars: Frames, Star Wars Art: Visions—both of those took about four years to make— and the upcoming Star Wars and History (first of a series). We're also working on at least one other very interesting book TBA, while Star Wars Art: Illustration comes out this fall.
It's been a wild ride so far, with periods of relative calm, but some highlights were: watching John Williams conduct the LSO while recording the music for Ep. III at Abbey Road; being on set at Fox Studios Australia for the shoot and then at Shepperton in the UK; the writer's conference for Season 4 of Star Wars: The Clone Wars; working with John Knoll on his book; and many other fantastic (and some embarrassing) moments…
In between posts here, you can also follow me on Twitter, where I post as @jwrinzler. Check back tomorrow to hear more about my most recent interview with George.
You can visit jwrinzler.com for more information.