Documentarian Anthony Wonke talks to StarWars.com about his riveting behind-the-scenes chronicle.
"I don't want to freak anybody out here," writer-director Rian Johnson says before a massive crowd at the wrap party for Star Wars: The Last Jedi. "But I think we just made a Star Wars movie." Johnson seems excited. Confident. Happy. But also...a little bemused by his new reality. Maybe with some healthy doubt lingering just underneath -- the doubt that anyone who decided to bring Luke Skywalker's story to an end might feel.
It's a subtly real moment. And that's why it's the perfect opening for director Anthony Wonke's The Director and the Jedi, a revealing documentary on the making of The Last Jedi. It's also a very generous bonus feature included with the film, which arrives today on 4K Ultra HD, Blu-ray, and On-Demand, and is also available on Digital and via Movies Anywhere.
"I was approached by Ram Bergman, I think it was in October 2015," Wonke tells StarWars.com. "I got an e-mail, and it just said, 'We're really interested in having a documentary made about the making of The Last Jedi, and we don't want you to make an EPK [Electronic Press Kit]. We know that's not what you do. We're wondering if you'd want to come in and talk about it and see what we could do.' And kind of nine meetings later, we worked out a way of doing it."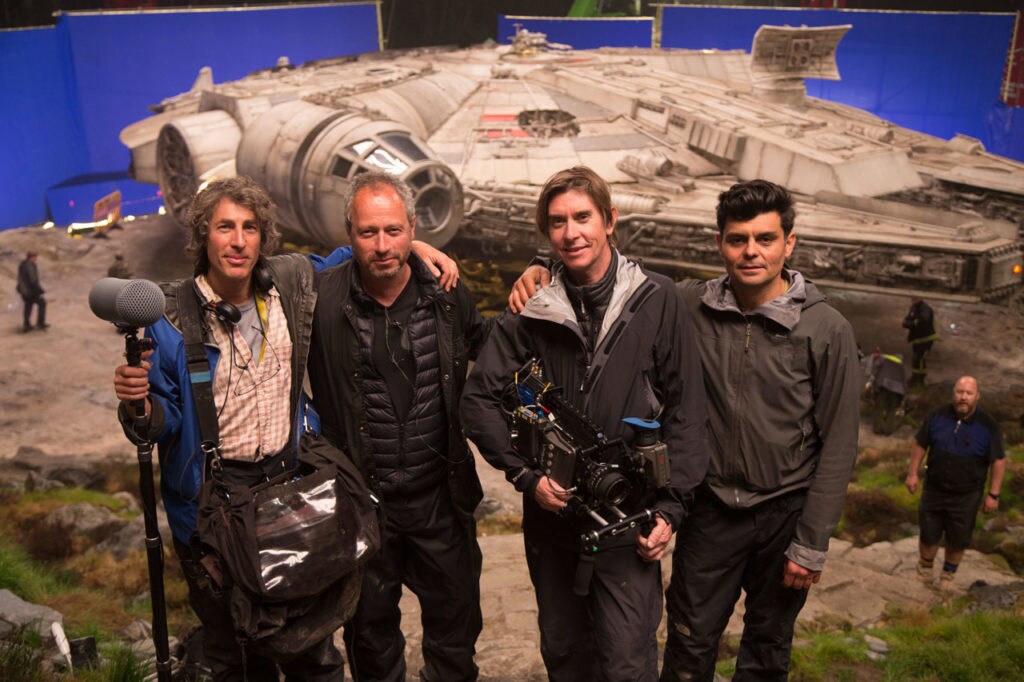 The way of doing it would be to grant Wonke unfettered access to the film's production. That meant being there at rehearsals for which only Johnson, Kathleen Kennedy, Daisy Ridley, and Mark Hamill are present. Exploring the inner-workings of the creature shop. Budget discussions. Production meetings where it's determined that the only way to get the giant thala-siren (the "sea cow" infamously milked by Luke) puppet onto Skellig Michael is to chopper it in. Observing as Mark Hamill watches Frank Oz rehearse with the Yoda puppet for the first time. A presence on set. Johnson and Bergman always mic'd up. Everything.
"[Bergman] was saying, 'We really want to have someone do it who has a point of view, and to make something different, and to be able to really capture something about the process and the inner workings of it.' Which is what I wanted to do, as well," Wonke says.
To do this, Wonke and his team used radio mics, as opposed to booms or something more obtrusive, to minimize their presence on set and not get in the way of the filmmakers. They employed longer lenses, so they could shoot from further away and be somewhat invisible. And when they had to shoot in smaller settings, like a conference room, it was almost always the same team, "so that you actually just become part of the crew."
As a result, The Director and the Jedi is startlingly honest, particularly when it comes to, well, the director and the Jedi. We hear everything from Rian Johnson expressing that previously-mentioned doubt about his own creative choices to Mark Hamill relaying his initial misgivings regarding the depiction of Luke Skywalker. We see their journey through the film as collaborators, and the bond they form as a result. "That relationship was incredibly strong," Wonke says. "As you can tell by the title, you're following Rian's process. Not just his physical process, but his intellectual process, his emotional process, the things that he's trying to get to grips with. That [relationship with Hamill] is part and parcel of it, and it was a big deal."
As a whole, the documentary shows that, despite being a massive Hollywood production, The Last Jedi is still just a story told by human beings. "That was always the intention," Wonke says. "The other thing that was important that I really wanted to try and maintain was doing regular interviews with our main characters, and especially with Rian and Ram and Mark. That in itself is an interesting process, because you're sitting there and you're observing what's going on. You understand the pressures they're all under, and you're witnessing it and seeing it observationally. And through these in-depth interviews, the questions you're asking are not just specifics about the script or what the characters are doing, or the kind of things they'd usually be talking about if they were being interviewed for an EPK or a press junket. You're asking them more about, 'Do you have a sense of doubt about this? Does it keep you up at night? What are the things you're worried about?' When you make those types of documentaries, you want them to be honest about it. And I think that's what was so amazing and brilliant about what Rian and Ram and of course, Kathy [Kennedy], all agreed to. 'You know, if you're going to do it, let's try to do it as well as we possibly can.' And they're great. They are very honest individuals." This makes The Director and the Jedi more than just a making-of doc -- it's an extremely emotional affair.
In watching Wonke's chronicle, it's near impossible to see Carrie Fisher again and not be reminded of the pain of losing her so suddenly in December 2016. While she passed away after shooting, Wonke knew he had to address her death. "It's difficult, because it's not in our time frame," Wonke says. "But I think it would be remiss of us to not acknowledge the fact that she had died." The Director and the Jedi closes with the shooting of Luke and Leia's reunion together on Crait, just before the climax of The Last Jedi. The set is silent as Hamill and Fisher, two legends, share the screen once more. They carry with them all the weight of their characters and their status as cultural icons. Wonke's camera feels far away yet up close, in awe of what its privy to but respectful. At the end of the take, Hamill, improvising, kisses Fisher on the forehead. For anyone who's ever loved Star Wars, it's captivating and heartbreaking and uplifting all at once. "It was a very intense day," Wonke says. "It was a very, very quiet day because it's a big emotional scene. It's a reunion. Not just a reunion in the film, but it's also a reunion for Mark and Carrie...That reunion itself was always going to be loaded with emotion. You look at it through that lens of what's happened, and it makes it even more prescient and emotional."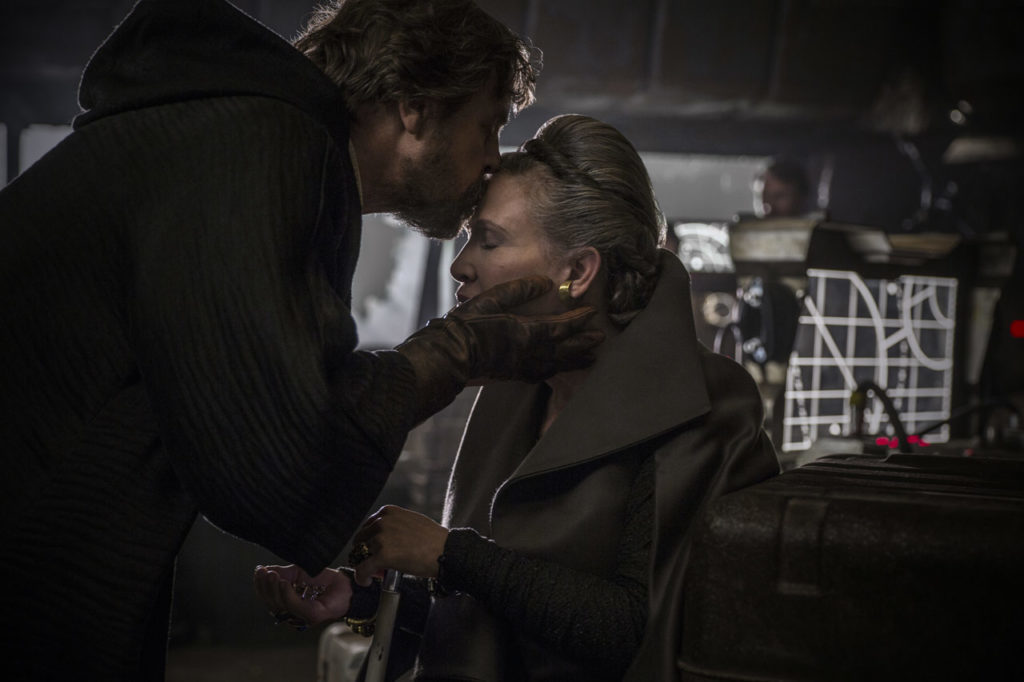 The Director and the Jedi debuted at SXSW earlier this month to rave reviews from critics, and has been met with a similar reception from fans. It's a rare glimpse into the beating heart of a film and of those who created it. If Star Wars means a lot to us, The Director and the Jedi show that it means just as much to those making it. "I'm hoping that [fans] will be able to get an idea of the people, of what goes into making a film like this," Wonke says. "The attention to detail. The care."
Star Wars: The Last Jedi is available now on Digital, Movies Anywhere, 4K Ultra HD, Blu-ray, and On-Demand.
Dan Brooks is Lucasfilm's senior content strategist of online, the editor of StarWars.com, and a writer. He loves Star Wars, ELO, and the New York Rangers, Jets, and Yankees. Follow him on Twitter @dan_brooks where he rants about all these things.