Respawn Entertainment sits down with StarWars.com to discuss the making of the new game from a galaxy far, far away, available now.
Before signing on to make Star Wars Jedi: Fallen Order, which arrives today, Respawn Entertainment's Stig Asmussen believed he was one of the iconic sci-fi saga's biggest fans. "I thought I knew everything about Star Wars coming into the game, but I quickly learned I didn't really know anything."
Thankfully, the director had the best collaborator a developer of a Star Wars game could ask for. "Lucasfilm was a huge help on the story and building the cast and our narrative arc, every step of the way." This promising partnership would spawn the initial seed of crafting an original tale, starring a new, Force-sensitive character. It was also decided early on this "authentic Jedi story," as Asmussen  proudly refers to it, would be a single-player, third-person action-adventure game.
With the solid project's foundation in place, it would've been all-too easy for Respawn -- who'd previously proven its action game chops with two Titanfall entries and Apex Legends -- to put a lightsaber in some faceless character's hands and call it a day. But as Star Wars Jedi: Fallen Order writer Megan Fausti explains, the team was far more interested in creating a more nuanced, character-driven tale.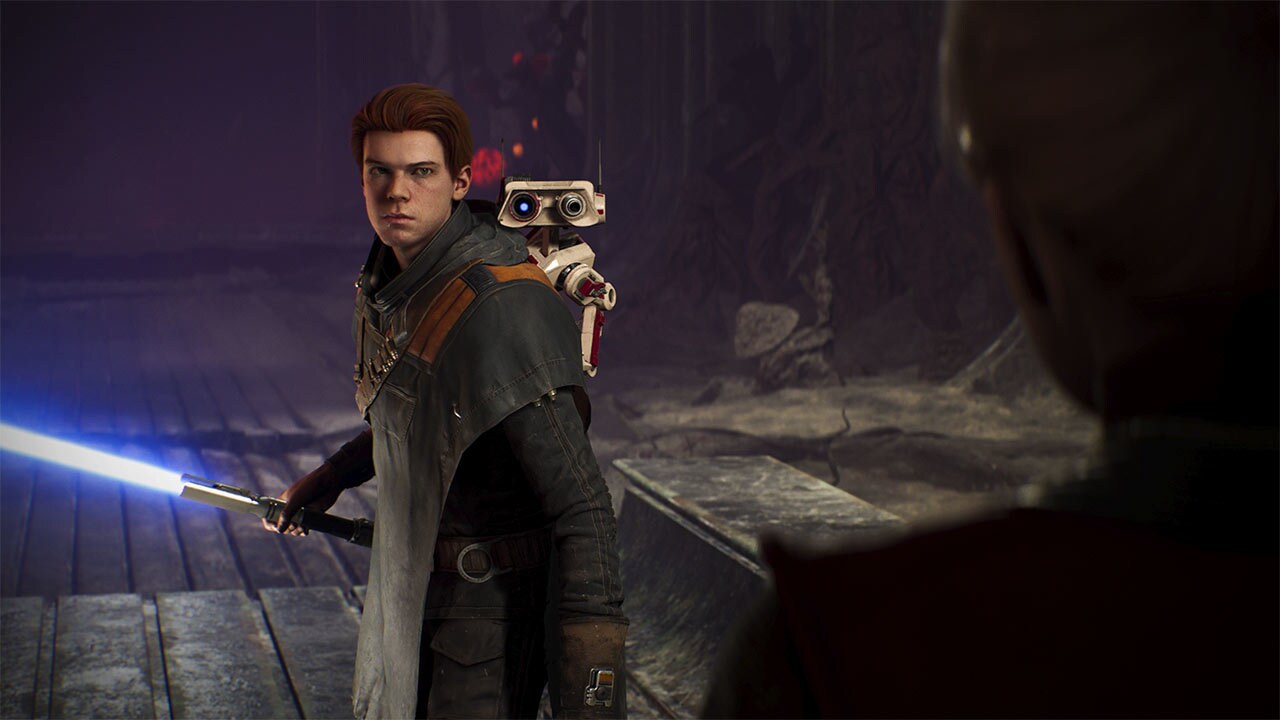 "The pitch was that it's about becoming a Jedi. You don't begin as this powerful Jedi who knows all the tricks of the trade. You start as Cal, who was a Padawan back when the Order was still around. He experienced Order 66 as a Padawan, and now he's trying to relearn some of the things he knew in the past, as well as learn some new abilities."
Building on Fausti's statement, narrative lead Aaron Contreras enthusiastically adds, "Our goal is to make players feel like they're becoming a Jedi, like never before." While a significant part of achieving that ambitious goal fell on the carefully crafted story, organically weaving the player's actions -- and interactions -- into Cal's evolving, narratively rich journey was equally important.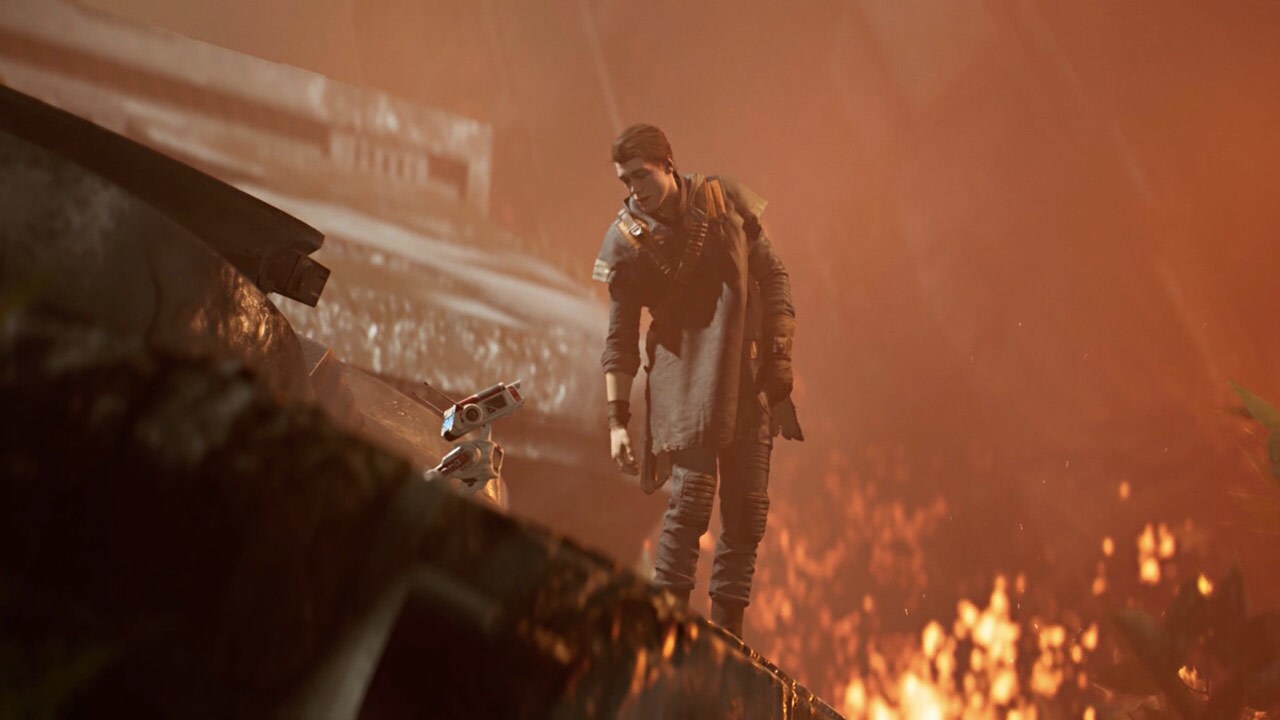 "It's about [Cal] growing as a person, so we tried to model that in the game through puzzles, combat, and environmental challenges. We tried to create a synergy between what Cal is doing and the pressures he's being put through in his quest. This then sparks moments of growth with his relationship with the Force, as well," continues Contreras.
While Asmussen remains humble about his knowledge of the source material -- "I'm always learning more about Star Wars, he says" -- he confidently dives in when Star Wars Jedi: Fallen Order's stormtrooper-slicing combat is mentioned. "My background is in action-melee, third-person games. When we went to Lucasfilm and said, "Hey, my background is probably going to be best suited, not for a blaster game, but a game with lightsabers and Force powers, we started talking about it and hashing through it."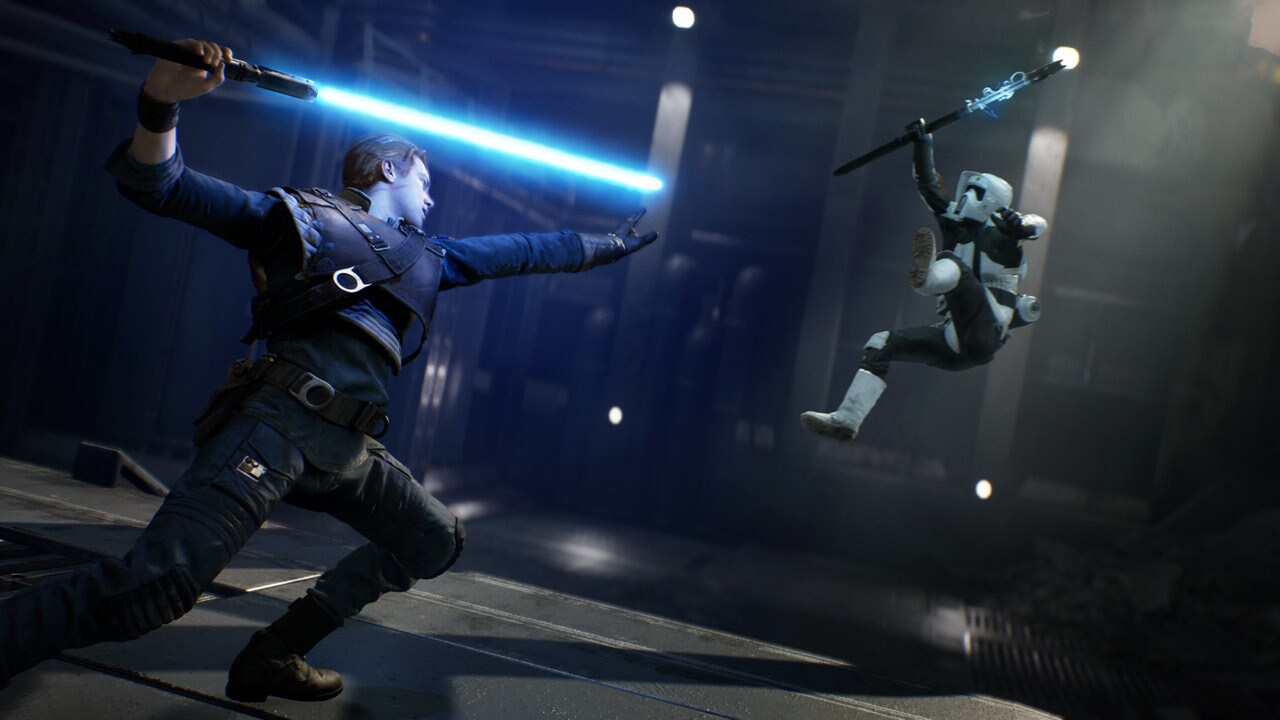 Those fruitful conversations led to the creation of what Asmussen calls "thoughtful, intelligent" combat, battles that rely less on mindlessly spamming buttons and more on strategic mastery. "You have to be patient just like a Jedi. You have to look at your surroundings, you have to look at your enemies, identify their strengths and weaknesses, and what you can combat them with."
But Respawn doesn't expect fans to swing Cal's lightsaber with the seasoned skills of Obi-Wan Kenobi right out of the gate. On top of laying out an accessible learning curve, the combat, as Asmussen reminds us, must make sense within Cal's evolving journey and the game's larger story. "You're not a Jedi, so you don't know everything. We want players to feel that one-to-one experience, so when you start early in the game, things need to be grounded. It's more about channeling the lightsaber fantasy through...becoming a Jedi."
In concluding our chat, Contreras echoes similar sentiments, stressing the team's collaborative desire to craft a game that not only favors narrative as much as action, but balances and blends those elements in a way that delivers a Star Wars experience that can proudly stand alongside the films.
"Every discipline in the development team really collaborated and came together. You had the concept and art teams creating environments, making them feel authentic to Star Wars; I had story going into each of these areas; and then [level designer] Jeff [Mager] was looking at opportunities to create different challenges within the world. Everything wove together, from the mechanics to the story."
Star Wars Jedi: Fallen Order is available now on Xbox One, PlayStaion 4, and PC.
A full-time freelance writer born in Lizzie Borden's hometown, Matt Cabral has covered film, television, and video games for over a decade. You can follow him on Twitter @gamegoat or find him in the basement of an abandoned building hoarding all the canned goods, med-kits, and shotgun shells.
Site tags: #StarWarsBlog #StarWarsJediFallenOrder, #StarWarsGames