EA's popular mobile game welcomes the legendary Jedi Master.
This June in Star Wars: Galaxy of Heroes, you'll have the high ground.
StarWars.com is excited to reveal that Obi-Wan Kenobi, as he appeared in Star Wars: Revenge of the Sith, is on his way to EA's hit mobile strategy game, Galaxy of Heroes. The beloved Jedi Master will be unlockable as a Galactic Legend -- the game's premier class with upgraded abilities, powers, and appearance -- via the Journey Guide starting June 16. You can get a first look at Jedi Master Kenobi below.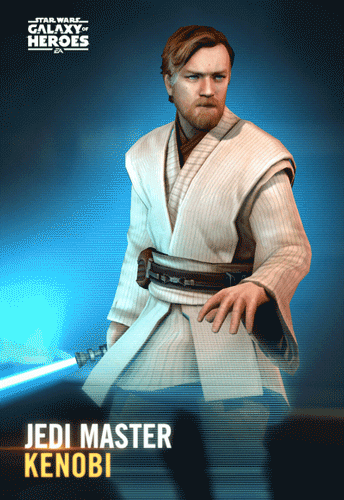 "Obi-Wan is a fan favorite across the entire Star Wars franchise, and we've been looking for the right opportunity to properly tell his story in our game -- we have him available as a reward for a challenging Raid, but not in one of our Journey or Galactic Legend formats which allow us to highlight the iconic storytelling moments across a character's narrative arc," associate producer Chelsea Loomis Lofland tells StarWars.com. "We're currently in the midst of content that spans the end of the Clone Wars series and continues through to The Bad Batch, and following our release of Commander Ahsoka Tano it made perfect sense to finally give our players (and ourselves!) a version of Obi-Wan as a Galactic Legend, the highest caliber of character currently in our game."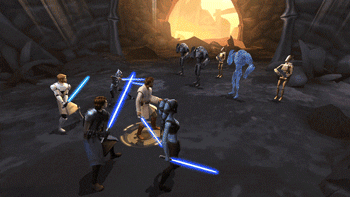 Obi-Wan promises to be a fine addition to any player's collection. He'll function as a leader of Galactic Republic squads; work with Jedi and unaligned Force wielders; protect and bolster Jedi allies; and charge his Ultimate Ability (special abilities unique to Galactic Legends) with his own abilities or from his allies' attacks.
In the Galactic Legends event, players will experience Obi-Wan's journey in Revenge of the Sith -- including both the adventure and heartbreak. "Our Galactic Legend event for Obi-Wan will highlight the most significant moments of his arc in Episode III, from his battle with General Grievous, the Jedi Temple encounter with Yoda, and finally the emotional and tragic duel with Anakin on Mustafar," says Loomis Lofland. "We're excited to finally bring Obi-Wan to our players at a level of power commensurate to his place in the Star Wars galaxy, and to tell his story in the best way possible within the framework of Star Wars: Galaxy of Heroes."