In celebration of today's release of Ahsoka, StarWars.com checks in with the author...and is giving away copies of the book!
Are you excited to read a previously untold story of Ahsoka Tano? Well, you came to the right place — StarWars.com is giving away copies of E.K. Johnston's Ahsoka novel! Just leave a comment below telling us your favorite Ahsoka moment with #StarWarsAhsokaBookSweeps, and we'll pick winners at random. Read the official rules at the bottom of this post and good luck! [Update: The giveaway is now over. A complete list of winners is available after the article.]
It's probably safe to say say that, of the robust number of beloved characters that populate the Star Wars universe, Ahsoka Tano has one of the most loyal and rabid followings. From hashtag campaigns (#TanoTuesday, #AhsokaLives) to the rarity of her toys to the fan art and cosplay that consistently floods the Internet, Ahsoka has become a force (no pun intended) to be reckoned with. With today's release of E.K. Johnston's novel Ahsoka, Ahsoka's legion of followers will finally be granted a wish they've held near and dear for years: To see Ahsoka assume the lead role in her own story.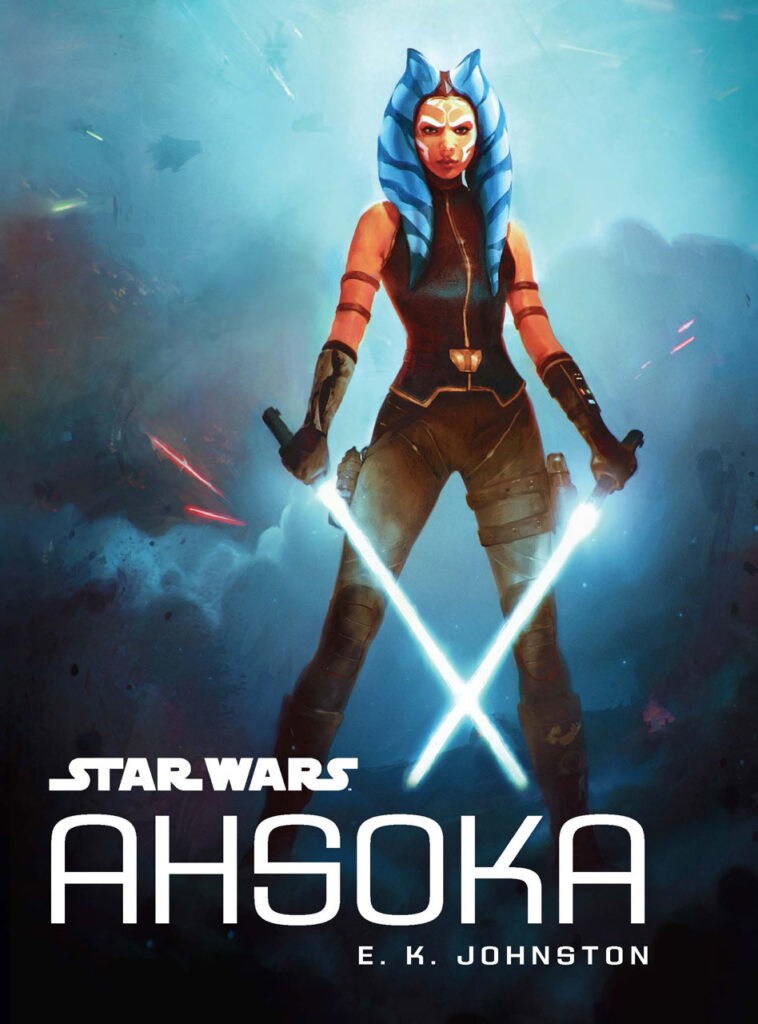 Johnston, who previously penned the terrific novel A Thousand Nights, is one such Ahsoka legionnaire, although she didn't discover Anakin Skywalker's Padawan until after The Clone Wars had already ended.
"I put off watching The Clone Wars for years," Johnston tells StarWars.com over e-mail. "I knew that I would see the Jedi and the clones, and that I would love them, and then I would be very sad. But then the early reviews of [Star Wars] Rebels started to come in, and I decided to go for it anyway. And then I met Ahsoka Tano. I love her because she is just so unapologetically wonderful. She's talented and smart and a quick learner, and she knows it. She's brash and a bit reckless, but she listens to advice (even if she doesn't take it!) and she always levels up."
Those qualities serve the former Padawan well in her debut novel. One of the most compelling aspects of Ahsoka is seeing how Ahsoka uses her wits, training, and cunning to survive in a galaxy she's not supposed to exist in. Order 66 not only took away everything she knew, but it trained the Empire's crosshairs on her, should her past, and her powers, ever be exposed. John Jackson Miller explored this idea of the wandering, hidden Jedi in his superb novel A New Dawn, but readers' relationship to Kanan is different than it is to Ahsoka; through The Clone Wars, we watched Ahsoka grow up a Jedi, we saw how deep of a relationship she had with Anakin, Obi-Wan, Rex, and others. But in Ahsoka, all those things have been robbed from her, and she has to act in ways that defy her own nature in order to stay concealed and survive.
"I think it might have actually been easier this way," Johnston says in regards to how she handled writing an Ahsoka who can't use her powers. "Watching someone use the Force is very cool, but writing it is all, 'And then she furrowed her brow, and wiggled her fingers like Morpheus from The Matrix.' Writing something that Ahsoka missed -- that she longed for and had such memories of -- was a way to build character beats, and remind us of how the galaxy used to operate."
But, of course, this is Ahsoka we're talking about. Bold. Cocky. Brazen. She's not exactly someone who excels at turning her head the other way when she sees something she doesn't like. And that, of course, is where Ahoska finds much of its conflict, through the character that's been so carefully handled since her first appearance in 2008. While part of the book explores Ahsoka's interior in ways we haven't seen before, it also places Ahsoka in a volatile situation where she has to choose between self-preservation or protecting innocent people against the Empire's cruel, relentless grasp. To be or not be a Jedi, that is the question.
In addition to being a headstrong young learner who, more than once, proved herself capable of feats equal to any Jedi, one of the main things that defines Ahsoka is her relationship with others. Ahsoka was both a member of the Grand Republic Army and the Jedi Order. She was Anakin's Padawan, Rex's commander, and Obi-Wan's ally. Throughout The Clone Wars, much of Ahsoka's story is developed through those important relationships. But, in Ahsoka, those relationships are gone, leaving Ahsoka alone -- and Johnston with an interesting dilemma on her hands.
"From a style point of view, it was a bit awkward, because you can only have a character talk to herself for so long!" Johnston says. "But also, I feel like people who are accustomed to groups will find (or make) other groups and, um, [redacted for spoilers]."
Ultimately, we all know where Ahsoka ends up -- in Rebels, we find her assuming the alias "Fulcrum" and playing an instrumental role in the Rebel Alliance's inception. Still, there are a lot of years between where we last saw Ahsoka in The Clone Wars (abandoning Anakin and the Jedi Order in the fifth season) and when she first appears in Season One of Rebels. What Ahsoka delivers is a slice of Ahsoka's journey that begins to fill in all these unaccounted-for years; and, along the way, Johnston treats readers to new planets, new villains, and new allies. And how did Ahsoka come across those white lightsabers we see her sporting on the novel's cover? An interesting question indeed. Like Rebels, Ahsoka manages to build on the Jedi mythology in new ways while staying consistent with everything that's come before it. And, for Johnston, it gave her the opportunity to do something that the child in her always wanted, even if she didn't even know it.
"I can't even tell you it was a dream since childhood, because it's so wonderful that tiny Kate never even dreamed of it," Johnston says.
Michael Moreci is a comics writer and novelist best known for his sci-fi trilogy Roche Limit. He's also a Star Wars obsessive, who is lucky to spend his time playing Star Wars action figures with his two sons by day and writing Star Wars-inspired stories by night. Follow him on Twitter @MichaelMoreci.
---
Thank you to everyone who entered our giveaway! Congratulations to the winners below -- enjoy your books!

- Delanie D.
- James K.
- Kathryn M.
- Marie K.
- David N.
- Ian B.
- Martin P.
- Laura S.
- Samantha C.
- Grace G.
---
StarWars.com is giving away ten (10) Star Wars Ahsoka books, which each retail at about $12.95, to ten (10) lucky winners! The prize consists of (1) Star Wars Ahsoka book by E.K. Johnston. To enter for your chance to win, all you have to do is tell us what your favorite Ahsoka Tano moment is, and use #StarWarsAhsokaBookSweeps.
Sweepstakes ends October 12, 2016.
To enter, click "see comments" below this post. You must include "#StarWarsAhsokaBookSweeps" within your Facebook Comment. Do not include anything else in your comment except these 2 items. Doing so, may disqualify you from the sweepstakes. Get the full details on this awesome sweepstakes below, and get commenting!
Specific Rules:

NO PURCHASE NECESSARY. Void where prohibited. Odds of winning will depend on the total number of eligible entries received. See the complete General Rules and eligibility requirements that apply to all Sweepstakes here.
To enter, click "see comments" below this post, and leave a Facebook Comment telling us what your favorite Ashoka Tano moment is. You must include "#StarWarsAhsokaBookSweeps within your Facebook Comment.
Only 1 entry per person is allowed.
Must be at least be 18 years old (or older if age of majority differs in the state of primary residence) and be a legal resident of, and physically located within, the 50 United States or the District of Columbia.
The Sweepstakes entry period starts on Tuesday, October 11, 2016 at 12:00:01 PM PDT and ends on Wednesday, October 12, 2016 at 11:59:59 PM PDT.
The total retail value of the prizes for this sweepstakes is $129.50 (US).
We will choose a potential winner in a random drawing on or around, Thursday, October 13, 2016 and send notice to that person by replying to your comment on Facebook. (You will get a notification on Facebook if we have replied.) If you are a potential winner but fail to claim your prize within 3 days of us sending you notice or are otherwise in non-compliance with the Sweepstakes rules (both General Rules and these Specific Rules), then we will choose an alternate winner.
We will announce the winner here on or around November 2, 2016 by 6:00 PM PDT. By entering, you give us permission to include your first name (or the name provided on your Facebook account) in our winner announcement.