Star Wars' impact extends beyond filmmaking techniques and innovations; hear from fans whose life choices were directly influenced by the saga.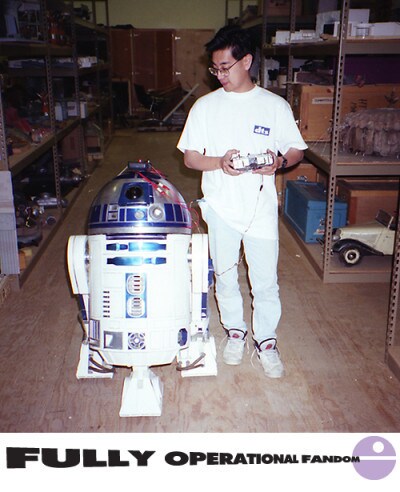 When Star Wars came along, it captivated the imagination of countless moviegoers. Every facet from the technology to the effects to the characters came together to create something new and fresh. It wasn't quite like anything people had seen before, and over the years it's gained a massive following and made an impression upon thousands of people. Star Wars has even inspired others to pursue certain careers. Just think of how many hundreds of fans entered the film industry because of the adventures of Luke Skywalker and his friends.
The saga didn't only inspire filmmakers. It also spurred people to chase positions in robotics, entrepreneurial roles, fight choreography, and writing. I spoke with fans in those areas about how Star Wars helped shape who they've become.
Fight choreographer Lance Arthur Smith first encountered Star Wars in the form of The Empire Strikes Back at the age of three. A few years later, Return of the Jedi completely captured his attention. He's always been involved in entertainment in various roles and says, "Star Wars inspired me to become first an actor, then a writer, then a practitioner of stage combat, and finally a fight choreographer. I've worked in film, television, and stage in many capacities. The story of a carpenter who was then asked to be an off-camera reader for auditions and finally cast as a Corellian scoundrel inspired me. Lucas himself was a writer/director/camera operator/etc. and the importance of diversifying in this business wasn't lost on me."
He makes a living acting and doing choreography and says Star Wars is a constant resource "whether it's writing a character for a play inspired by Mara Jade or choreographing a broadsword fight for Macbeth utilizing Bob Anderson's fencing techniques."
The storytelling of Star Wars was what got Peter DiCicco. He saw A New Hope when it was re-released in the '80s, and he became completely obsessed with lightsabers and the Millennium Falcon. "I was fascinated from the beginning by the mythology of the Jedi, and I can't tell you how many times I replayed lightsaber battles with my friends. I just ate up all the science fiction and fantasy concepts, from sentient robots (R2-D2 was always my favorite) to the multitude of aliens to the moon-sized space station with enough power to destroy an entire planet!"
A television special featuring Dennis Muren discussing the speeder bike chase from Return of the Jedi pushed Peter to learn all he could about filmmaking, and that led him to discover a love for writing. "I was ultimately drawn to the animation industry, and I now work at Nickelodeon Animation Studio where I have written for Teenage Mutant Ninja Turtles. Star Wars continues to be an influence in everything I write, and I admit I almost can't help but reference Star Wars in some way whenever I am working out a story."
Since Star Wars features everyday people from across the galaxy completing heroic tasks, it helps fans make jumps, too. Robb Muise saw A New Hope in 1977 and says, "The impression this made on me as a youth is one that has transcended into adulthood: a ragtag group of people can come together and  overcome anything if they're determined, passionate, and don't give up." It's a powerful message.
Because of that lesson, he took a leap of faith and started working for himself. Two years ago, he and his wife Abby started a food truck company called Friar Tuck's. "If it weren't for seeing Star Wars as a child and having my eyes opened wide with wonder and amazement at what these people were able to achieve, I would never have thought it possible to overcome all the obstacles we had in our way."
Robb emphasizes that it's important to realize you have the power to choose your destiny. I couldn't agree more and am reminded of Qui-Gon Jinn's words, "Your focus determines your reality."
Grant Imahara saw A New Hope at the then Grauman's Chinese Theatre in Hollywood the year it opened. To say he enjoyed the film is an understatement, "It was unlike anything that I'd ever seen before. There were spaceships, light swords, menacing mechanical villains, and most of all, robots with human-like personalities. In fact, the robots are pretty much the central characters for the first part of the film!"
He credits the saga to introducing him to a lifelong obsession with robots. He went into electrical engineering, worked on small robots in college, and eventually landed at Lucasfilm's Industrial Light and Magic. The robot theme continued as he competed in BattleBots, and now he's created dozens of robots for Mythbusters.
When the opportunity to work for ILM came along, Grant was working for Lucasfilm as a licensing engineer. As he puts it, he was "blowing up loudspeakers and amplifiers for the THX Division." ILM model-makers Don Bies and Nelson Hall needed some electronics expertise in the Model Shop, and Grant interviewed for the position. He worked consistently as a model-maker for nearly ten years.
Grant has some solid advice for following in his footsteps -- actually, it applies to any career. "Many people simply say 'I got lucky' or 'I was in the right place at the right time,' but in reality, it's all about weighing the odds in your favor. Don't get me wrong, luck may exist, but it's all about being ready when opportunities come along. Be skilled, be ready, and be a team player. Especially in the film business, if you're hard to work with, you won't last long."
Obi-Wan Kenobi has more than a few words of wisdom in the films, but this quote in particular always motivates me: "In my experience, there is no such thing as luck." Perhaps some of it is there, but if you want to get a particular job, achieve a specific goal or anything, it's about being prepared and working hard.
Tell us how Star Wars influenced your career path in the comments below!
Amy Ratcliffe is addicted to Star Wars, coffee, and writing. You can follow her on Twitter at @amy_geek and keep up with all things geeky at her blog.