Five years after she played rebel Jyn Erso, the actor tells StarWars.com about how her character has stuck with her since and more.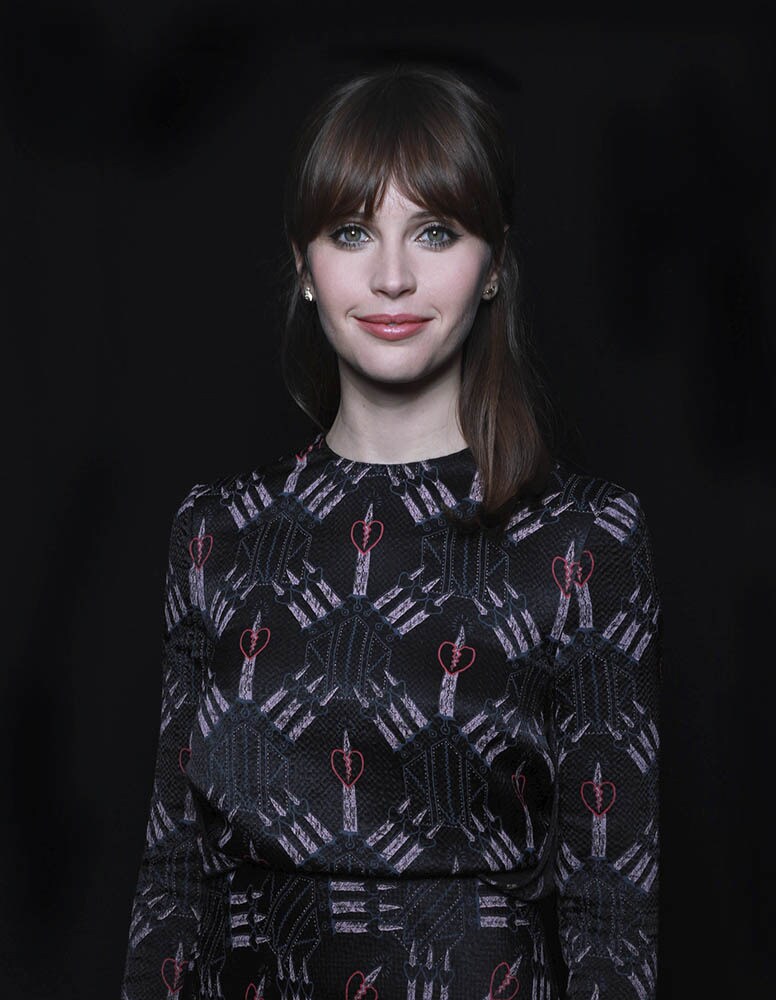 Felicity Jones was just coming off of what would become her Oscar-nominated turn as Jane Hawking in The Theory of Everything when she stepped into the Star Wars galaxy as the lead in the franchise's first standalone film, Rogue One: A Star Wars Story in 2015.
"I couldn't believe what an amazing part it was," Jones tells StarWars.com now, as the film marks the five-year anniversary of its release in December of 2016. "Most of the female roles in franchises at that time were supporting roles." But Jyn Erso was different: scrappy, tough, resilient, and undoubtedly center stage as the leader of an impressive team of rogues and rebels. "I just felt instinctively that I understood Jyn and knew how I wanted to play her."
Jones had long been a fan of the galaxy far, far away, after being first introduced to the films at her cousins' house as a child. "They loved everything about Star Wars and I remember them showing my brother and I the films on VHS," she says. The five children would crowd around the TV set on the floor of the family's sitting room, mesmerized by the glowing screen. "The opening titles and feeling the sense of anticipation, it was almost [like] virtual reality and we were entering into a whole new realm!" she says enthusiastically. To this day, she still counts the original Star Wars sequel as one of her favorites. "You can't beat The Empire Strikes Back -- just sublime!"
A love of cinema drove Jones to begin acting when she was still young, snagging her first role in a TV movie when she was around 12. About 20 years later, she was starring in a Star Wars film. The sheer scale of the Lucasfilm production dwarfed many of her earlier projects, despite an impressive career that already included a foray into the superhero genre with The Amazing Spider-Man 2. "The scale of [Rogue One] was incredible -- the number of extras, the amount of crew, the size of the sets. I'd never experienced anything like it," she says. "It was like being on another planet."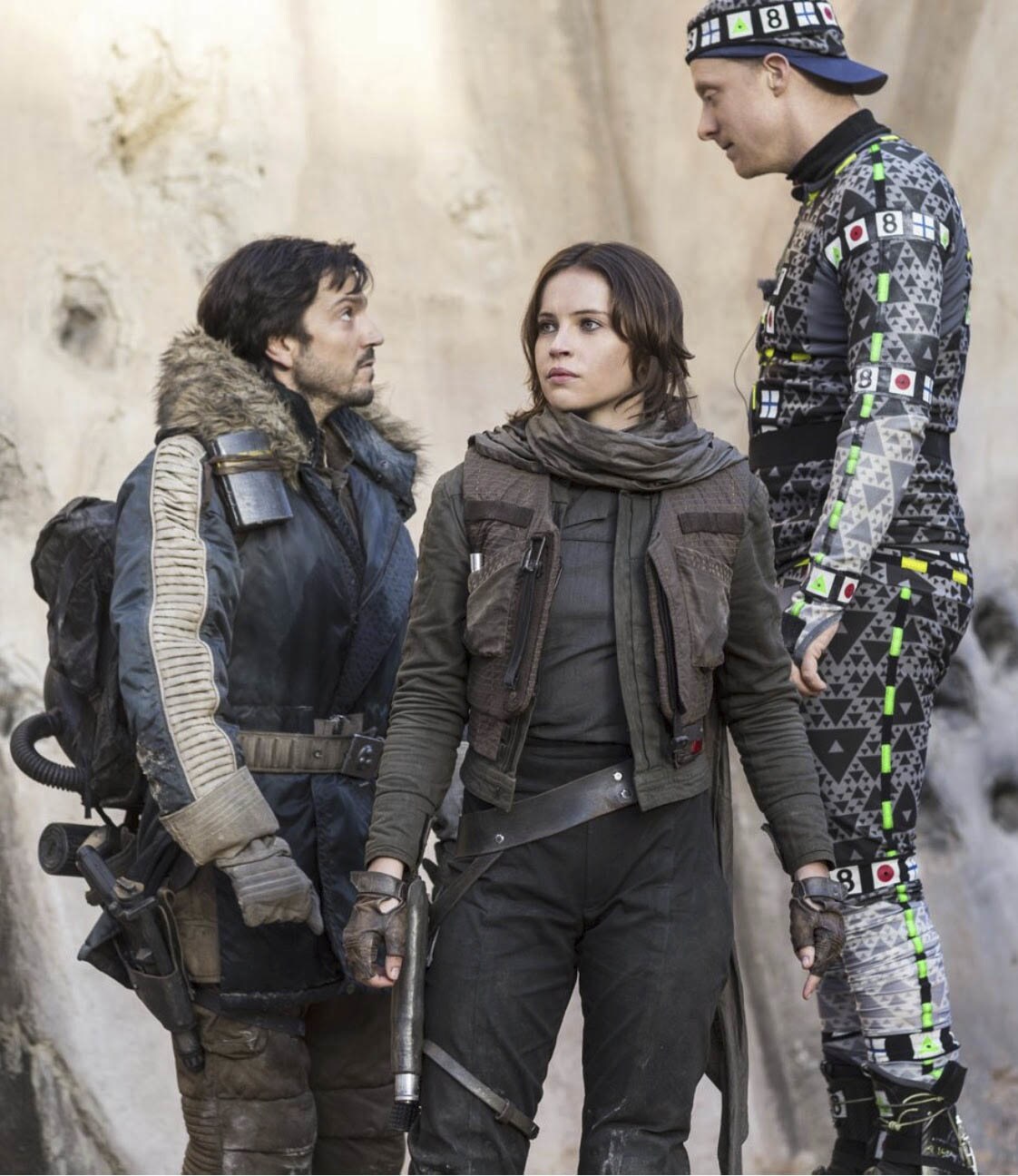 In reality, for her first day on set in July 2015, Jones was on location in Jordan with a small unit capturing pre-shoot footage of a scene with Jyn, Cassian, and K-2S0 overlooking the rocky terrain of Jedha. "We got up incredibly early to get the pre-dawn light, which gave this gorgeous sense of anticipation to the scene. It was just Diego and I," she recalls fondly. "It was extraordinary that we went from such vast sets to then moments of quiet intimacy with just an essential crew for certain sequences."
Director Gareth Edwards, who recently spoke to StarWars.com to share his own recollections of the experience, was a fellow Star Wars fan intent on giving the gritty war film a realistic feel. "[Gareth] was keen to shoot in an almost documentary way, which gave the film so much authenticity," Jones says. And although she hasn't rewatched the film since its release, she remains in awe of the production. "[It's] just extraordinary how much skill and craft goes into making those films from hundreds of people. It is a deeply collaborative process."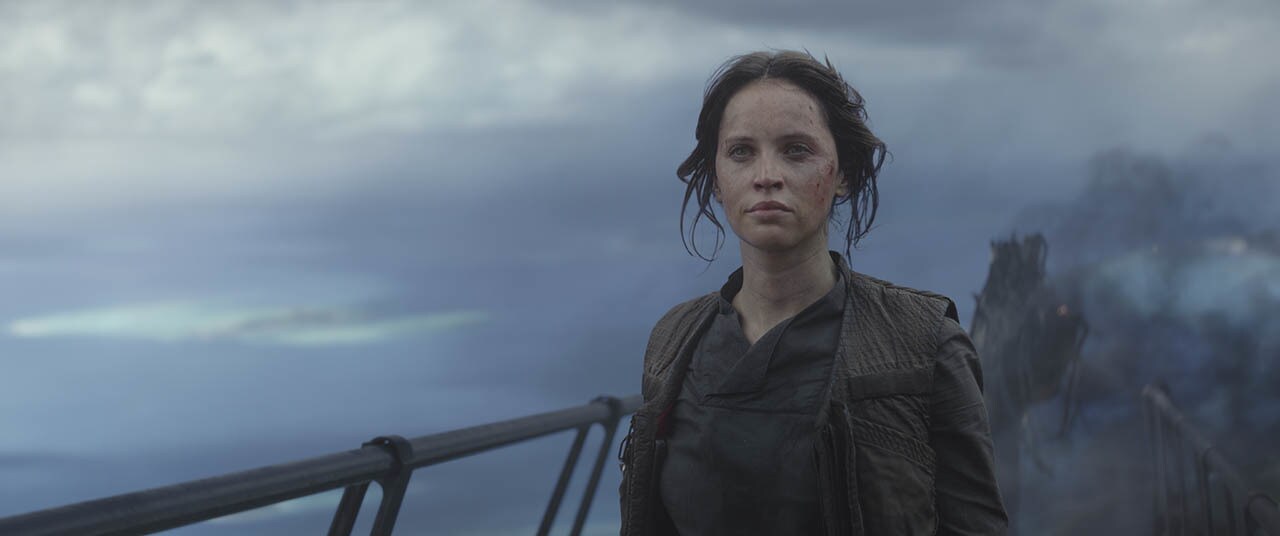 For her part, by the time she arrived in Jordan, Jones had already spent months building the role and preparing her mind and body for the transformation into rebel war hero. The actor was already known for taking a studious approach to her work. For a role in the romantic comedy Chalet Girl, she learned how to snowboard. For The Theory of Everything, she met with the real Jane Hawking, so thoroughly impressing the former wife of physicist Stephen Hawking with her attention to detail that Hawking told reporters it felt like she was watching herself on screen. With the legendary Carrie Fisher's Princess Leia Organa and Daisy Ridley recently relaunching the Skywalker saga films as the mysterious scavenger Rey leading the way, Jones crafted her version of a fiercely independent Jyn Erso.
"I approached Jyn very physically, I wanted it to feel that she's been learning to fight her whole life and she navigates the universe in such a way that she's ready and prepared to attack whenever she might need to," Jones says. In the weeks leading up to filming, Jones learned a form of martial arts called Wushu, and became an intensely dedicated practitioner. "It gave me the physical strength to annihilate stormtroopers, but also a sense of the mental strength that is so key to martial arts -- that your body can be a lethal weapon and you have to use that strength wisely."
Although her co-stars from the film have previously said Jones is the most like her character in reality, given a temperament that makes her a natural leader and the physicality she brought to the part, five years later she says she still carries some of Jyn and the lessons the role taught her into her real life.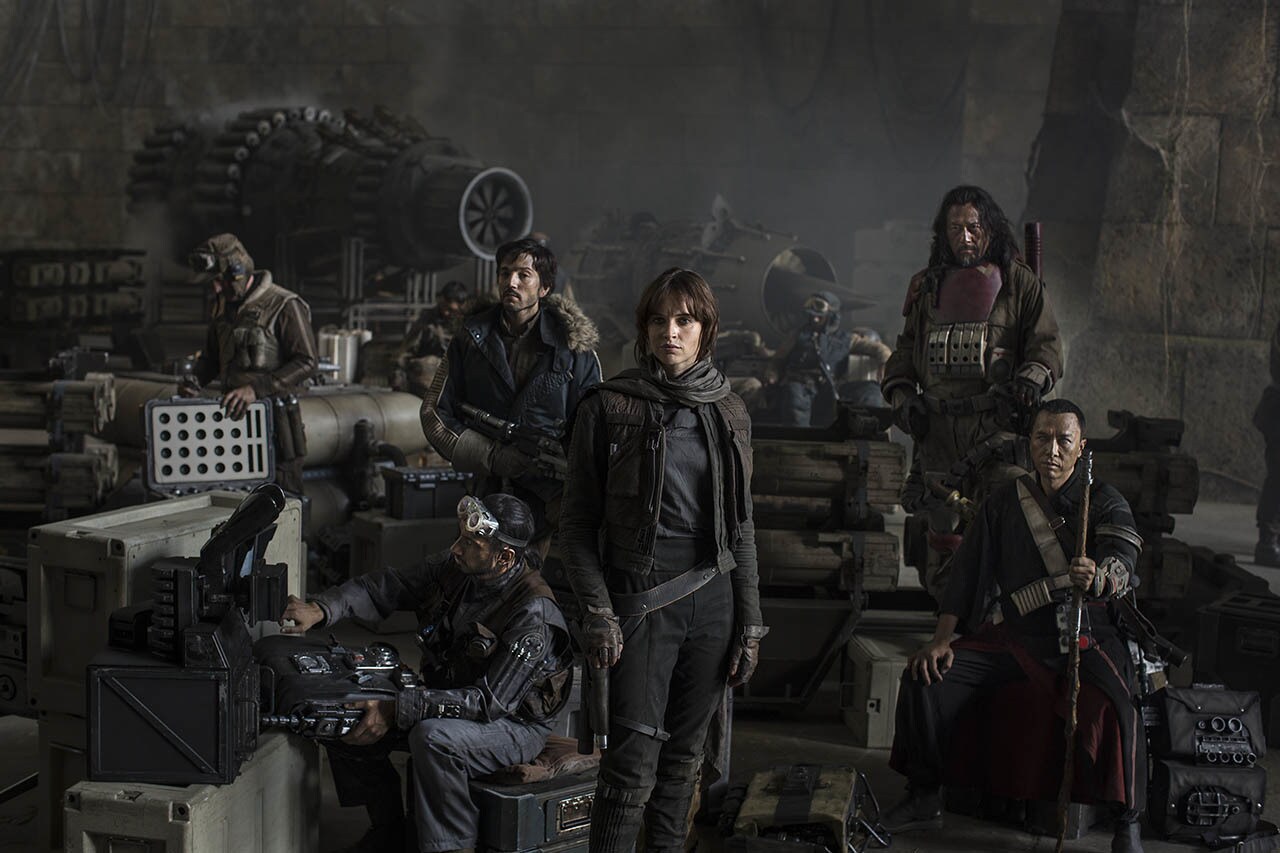 "I loved all those aspects of Jyn -- her leadership qualities and her instinct for survival and also a sort of inner peace that made her feel 'what happens, happens.' Many of the attributes we're needing now with the pandemic we're going through." Jones says. In fact, tackling the role of a rebel who was ready to take on the entire Empire herself gave Jones the strength and fortitude to stand up to real-life bullies. "I did feel invincible after playing Jyn," she says. "I remember some young guy was hassling my elderly neighbor for money at her front door and I intervened to get him to leave her alone. I definitely was channeling a bit of Jyn's strength in that moment!"
Associate Editor Kristin Baver is the author of the book Skywalker: A Family At War, host of This Week! In Star Wars, and an all-around sci-fi nerd who always has just one more question in an inexhaustible list of curiosities. Sometimes she blurts out "It's a trap!" even when it's not. Follow her on Twitter @KristinBaver.