After debuting on The Mandalorian, the leader who gave Din Djarin his signet and his quest returned in The Book of Boba Fett for a history lesson.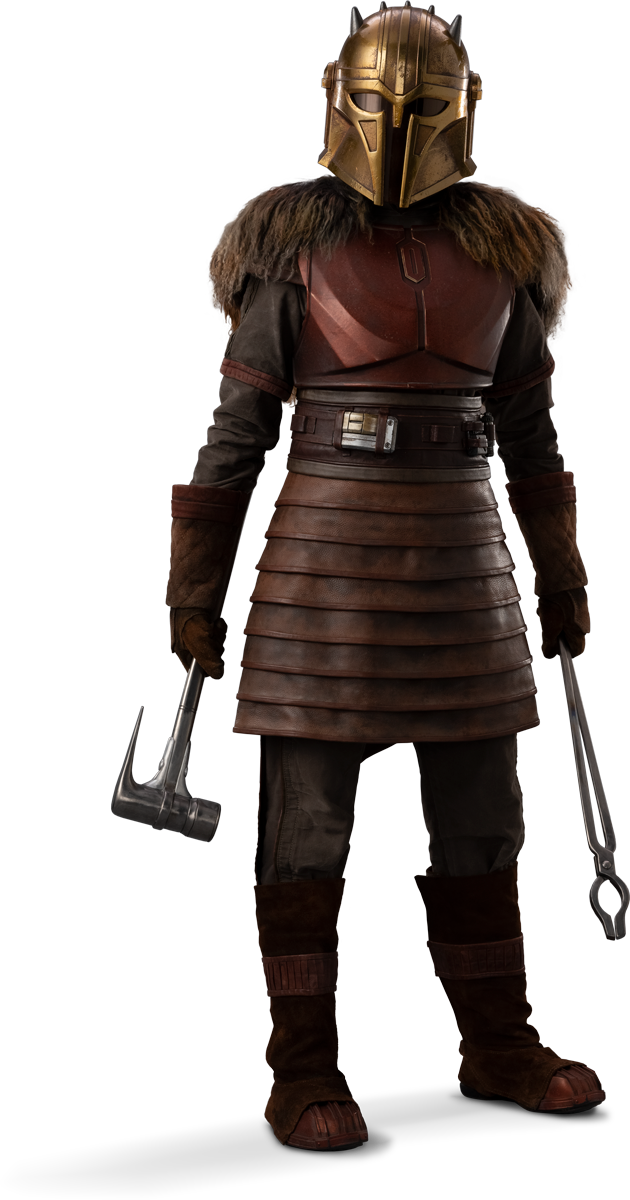 As the Armorer in The Mandalorian, Emily Swallow portrays a character on par with other great Star Wars peacekeepers, sages, teachers, and wise clan elders. Like Yoda passing on his knowledge of the Force to countless classes of younglings, the Armorer oversees the Mandalorian culture. She forges the armor to protect her covert, teaches followers the Way, and  -- when required -- springs into action to defend her own.
In the skilled hands of director Bryce Dallas Howard, Swallow and her uniquely masked leader returned with a new lesson on the Darksaber and the history of Mandalore in Chapter 5 of The Book of Boba Fett, "The Return of the Mandalorian." "Working with Bryce is such a dream for an actor," Swallow tells StarWars.com. "She is that remarkable breed of leader who knows what she wants and makes sure she gets every single shot she wants, but she will always ask you if there is anything you want to try, and she will unfailingly tell you to follow your gut. There is never any doubt that she trusts her actors."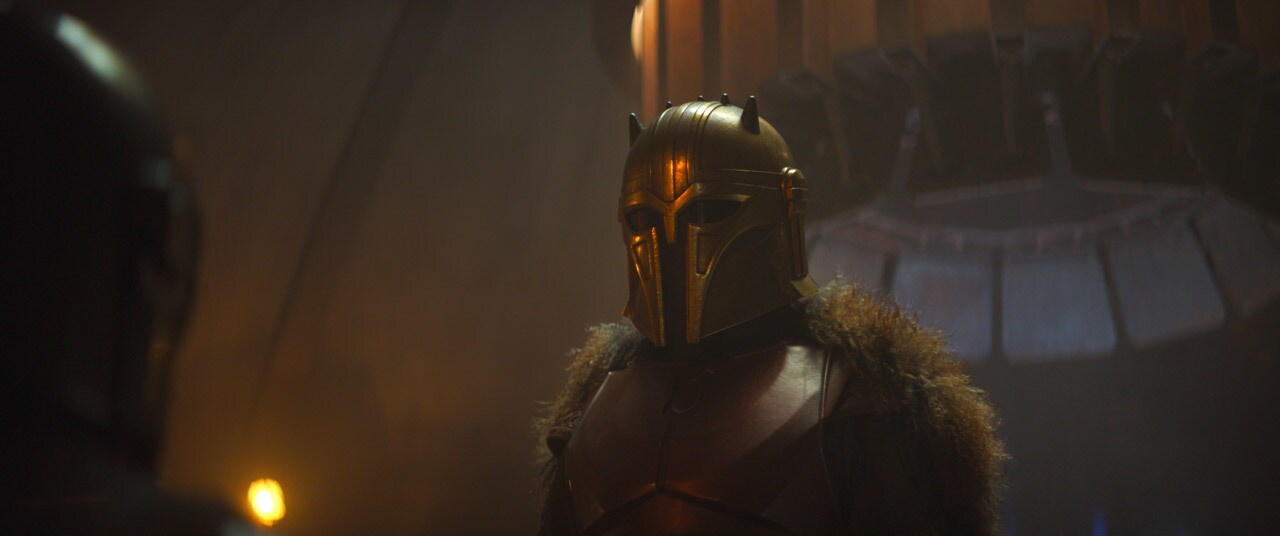 Stepping back into the role after nearly two years took some adjusting, but Swallow enjoys the tranquility that comes with embodying the masked Mandalorian. "I really like living in her space because I am not nearly as grounded and calm in my day-to-day life. I fidget a lot and I use my hands and my face a lot [for expression]," she says with a laugh.
The episode transported viewers and Swallow's character to the Glavis Ringworld thanks to Stagecraft. "Working on the Volume is a game changer in the best possible way," Swallow says. "When I first stepped onto the set, it took my breath away. The vastness of the sky and the isolation of this place that the Armorer had staked out really struck me. I got a glimpse of how lonely existence must be for this group of people who have to live in constant hiding." But while watching the episode with her husband just after its midnight release, Swallow was amazed by the finished look. "As an audience member, I can't even tell I'm watching something that's not shot on location. It's incredible."
Being a part of the first Star Wars live-action series has allowed the longtime fan to journey among the stars and into corners of the galactic lore she had not previously explored. "I don't remember a time without Star Wars because I was a child of the '80s," she says. "My first Star Wars memory was playing Ewok Adventures in the backyard -- I was all about the Ewoks when I was a little girl. And of course, a huge fan of Princess Leia. But once I got involved with The Mandalorian, I quickly realized there was a lot more to learn. It has been quite an education!"
Finding the Way
Secrecy behind the scenes has been one of the production's strengths as much as the in-universe Mandalorian coverts', to the point that Swallow didn't know exactly what she was getting into when she auditioned for the part. "I knew that I was auditioning for something possibly to do with Star Wars, but everything was so secretive." The character description was brief, "just that she was the leader of a group of people in hiding and she was masked." With a background in theater and some mask work during her graduate school program at New York University, Swallow was up for the challenge. "I didn't go in with a bag over my head or anything," she jokes, recalling an audition scene similar to a moment in Chapter 3 of the series when the Armorer breaks up a fight amongst her squabbling covert. "I do remember saying 'This is the Way,' in my audition scene, but there was no context."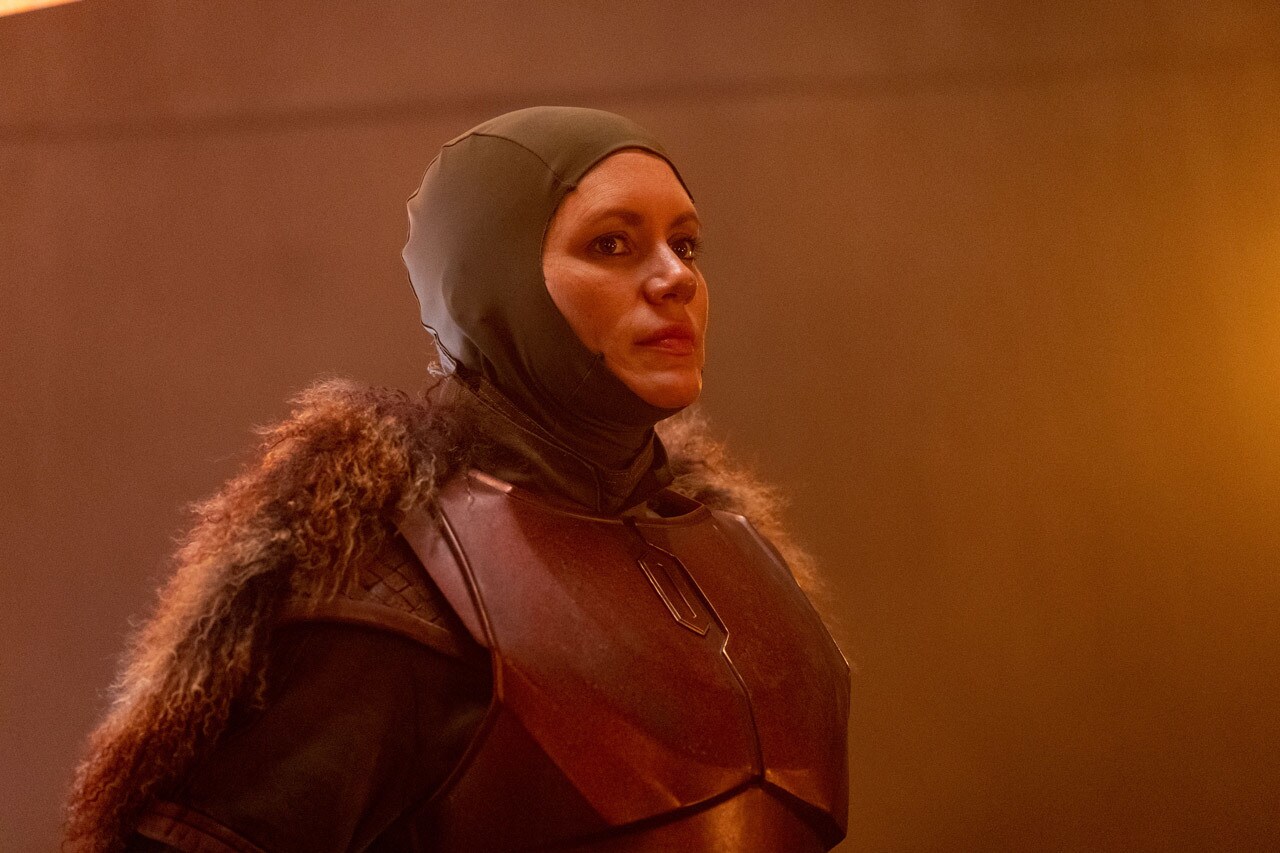 Without her expressive face to use for emoting the character's feelings and intentions, Swallow says she had to pay closer attention to her body language, especially once she landed the part and got on set. "When you can't look at the face, the eye is drawn to the rest of the body even more, and every small movement becomes magnified. It was really fun those first few episodes, because we were all sort of finding together what the language of movement was and what translated and what didn't," Swallow recalls. "Dave [Filoni] and Deborah [Chow] were directing. It was a lot of experimenting. It was a lot of running into each other. We would bonk helmets with each other; I was tripping on things in my forge. I mean, if we had all of the behind-the-scenes footage put together from those episodes, we would have a Three Stooges reel because it was just ridiculous!"
Swallow credits showrunner Jon Favreau and the directors and editors for helping to make her performance look effortlessly confident when the reality was a helmet that, to paraphrase Luke Skywalker, she couldn't see a thing in. "It was very disorienting, especially because it was already dimly lit in that room. And then you put on, essentially, sunglasses and you have no peripheral vision. If you tilt your head to look down, it's very distracting. And for a character like that who's supposed to be very confident and very measured and who definitely does not look down to check where she's going, I realized I couldn't do that." The performance was an exercise in trust with the crew, who ensured her path was clear and the filmmakers and post-production team that cut it together for the screen.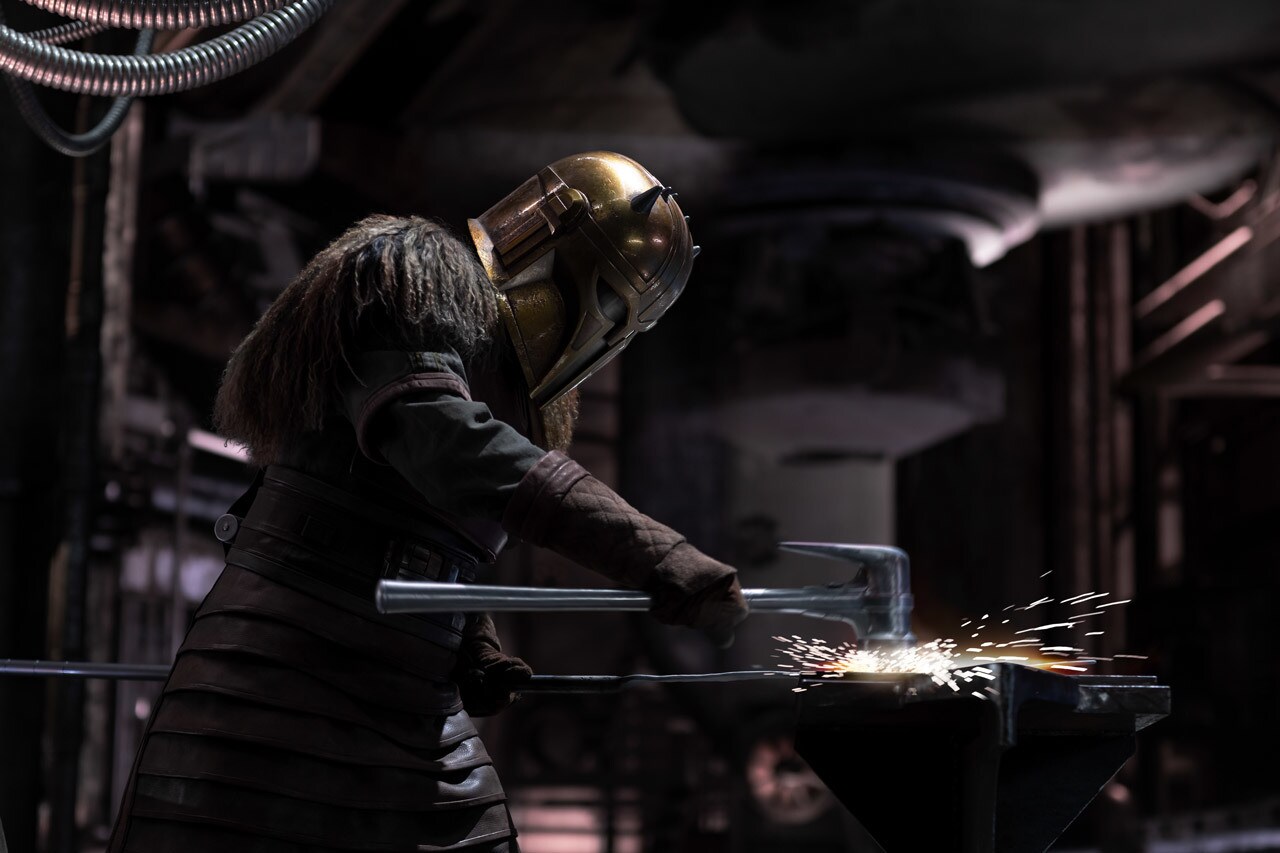 On longer shooting days, the costume could become cumbersome. While reprising the role with Howard in the director's chair, Swallow recalls a particularly long day of shooting a blacksmithing sequence. "We were shooting a lot of hammering," she says. "I hammered high. I hammered low. I hammered medium. I hammered hard. I hammered soft. I hammered like a butterfly. I hammered like an elephant. I hammered from every angle, in every shape and at every conceivable tempo. And you have to picture all of this happening with me in my full armor, wearing my bulky gloves that Jon [Favreau] called my oven mitts, with my rather formidable hammers in the midst of my forge surrounded by that beautiful starry set." Throughout the entire shoot, Swallow could hear Howard's voice on a microphone booming from the ether: "'Ok, we're going to do it again, and this time swing the hammer 6 inches higher and two beats faster…Now two inches lower and three beats faster.'
"'Again. Again….Again.'" The somewhat grueling number of takes ensured Howard got just the right shot for the moment. "And since I trust her completely and she manages to be one of the nicest people on the planet, I only slightly cursed her from beneath my helmet," Swallow jokes.
But concealing her face has given her a sense of freedom with the role, Swallow notes. "You cannot be in this business without being well aware of what you look like and how people receive that," she says. "It is so liberating to me to play this character who is so beloved and so respected and so inspiring, and for it to have nothing to do with what she looks like. I love that. And it means that I save like an hour and a half when I get to set. I don't have to go to hair and makeup, and that's awesome. It's just really a dream."
"A kind of euphoria"
Even after Swallow landed the gig and began shooting, she was cautiously optimistic about her character's involvement and importance. "I thought it was pretty cool that it was Star Wars, but I didn't get too excited because I just didn't know if there was anything to get too excited about." On December 12, 2018, Swallow was announced among a cast of eight, a vote of confidence that her character was someone of note. But the excitement didn't truly hit her until nearly a year later at the red carpet premiere for the series in November of 2019. Fans and press in attendance were shown the first three episodes in the series, cementing the Armorer's role as the viewers' and Din Djarin's guide to navigating Mandalorian culture. "I just felt a kind of euphoria in the audience," she recalls. "That's when I got excited. I felt like I was part of something pretty magical that really captured the heart of those first three movies. And the quality and intelligence of it,  the cleverness of how they were tying in so many things for people that are well versed in the Star Wars universe, but then also making it so accessible to people that know nothing about it, who could just jump in. It still blows my mind that it covers so many bases."
Swallow, already a part of Supernatural and a witness to the long-running series' passionate fanbase, soon experienced the love for Star Wars on a whole new level. At conventions after the premiere she began meeting fans of all ages who were inspired by the Armorer. One even handmade an Armorer costume, complete with a tiny hammer, for her Boston Terrier and French bulldog mix Norma Jean. "It's unreal. It's unlike anything I've ever experienced, and it's a huge honor to get to represent this character and a huge joy," Swallow says. "And the thing that just fills me up more than anything else is the way that she gives women and girls strength."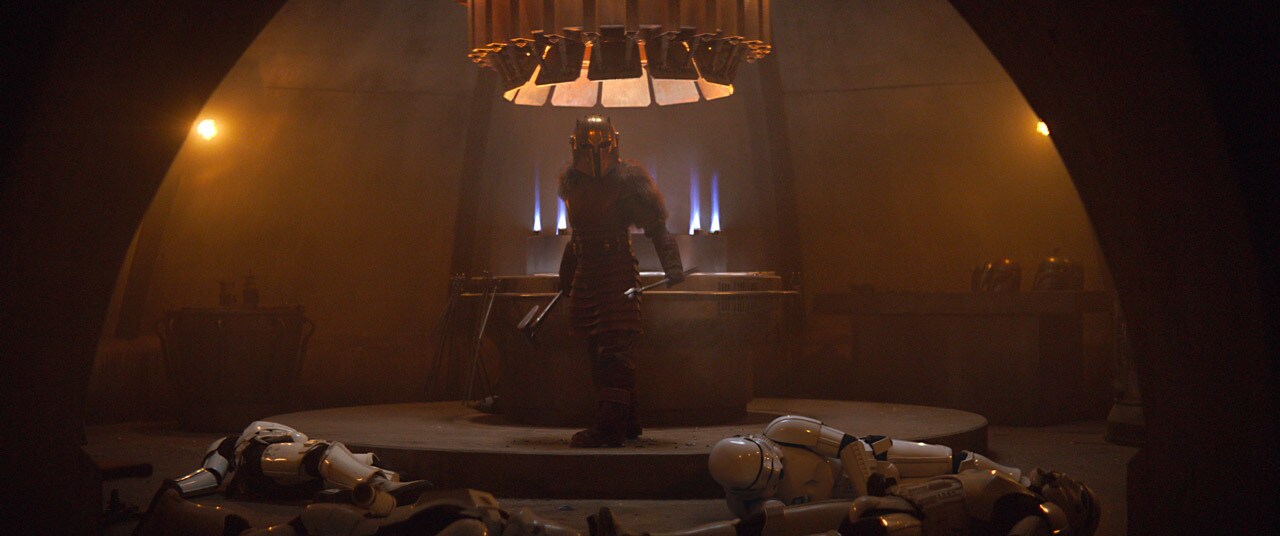 Beyond being a total badass at the forge, fighting the Imperial remnant, or relating history lessons and settling disputes over ancient weaponry as we saw most recently in The Book of Boba Fett, Swallow most appreciates her character's dedication to her people and what they stand for, prepared to defend it at all costs. "One of the things that I personally love about her is that she is this warrior -- she makes armor, she makes weapons, -- but she is so deliberate about when she chooses to fight. She is the keeper of something sacred. She respects something that is so deeply spiritual, and it is remarkable to have the space for that within this story. It is something that often gets skipped over in our fast-paced world these days." As a teacher, she's always pushing Din Djarin to answer questions of faith and commitment for himself. "She's always trying to say, 'Why don't you look at this?' Like I think great teachers do. Instead of saying, 'This is what you need to think about this,' she's saying, 'What do you think?'"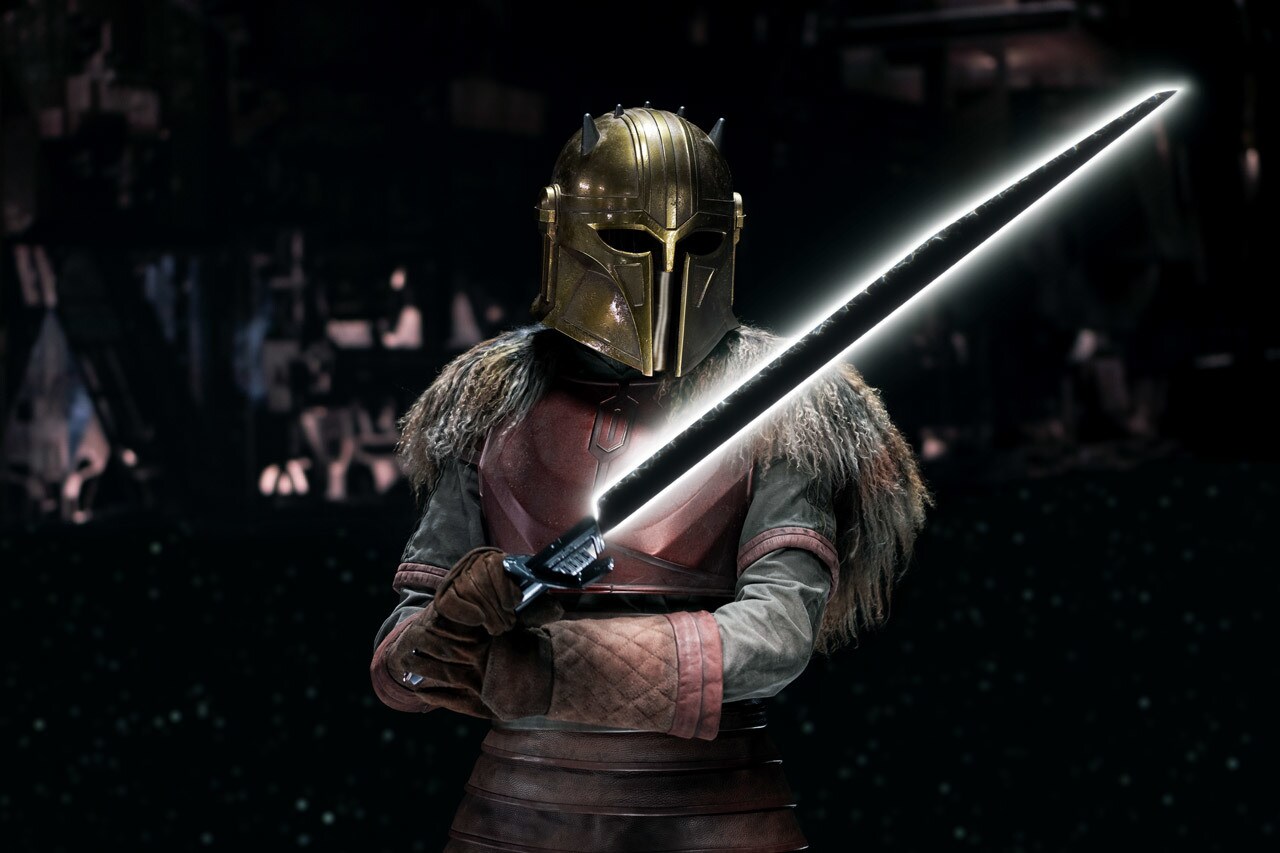 Swallow says she learned the lore of the Darksaber by watching Star Wars animation, but in reprising the role of the Armorer, her character delivers the backstory of Tarre Vizsla, an ancient Mandalorian Jedi who crafted and wielded the blade, to a new audience.
But like Din Djarin, she still has much to learn. "Every time I go to a convention, I feel like I learn something else that I realized I didn't know from the fans.I love that about it. I love that there are so many layers, and I love that all the fans are so passionate about it and that there's just something for everyone." And she continues to be inspired by the creators making The Mandalorian and The Book of Boba Fett as well as the fan community. "I love the people that I work with. Everyone is so, so ridiculously talented and generous and playful and open hearted," she says. "And I love the fans. The fans amaze me. They are unfailingly generous and talented." Swallow is in awe of the cosplayers, like the 501st Legion and the Mandalorian Mercs, who not only craft screen-accurate costumes, but spend their free time raising money for charity and doing good while in character. "The fact that this storytelling inspires such genius and giving is absolutely incredible to me," Swallow says. "It brings out the best in people and it's beautiful. That's exactly why I wanted to be a storyteller in the first place because I think that it can inspire us to be the best of ourselves."