Discuss the journey of Darth Vader with some help from Galaxy of Adventures and StarWars.com.
Fear is a path to the dark side, and no one in the Star Wars galaxy has traveled that treacherous road more than Darth Vader. The former Jedi succumbed to the fear of loss and the promise of power to be reborn as a terrifying symbol of the revenge of the Sith.

One of the most enduring lessons
Star Wars
teaches us is that understanding our fears is of great importance. Without understanding our fears, and why we have them, we can never hope to overcome them. It's a lesson that adults often struggle with, which can make having a conversation about it with the children in our own lives difficult.
Darth Vader, interestingly enough, offers us a unique opportunity to start this conversation in a way that isn't too daunting or scary. The escapism of Star Wars often allows children to talk about the concept of fear through the Sith Lord, a character so ingrained in pop culture that his mystique often overshadows his intimidating presence.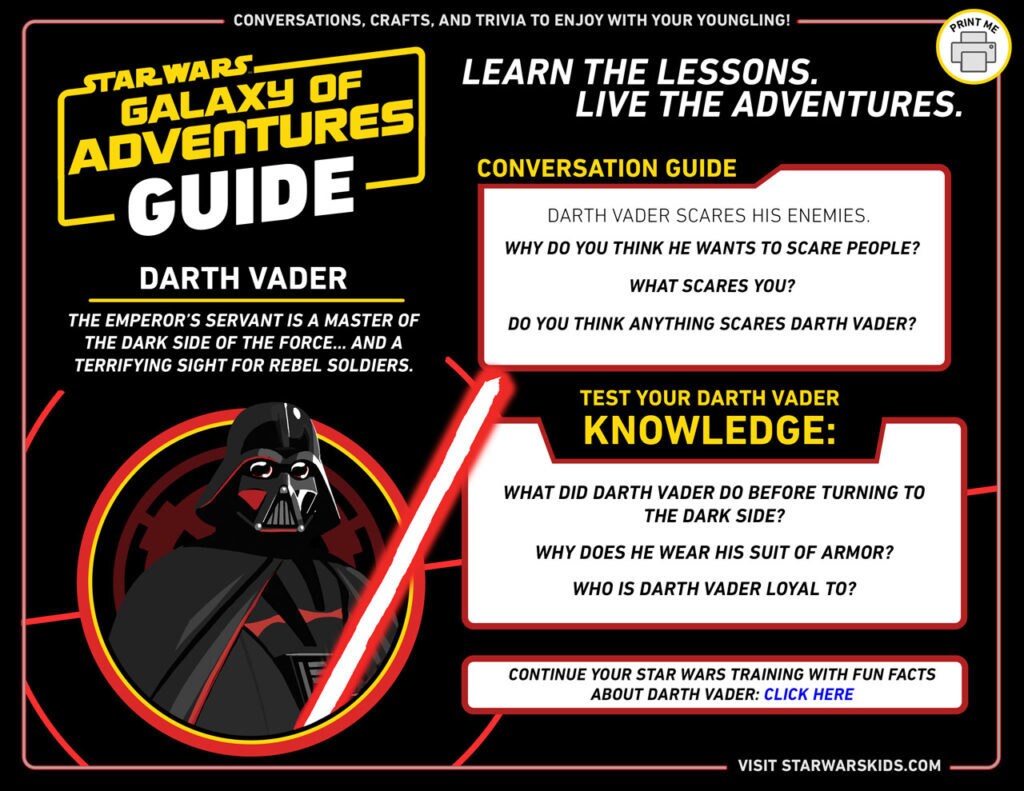 This guide to Darth Vader gives you some prompts for discussing fear with your youngling. Inspired by "Power of the Dark Side," it uses Darth Vader's frightening actions and appearance to help you explore what fear means to them, and how they can overcome it.

You can also learn about the Sith Lord's tragic past with
Galaxy of Adventures Fun Facts
. Then, only then, can your Padawan pass their trivia trials: three questions about the history of Darth Vader.
For more on Galaxy of Adventures, visit Star Wars Kids on YouTube and StarWarsKids.com.
Have fun! And may the Force be with you.
StarWars.com. All Star Wars, all the time.
Site tags: #StarWarsBlog, #GOANews