Kathleen Kennedy, J.J. Abrams, and the cast share memories, some details, and an amazing new preview of the film.
Rey with a double-bladed red lightsaber. The sound of Darth Vader's labored breathing. An epic duel between Rey and Kylo Ren on what appears to be a piece of debris on a roiling sea. And, turning toward the skies, Star Destroyers and X-wings are far as the eye can see.
These glimpses were just part of the exclusive preview footage from Star Wars: The Rise of Skywalker that left the crowd at the Walt Disney Studios panel at D23 Expo gasping Saturday morning.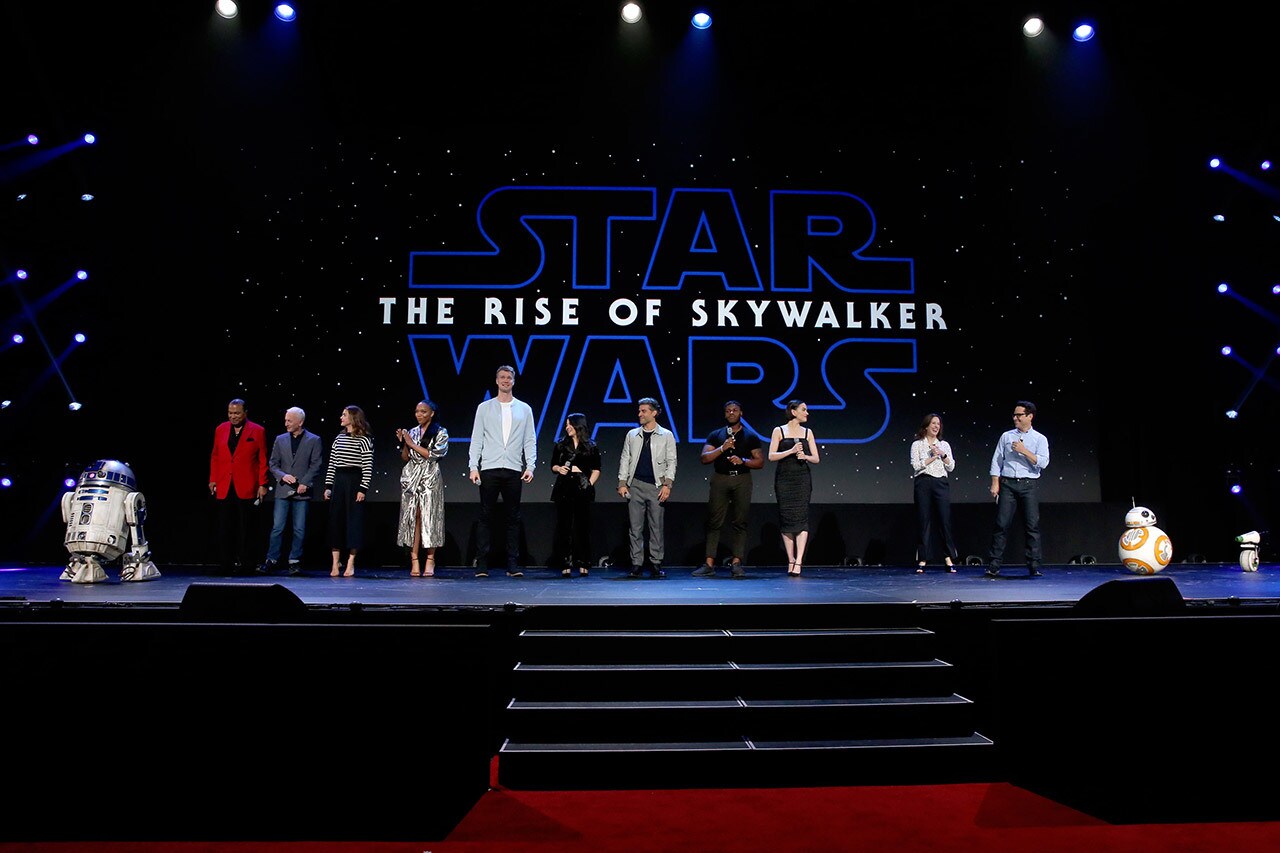 The reel capped off an emotional reunion of many members of the cast -- Daisy Ridley, John Boyega, Oscar Isaac, Billy Dee Williams, Anthony Daniels, Keri Russell, Kelly Marie Tran, Joonas Suotamo, and Naomi Ackie, plus a few favorite droids -- from The Rise of Skywalker, who took the stage with Lucasfilm president Kathleen Kennedy and J.J. Abrams, director of both Star Wars: The Force Awakens and the next and final film in the Skywalker saga opening December 20.
Here are 5 highlights from Lucasfilm's segment at the star-studded Walt Disney Studios panel.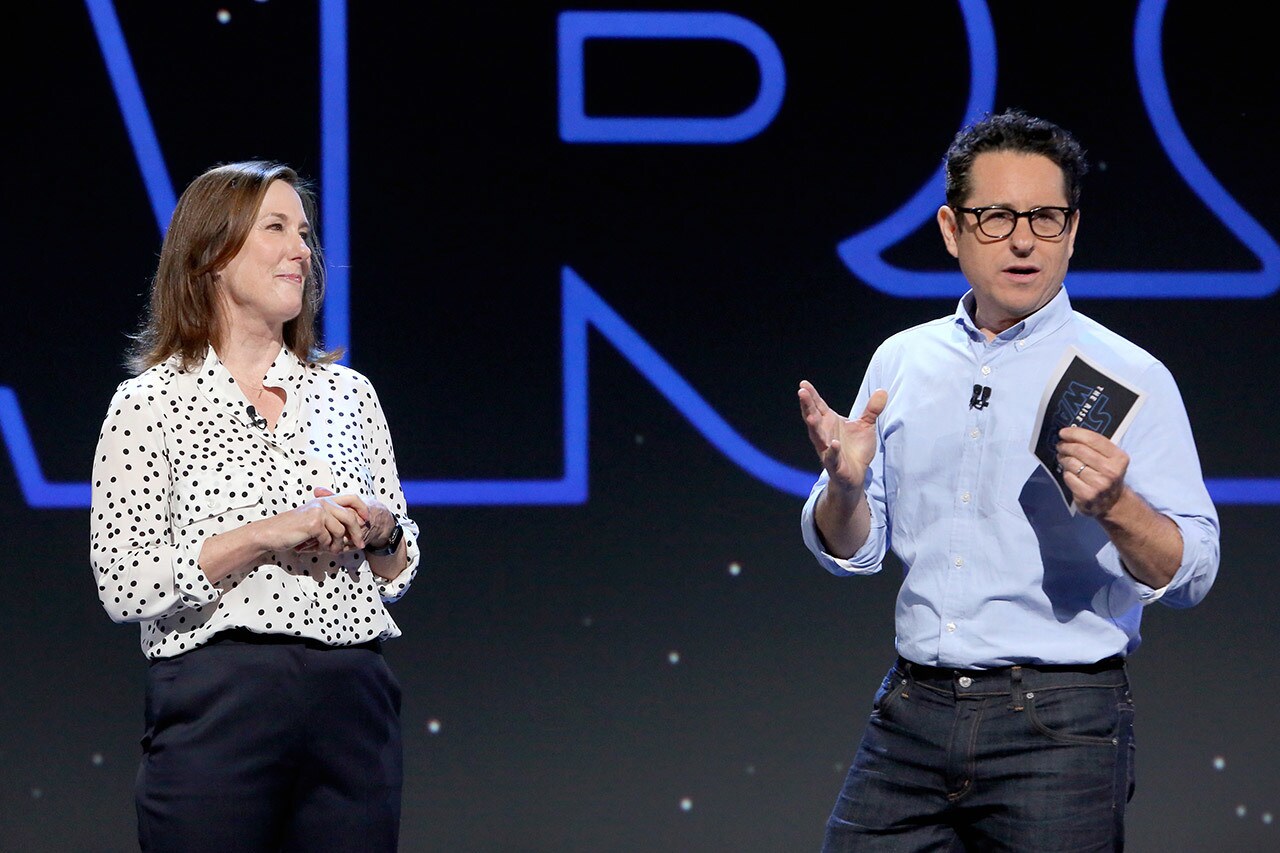 1. J.J. Abrams shared an emotional story about Carrie Fisher.
"The character of Leia is really, in a way, the heart of this story. When we were talking about this story we realized we could not possibly tell the end of these nine films without Leia," Abrams said. The actor passed away before filming began, but Abrams still had some unused footage of Fisher from The Force Awakens, "that we realized we could use in a new way so Carrie, as Leia, gets to be in the film." But here's where the story takes a turn. "I wasn't supposed to be here," Abrams said, as he wasn't originally intended to direct the first and last installments in the sequel trilogy. But before her death, Fisher wrote a prescient dedication into her book The Princess Diarist. "She was almost sort of supernaturally witty and magical in a way," Abrams said. On the pages she had written, "'And special thanks to J.J. Abrams for putting up with me twice.' Now, I had never worked with her before The Force Awakens and I wasn't supposed to do this movie, so it was a classic Carrie thing to sort of write something like that and it could only mean one thing for me. And I could not be more excited to have you see her in her final performance."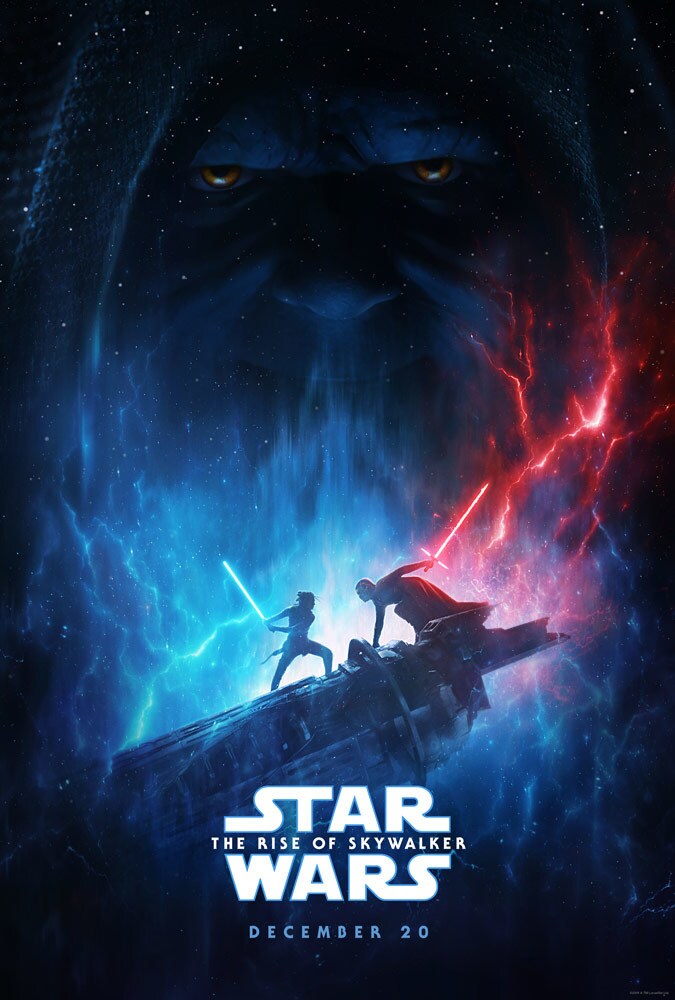 2. We have a new Star Wars: The Rise of Skywalker teaser poster.
At the panel, fans got to see the first artistic poster for the film, after an initial teaser was released with the logo on a black star field earlier this year.
3. Keri Russell revealed some new details about her character Zorii Bliss, including a past connection with Poe Dameron.
"It was so exciting. First of all, the main thing is my son actually thinks I'm cool now," Russell said. "I had this amazing costume and this helmet, which I actually loved to wear and didn't take it off for about the first two days. I wore it the whole time, but I found it incredibly, strangely empowering and exciting. I can't wait for you guys to meet Zorii. She's very cool and a little bit shady."
The mysterious character with a criminal past is also "an old friend of Poe's," Russell said.
4. We got a glimpse at new behind-the-scenes photos.
"We have genuinely become a family over the past few years," Ridley said. During the presentation, images of cast and crew on set put a spotlight on the emotional connection the found family of actors shares after working on the films, including a moving photo of Ackie and Boyega hugging on set.

5. And the new footage raised so many questions!
Following a striking montage of scenes clipped for the other saga films, the unmistakable voice of Mark Hamill could be heard over the new scenes. "We've passed on all we know. A thousand generations live in you now. But this is your fight." The wise words were also part of the first trailer for the film, but the new footage, including a moment where Rey appears to toss a fully-ignited lightsaber, and of course the sight of Rey with a reticulated red blade, was nothing short of thrilling.
Associate Editor Kristin Baver is a writer and all-around sci-fi nerd who always has just one more question in an inexhaustible list of curiosities. Sometimes she blurts out "It's a trap!" even when it's not. Do you know a fan who's most impressive? Hop on Twitter and tell @KristinBaver all about them.
Site tags: #StarWarsBlog, #D23Expo2019