Dak and Biggs discuss working with George Lucas and much more.
With a new focus on the Rebellion courtesy of Rogue One, it seemed an opportune time to catch up with Garrick Hagon, a.k.a. Biggs Darklighter -- Luke Skywalker's Tatooine pal who joined the fight against the Empire in A New Hope. Our conversation on his long and varied career has been a moveable feast that began in 2015 in Providence, Rhode Island, where we found ourselves on a Star Wars panel reminiscing with other Star Wars personalities about the galaxy, working in the entertainment business, and the time we shared in the London of the '70s.
John "Dak" Morton: So, Garrick, that wonderful story you told on our Star Wars panel about first working with Alec Guinness, I must ask you to share it with me again. That was an epic start to your long and wonderful career, eh?
Garrick Hagon: Ah yes, that was in the very first production ever at the Stratford Shakespeare Festival of Ontario. The play was Richard III. Guinness was Richard, and he said the very first lines on the Stratford stage, "Now is the winter of our discontent made glorious summer by this son of York," and so forth. I played his Edward, Prince of Wales. We were directed by the great British actor and director Tyrone Guthrie, who was of course the Festival's artistic director.
John "Dak" Morton: How old were you?
Garrick Hagon: It was the summer of 1953. I guess I was 13 just before going to high school. I was originally cast as the page to the Prince of Wales. Well, Guthrie and Guinness decided in rehearsals to switch me with the actor playing Edward, the Prince of Wales. We performed it in this great circus tent. And the internationally famous British designer Tanya Moiseiwitsch designed this incredible apron stage which was to become Stratford's trademark. So I was gifted with a spectacular Guthrie-esque entrance up the ramp onto the center of the stage surrounded by flags that bowed down at my feet like a star. And then Guinness as Richard approached me, kneeled, and kissed my hand to welcome me as the prince to London. Great entrance. Great moment.
John "Dak" Morton: What did you learn from working with Sir Alec then?
Garrick Hagon: Well, Guinness later in the scene had a rather snide, but funny aside to the audience which gave him his first laugh in the play, and my next line was, "What say you, uncle?" The opening night, I stepped too hard on his laugh line, and when we came off stage, Guinness stopped me and said, "If you do that again, you're out." I learned to let the audience laugh.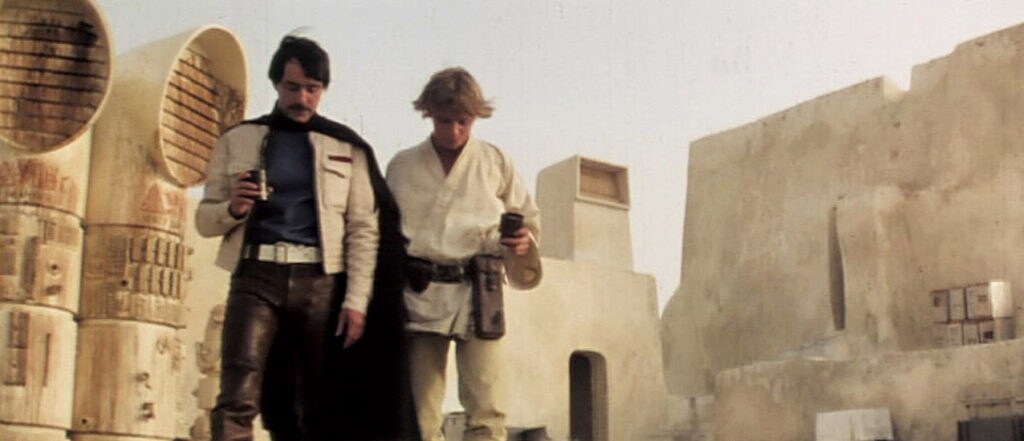 John "Dak" Morton: You were born in London. How did you get to be raised in Toronto?
Garrick Hagon: I was apparently conceived in Rome where my parents met and was born in London. At the start of the war, my dad joined the RAF. When our London house was bombed, my Canadian mother took me by ship in a convoy of refugees from Liverpool back to Toronto where I grew up. While my father was away serving in the Middle East, I wrote cards and stories to him but didn't meet him until he was demobbed and joined us in Canada. I remember first seeing him and my mother asking me if I knew who he was. "Why, yes," I said, "He's Mr. Hagon."
John "Dak" Morton: What influenced you to get into theatre?
Garrick Hagon: It was my mother. I was five or six. She sent me in the summers to this camp in North Ontario, an eight-week camp with canoeing and such. But I was drawn to the theatre activities. I loved the smell of the props and costumes. At camp, I enjoyed doing a lot of improvisation. I won the dramatics cup. And then I worked for a long time on a weekly Saturday morning children's drama live on the CBC called "A Doorway to Fairyland," led by writer/director Lyn Cook. This led to a weekly children's disc jockey program which I took over from a young Peter Jennings, later to become the ABC-TV anchorman. My dramatics at camp led to being offered the part of young Bert, the kid down the block, in a Toronto University production of Arthur Miller's All My Sons directed by Hank Kaplan, who became a prolific TV director in New York and Toronto. And somehow I went on to audition for the fledgling Stratford Festival. Later while I was studying English at the University of Toronto, I worked every summer playing good juvenile roles in over ten Shakespeare plays at Stratford under the great English director Michael Langham. I also at that time was able to do some TV in New York, the best being the U.S. Steel Hour's Little Lost Sheep with Jane Wyatt and Hans Conried.
John "Dak" Morton: So Garrick, we had a wonderful gang of North American actors working in London in the '70s, didn't we? Who are the Star Wars actors you knew and perhaps worked with -- before Star Wars?
Garrick Hagon: Oh yes, we knew each other and were indeed a great fraternity of American and Canadian actors, as you know. I knew Billy Hootkins [Jek Porkins], Richard le Parmentier [Admiral Motti], Bruce Boa [General Carlist Rieekan], and later Anthony Forrest ["Those aren't the droids we're looking for."].
John "Dak" Morton: But you were also known as someone who could play English roles.
Garrick Hagon: That's right. Somehow that got me cast as Ammar, one of the Prophet Muhammad's companions in The Message out in Morocco and Libya. This was in late '74, I think. It was epic. We were out there for 13 months.
John "Dak" Morton: Well, that desert experience must have set you right up for Tatooine a year or so later. Let's talk a little about that. You got cast by Irene Lamb -- as we all did, that is, those of us based in London. What did you think you were getting into, because at the time, the London scuttlebutt was that this whole project was rather sketchy. I'm assuming you only had sides, not the whole script, yeah?
Garrick Hagon: Actually, no. I did have the whole script. I remember before I went out to Tunisia, I was auditioning for a TV production, The Lady of the Camellias, with Kate Nelligan. And she saw the Star Wars script that I had with me on a table. So she looks it over and asks me what it's all about, and I had to say, "I don't actually know what it's all about."
John "Dak" Morton: So, you go out there with my buddy Tony Forrest.
Garrick Hagon: I went out on a commercial flight with Anthony and Koo Stark. It felt very much like we were going on an adventure. We arrive at the airport in Djerba, I guess, and Mark [Hamill] ran out to meet us when we arrived at the beach motel. I remember he was so welcoming and wanting to reassure us that we shouldn't worry about anything. The point was to have fun. We asked him about George [Lucas] and what he was like to work with. I'll never forget him saying, "You can say anything. Anything, like 'Pass the peanut butter.' As long as it's fast!"
John "Dak" Morton: Mark was a great team player. Always encouraging. I worked with him almost every day on Empire for four weeks. We'd have lunch together, daily, it seems. Early on, when he and I discovered that both our dads were career navy men, he bonded with me immediately.
Garrick Hagon: He was great company. And because George focused more on working with the crew out there, we were left to ourselves to work the scenes together instinctively. Mark was fast anyway, whereas with all my English theatre and television training, I was more inclined to invest each line and say it slowly. He was ahead of his time, because nowadays we talk much more quickly, don't we.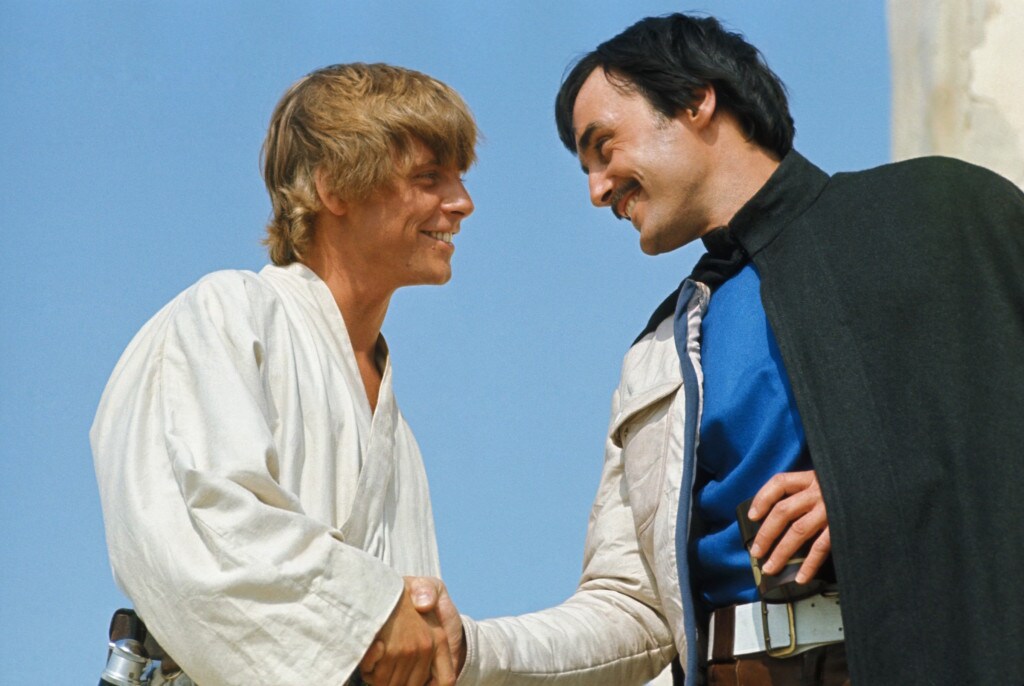 John "Dak" Morton: So how did that work with George?
Garrick Hagon: George didn't give us very much in the way of specifics, if I remember. This was early in the shoot and he was just getting to know us and his crew, as we were him. We were all feeling our way with each other. I recall, we had eleven takes of a long tracking shot in front of the little mosque on the seaside. Then we picked up shots climbing down the parapet to give it a bit of athleticism. We were out on Djerba for a week, but the Anchorhead exterior, we shot in one day. It was all very natural. We felt like we belonged at that station. George wanted it all to feel lived in. Everything -- costumes, props and set -- looked distressed, well-used. And the heat was real.
John "Dak" Morton: You know, Biggs is the perfect character for introducing us to the Joseph Campbell in Star Wars, the hero's journey. He awakens. Biggs Darklighter lights the dark. He's the annunciator of the call to adventure when Luke will relinquish a bit of his innocence in the exchange for experience. It's all there in the deleted scenes.
Garrick Hagon: The scenes were cut, yes, but George had them reintroduced, first on the Behind the Magic CD-ROM in 1998 and then the 2011 Blu-ray set.
John "Dak" Morton: They are great scenes, but perhaps too much exposition that slows the action down too early in the film.
Garrick Hagon: Well, that was George's genius in cutting -- editing -- the film. He had this wonderful vision and story, and he didn't want to slow it down. He wanted just to drop the audience right in there and keep the action going. And he was right, of course.
John "Dak" Morton: Still it was interesting that you and Tony and Koo Stark had these three roles so developed out there.
Garrick Hagon: Koo was very young then. I recall thinking that on the plane out there, but I recognized that she had a lot of presence.
John "Dak" Morton: Anything you want to tell us that stands out about the shoot?
Garrick Hagon: Well, not so much about the shoot itself, but one foolhardy stunt we did, not on the shoot, but on a day off. Mark, Tony, and I managed to get horses and go out for a really intense ride, and we had some really wild fun. But that was really irresponsible of us. I mean, if anything had happened to Mark, that would have been a disaster. Fortunately, nothing did, but still. But it was great fun.
John "Dak" Morton: Isn't it magical how on location, when you are working with great people, everybody just bonds.
Garrick Hagon: Oh, yes. Absolutely. We all wrapped together, and most of us, actors and crew, came home together on a charter flight. It was just a wonderful party all the way. I have in my mind a particular image of Kenny Baker and Jack Purvis [the Chief Jawa], his partner in The Minitones, doing their cabaret act in the aisles. I'd never seen it before. So funny.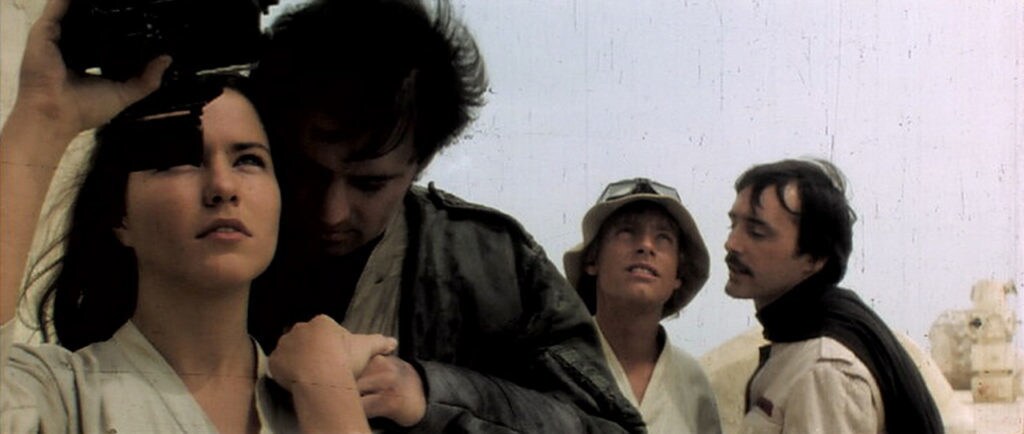 John "Dak" Morton: So you get back to London for what, studio work at Elstree?
Garrick Hagon: We did studio work at Elstree, yes, and later at Shepperton. But I must mention something about that script again. I must have been very distracted on that charter flight, because I left the whole script on the plane. And that worried me greatly, you know, with all the sensitivities and secrecy we all now associate with Star Wars shoots. There was that raucous time we were having on the flight, but also I was in a hurry to get back to London in time to do a BBC production. So that was foremost in my mind when I got off the plane. It seems I was always movie hopping those days. In the middle of the Star Wars shoot, I did a small part in A Bridge Too Far.
John "Dak" Morton: Yeah, a lot of our friends from Star Wars and The Empire Strikes Back were on A Bridge Too Far.
Garrick Hagon: I remember arriving in Holland where they were shooting the film, and Dickie Attenborough [director of A Bridge Too Far] saying that my hair was too long. I told him that was the length for my character in Star Wars and that I had more to do in the studio for Star Wars when I returned to London. He said, no, everyone on this production has short hair -- Dirk Bogarde, Robert Redford, everybody. So I had to get it cut to a World War II length. So I go back to shoot the attack on the Death Star at Shepperton, and the first thing I do is go apologize to George. He says, "Oh, that's alright. It probably got cut off at the Academy."
John "Dak" Morton: So, Garrick, we run into each other now on the convention circuit.
Garrick Hagon: I appreciate the conventions and being appreciated by the fans. I've been so lucky in my career. Worked with many wonderful people and traveled to many places in the world. Conventions have enabled me to meet many more great people and travel to even more places. Star Wars is responsible for all that, and I'm proud to be associated with it.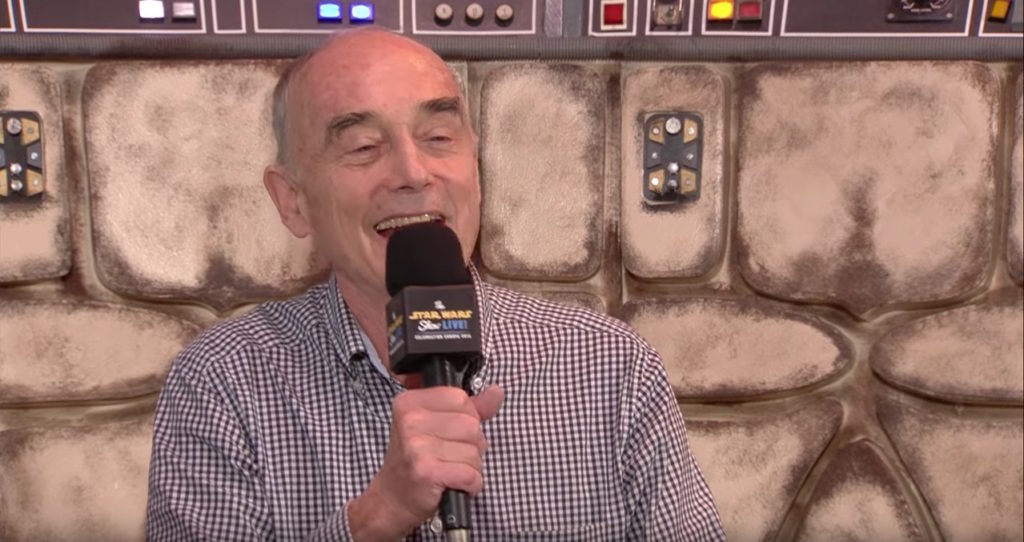 John "Dak" Morton: We just lost our fellow rebel pilot, Ian Liston, Wes Janson. I know you and he were close. He did some Doctor Who. Ian enjoyed his conventions, didn't he.
Garrick Hagon: He did. Ian did a lot. He was also a producer who did comedies, West End shows, tours, pantomimes. We were on the circuit together. He was just a delightful man, a brave man. He had prostate cancer for some twelve years and was doing clinical trials for the Royal Marsden. He was always fighting. He was never negative. He did a lot of work as a patient advocate. He had this great attitude.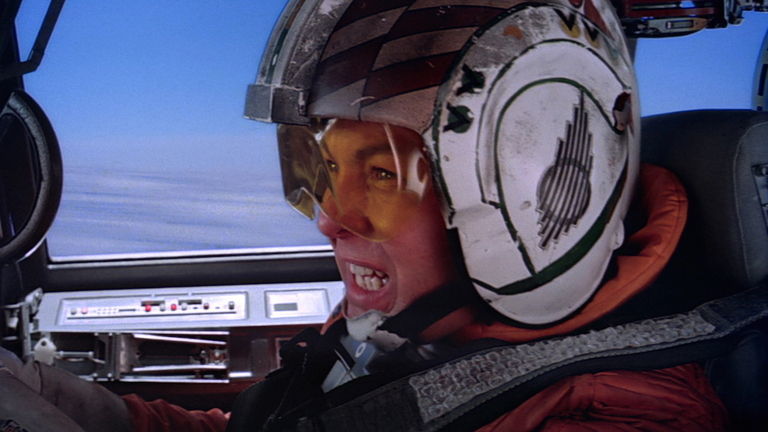 John "Dak" Morton: You mention Julian Glover. I'm always humbled to see Julian, General Veers, out there on the circuit with us. I mean, here he is one of the great Shakespearean actors of our time, and yet he really seems to enjoy it. So, to wrap this all up, after all this wonderful career that you've had—like Julian has had—what do you make of this burgeoning geek culture of which Star Wars is a part? It's a long way from Shakespeare and Richard III. Where do you see Star Wars going from here?
Garrick Hagon: Well, I hope it doesn't become too digital, too mechanized. I like things to be organic, which is why I like to meet people. I hope Star Wars retains the personal -- on the set and off. I hope they let the personalities shine, not the technologies. I hope Star Wars retains its lively humanity.
John "Dak" Morton: Well said, Garrick. May the Force be with you, Biggs.
Garrick Hagon: And with you, Dak.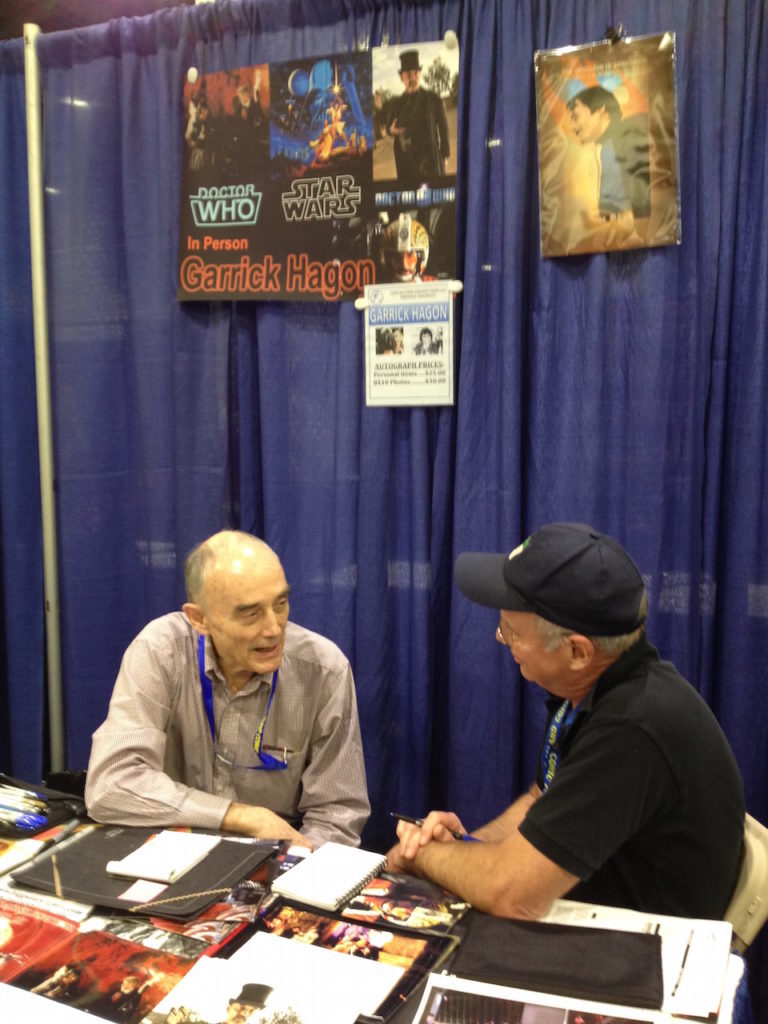 John appeared as Dak, Luke Skywalker's back-seater in the Battle of Hoth in The Empire Strikes Back. He also appeared in the film substituting for Jeremy Bulloch as Boba Fett on Bespin when he utters his famous line to Darth Vader, "He's no good to me dead." Follow him on Twitter @tapcaf.