The stormtroopers' sweet ride is once again the coolest toy in the galaxy!
The top item on my Christmas list for 1979? Oddly, it was a Star Wars toy without a second of screen time in the movie.
That didn't matter, because Kenner's Imperial Troop Transporter was cool enough to hold its own alongside landspeeders and TIE fighters. It was a deadly-looking vehicle that reminded me of a shark, with a dorsal gun turret and six side-mounted compartments for stormtroopers. It also offered a pretty amazing feature for an era before YouTube and MP3s: realistic sounds from the movie.
Santa was good to me, and the troop transporter became a mainstay in my Star Wars adventures, as well as an excuse to beg for more stormtroopers. (Those side compartments just didn't look right empty or occupied by Death Squad Commanders.) The troop transporter ferried bad guys to the battlefield, brought prisoners back from it (in restraint hoods), and it could make six noises  including blasters, stun bolts, and R2-D2 beeps.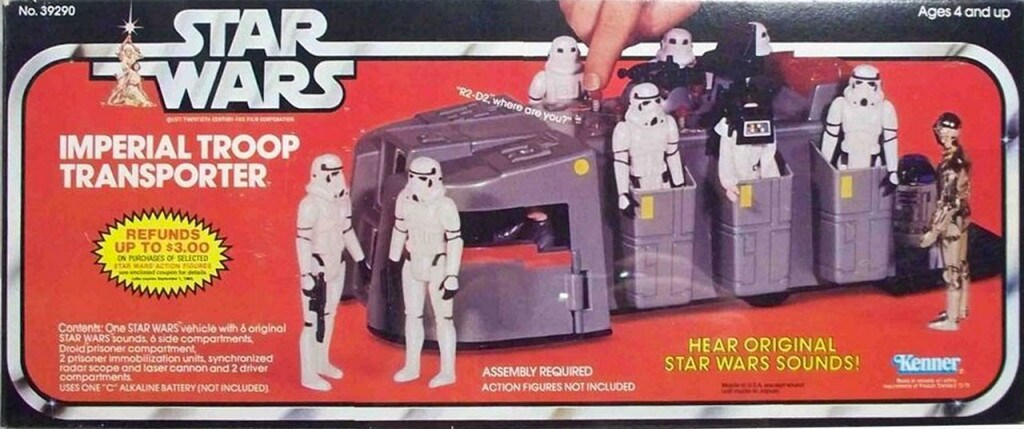 The troop transporter hadn't appeared onscreen, but a booklet included with it explained that the Empire used it in tracking down C-3PO and R2-D2 on Tatooine. My friends and I loved it, and were thrilled when it showed up in issues of Marvel's first Star Wars series. When I became a Star Wars writer years later, I jumped at the chance to adapt my childhood favorite for a new era -- my Wizards of the Coast adventure "Triplet Threat" adapted it as the Reconnaissance Troop Transport, built by Santhe/Sienar.
That was fun, but something far better was coming. In the fall of 2013 I was at New York Comic-Con to see Lucasfilm's Pablo Hidalgo show off concept art for the upcoming Star Wars Rebels. When a familiar gray shape appeared on-screen, I began to cheer: The troop transport was back!
Now it's returned to toy-store shelves as well, reimagined by the same Hasbro designer who created the original.
Back in 1979, Hasbro legend Mark Boudreaux was just starting his career as a full-time designer with what was then Kenner. "We knew we wanted a troop transport of some type, but it had to be more than just a carrying case," he recalls. "It needed to have fun toy features to help drive the child's imagination and bring the fantasy to life."
One of those features came from Boudreaux's discovery of a compact unit that could store six pre-recorded sounds. Believe it or not, inside the 1979 troop transporter's sound module you'll find a speaker cone atop a stack of six small plastic records. Pushing one of the six buttons on the top of the toy activated a motor that turned the appropriate record, with a stylus creating the sounds.
The toy was essentially constructed around that sound unit. Boudreaux cut and glued together sheets of styrene to build up the shape he had in mind, creating a fully functional "one-off" model adorned with bits and pieces repurposed from toys, model kits, and miscellaneous mechanisms.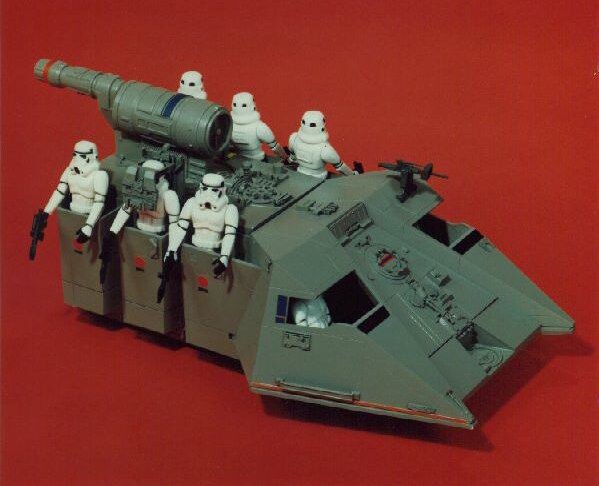 A colleague, Tom Troy, then refined Boudreaux's design into the toy I wanted so desperately for Christmas.
The sounds were cool, but they weren't the only reason the troop transporter became an icon. "We wanted the vehicles to be as interactive with the figures as possible so we could advance and extend the play," Boudreaux remembers. A spring-loaded suspension, droid-capture hold, and synchronized laser cannon and radar scanner opened up play possibilities.
Boudreaux admits he was surprised when he spotted a new take on his old creation while looking through Rebels-reference art in the summer of 2013.
"A few of my 'off-camera' vehicle designs were featured during the run of the Droids and Ewoks animation, but I would never have expected to see an off-camera, mainline Kenner-developed vehicle in a new Star Wars animated series," he says. (For more about these "mini-rigs," read this.)
One reason the vehicle returned? Rebels executive producer Dave Filoni remembered the 1979 toy from his own childhood.
"Of course I had that toy," he says. "We needed a troop transport and I thought, 'Well, there already is one -- let's just make that and put it into the show.'"
In plotting how to return the troop transport to toy aisles, Boudeaux began by figuring out which current toy assortment was the best fit for it. He and his colleagues developed rough layout drawings to determine the troop transport's optimum size and how to assemble it, a process he says was "like developing a jigsaw puzzle -- I had to figure out how to mold the different pieces so that they would fit into the box and be easily assembled into a recognizable vehicle."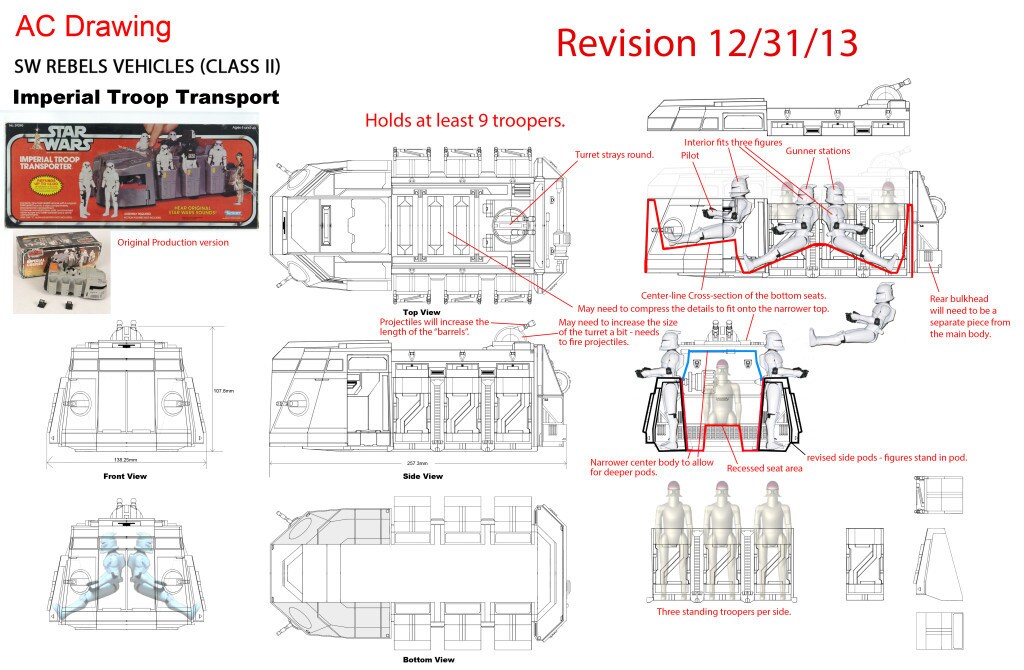 With the basics complete, the drawings were loaded into a 3-D program, with surface details added to the digital model. From there, rapid prototyping printers created a physical "check model," with copies of that model used to produce a painted sample for approvals and the tooling required for production of the toy.