One fan has raced the course as Sy Snootles, Yoda, Boba Fett, and more. Find out how she did it and what she learned along the way!
It's always a good idea to test your gear before running a race, and that's especially true when your outfit plans include Sy Snootles' long snout and a fanny pack blasting "Lapti Nek." Just ask Victoria Fox, who has spent the last four years creating her own costumes for runDisney's Star Wars races, including masterful creature and alien effects as Jabba's crooner, a noble thala-siren, and both Jedi Master and student, Yoda and Luke Skywalker.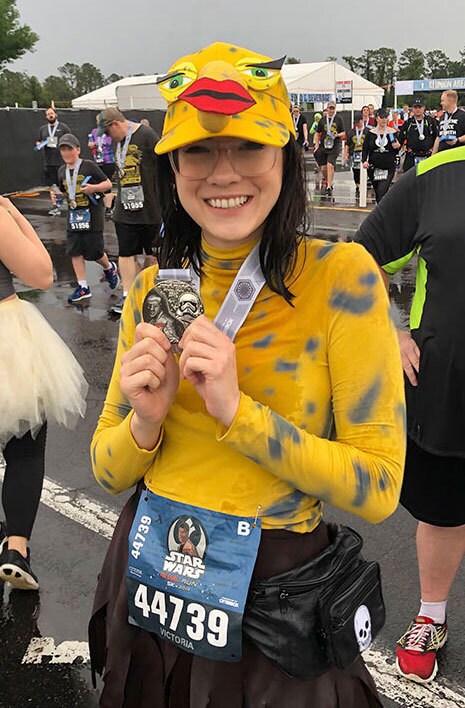 Dressing up is optional, and plenty of racers opt for regular Earth-bound fitness attire or simple takes on Star Wars characters, like patterned leggings and shirts made to look like stormtrooper armor. But it's delightful to see what crafty and creative runners come up with to make each year even more memorable.
Fox, 24, who ran cross-country in high school, says it's the pure joy at the runDisney Star Wars races that keeps her coming back year after year. "I typically do it with at least my mom, and sometimes more family," Fox says. "It's fun to do an event that brings everyone together." And through the event, Fox, who lives nearby in Orlando, Florida, and works as a scenic fabrications and special effects makeup artist, can combine her passions for Star Wars, physical fitness, and creating costumes and characters from a galaxy far, far away into one epic day.
As we sign up for next year's runDisney Star Wars Rival Run Weekend -- including everything from a kid's race to a 5K, 10K, and half marathon, as well as the option to run a combination for special challenger medals -- we've begun to consider what kind of costumes we might want to plan for the event. Fox recommends weighing comfort and durability over screen-accuracy and always, always making time for a trial. "I wish I knew the importance of a test run before a race when I first started," she says. "Something may seem to fit well when you try it on around the house, but does it fit well when you're running in it for several miles? That's the true test."
And if you're looking to get more creative yourself next year, Fox has shared some tips and insights.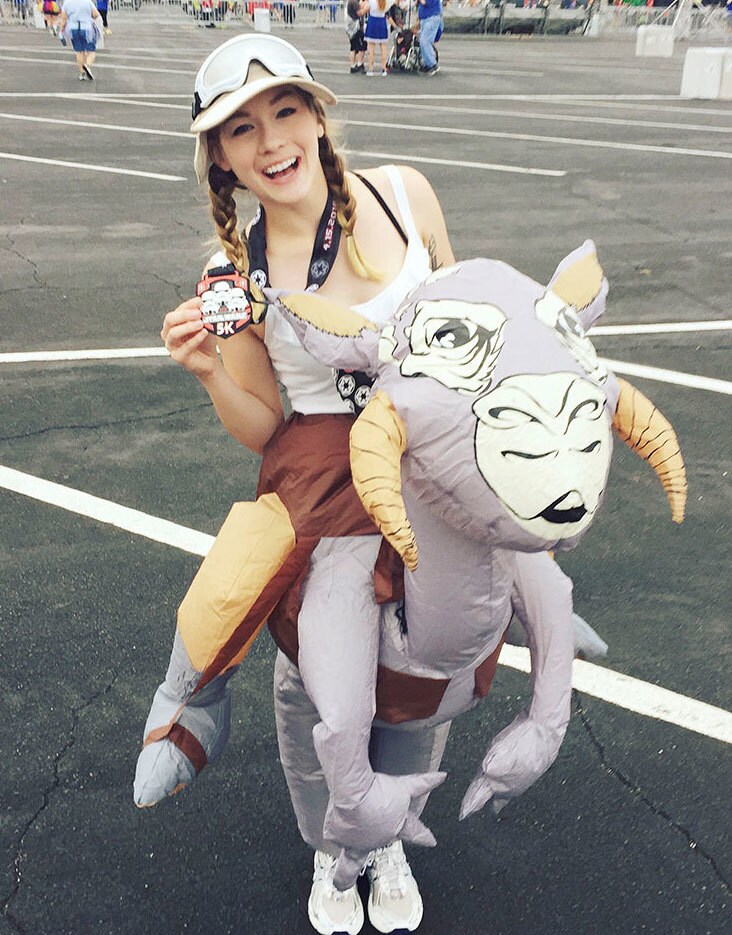 1. Comfort and safety are key. In addition to shelters, tauntauns make for great race partners. Fox ran her first runDisney Star Wars 5K in 2016 dressed like a young rebel spy ready to check out some meteorite debris on Hoth. "I sourced the hat and goggles online and was really trying to figure out how to make the tauntaun thing work when I came across a blow-up costume that made it look like you were riding one," Fox says. The costume also pulled double duty, helping to keep air flowing around her lower half during the race. "It was perfect look-wise, was relatively easy to do a 5K in, and because it had to have air circulating through to keep the tauntaun inflated, was also very cooling!"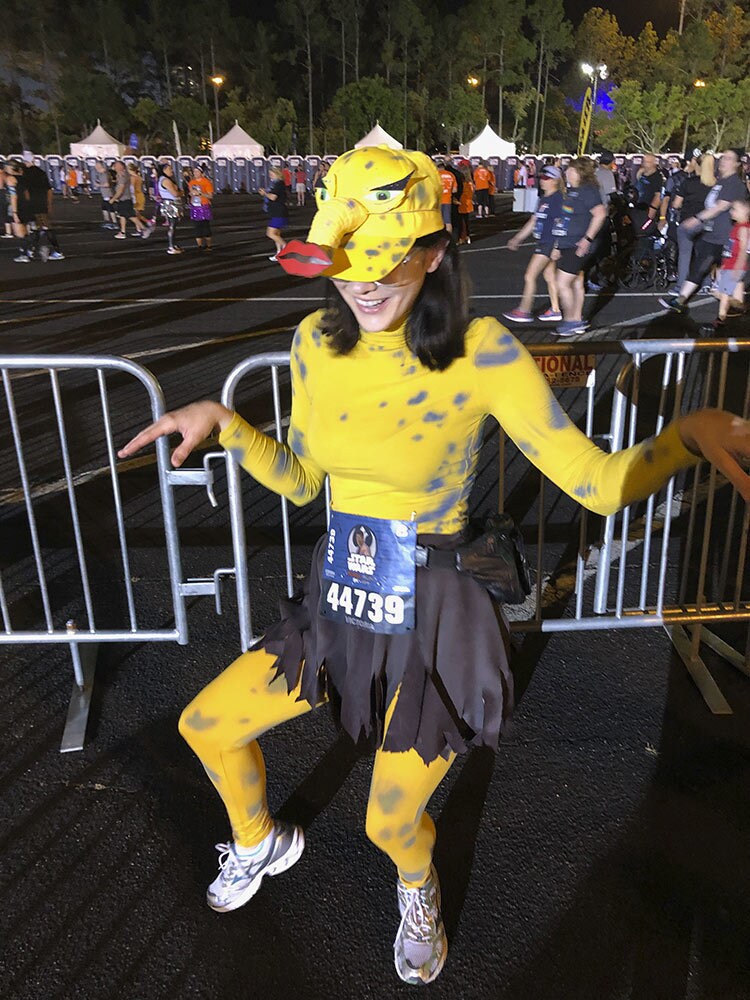 2. Look beyond the main characters for costume inspiration. Last year, Fox celebrated her love for the lithe-limbed and long-lipped Pa'lowick Sy Snootles with one of her favorite runDisney costumes to date. "When I'm trying to think of something to dress as, I typically think of things that I find both challenging and hilarious," she says. "It's satisfying to study a character's design and have it show through and be recognizable in a different medium," Fox adds, and she finds it especially gratifying when other runners and race-watchers recognize who she's dressed as on the course. "I'm also a massive Sy Snootles fan in general," she notes. "She (Jedi) rocks."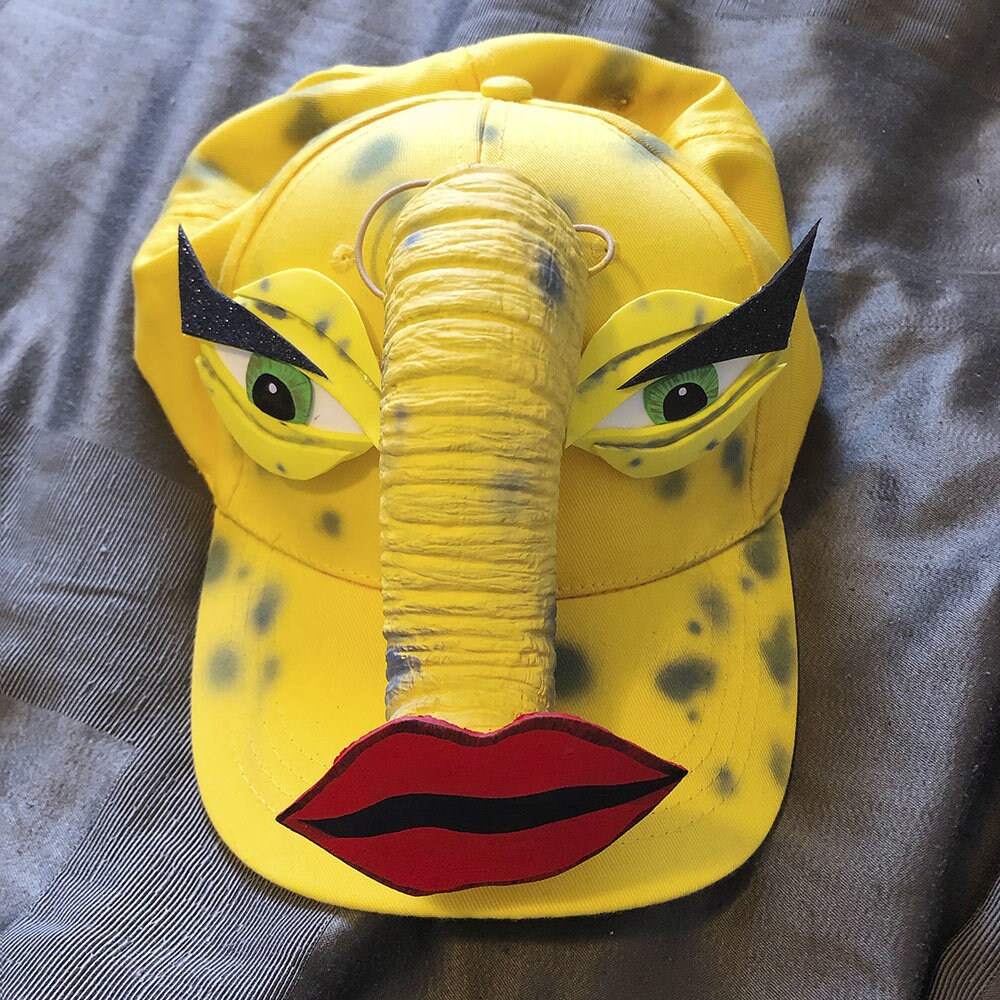 Fox did her best to match the songstress's look with a long-sleeve T-shirt, leggings, a brown skirt, and a baseball cap, then airbrushed the ensemble with blue and purple dots, complete with a hidden Mickey on one knee, she says. The crowning glory was the hat. Using an elephant nose, Fox found the perfect base for the iconic Snootles pout, crafting the lips, glittering eyelashes, and other facial features out of craft foam. Then she strapped on a fanny pack and blasted "Lapti Nek" as she traversed the course.
3. Get back to the basics. A plain T-shirt and some paint can turn you into a thala-siren worthy of Ahch-To (or any number of creatures and characters). By 2018, Fox was hitting her stride in creative costuming, celebrating the release of Star Wars: The Last Jedi with an homage to the film's native island creatures, the thala-sirens, using an oversized grey T-shirt and a black baseball cap from the local craft shop. Fox used acrylic paint for the green-milk squirting udders down the front of the shirt, and cut the sleeves and neckline for a more stylized and ventilated base. When she was done, it was hard to imagine what the top had started out as.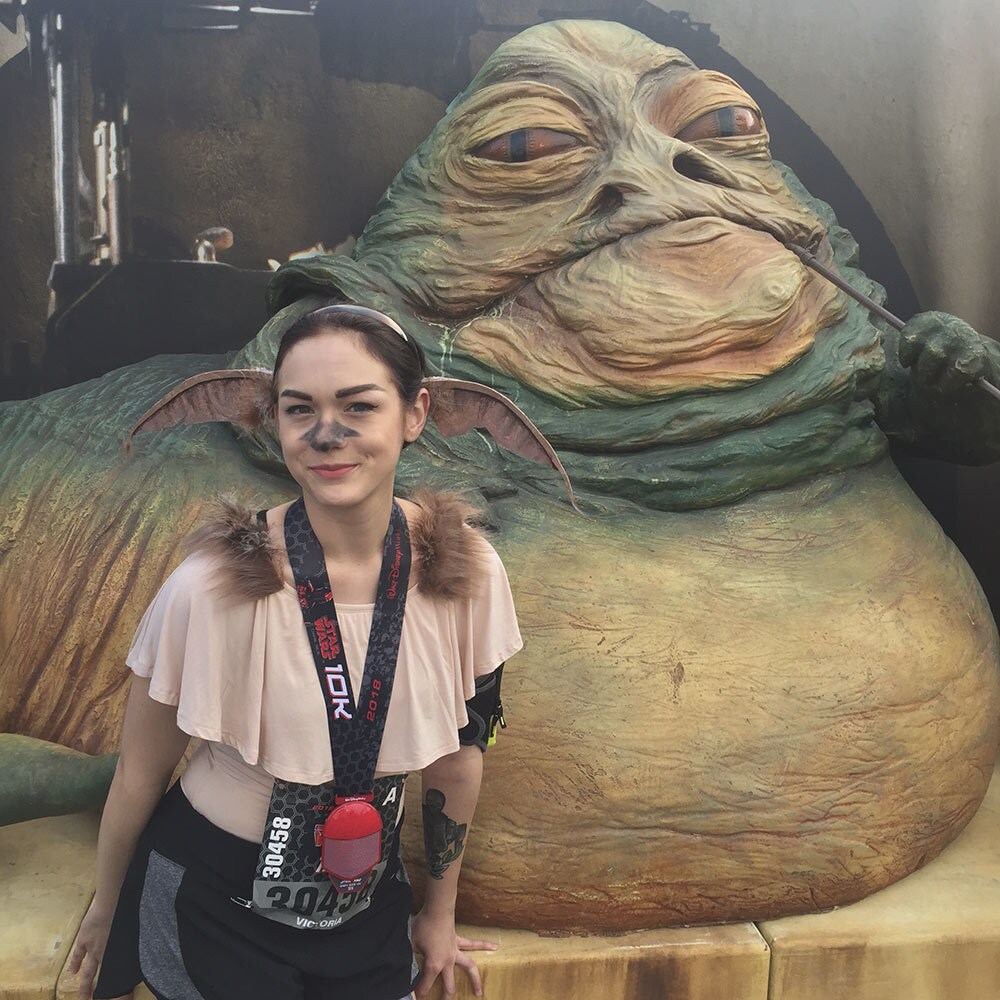 4. You're in for some epic photo-ops on the course, and the right costume can really add to the fun. Have you ever dreamed of stepping into Jabba's court? In another homage to her favorite creatures, Fox created a Salacious B. Crumb costume. Fox concentrated on just a few furry details to ensure other runners recognized her as the cackling Kowakian monkey-lizard. A few patches of brown fur on a nude bodysuit gave her the right aesthetic. "I concentrated the furry patches to the area around my shoulders," she says. She fashioned his long ears from card stock paper glued to a headband, "then I added fur to the inner ears and very sparingly at the tips of the ears as a final touch." As a bonus, on race day she got to mug for the camera with a Jabba the Hutt photo-op and Salacious himself!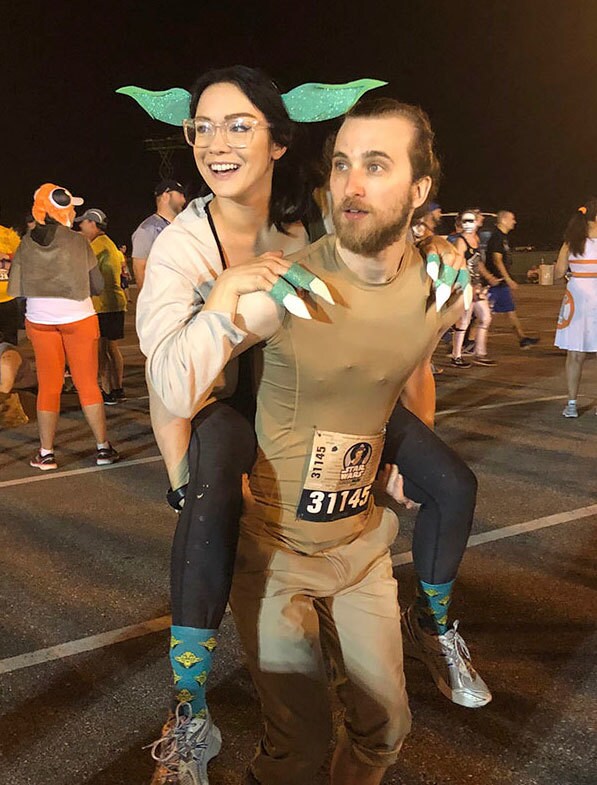 5. Running, and creating costumes, is more fun with friends. Friends running together often choose costumes that work in concert, including small groups last year that dressed as the Modal Nodes and a pack of porgs. When Fox and her boyfriend, Justin, teamed up to race the 10K, they covered the course as Luke in Dagobah fatigues and Master Yoda. Once again, Fox used simple underpinnings and a carefully constructed headband to complete the look. Her Jedi robe was just a long-sleeve T-shirt with the middle cut out. She topped it with a simple headband with Yoda's sensitive ears made from craft foam and some foam ring-like fingers to simulate his tridactyl hands.
6. Check your closet (and your toy chest) before you buy anything. Fox is often working to add finishing touches down to the wire, and pieces found lying around the house can make excellent costume materials. For her second race, she pulled together a Boba Fett costume in about 48 hours, using clothing she already owned and salvaging the range finder from an old Boba Fett toy helmet. The night before the race, she added the finishing touch -- a simple cape fashioned from a scrap of bed sheet she had sitting around. "I cut it to the appropriate length and took a seam ripper to it to make it look very tattered," she says.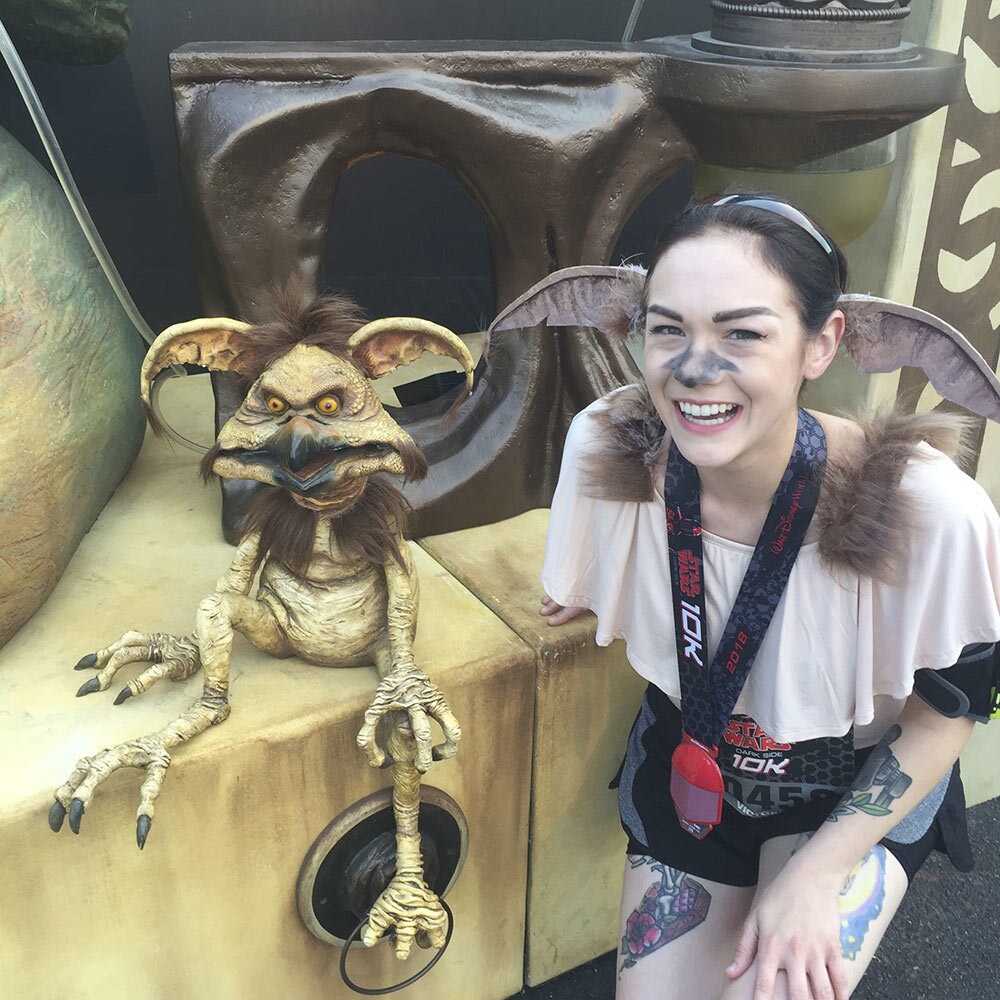 7. Costume or no costume, you're in for a fun run. And even if you don't dress up, you'll get to enjoy a number of costumed runners along the way! Fox's favorite thing about the runDisney races is the positive energy on race day. Instead of personal records and qualifying times, most runners are just looking to enjoy a morning run through a quiet corner of a Walt Disney World park, maybe being chased by an Ewok or two. "Everyone who's there is so excited and so encouraging," Fox says. "The mood is electric the entire time, and especially at the finish line."
Fox is already signed up for the 5K and 10K races during the 2020 runDisney Star Wars Rival Run event, and we can't wait to see what interesting new costumes she comes up with next year!
Sign up for the runDisney Star Wars Rival Run Weekend now at runDisney.com!
Associate Editor Kristin Baver is a writer and all-around sci-fi nerd who always has just one more question in an inexhaustible list of curiosities. Sometimes she blurts out "It's a trap!" even when it's not. Do you know a fan who's most impressive? Hop on Twitter and tell @KristinBaver all about them.
Site tags: #StarWarsBlog