Ahsoka Tano battles a malfunctioning droid in this Clone Wars-era short!
Ahsoka Tano's fate in Star Wars Rebels may still be up for debate and interpretation, but on Thursday we got a glimpse at the fan-favorite Padawan's further adventures before she left the Jedi order. In the fourth episode of Star Wars Forces of Destiny, the micro-series deviated from its previous course, with installments that up until now were plucked from the franchise films, to focus on the small-screen heroine. Running late for her own ceremony at the Jedi Temple, Ahsoka must take a detour of her own to help some hapless citizens with a malfunctioning, massive droid on the loose. Can she do it? (Spoiler alert — She can do anything.)
Here are five highlights from the short, "The Padawan Path" — which you can watch below!

1. Snips and SkyGuy, together again.
Voice actor Ashley Eckstein hinted at the reunion of master and learner when she tweeted a photo of herself and the man behind animated Anakin's swagger, Matt Lanter, in the recording studio together last month. And now that we've seen the results of that session, even the Imperial sympathizers among us can't help but find it a little heartwarming to see these two together again.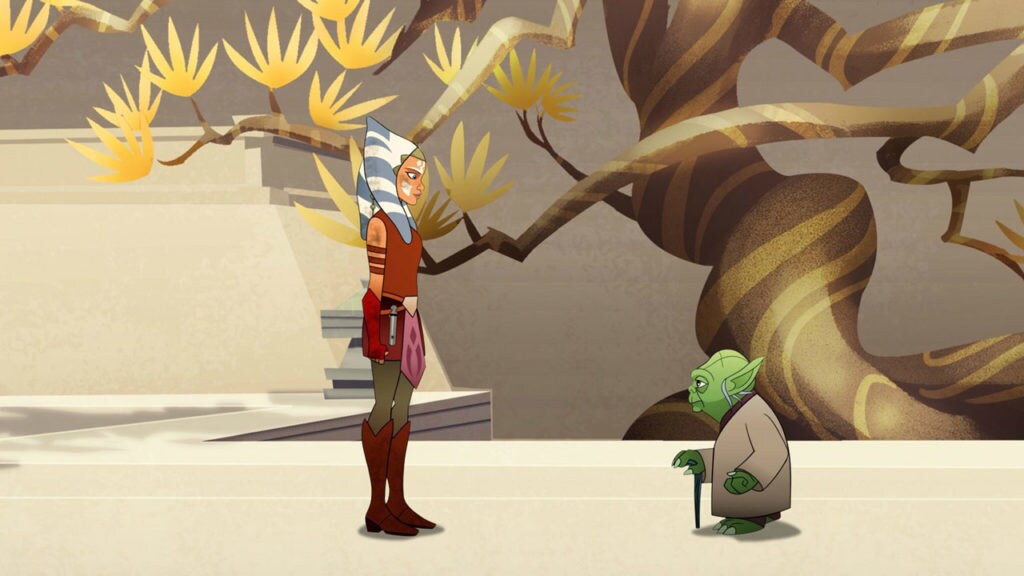 2. Master Yoda.
Arguably the wisest and most powerful Jedi of them all, Yoda is also positively adorable in this animation style. But since we've seen what he can do with just a lightsaber and a Senate chamber at his disposal, we won't be calling him cute to his face anytime soon.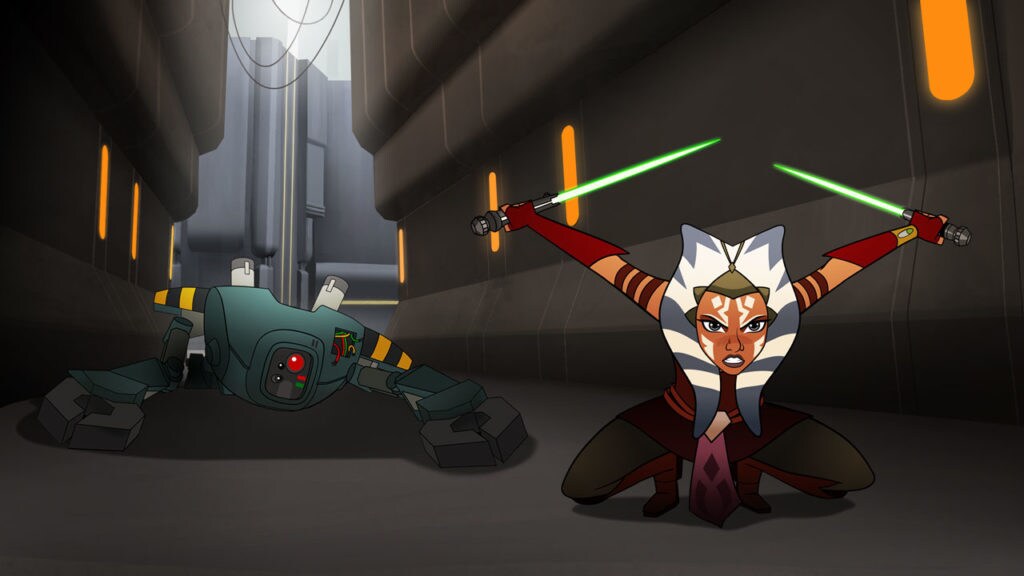 3. That score.
Ryan Shore's scoring for the animated shorts has been spot on since the debut. But that moment when Ahsoka has just flattened the spark-spewing threat by Force? The dust clears, Ahsoka appears in fighting stance, those strikingly familiar notes begin to play and...it's pure Star Wars magic.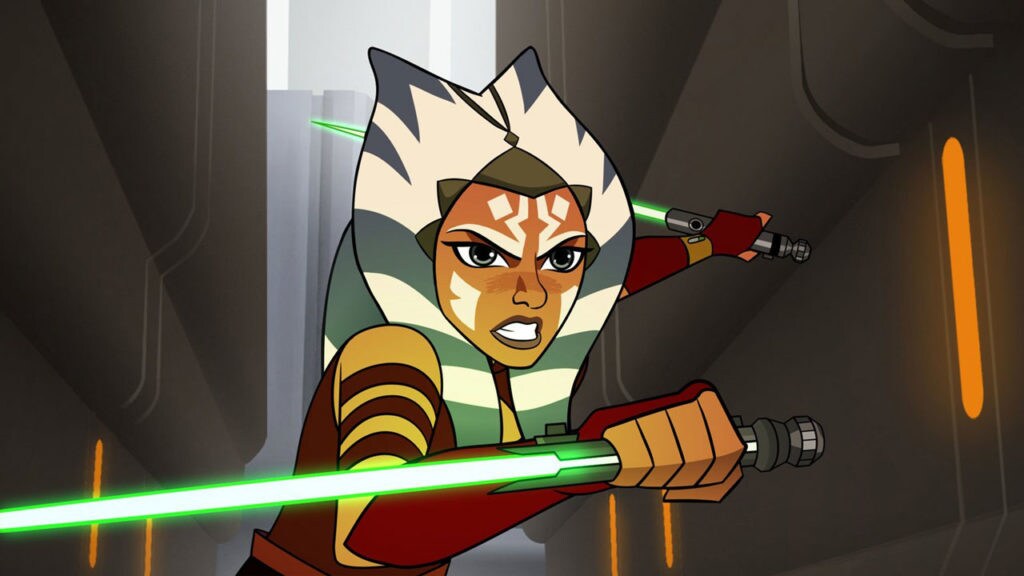 4. Lightsabers!
An elegant weapon for a more civilized age makes its series debut, in all its green-lit, limb-severing glory. We knew it had to happen at some point. After all, the lightsaber is almost as essential to Star Wars and the Jedi as the Force itself.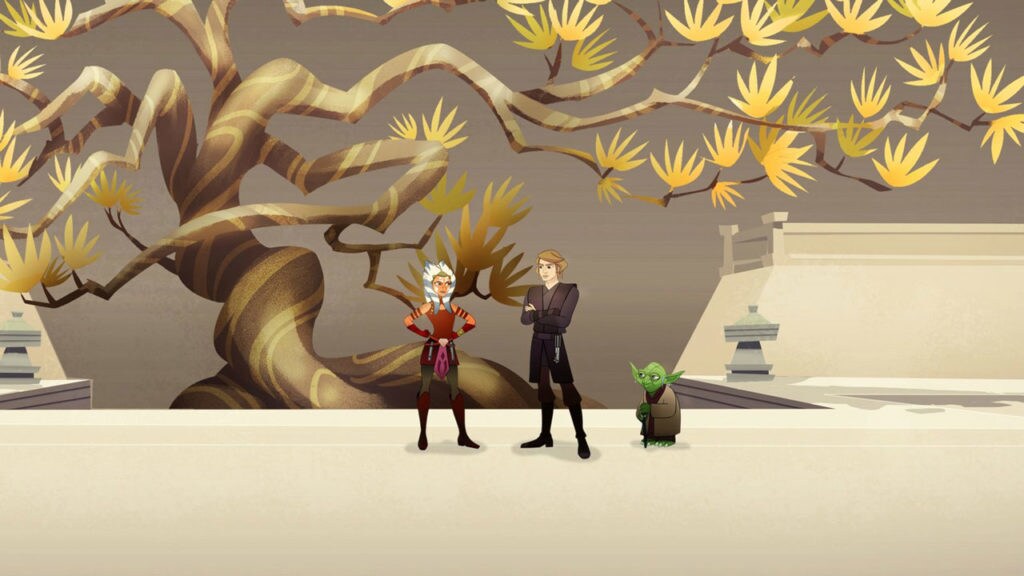 5. The silka beads.
When she finally makes it back to the temple, Yoda has nothing but praise for young Ahsoka and the powerful Jedi Knight he hopes she'll become. Clone Wars fans already know where her future lies, but it's still sweet to see the wizened elder marking her continued growth with an extension to her silka beads, a pseudo-Padawan braid for hairless heroes and heroines.
What were your favorite moments from "The Padawan Path"? Let us know in the comments below!
Kristin Baver is a writer and all-around sci-fi nerd who always has just one more question in an inexhaustible list of curiosities. Sometimes she blurts out "It's a trap!" even when it's not. Follow her on Twitter @KristinBaver.