Check out some classic costumes (Kenner-style Boba Fett!) and rare items currently on display at Lucasfilm.
Staring out from the lobby display case at Lucasfilm headquarters this month is a handful of vintage costumes, masks, cards, and other materials from the first few years of Star Wars at Halloween. While today's youth or adult cosplayer can choose from a variety of mid-range to museum-grade replica costumes, the fan of the '70s was, well, a bit more modestly-equipped. We've selected five pieces from our lobby display that serve up both nostalgia for old-school fans and sympathy from younger ones.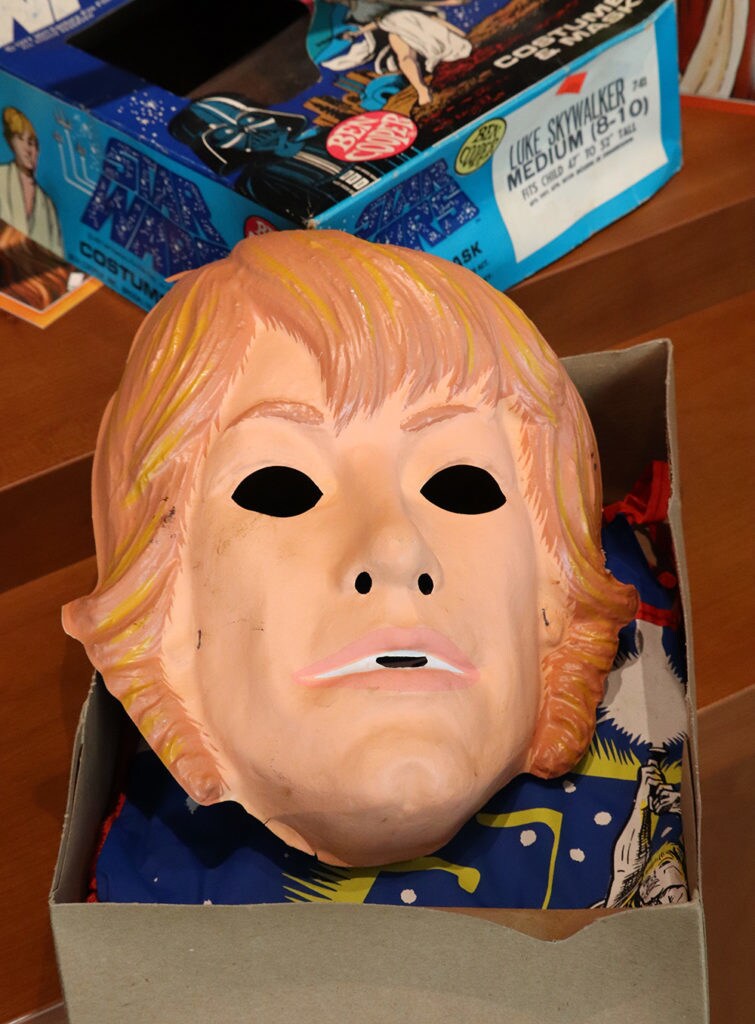 1. Luke Skywalker Child's Costume
Ah, the days of the full-body vinyl costume and mask that sported the character you were trying to portray on the front of the costume itself, in case the flimsy mask failed to clarify. This particular costume from costume manufacturer Ben Cooper, which exhibits a blue Star Wars logo on the side of the box, was from the first series released for October 1977, which also included Darth Vader and C-3PO (called "Golden Robot" for the uninitiated shopper).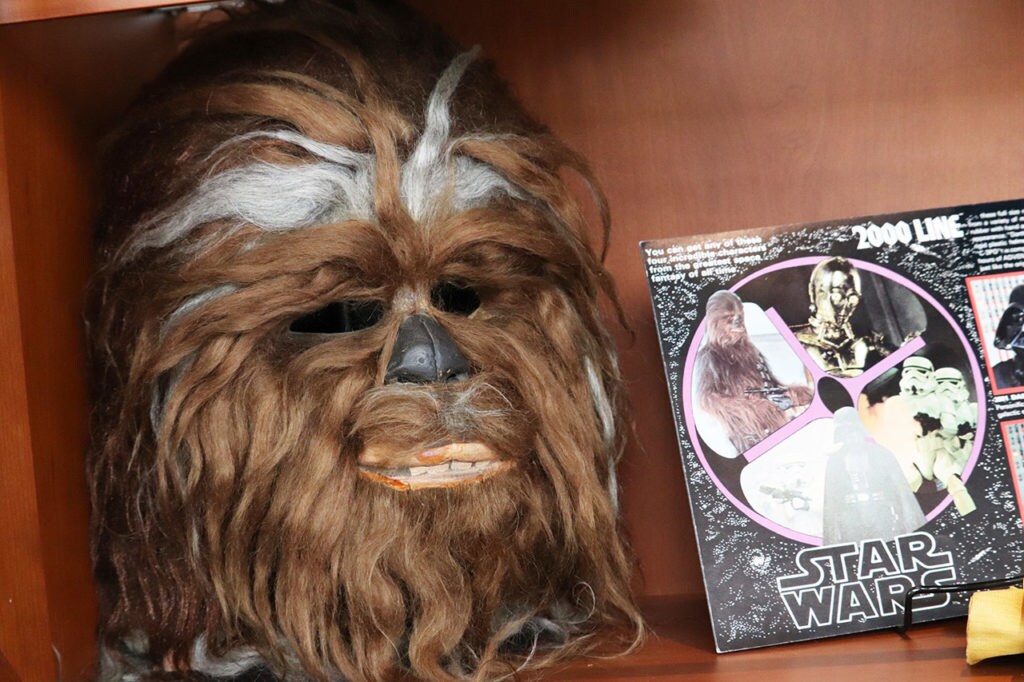 2. Don Post Studios Chewbacca Mask
One of four masks released in time for Halloween 1977, the Chewbacca over-the-head mask was designed for adult costumers with a price tag to match -- $39.95 (which, according to the CPI Inflation Calculator, equals about $164 in today's dollars). A great mask for its time, the earliest versions featured hand-laid fur and a snarling mouth, since the designer didn't realize Chewie had a softer side (which was successfully captured in this second version on display).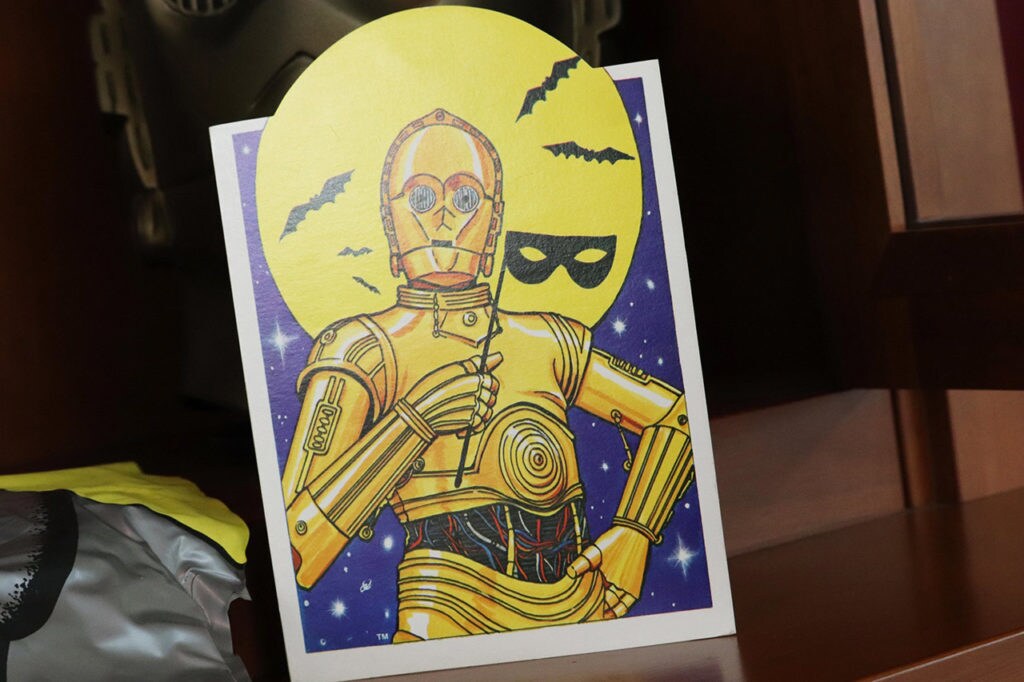 3. Star Wars Halloween Greeting Cards
While our lobby display only showcases four of these early Halloween-themed cards from stationary licensee Drawing Board, there are actually nine in the full set, which is somewhat obscure and difficult to complete. One has to admit these early greeting cards can still charm the kid in you -- well, the kid whose grandma gave a greeting card for Halloween instead of a fistful of Tootsie Rolls, that is.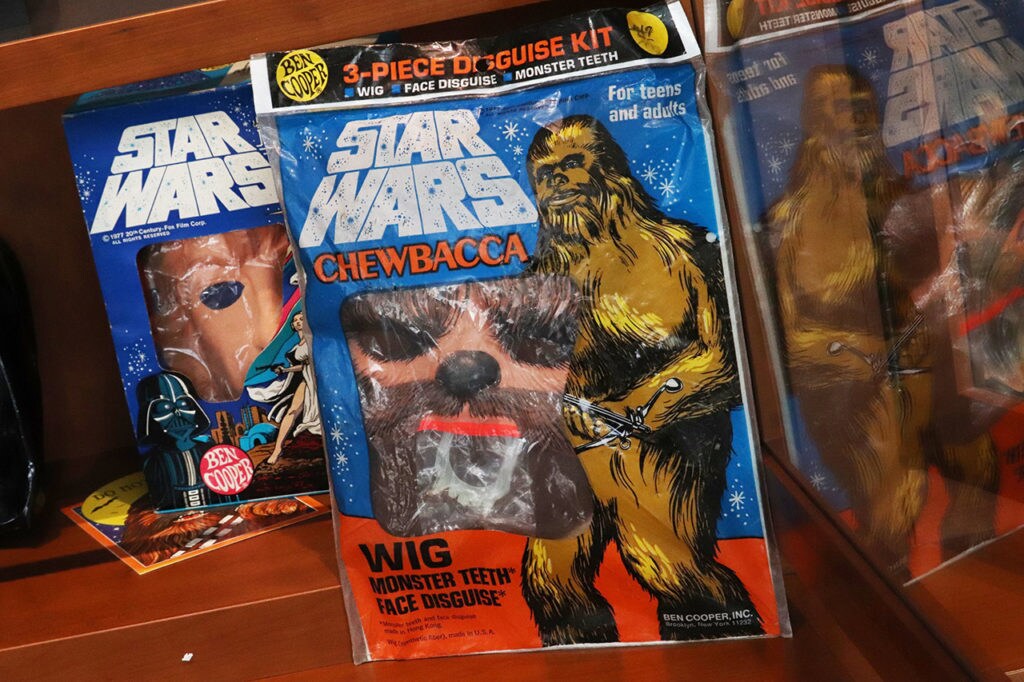 4. Chewbacca 3-Piece Disguise Kit
This "disguise" kit, since it's neither a mask nor a costume, came in a funky illustrated plastic bag in 1977, and is a unique entry in the vintage Star Wars Halloween line. It contained a fur wig, eye mask, and plastic teeth, and is advertised "for teens and adults" (right….). Similar get-ups for C-3PO and Darth Vader came in the form of two "Fun Ponchos" which, as the name suggests, included a thin plastic poncho and "fun" face mask.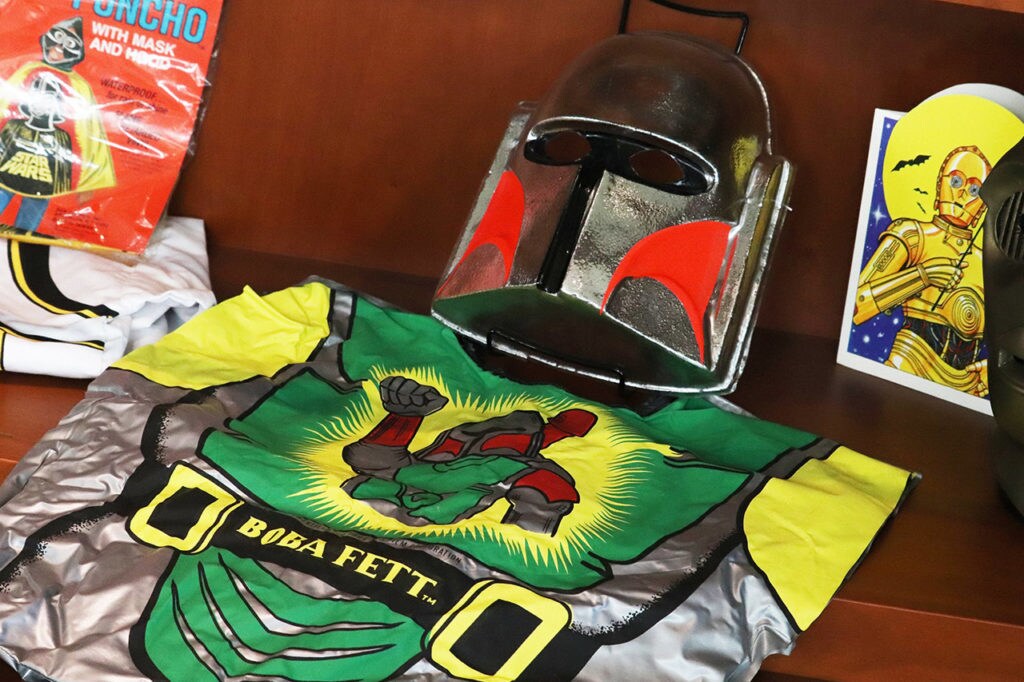 5. Boba Fett Child's Costume
The first Ben Cooper Boba Fett costume (there were two) holds a special place in the galaxy of Fett collectibles, as it appears to resemble early marketing illustrations for the 1979 Kenner action figure. In fact, the costume itself seems to show a depiction of the action figure, complete with red rocket firing missile in his backpack. This Fett will cost you far less than the action figure, though -- these can still be found complete in the box for around $20.
Pete Vilmur is currently a writer for Lucasfilm Publicity and worked previously for Lucas Digital Media, where he created content for Lucasfilm's websites, blogs, and social networks. Pete co-authored two books with Steve Sansweet — The Star Wars Poster Book and The Star Wars Vault — and a third with Ryder Windham, The Complete Vader.