A new display at Lucasfilm headquarters takes a look back at action figures, slippers, and other classic products from the earliest days of Star Wars merchandising.
Solo: A Star Wars Story finally arrives tomorrow on May 25. As fans around the world prepare for their first viewing, we here at Lucasfilm are getting in the mood, as well! We reached back into the vaults to create a nostalgic display for the lobby of our San Francisco headquarters, featuring some of the earliest Han Solo, Chewbacca, and Lando Calrissian memorabilia. Here are five of our favorite items.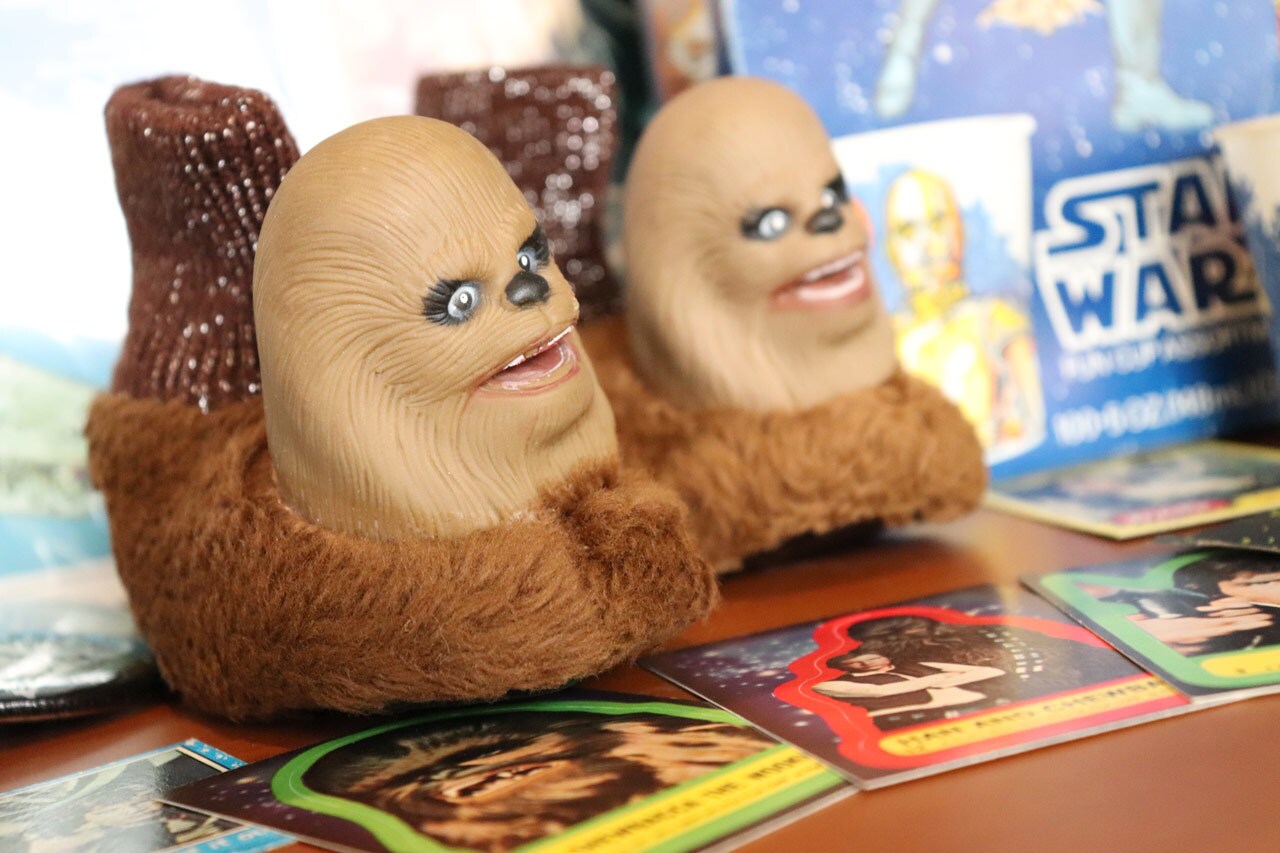 1. Starting on the Right Foot
As Star Wars merchandising slowly gained momentum across 1977, fans clamored for whatever pieces they could find. Among the earliest in youth footwear options were these lovable Chewbacca slippers. Quickly designed with an original sculpt of Chewie's head, the slippers were made in Taiwan, though their specific origin remains unknown.
Chewie wasn't alone in his slipper adventures however. Similar Darth Vader and C-3PO products were released, as well, also with originally sculpted heads. Major retailers like Save-On Drugs and Walmart were known to carry the slippers (at an affordable $4.27).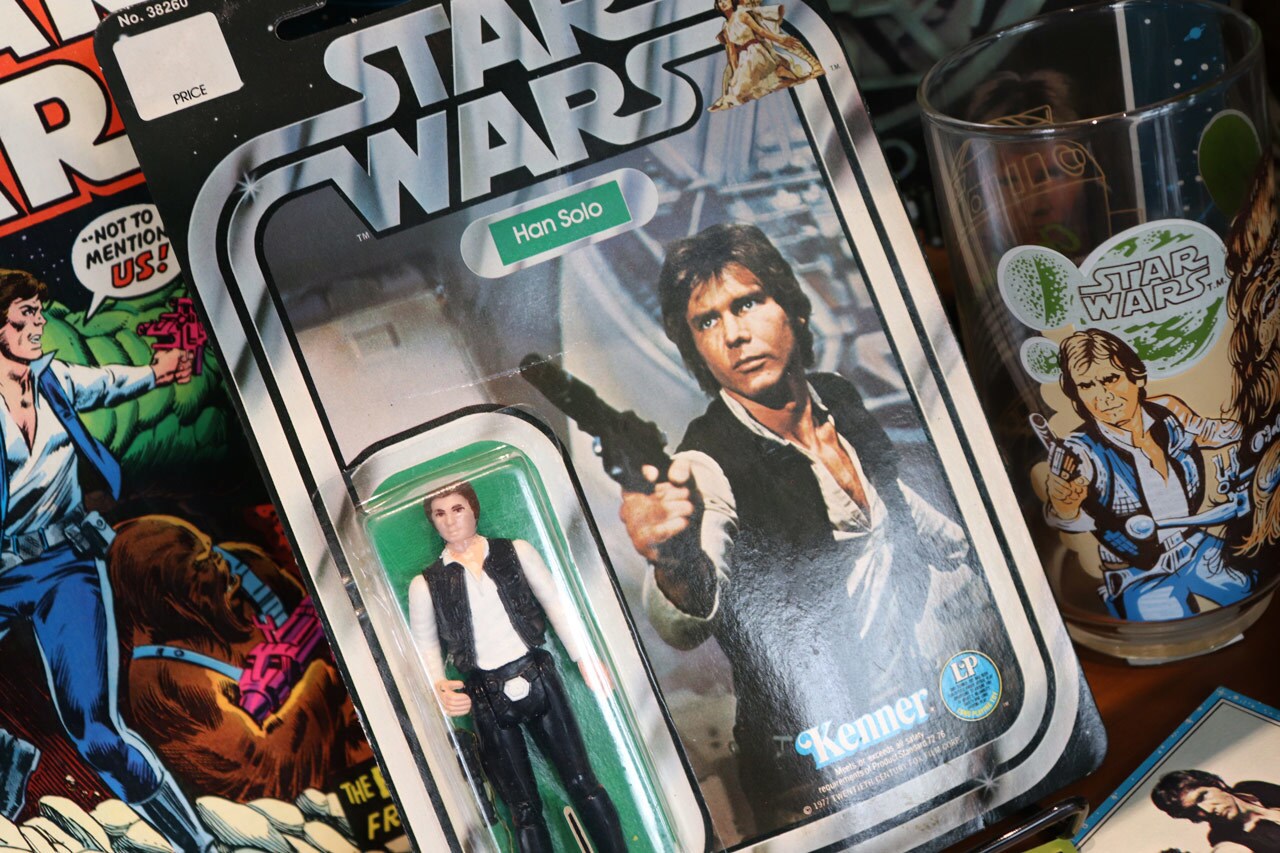 2. It's All in the Details
This year we celebrate the 40th anniversary of the debut of the first Star Wars action figures. After all these years, there perhaps still isn't anything quite as cool as one of the original figures that Kenner Toys released in 1978.
From the beginning, Star Wars figures have been well-known for their physical variations across different releases. This original Han Solo 3 ¾" action figure -- known by fans as the "small head" Han -- was the first to hit store shelves. Later it was replaced by the so-called "large head" version in hopes to look more like actor Harrison Ford. These intricate details have defined a generation of Star Wars collecting, and even modern day recreations (like those from Gentle Giant Studios) are inclined to feature both versions of the original Han Solo action figure.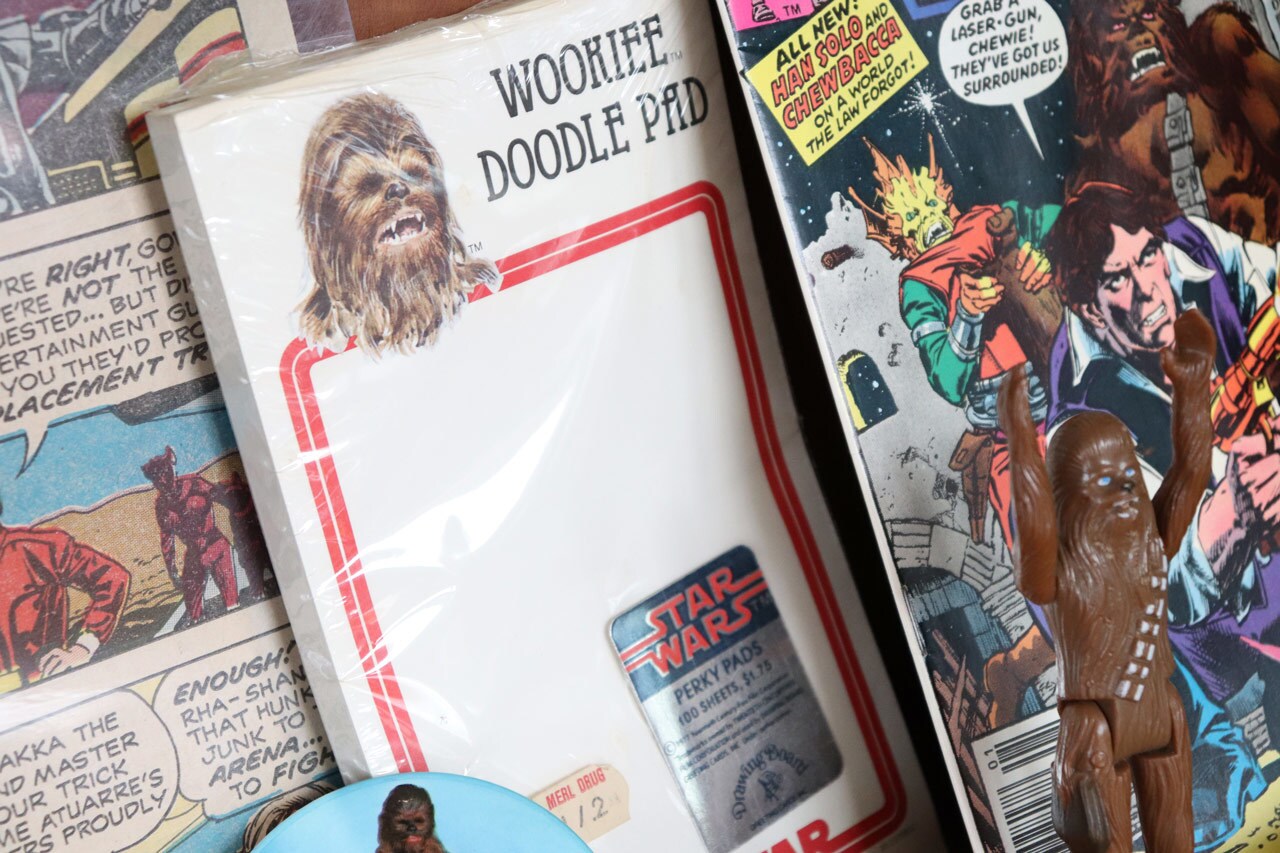 3. Jot This Down
Whether in the vintage era or our own modern day, we continue to bring Star Wars home in a multitude of ways. Stationary and school supplies are often subtle yet indicative signs of how our love for the saga infuses its way into our day-to-day lives. The "Wookiee Doodle Pad" from 1977 is a stand-out in this regard, with an original illustration, Kenner-style banded graphics, and even the correct spelling of Wookiee! The fan-favorite item was even used by screenwriter Lawrence Kasdan for notes on a draft of the Return of the Jedi script from 1981.
Produced by Drawing Board, an early licensee that primarily created greeting cards, the Wookiee Doodle Pad was part of the "Perky Pads" collection, offering 100 sheets for just $1.75. This particular doodle pad still has its price tag from "Merl Drug," a local store presumably somewhere in the United States. Another offering from Drawing Board was the "Vader Duty Roster" with blue graphics.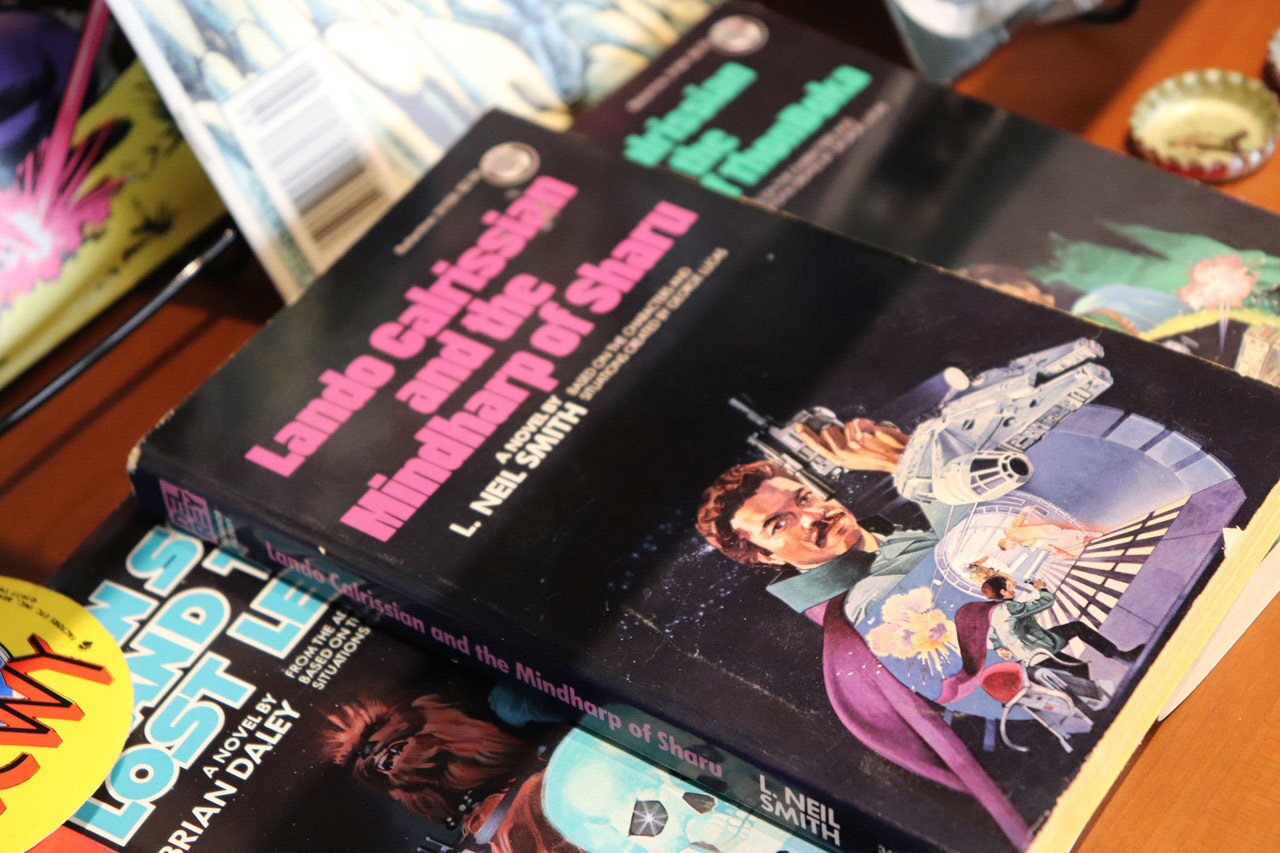 4. Paperback Writer
In anticipation of Solo: A Star Wars Story's release, many fans have returned to the beloved Legends novels about Han Solo, Chewbacca, and Lando Calrissian. This Lando-centric novel -- Lando Calrissian and the Mindharp of Sharu -- is a classic from author L. Neil Smith. First in a series of Lando stories, it was published in 1983 not long after Return of Jedi made its worldwide debut.
This book and others like Han Solo at Stars' End from 1979 were among the earliest installments in Star Wars literary fiction. Keen-eyed fans will notice some unusual visual models for the cover illustration of Mindharp of Sharu, including the Kenner Millennium Falcon toy along with the Kenner laser pistol (another cool item in our display!).
5. Request a Transfer
Factors, Etc. was among the first Star Wars licensees to be signed in 1977. New Star Wars fans that summer -- desperate for merchandise -- had the best chances of finding a Factors product at their local department stores, including T-shirt transfers such as this unmistakably 1970s rendition of our favorite smuggler.
Silk screen transfers like this one were significantly rarer than the plastic heat transfers. The latter you could transfer at home with your parents' iron, while these colorfully illustrated products usually required in-store transferring. This particular Han Solo piece in our display has been imprinted onto felt, which was probably used as a store sample. Note that Han seems to be wearing his stormtrooper belt from aboard the Death Star, hinting at what reference imagery the artist might have obtained.
Solo: A Star Wars Story arrives May 25, 2018.
Lucas O. Seastrom is a publicity writer at Lucasfilm. He grew up on a farm in California's Central Valley and is a lifelong Star Wars and Indiana Jones fan.