Check out a new clip, concept art, and all the highlights from Lucasfilm's special convention event!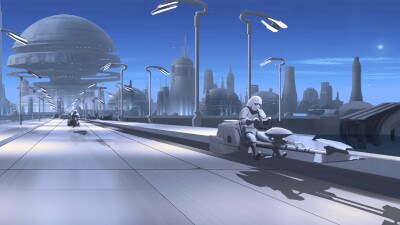 Star Wars Rebels -- and the age of the Empire -- is almost here. While details regarding the upcoming animated series have been closely guarded, fans at Lucasfilm's WonderCon event today were treated to a brand new clip, never-before-seen concept art, insights into the making of the show, and some major announcements. Hosted by Dave Collins, the panel featured executive producer Dave Filoni, voice actress Vanessa Marshall (Hera), and art director Kilian Plunkett. If you were unable to attend, fear not -- StarWars.com has you covered with all of the day's highlights, images, and videos!
New Clip Featuring Hera
While discussing Hera, one of several new characters created for the series, Filoni and Marshall premiered this exciting sequence featuring the Ghost's captain in action.

Kevin Kiner Is Back!
Answering a fan question posed on StarWars.com -- "Who will score
Rebels
after the great work by Kevin Kiner for
The Clone Wars
?" from Eva Meier -- Filoni surprised the audience by introducing Kevin Kiner himself! The composer took the stage and played a snippet of his new theme for
Star Wars Rebels
, confirming that he is indeed scoring the series.
In this new interview with StarWars.com, Kiner discusses returning to a galaxy far, far away.

The Drawing Board and Behind the Scenes
Concept art has always played a big role in the creation of
Star Wars
, and it continues with
Star Wars Rebels
. Many designs were displayed throughout the panel, showcasing different characters, vehicles, and worlds. Check out the gallery below, featuring samples from Filoni's sketchbook and more!