Executive producer Dave Filoni, the cast, and fans joined together to say goodbye to Star Wars Rebels.
Note: This is a spoiler-free report.
Four years ago it started with a "Spark of Rebellion" and now it's time to say "Farewell" -- Star Wars Rebels is coming to an end. To celebrate the journey, the cast gathered for a fan screening of the last two emotional episodes to see the Ghost crew through one last lesson.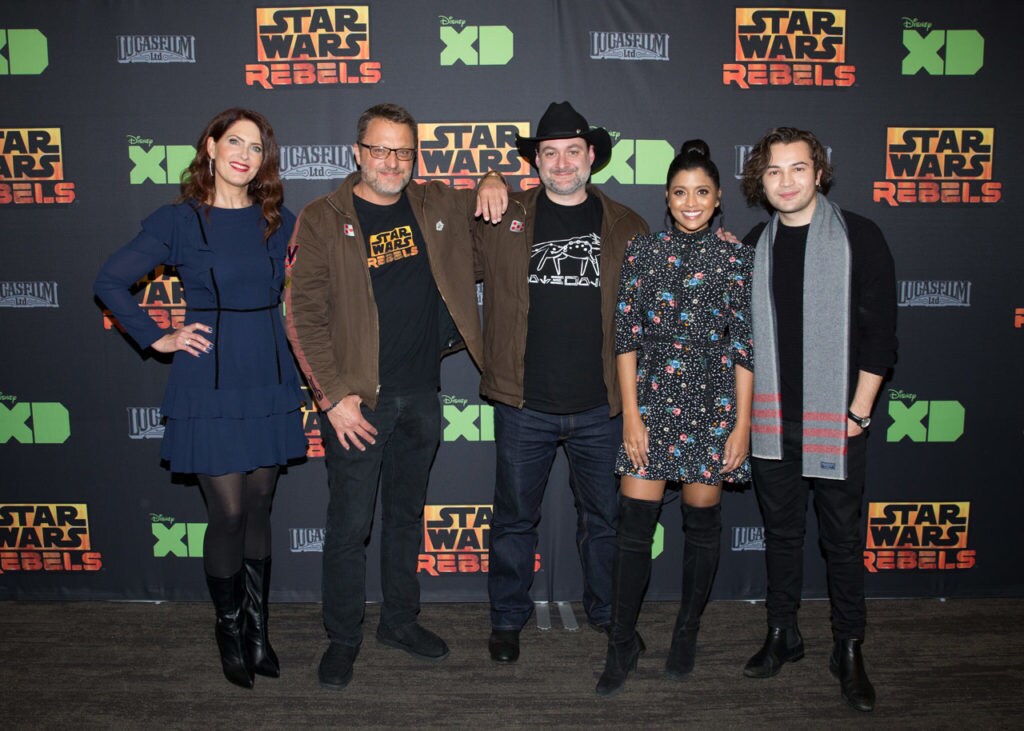 Host Amy Ratcliffe was joined by Vanessa Marshall (Hera Syndulla), Tiya Sircar (Sabine Wren), Steve Blum (Zeb Orrelios), Taylor Gray (Ezra Bridger), and executive producer and director Dave Filoni, to talk about how much the series and the experience has meant to them.
The finale was an emotional ending for the cast, who had come to love their characters as much as the fans. In speaking about what she learned from her role as Hera, Marshall reflected on the show. "There's something truthful that needs to be said that we can always do the right thing and say what needs to be said," she said. "I think Hera did that quite a bit. I know we have a lot of hope in the Star Wars saga, but she in particular, seemed to embody a ton of it and I'm going to take that with me."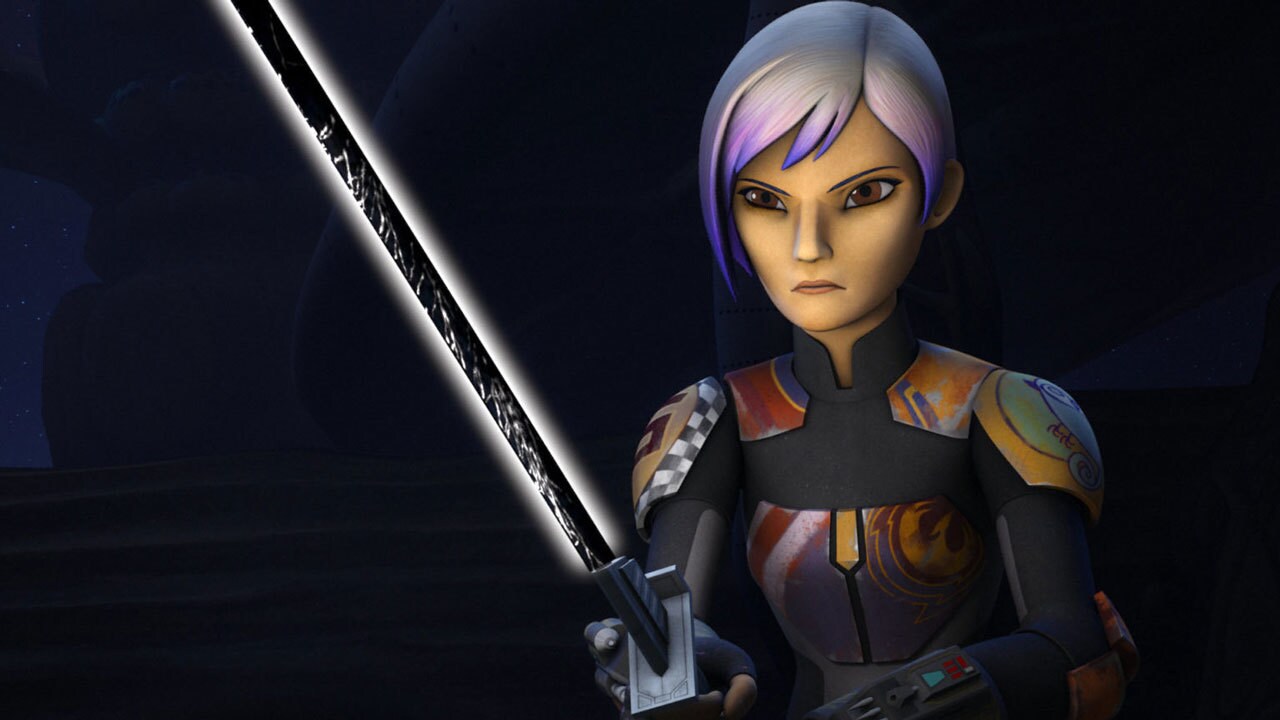 Sircar echoed that sentiment. "Playing this character who's so strong and so capable, and so unwilling to be vulnerable, was a little bit of a learning experience," she said. "I got to go on that journey with Sabine. Also that feeling of when you're up against the most daunting of odds, there's always hope and the impossible is possible with the right people."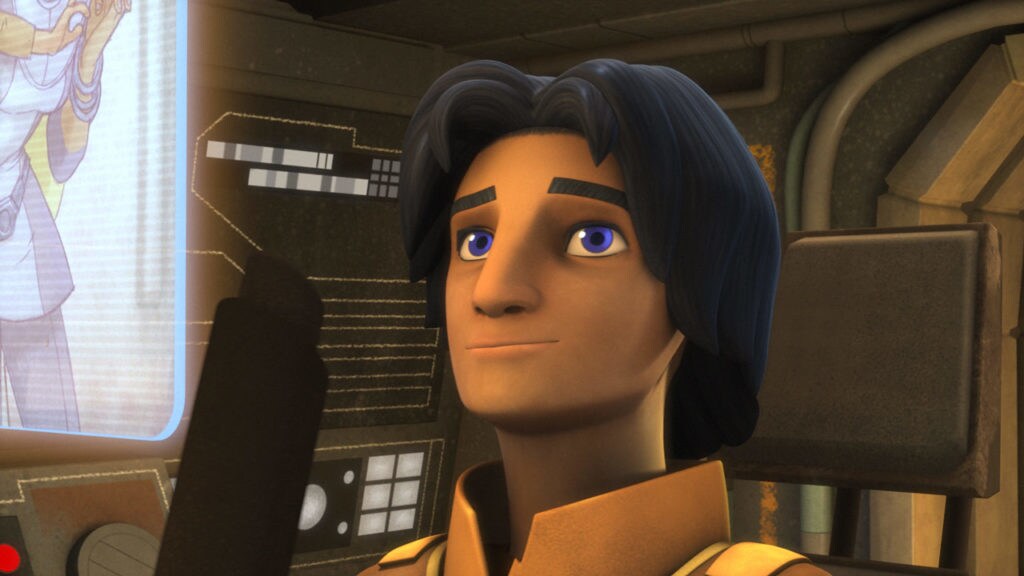 "I feel like I've learned a lot, as all our lives parallel the lives of a Jedi, in the sense that we're all trying to be the best us that we can be," said Gray. "There were a lot of times when I saw that some of the scripts and advice that was being given and showered upon Ezra was the same thing that I needed in my own life and just getting through the trials and tribulations of maturing as a person. That was really cool because it showed how applicable it was to our lives."
Speaking directly to Filoni, Steve Blum talked about working with the crew. "I've been in this business for about 30 years, I have never felt so included in the process before. You folded us in, we know so many people from Lucasfilm and Disney and I've never experienced that before -- and you made us feel like family -- which made us even stronger."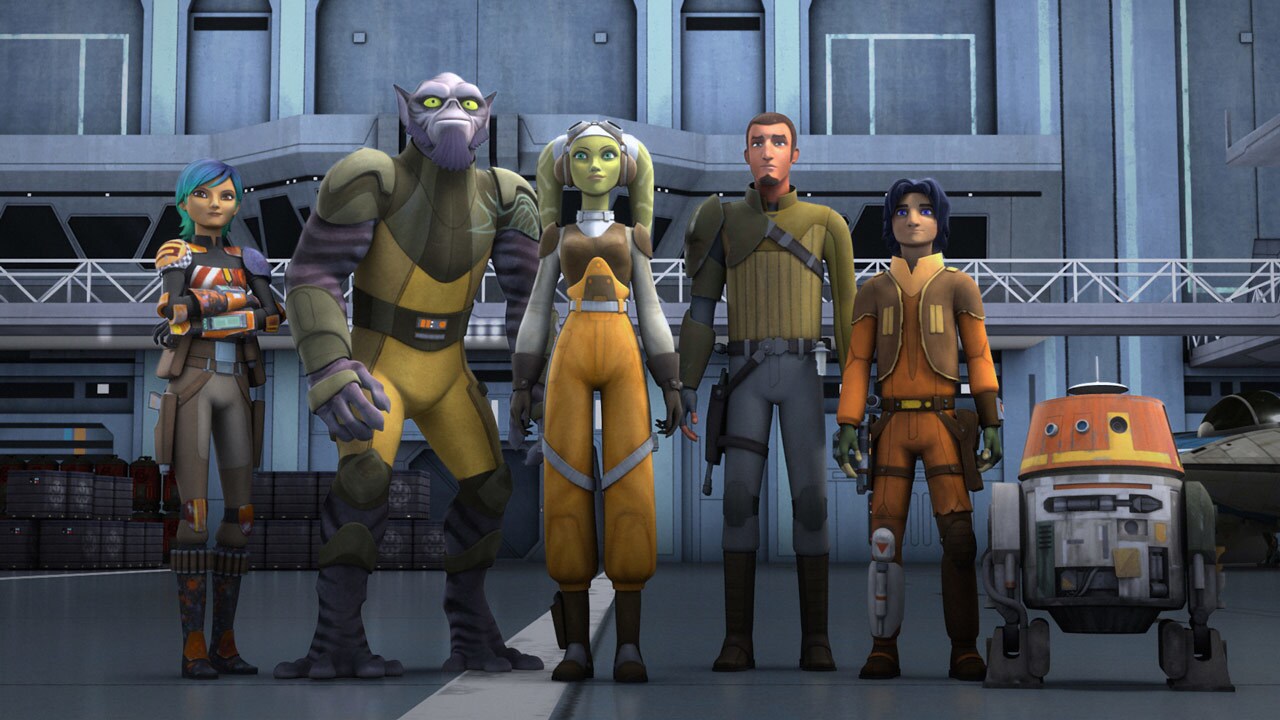 Family was a huge theme of the evening -- as it has been throughout the show -- and families came from everywhere to be a part of this special goodbye. Mark Tuttle and his son Jameson made a four hour trip from San Diego. "We've watched Rebels from the beginning, the very first episode," Tuttle said. "I like Kanan and Hera, their interaction, the relationship between the two." Like most fans, the Tuttle family were wondering before the screening about the fates of their favorite characters, especially since the series takes place before A New Hope. "My son and I talk about this a lot -- from the very beginning we used to say, 'What are they gonna do about Ezra? What about Kanan?' I can't believe it's coming to an end already, it's a great series. It will be interesting to see."
The Rogue Rebels showed up in their Ghost crew family cosplay. "For my family it's been a crazy journey," said the Kanan cosplayer. "We were there at the beginning, and this is a big hurrah for us. I want to thank Tiya and Taylor for giving my kids something really cool to grow up with. They latched onto your characters in a way that they were able to take a lot of the qualities that you guys helped bring to life. There's a lot that Vanessa, and Steve, and Freddie [Prinze, Jr.] put into those characters that my family appreciates."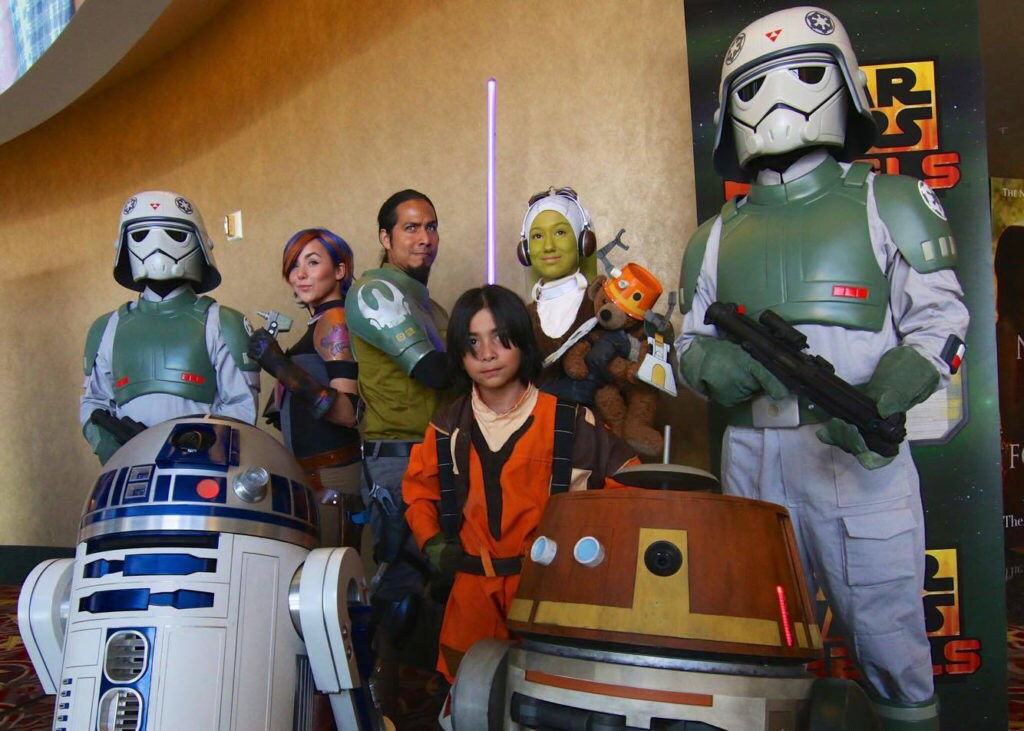 Filoni remembers they were the very first people to cosplay as the cast of Rebels. "They had made the costumes off some very early artwork that we had done, and all I could think was boy, I hope they like this show. The show wasn't out yet and I was like, 'Oh man I don't really want to let these people down at all.'"
Reflecting back on what Star Wars Rebels has become, Filoni brings it all back to the fans. "I really appreciate the support you've given me over the years. Fandom really makes the experience of having a story like Star Wars bigger than it's ever been and in a way that we couldn't imagine in 1977 as we were a bunch of kids spread out -- only knowing other kids in classrooms, or older kids -- it's such a global thing and you're all part of that global phenomenon. You drive us to do better and tell better stories. So thank you, guys. The Force is so strong with you."
Despite this being the closing chapter for Star Wars Rebels, Star Wars is a saga that will go on. As Filoni said, "The best stories end and then other stories begin."
Premiere telecasts of "A Fool's Hope" (8:30 p.m. ET/PT) and "Family Reunion -- and Farewell" (9:00 p.m. ET/PT) will air tonight -- Monday, March 5 on Disney XD, and will be released on the DisneyNOW App at 10:00 p.m. EST.
Jenn Fujikawa is a lifestyle and food writer. Follow her on Twitter at @justjenn and check her Instagram @justjennrecipes and blog www.justjennrecipes.com for even more Star Wars food photos.