Now where was I? Ah yes, ticking down the list of panels I'll be hosting at the Behind the Scenes stage at Celebration VI. Day One's been chronicled, so let's move onto the Friday at Celebration. Since there appear to be no rules against playing favorites,  I will do so. I mean it when I say every panel is worth seeing, but there's a couple on Friday that I want to give extra attention to: Willow and Brian Daley.

10:30 – 11:30 am: What's Coming from Del Rey. There will be plenty of people on the stage for this one, and I'm certain it'll be a packed house. Check out this A-to-Z team of bestselling authors: Aaron Allston (X-Wing: Mercy Kill), Troy Denning (Crucible), Drew Karpyshyn (The Old Republic: Annihilation), James Luceno (Darth Plagueis) and perennial alphabetical list-ender, Timothy Zahn (Scoundrels). They'll be joined by editors Shelly Shapiro of Del Rey and Jennifer Heddle of Lucas Books. I expect this panel to be dominated by audience Q&A, so come prepared with good ones! A must for EU fans.
12-1 pm: What's New at Hasbro. This one should be packed as well. At Comic-Con, Hasbro revealed what they could while holding back a few surprises for Celebration. Well, here's the time for Derryl DePriest and his team to pull back the curtain on what's coming next. A must for collectors.
1:30-2:30 pm: Ralph McQuarrie Retrospective. Sadly this year we said good-bye to a Star Wars legend. This panel will feature an introduction by Jon Berg and Dave Filoni, who will speak of Ralph McQuarrie's influence on Star Wars, whether as part of the original ILM team like Berg, or on the continuing adventures of The Clone Wars. The panel will then consist of a debut screening of a moving tribute film featuring testimonials and reflections from legends in the industry. A must for Star Wars art fans, and original trilogy fans.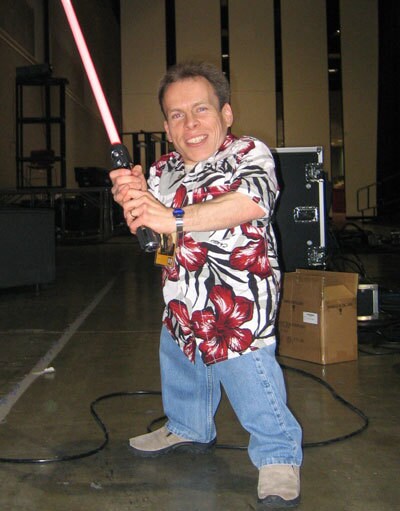 3 – 4 pm: The Unseen Warwick Davis. Okay, the pressure is on for this one. Not only is Warwick a big star of film and television, he's a former Celebration stage host as well. In preparing for this panel, I really wanted to make sure that fellow fans of Willow got a chance to experience something special – and what we've got cooking will definitely be eye-opening. Warwick will discuss some of the less glamorous aspects of filmmaking, especially his work under extensive amounts of makeup on films like his Harry Potter or Narnia work, and we'll also get a chance to see some never-before-seen footage from the fantasy classic Willow. Find out what happened to that missing acorn! I can't wait. A must for would-be wizards.
4:30 – 6 pm: Modelmaking in the Star Wars Universe. I welcome ILM legends Jon Berg, Bill George and Lorne Peterson to the stage to talk about their work creating such iconic Star Wars vehicles as the AT-AT walkers, the Tydirium shuttle and the Millennium Falcon and much more. With hundreds of archival photos of the ILM Model Shop at my fingertips, I hope for this to be an illustrated conversation of the accomplishments of these talented modelmakers. A must for film and ILM fans.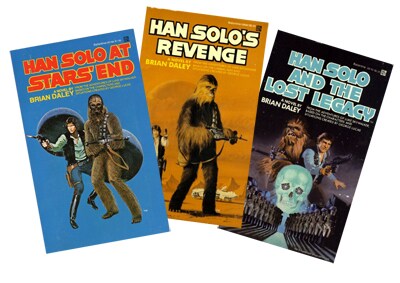 6:30 – 7 pm: A Tribute to Brian Daley. When Mary Franklin was putting together the schedule for my stage, she asked if there was anything specifically I wanted to do. My thought immediately jumped to the late Brian Daley. In reading through the entire library of Star Wars novels for The Essential Reader's Companion, it became clear how much his work stands apart to me. So I wanted to celebrate that, with a retrospective on his Star Wars contributions. His Han Solo Adventures are landmark works in the Expanded Universe, and I'd hate for them to ever be forgotten. So, with the help of his longtime colleague, collaborator and friend James Luceno, we will take a look back at this trio of novels, as well as Daley's work on the Star Wars radio dramas, and more. I encourage fans of Star Wars books to attend, whether or not you've read any of Daley's books. I hope it'll be the perfect introduction to those who haven't, and a thoughtful look back at the early days of the Expanded Universe for those who have. For EU and retro-Star Wars fans.
Pablo Hidalgo is paid to know the difference between Romba and Lumat and dies a little bit inside when you misspell Wookiee or Lucasfilm. He lives in San Francisco.

Star Wars Celebration VI is coming to Orlando, Florida on August 23-26. Join the party that brings together fans of all ages to celebrate the pop culture phenomenon that is Star Wars.