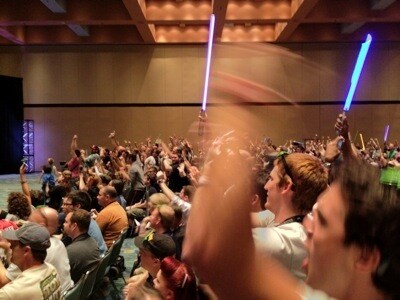 The time has come to bid farewell to Celebration VI!  And what better way to start the closing ceremony than with a little dancing and singing?  In addition to a dance off between Jedi and Sith, Mark Daniel got the crowd to sing along to his Star Wars version of, "Feeling Hoth, Hoth, Hoth."  Even though it was the end of our SWCVI experience, there was a lot of energy and excitement amongst the crowd.
Our fantastic hosts of the closing ceremony were James Arnold Taylor, Pablo Hidalgo, and Dave Collins.  Each of them shared some of their favorite moments from Celebration.  For JAT it was having Carrie Fisher jokingly spank him during her panel.  For Hidalgo, it was seeing Warwick Davis watch deleted scenes from Willow for the first time.  For Dave it was, "the fantastic work from the cast and crew of The Clone Wars" at the premiere.  He also shared the main reason he enjoyed SWCVI so much:  "You have so many people here celebrating Star Wars but also celebrating each other and the community."
Then came the answer to why everyone was handed 3D glasses as they entered the theater.  JAT told the audience we were about to see a sneak peek of Attack of the Clones in 3D!  Everyone put on our glasses and the lights went dim.  Needless to say, the Episode II trailer looked amazing in 3D.  The technology really made you feel like you were immersed in the film.  The airspeeder chase with Anakin & Obi-Wan was particularly cool to see in 3D --it really felt like you were whizzing by all the buildings on Coruscant!
Attack of the Clones will be released in 3D on September 20, 2013.  Then we got a second surprise.  Not only will we get to experience Episode II in 3D next year, we'll also get to experience Episode III in 3D as well!  Revenge of the Sith will be released on October 11, 2013.
Then James Arnold Taylor introduced the woman behind the magic of SWCVI.  In the words of JAT, "Star Wars Celebration would not be happening without Mary Franklin."  Franklin came out and explained that there is a "huge long line of people who worked on Celebration VI."  In addition to all the staff, hosts, and everyone involved in the making of Celebration, she also thanked the fans our contribution to the show.  As she said, "it's your passion and love for Star Wars that make the show what it is."
Then JAT made the excellent point that Mary Franklin would be the perfect person to get information on the next Star Wars Celebration.  Before she knew it, all three guys were on their knees begging for some news.
After much anticipation... she shared... that Star Wars Celebration is heading to Germany for Star Wars Celebration Europe II!  A polka band came out playing and there was surprise and excitement in the audience.  Star Wars Celebration will be in Messe Essen, Germany July 26-28th 2013.  Well friends, that concludes our Celebration VI adventure together.  It's difficult to put into words what an incredible journey this has been.  Until next time, may the Force be with you all.