The founder of Tom Spina Designs and Regal Robot discusses bringing galactic design to our galaxy.
Tom Spina has a dream job. Well, two, actually.
He's the founder of an in-demand movie-prop restoration and sculpture studio, Tom Spina Designs. They've brought back to life everything from deteriorating Star Wars masks from the Mos Eisley cantina to their latest project, a crumbling puppet of the fan-favorite female Gremlin, Greta. He's also the founder of Regal Robot, a pop-culture furniture, art, and decor company, with creations that easily fall into the "Coolest Thing Ever" category. (Who wouldn't want a coffee table with a base made of asteroids and the Millennium Falcon blasting through them?)
But here's the thing about dream jobs: They're still jobs, and you have to be great at them to keep them. And Spina's work is unimpeachably great, which is probably because he loves doing it, and has been doing it for a long time.
"I've just always been making things," he tells StarWars.com. "Even as a little kid, I was always trying to make recreations of things I saw in cartoons or movies or TV. [Laughs] I never followed the instructions on the LEGO set." A huge film and Star Wars fan, Spina went to college for TV and film, "but those were just excuses to make puppets and monsters and sets."
Function with a fan's eye for detail
Talking to Spina, based in his native Long Island, it becomes clear that what makes his work so special is the attitude behind it and what it requires of him and his team. There's a mixture of science and art inherent in both his restoration and furniture projects -- knowledge acquired through research and experience, along with an eagerness to try new things. "It's just a natural extension of making things," he says, "and having a degree of curiosity into how things are made, and an appetite for figuring that out and experimenting and failing quite a bit -- [Laughs] -- along the way. And eventually just getting a handle on all these different materials, all these different methods, and even now, remaining fascinated with those and what's on the horizon."
Regal Robot was borne from a Tom Spina Designs project: a custom Han Solo in carbonite desk, made for a musician's charity project. Once the Internet laid eyes on and loved the desk, Spina thought there might be more opportunities in the same vein. So a new Han in carbonite desk was built...with a few special modifications. "We didn't want to do just a redo of the original. We wanted to give this a little more function, a little more of an executive feel. I love the idea of mixing things like wood, metal, and glass. I feel like the way that those different materials reflect and absorb light, it feels really cool together."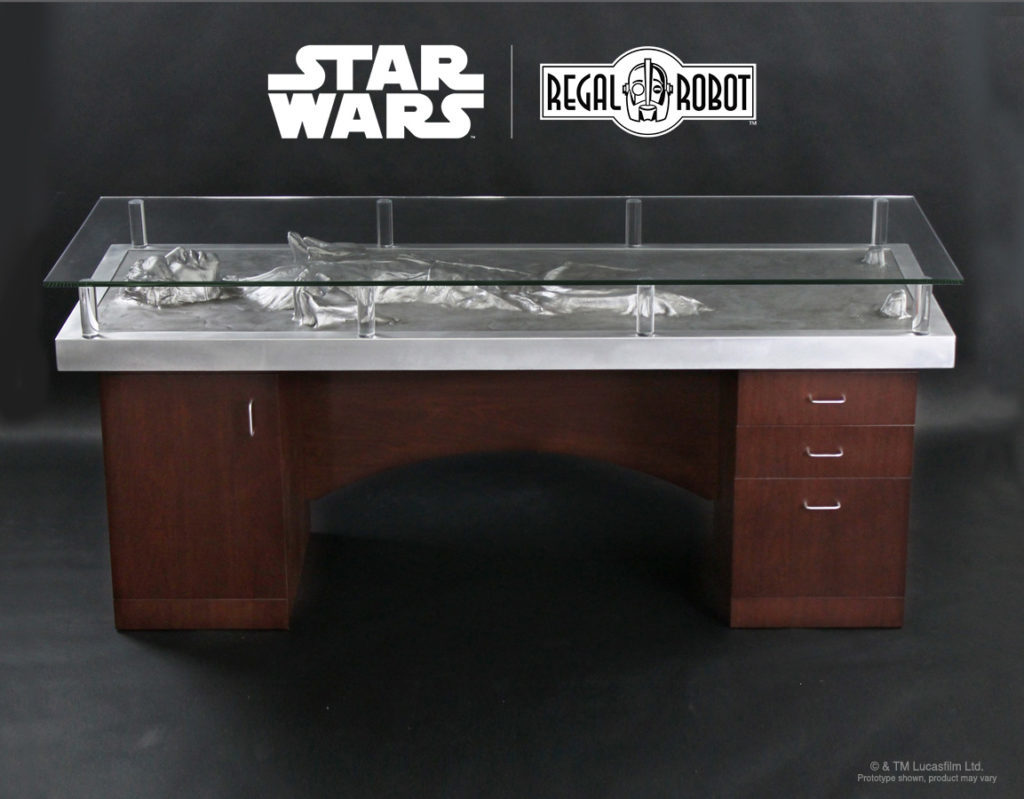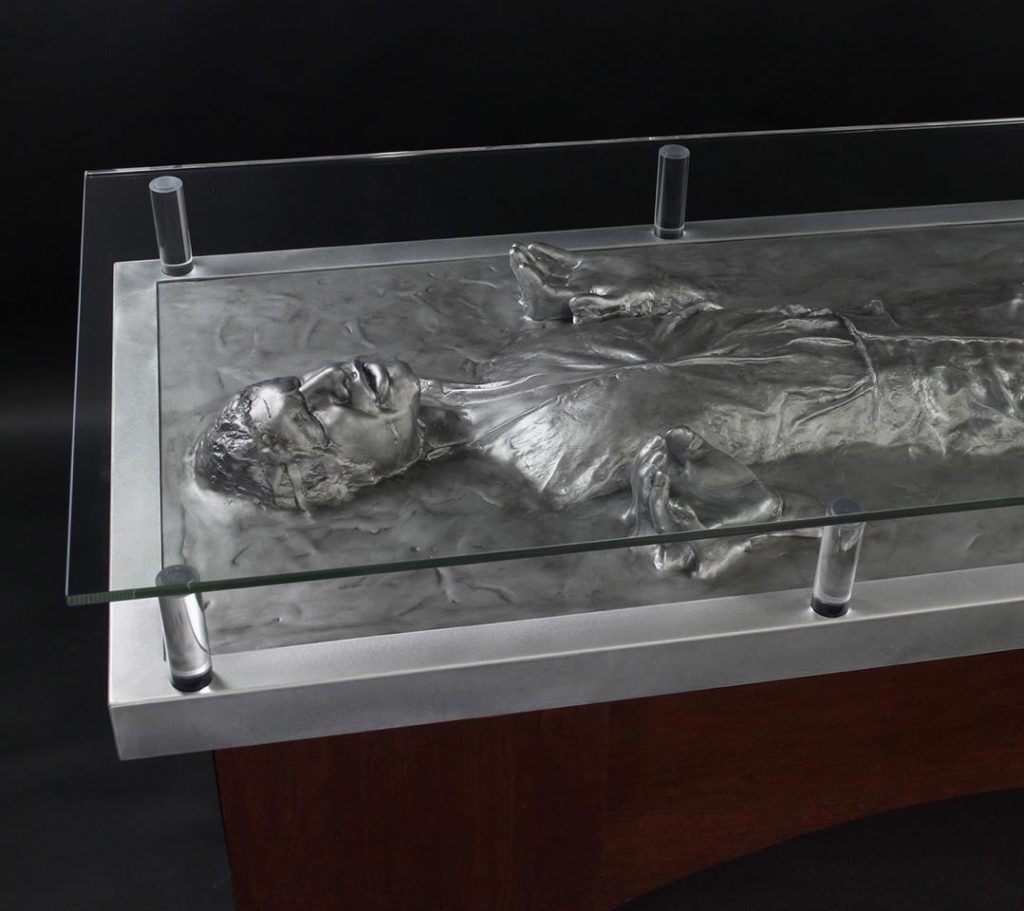 The final product is truly beautiful -- it has the hallmarks of well-made furniture but with a Star Wars fan's eye for detail. To create Han in carbonite, the original carbonite prop from the Lucasfilm Archives was scanned and blended with a casting first created for a '90s replica. "We really came up with, probably, the most authentic and faithful representation of this thing that people have seen or had the chance to own yet," Spina says. The vertical lines down the sides of the base recall the haunting pattern of the carbon freeze chamber floor. Even the drawer handles serve a design purpose. "The drawer pulls are the same little handles that you find on the Han carbonite prop. On the little readout screen [along the sides of the carbonite slab], there are these handles. The prop people used drawer pulls for the movie, so we thought, why not make those our drawer pulls?" The only thing missing is some Ugnaughts running around.
A throne fit for the Emperor
Another beauty in the Regal Robot portfolio is something even Emperor Palpatine would love. Seriously. It's the Emperor Throne Armchair: a slimmer take on the villain's imposing, rotating chair as seen on the Death Star II in Return of the Jedi. Regal Robot's version is sleek black with purple, reflecting the colors of the throne from the film, and while scaled down, feels 100 percent Sheev Palpatine. And yes, it swivels. "It was a fun process," Spina says. "We'd looked at the prop-style chair, but the size and style made it a bit space and cost prohibitive. Not everyone has studio roll-up doors to get something that big into their living room! One day it just sort of hit me that we could do a streamlined design as an upholstered piece that captures the feel of the prop and be much more functional, to boot. It took three lime green prototypes, but the final version absolutely captured what I'd envisioned for this piece. It was exciting to see it come together."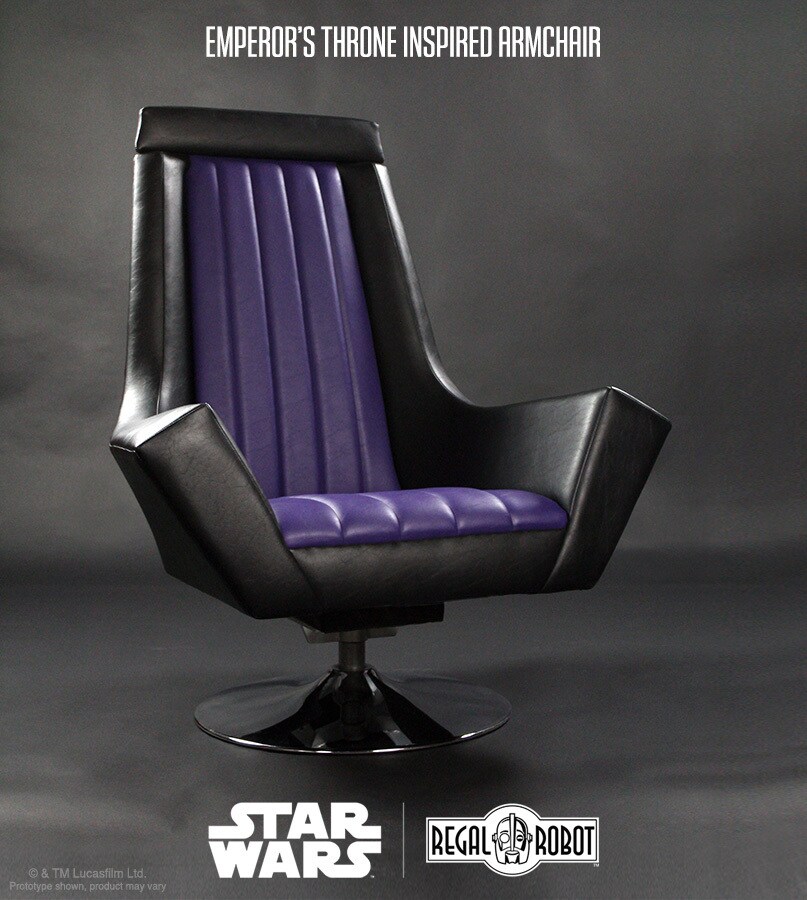 Finally, when someone walks into your office, you can say in your best Palpatine, I've been expecting you. It's also important to note, however, that part of the design's success is that it works even if you don't know Star Wars. "It's borderline stealth geek, my favorite thing," Spina says. "I wanted to be sure we had something that looked great, Star Wars or otherwise. I realized as I was working on the design that the chair could have this great, early '60s sort of vibe. It was a lot of fun dialing in that look."
'They're incorporating it into their lives'
One of Spina's latest projects involves Wookiees. (Of course it does.) The Tom Spina Designs side of the business worked with Gentle Giant to make 50 life-size Chewbacca statues for theater displays in support of Solo: A Star Wars Story. Inspired by the Solo creature shop's impeccably detailed Chewbacca, Spina and his team crafted all the heads, including all the casting, painting, glass eyes, and hair work, plus fur for the bodies. "We received a few images of Chewie from Solo, all top secret and code-named, as this was several months before the release," Spina says.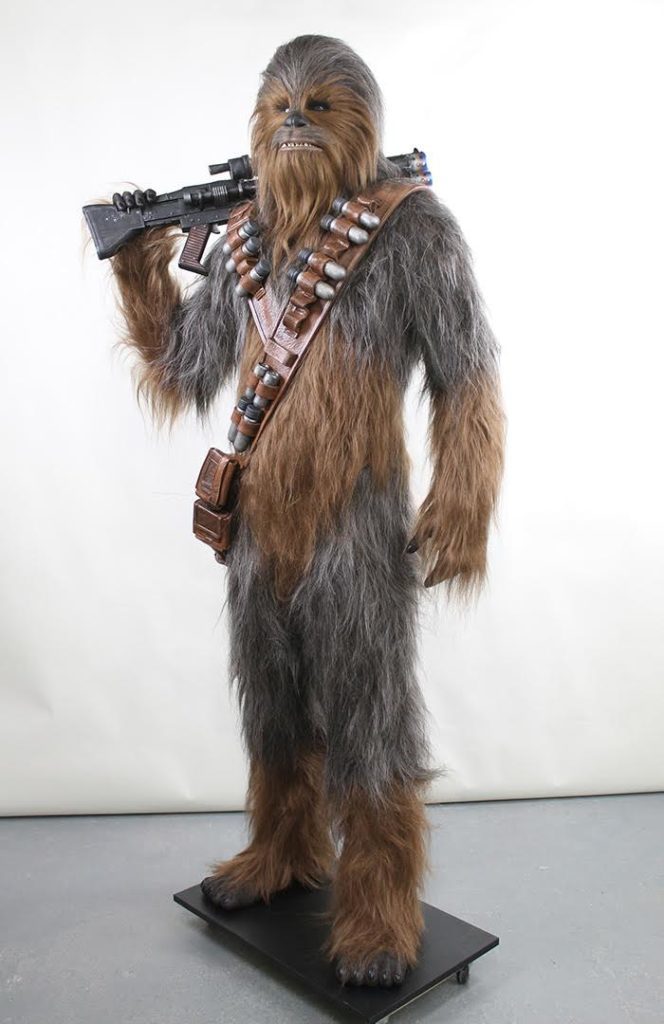 "I consulted with Gentle Giant on their digital sculpt of the head, and they developed an amazing body sculpt complete with the new style bandolier and pouches. They 3D printed a whole life-sized body and head. From there, we molded the head and cast 50 copies in fiberglass. In about one month, the heads were all painted here in New York and we added glass eyes before carefully gluing on a lot of hair. We patterned the fur for the rest of the body and shipped sets of fur and heads overseas for assembly. It's been super-cool seeing fans post pictures with him in theaters around the world."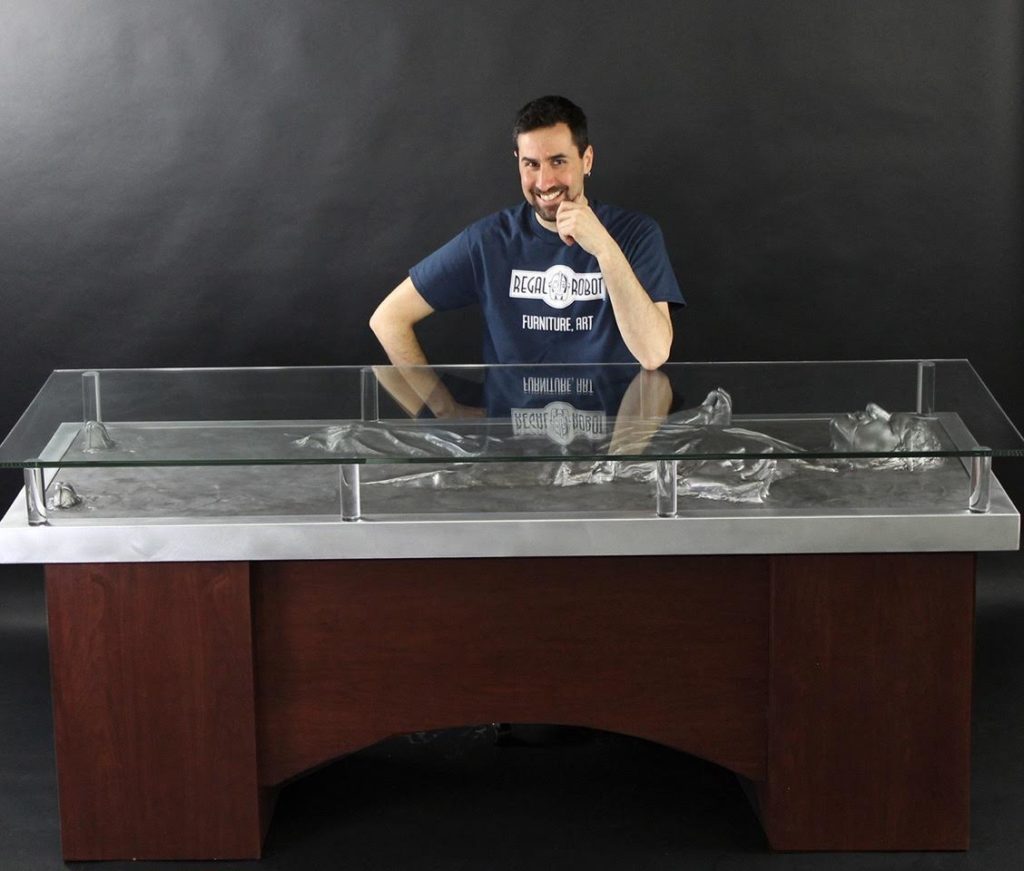 Today, both Tom Spina Designs and Regal Robot continue to grow and evolve; although they trade in classic iconography, they remain very much of this era. Spina's companies both rose during a time when vinyl records came back into fashion. When movies, including Star Wars, began utilizing more puppets and in-camera effects. In other words, Spina seems to have tapped into something, or at least been in tune with cultural shifts. "I think that's fascinating," Spina says. "There is a renewed appreciation for both physical objects and for practical movie effects, and I think a lot of our stuff sort of touches back to practical moviemaking. Clearly, that's what inspired all of us to do what we do and we're trying to find ways to say -- to all those people who were kids who were watching the making of these movies, and who were fascinated by the props, and fascinated by the masks and monsters, and all the fun stuff, and the sets -- let's find ways to bring a little of that fascination back into their lives and to make it stuff that's functional and can actually be a part of their home, a part of their living room, a part of their office. And I think that's another sort of thing that's just happening these days is people aren't just appreciating Star Wars -- they're incorporating it into their lives, they're making it a part of their homes, and it's just really cool to be a part of that."
Dan Brooks is Lucasfilm's senior content strategist of online, the editor of StarWars.com, and a writer. He loves Star Wars, ELO, and the New York Rangers, Jets, and Yankees. Follow him on Twitter @dan_brooks where he rants about all these things.