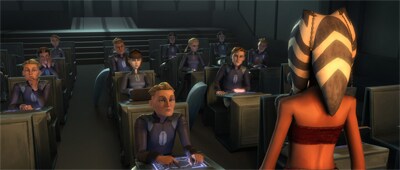 It's August – funny how that happens every year – and it's time for school to be in session again. I actually always looked forward to it when I was younger. Yes, I was that kid. I liked getting back into a routine, learning, having homework (unless it was math), and seeing friends. Mostly though, I liked going shopping for school supplies. I loved getting the list of what items were required for the year's classes, and I loved crossing the items off just as much. I always found that making my tools more interesting made learning more fun. That's where Star Wars comes in.
Long days at school can be improved with Star Wars pens, notebooks, and folders. It seems like it wouldn't matter, but I remember being really frustrated with an algebra problem in high school and feeling slightly better about figuring it out when I used my calculator with a giant She-Ra sticker on it. I don't remember if I answered the problem correctly, but seeing characters who inspire you when you open your backpack can make a difference.
Though you can get some Star Wars supplies right off the shelf, you can also customize them! I think it's a neat idea to modify plain folders or notebooks. You could add Star Wars stickers, cut images from Star Wars comics, or print images from the internet to tape or glue on the covers. If it's a notebook you're using all year for multiple classes, you could cover it with a collage. Use this method to dress up plastic pencil holders, three ring binders, and anything else that needs a little pizzazz.
To make classes more interesting, you could use themes and assign different Star Wars characters, planets, or vehicles to each of your class subjects. I recommend ranking them and matching up your favorite Star Wars character with the classes you like best and so on. For example, I'd use an image of Emperor Palpatine for Chemistry since I disliked that subject and one of Princess Leia for History since I loved it. While you're at it, label the folders with the class names in English and in Aurebesh.
Besides having cooler school supplies, showing that you like Star Wars might mean you make friends. I was a shy kid (and still am), but if I saw anyone else at lunch with a Lisa Frank folder, I knew we'd have something to talk about and I was okay with saying hello. That still applies now. I'm much more likely to initiate conversation with a stranger if I can tell we have something in common as a starting point.
I find that adding a bit of the things you love into your everyday tools translates past the senior year of high school, too. College note taking was more interesting when I used Marvel superhero pens or used pens with different colors of ink (my college professors may disagree with that statement). Business meetings aren't as boring if I have a Star Wars: The Clone Wars notebook to write my to do list in. Writing the article I've been procrastinating about comes a easier if I switch to paper and write in my journal made from a Han Solo action figure card back.
Regardless of your age or whether you are a Padawan or a Jedi Master, don't let people tell you it's childish to use something other than plain pens or portfolios. Whatever works for you is the right way to do it.
Amy Ratcliffe is addicted to Star Wars and writing. You can follow her on Twitter and keep up with all things geeky at her blog.