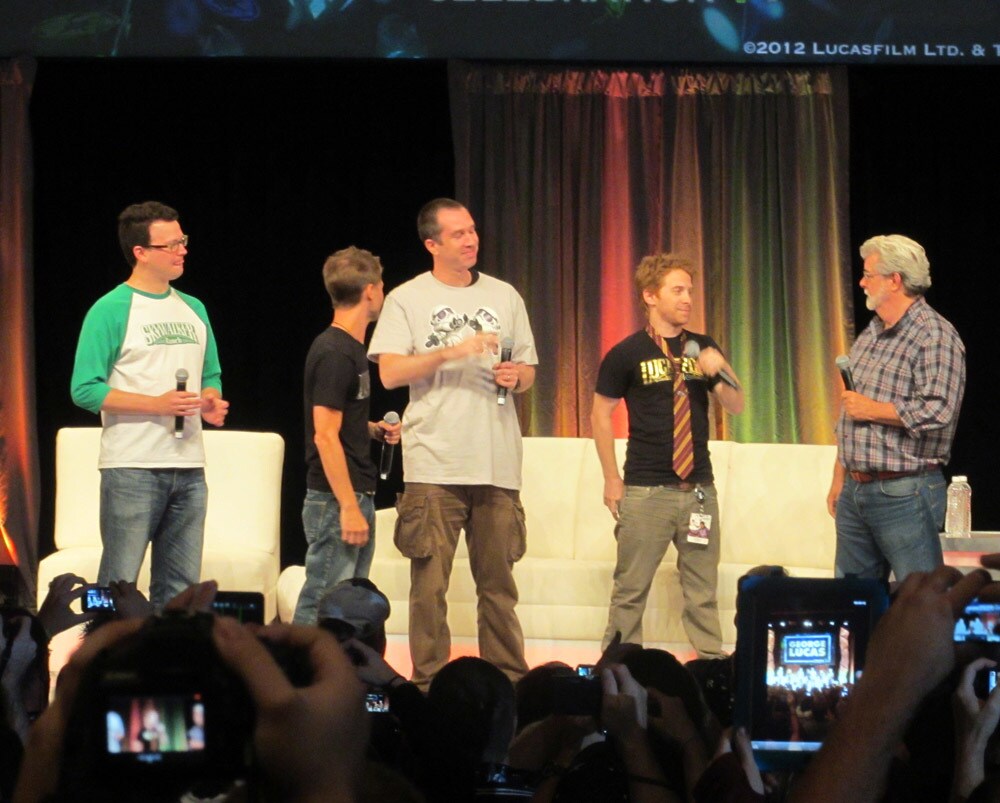 The Super Secret Panel with Todd, Seth, and Matt may not have been as secret today, but I don't think the fact that people already knew a little made it any less funny. Plus, a very special guest did show up at the end of the panel who wasn't at yesterday's session. The team behind the new Star Wars Detours jumped right in and showed us the trailer but only after they had James Arnold Taylor taken off stage by some bounty hunters. I bet no one told Taylor that was part of his hosting duties.
The trailer for Star Wars Detours showed off everyday life in the galaxy far, far away. If you haven't seen it yet, please take a few minutes and check it out. I think it will make you smile. No, I know it will. It's hilarious to see the characters we love in different settings. In the trailer Dex tells Leia about Padmé's poor decision making abilities, the Death Star is being built under the guise of being a shopping mall, and we see the Emperor return from a singles weekend.
Todd Grimes, Seth Green, and Matt Senreich explained that the series takes place in three different environments: the Death Star under construction, Tatooine – especially Jabba's palace, and Dex's Diner on Coruscant. Each location comes with its own set of characters and stories, and they shared clips for each place. Their enthusiasm for the project was contagious. They talked excitedly about everything from Billy Dee Williams voicing Lando to their version of Rotta the Hutt (he's a surly teenager in the series). It has to be amazing for them to finally share the project they've been working on so long.
And though we did see a bunch of clips, Senreich pointed out that Star Wars Detours isn't just vignettes. We'll watch the characters grow and evolve. It's a linear show with a beginning and an end. We'll get to watch their relationships and stories, and as Grimes said, those everyday aspects make it relatable. He said that came directly from George Lucas.
Speaking of Lucas, he's in the series. Grimes said they showed Lucas animatics of a scene with Darth Vader filming a recruitment video for the Empire, and Lucas asked them to include a director with a flannel shirt and white hair. They even talked Lucas into voicing the character, too. After they mentioned this, Lucas walked onto stage, and as you can imagine, the audience went crazy. I thought a guy sitting in front of me was going to faint.
They talked with Lucas about the series, and so it's clear, Lucas is definitely involved. He's always wanted to see a fun take on the universe like this. He told them to keep pushing with the character designs, and it seems like he's given them a lot of freedom. Lucas said it's definitely for all ages, and I think he put it best when he said, "It's so smart it's dumb, and it's so dumb it's smart."
I'm happy to see this fun spin on the universe we all know and love, and since I know that the people behind it are truly Star Wars fans, I'm not worried. Green specifically mentioned that they're taking great care to be respectful. With great power comes great responsibility and all. Green said, "It's not insulting. It's taking the things you already know and looking at it in a different angle. We are desperately in love with Star Wars, and we would never corrupt it from the inside."
Be sure to check out the Facebook page for Star Wars Detours to keep up with news and clips.
Amy Ratcliffe is addicted to Star Wars and writing. You can follower her on Twitter and keep up with all things geeky at her blog.