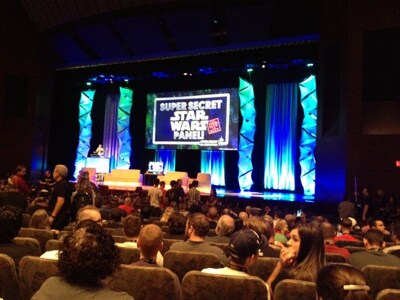 Crowds of fans poured into the Chapin Theatre.  Onstage a DJ played a techno remix of AC/DC while images of the band flashed on giant screens.  Before long the crowd (including myself) started clapping to the catchy beat.  People jumped and waved as t-shirts were thrown into the audience.  There was so much anticipation and energy in the crowd.  Everyone was ready and pumped for the main act.  No, this wasn't a rock concert.  It was the Super Secret Star Wars Panel!
To start the show off right, voice actor James Arnold Taylor did a brief introduction of the guys we were all waiting to see:  Seth Green, Matt Senreich, and Todd Grimes.  Fans know Seth and Matt from their work on the stop-motion animated comedy series, Robot Chicken.  For this super secret project, they enlisted director Todd Grimes, even calling him their "Dave Filoni" of the show.  Although Todd isn't sure what type of hat will become part of his signature look.  After the trio took the stage, 3 Mandalorians quickly entered and whisked JAT off on a vertical stretcher, Hannibal Lecter-style.  It was quite a sight!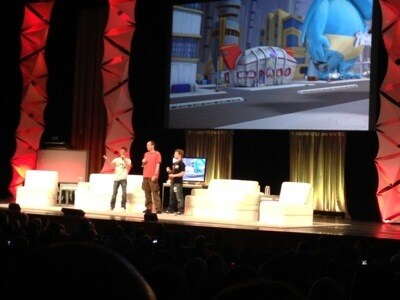 Once the guys were alone on the stage, they began telling us the story of how this super secret project came to be.  According to Seth, it was a, "4 year journey to get to this place."  And by this place, he meant bringing us a new animated television series based on Star Wars!  <cheers>  According to Seth, George Lucas originally didn't like their concepts.  George wanted a show that everyone could watch.  He wanted the audience to have fun in the Star Wars universe---particularly between The Clone Wars and Episode IV.  George challenged the team to make the characters more "iconic."  The guys said they struggled with this because quite frankly, how can you make a character like Darth Vader more iconic than he already is?   But the team was up for the challenge and after some time they came up with a concept & style George loved.
What Seth, Matt, and Todd came up with is something that blew all of us in the audience away:  it's called Star Wars Detours.  Star Wars Detours is an animated comedy that focuses on what daily life is like in the Star Wars universe.  The animation style is bubbly, cute, and the characters physically have a bobble-head quality to them.  Imagine mini Stormtroopers with giant helmets or a pint-size Emperor with an oversized face.  The Star Wars Detours trailer was nothing like I've ever seen before.  There were dance sequences with Dengar, a bratty, teenage Leia hanging out with her decoys, and a hilarious Admiral Ackbar scene where he discovers his signature, "it's a trap" line.  Seth, Matt, & Todd are going to give fans a whole new way to experience the galaxy.   In addition to creating a fresh, new interpretation of Star Wars, the guys managed to get some of the old gang back together.  Anthony Daniels voiced C-3PO, Billy Dee Williams voiced Lando Calrissian, and Ahmed Best voiced everyone's favorite Gungan, Jar Jar.
And speaking of Jar, Jar…Seth promised that we will love where they take Jar Jar's character in the show.  Judging from the Jar Jar clip in the trailer, it looks like he's going to take an emotional (yet funny) journey as he discovers why no one likes him. I think Star Wars Detours might turn some of those Jar Jar haters into fans.
What I particularly love about the new show is how real and modern they've made the characters I love.  Seeing Han and Chewie act like an old married couple was hysterical.  And Salacious Crumb as a wannabe commercial actor?  Genius.  One particularly fun detail is how they created some of the Star Wars ships like the Millennium Falcon.  Instead of going off the schematics from the films, Todd used a Millennium Falcon vintage toy as inspiration.  It's fun details like having a detachable Dejarik table that vintage toy collectors like myself will enjoy seeing.
Towards the end of the panel, actor and Star Wars super fan Donald Faison walked onto the stage singing the Star Wars main theme song.  The crowd went crazy!  Turns out, Donald & Breckin Myer are lending their voices to Star Wars Detours.  The pair is playing a couple of Stormtroopers who are more mall cops than Imperial forces.  After Donald talked about his experience as a Robot Chicken intern and pleading his case to become a member of the 501st Legion, more t-shirts were thrown into the audience.  And to end the panel on an even higher note, they showed the trailer one last time.  You could clearly see the pride and excitement in all of the panelists' faces.  You can tell that Seth, Matt, Todd, and all the Star Wars Detours team have been working hard (and having fun) making this series over the last few years.  And judging from the crowd's response today, we all can't wait to take that Star Wars detour with them.
Jennifer Landa is a Los Angeles-based actress, writer, and video blogger.  One of her proudest moments was helping to design the Death Star...into a skirt.  To learn more about Jennifer, visit jenilanda.com.