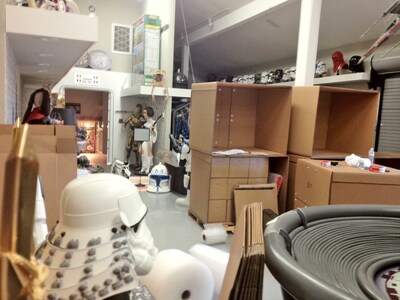 To say that we're excited about the Rancho Obi-Wan Experience at Star Wars Celebration VI (Booth # 1235) is a real understatement. To say that we're completely ready and that everything has gone smoothly falls into that same category.
Who knew? We've never before participated in anything of this huge scale as an exhibitor. Selecting from among a couple hundred thousand items, trying to figure out where everything would go in our booth, deciding how much packing material we'd need to order (it came in at quadruple our budget!), working with both Reed Pop and Freeman—the outfits that run Celebration VI and provide all the in-show logistics respectively—as well as Lucasfilm itself, doing the actual packing—well, all of that is a very large challenge.
Most of that work has fallen on my amazing friend, general manger of the collection and vice president of the museum, Anne Neumann. I hope Anne will find it in her heart to forgive me someday! A smarter, more dedicated partner in fandom would be impossible to find.
The Rancho Obi-Wan Experience for Celebration VI has been in the works for a year, and getting the final details of a contract nailed down took until early 2012. Like anything else, the devil is in the details. Both Anne and I had plenty of ideas of what we wanted to bring, but there are practical issues. Disassembling the hallway from the Tantive IV that the R2 Builders made for Celebration IV, for example, wasn't feasible. Besides, with some rare exceptions, we didn't want to bring pieces that had been seen at previous Celebrations. That ruled out a wheeled sandcrawler and landspeeder that were built for a charity Red Wagon Parade in Jacksonville, FL and seen at Celebration V—but a newly-built bantha wagon that even I haven't seen in person will be in the booth.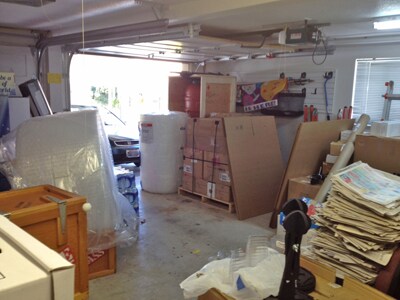 A few months ago, we walked through the museum taking notes, then went back over our lists, adding and subtracting. Two different prototype missile-firing Boba Fetts? The complete set of unproduced Droids and Ewoks series action figures? Would anyone really be interested in seeing those? Um, yep! A bootleg toy from China called Blast Vader? Interesting, but maybe we can leave that behind.
Anne started laying out the booth in FileMaker. When I call her "The FileMaker Queen" I'm not kidding; I think she can cook dinner using that software! We needed room to fit in glass cabinets, plenty of wall space for original art, areas for large free-standing items (including a toxic creature that hasn't yet visited the confines of the museum itself), an area for our souvenir merchandise that Anne and her mom Susan will run, a meet-and-greet table for me, and space for the Curto/Burns Collectors Podcast (to which I contribute a monthly segment) to do interviews. And more. When we got to see where we were located on the floor, I saw the opportunity to expand and make things more comfortable for visitors, so we went from 600 square feet up to 800! Back to FileMaker Anne went!
Here at the Rancho I give personally-guided, anecdote-filled two to three hour tours to small groups. That simply won't be possible in Orlando, so I've written descriptions for each object or group so fans will know what they're looking at. We've also come up with some cool giveaways. And for a small donation you'll have the chance to win a $1,500 bronze McQuarrie-designed Darth Vader bust. And what would a Star Wars experience be without special merchandise? You can see ours on RanchoObiWan.org.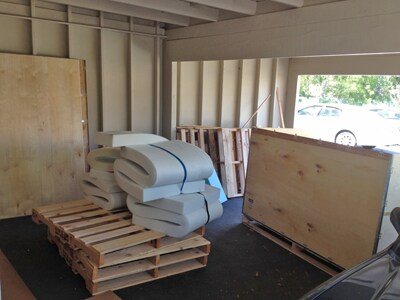 After ordering enough cardboard, strapping tape, pallets, foam, and more (enough to package all of downtown Petaluma!), Anne playfully posted a "Guess how many linear feet of bubble wrap we're going to use" message on Facebook; closest to correct wins a free initiate membership. While the guesses were due by the end of the packing day Friday—we were supposed to load the truck Saturday—we got a reprieve; the new loading date is Tuesday. And we had to order more bubble wrap! So if you'd like to take a guess, you have until Midnight Pacific Daylight Time tomorrow, Tuesday August 14. We won't know the footage ourselves until the truck is locked and on its way! We'll be very happy to take a brief break…and then get back to work to prepare for an awesome Celebration! See you there!!
Steve Sansweet is chief executive of Rancho Obi-Wan, a non-profit membership museum that houses the world's largest private collection of Star Wars memorabilia. To find out about joining or taking a guided tour, visit www.ranchoobiwan.org. Follow on Twitter @RanchoObiWan and Facebook.

Star Wars Celebration VI is coming to Orlando, Florida on August 23-26. Join the party that brings together fans of all ages to celebrate the pop culture phenomenon that is Star Wars.