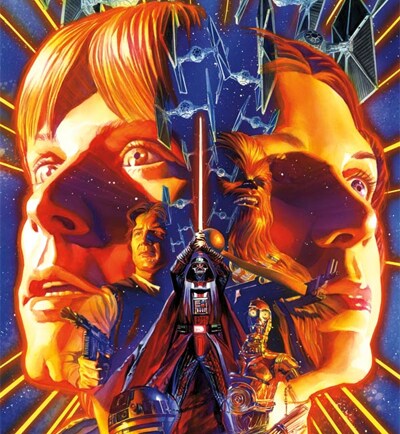 With the release of the Star Wars Celebration VI programming schedule this week on the Celebration VI Mobile App, fans everywhere have begun sketching out their plan of attack for the biggest Star Wars party of the year. Planning my schedule is easy: I'm going to enjoy the show from the Behind the Scenes Stage, W414, since I'll be hosting about 20 panels this year. Here's what my first day (Thursday, August 23rd) will consist of ... I hope some of it becomes your first day as well!
12 noon – 1 pm: A Quirky Point of View. This past Comic-Con was a bit of a trial run for this panel, but if you caught it in San Diego, I promise you there is still more to see. Once again I'll be welcoming authors and artists Jeffrey Brown and Matthew Reinhart onto the stage to talk about their upcoming projects. As Jeffrey revealed at Comic-Con, there is a follow up to Darth Vader and Son in the works, and now we can talk more about that. And Matthew will be able to show even more of the new prequel-focused edition of Star Wars: A Galactic Pop-Up Adventure. This panel is ideal for book fans, young fans  and families, and folks who  love the fun, creative side of the saga.
Woah. Hold on. Record scratch. This panel has now been moved to Saturday at 11 am. Sorry for any inconvenience. Let's try that again. Ahem...
12 noon - 1 pm: Lucasfilm's Star Wars Collectibles Update. Chris Spitale, Senior Manager of Global Product Development at Lucasfilm (any title with the word "global" commands respect) will be showcasing some upcoming collectibles that span a wide range of interests, wallet-sizes and characters from the saga. While awesome works from Sideshow, Gentle Giant, Kotobukiya, EFX and ThinkGeek are given the spotlight, they're just the tip of the Hothberg. Also, a little bird tells me there may be giveaways. A must for collectors.
1:30 – 2:30 pm: Dark Horse Comics Looks Ahead: 2013. Like at Comic-Con, I'll be welcoming Randy Stradley and Dave Marshall from Dark Horse Comics to the stage. But this time, they've got an hour devoted to the comics, and they'll be joined by John Jackson Miller, Jan Duursema and my fellow Canadian Doug Wheatley (Winnipeg represent!). While Randy and Dave did tease some of the upcoming series at San Diego – most notably, the simply-titled Star Wars series from Brian Wood – they did keep several sabacc cards up their sleeves for Orlando. And they will bring visuals this time. Or else we'll get Jan and Doug to draw on the spot. A must for EU fans.
3 – 4 pm: Disney Parks & Star Wars Collectibles: This is Where the Magic Begins. Brad Schoeneberg and Cody Hampton of Disney's creative development team will be offering a sneak peek at the Star Wars exclusives to be found at Disney Parks coming up in 2012 and 2013. The Disney panels at the last Celebration were particularly memorable – R2-MK, the Mouse-eared astromech droid made a surprise appearance at that last show! A must for collectors and Disney fans.
4:30 – 5:30 pm: The Ultimate Action Figure Collection with Steve Sansweet. Collecting legend and good pal Steve Sansweet will be previewing his exhaustive guide that showcases every unique character rendered as a 3 3/4-inch scale action figure. My first question: So how many are there? That is not easy to answer, and you'll find out why. Steve will be joined by the book's editor – and I'm happy to say since I've worked with her on a previous book, I'll be one of the few people there who can confidently pronounce Kjersti Egerdahl's name correctly. Also on the panel, the book's designer Rosanna Brockley and from Rancho Obi-Wan, archivist Anne Neumann joined by photographers and collectors Dan Curto and Paul Harrison. A collector's must-see.
6 – 7 pm: Timothy Zahn Retrospective. Hard to believe it's been over 20 years since reading Heir to the Empire for the first of many, many times. Author Tim Zahn and I will take a look back at all his Star Wars prose works. Since I've recently completed work on The Essential Reader's Companion, I've been in a completist mindset, and have cataloged nearly 30 distinct stories that we may discuss. How many have you read? A must for EU fans.
Pablo Hidalgo is paid to know the difference between Romba and Lumat and dies a little bit inside when you misspell Wookiee or Lucasfilm. He lives in San Francisco.

Star Wars Celebration VI is coming to Orlando, Florida on August 23-26. Join the party that brings together fans of all ages to celebrate the pop culture phenomenon that is Star Wars.