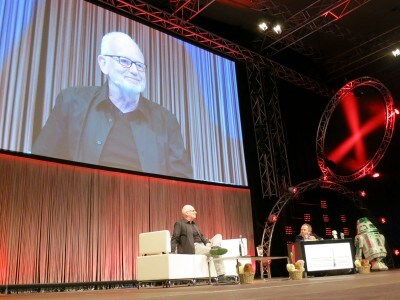 Ian McDiarmid was Warwick Davis' final Celebration Stage guest on day one of Star Wars Celebration Europe, discussing everything from how he got the part of the Emperor in Return of the Jedi to his thoughts on Star Wars continuing with new films. Check out some highlights from their talk after the jump!
He didn't know that his part in Return of the Jedi was quite as significant as it turned out to be. After meeting with George Lucas and Richard Marquand about the film, he got a call from his agent, saying he got the part. "I said, 'That's great. But what's the part?' He leafs through his notes the way agents do, and said, 'Oh, it's called the Emperor of the universe.' So I said, 'Well, I guess I'll be doing it then.' Here I am."
On getting the chance to play an old character when he was young, and then play a younger version of the character when he himself was older: "It was a very strange reversal. When I was in my late 30s I was playing 120. And because I was sort of 50-ish, the age that Palpatine needed to be...I was the right age to continue in the prequels...On the very first day of shooting, I had to get my head around the fact that I was Darth Sidious as well as Senator Palpatine."
His voice was originally meant to be overdubbed, but Lucas ended up liking his vocal performance. "That voice only arrived when I looked in the mirror and saw this horrible monster after four hours of makeup tests. I thought, well, he looks like a horrible, slimy toad, so I should do my best, since I look like one, to sound like one." McDiarmid then revealed that Japanese actors' ability to speak and bellow in deep bursts influenced his delivery.
His favorite piece of Palpatine merchandise: A Pez dispenser.
He's excited about new Star Wars films. "Like everybody else, I was astonished...But I think it's terrific. And I knew that George was handing things on, or thinking about it. I didn't know anything about the Disney deal, nor did anyone else until it happened. But I think it's great because there are going to be a lot of new and really interesting, creative people involved -- some from the old world but lots from the new. And J.J. Abrams is a very good [choice] indeed...It's a big story, and there's much more to tell. Unfortunately, I'm dead."