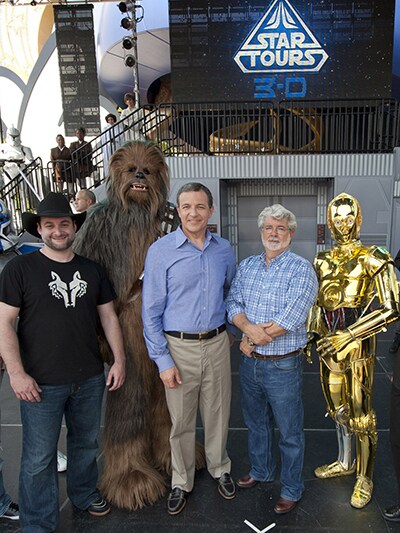 I used to work for Disney. I'm not sure how many of you knew that. I was in the Television Animation Division, and I worked on projects like Teamo Supremo, Kim Possible, Lilo and Stitch: The Series, Dave the Barbarian, and Fillmore. It was an amazing time for me as an animation artist. Walking around the studio lot and seeing the influence that Walt Disney himself had on every aspect of his studio. When I started at Lucasfilm I saw that same attention to detail everywhere around me, and it all came directly from George.
Over the years that I have worked at Lucasfilm, I have been fortunate to work with Disney again, by participating in Star Wars Weekends in Orlando. It's a yearly celebration of Star Wars that takes place at Disney World and it always leaves me impressed. The entire team that works on the event loves Star Wars and has always shown the greatest respect for it. The commitment to quality is always there, whether it's in the live performances or the details in the costumed characters. They want to get Star Wars right, and they always do. Star Wars and Disney work well together. I'm sure anyone that has gone to Star Wars Weekends would agree.
I think this is an incredibly exciting time for all of us. I am being reunited with old friends of mine from my Disney days and getting ready, like all of you, for Episodes VII, VIII, and IX. When Revenge of the Sith was over, I found myself in the incredible position of carrying the torch forward. Now I can see the incredibly bright light that is the future of Star Wars. For those of you who are fans of The Clone Wars, do not worry. We have many stories left to tell, and every one of them came directly from George himself. Right down to the last one, where that thing with Ahsoka happens...
Thanks to George, Star Wars truly will be forever. Now, let's make the jump to hyperspace. Things are gonna get awesome!