Star Wars: The Clone Wars celebrates 100 episodes with new installment "Missing in Action," airing Saturday, January 5, at 9:30 a.m. ET/PT on Cartoon Network.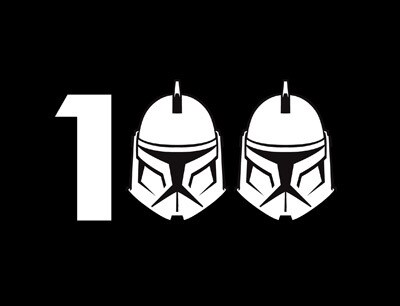 Star Wars: The Clone Wars
celebrates 100 episodes with a new installment that uncovers an elite Republic clone commando who has gone "Missing in Action," airing
Saturday, January 5th at 9:30am ET/PT on Cartoon Network
.
Since its debut in 2008, Star Wars: The Clone Wars has pushed the boundaries of the epic Star Wars saga with high adventure, explosive action, and incredibly detailed animation usually reserved for the big screen. Created and executive produced by George Lucas, the series has continued the story of classic characters like Anakin Skywalker and Obi-Wan Kenobi, while adding new heroes, villains, rogues and sidekicks to the Star Wars mythos.
"Thanks to our partnership with Cartoon Network, we have been able to bring The Clone Wars into millions of homes not only in the United States, but around the world," said Tom Quinn, Lucasfilm's Head of Worldwide Distribution. "We appreciate the support they have given the series and their enthusiasm for the brand."
Over the course of five seasons, Star Wars: The Clone Wars has featured elaborate and thrilling action sequences across exotic alien worlds, added to the lore of the Jedi and Sith while plumbing the deepest mysteries of the Force, revealed new surprises about classic movie icons like Obi-Wan, Boba Fett, Darth Maul and Chewbacca, and introduced new characters like Ahsoka Tano, Savage Opress, Cad Bane, and Clone Captain Rex that have grown into fan favorites. It has welcomed guest stars like Liam Neeson, Jon Favreau, Ron Perlman, Simon Pegg, Seth Green, Clancy Brown and David Tennant, while also making its core cast of talented actors fan-cherished additions to the Star Wars saga's huge galaxy of stars.
In looking back upon the first 100 episodes of Star Wars: the Clone Wars, here's what the team behind the series had to share:

"From the start, the idea was to show that there were many more Star Wars stories left to tell after the six movies. We all love the Star Wars universe, and we wanted to keep it alive on-screen in a way that had never been done before. We looked at everything that had been created before us, going back to the original film in 1977, and we mined concept art, behind-the-scenes footage, comics, games, novels and brought it together with George's guidance to make a series that jumps to every corner of his galaxy. I'm very proud of my crew, and all of Lucasfilm for being part of this series. I'm looking forward to what comes next. Seven years after Revenge of the Sith was in theaters, it's never been a better time to be a Star Wars fan, as the best is yet to come! - Dave Filoni, Supervising Director
"To produce 100 episodes of an animated series is a major milestone. But to produce them at the high level of quality of Star Wars: The Clone Wars is an incredible achievement. And it's a testament to our amazing crew. They are some of the most talented, dedicated, hard-working and passionate people I've ever had the pleasure to work with and know. Being a part of making Star Wars and working closely with George Lucas has been an incredible experience and blessing. I truly feel this work will live on forever. Here's to another 100 episodes! - Cary Silver, Producer
"It's a high honor to be a part of the Star Wars universe and such a long running show. Our talented writers, animators and cast of voice actors have made The Clone Wars truly unique. And of course we wouldn't have hit 100 episodes had it not been for our incredibly dedicated fans who make this possible!" - Matt Lanter, Actor: 90210, and the voice of Anakin Skywalker in The Clone Wars
"The Clone Wars looks amazing and has incredibly dramatic performances from all of the characters. It's really incredible to have this seamless expansion of the Star Wars universe." - Seth Green, Actor/Creator/Executive Producer
"It is an honor being a part of the phenomenon that is the Star Wars universe. A series that has changed so many people's lives all across the globe. The Clone Wars has brought me great joy, playing female roles with great strength and creativity. I am so proud knowing that every week families have an action packed and inspiring show to enjoy together. May the Force be with us, always." - Jaime King, Actress: Sin City, Heart of Dixie and voice of Aurra Sing in The Clone Wars
"Star Wars - the movie I saw 12 times as a 17-year-old. The movie that began a cultural and creative universe that now spans generations. For me to be a part of this in The Clone Wars is a dream come true." - Clancy Brown, Actor: Highlander, The Shawshank Redemption and voice of Savage Opress in The Clone Wars
"Having grown up with Star Wars, I cannot describe the thrill of working with Dave and George in pushing this beloved modern myth into challenging and often risky areas. It's an opportunity I wanted, but surely never thought I'd have. And more than that? Everyone is doing such great work! A barn full of wildly talented maniacs!" - Sam Witwer, Actor: Being Human, Battlestar Galactica and the voice of Darth Maul in The Clone Wars
"The Clone Wars is Star Wars for a whole new generation. To be a part of it, let alone to be Obi-Wan Kenobi, is beyond awesome." - James Arnold Taylor, Actor: Johnny Test and voice of Obi-Wan Kenobi in The Clone Wars
"The milestone of 100 episodes is a reflection of the amazing work and dedication of the entire Clone Wars cast and crew. Being a part of this production has been an honor and privilege that has changed my life forever." - Ashley Eckstein, Actress, Founder of Her Universe apparel and accessories company and voice of Ahsoka Tano in The Clone Wars
"Star Wars: The Clone Wars is like nothing else on television. It makes me remember how much I loved Star Wars as a boy, and inspires me to love Star Wars all the more for the thrill, the fun, the heart and sheer inventive awesomeness. The Clone Wars is Star Wars, better than ever. - Dee Bradley Baker, Actor: American Dad and voice of the clones in The Clone Wars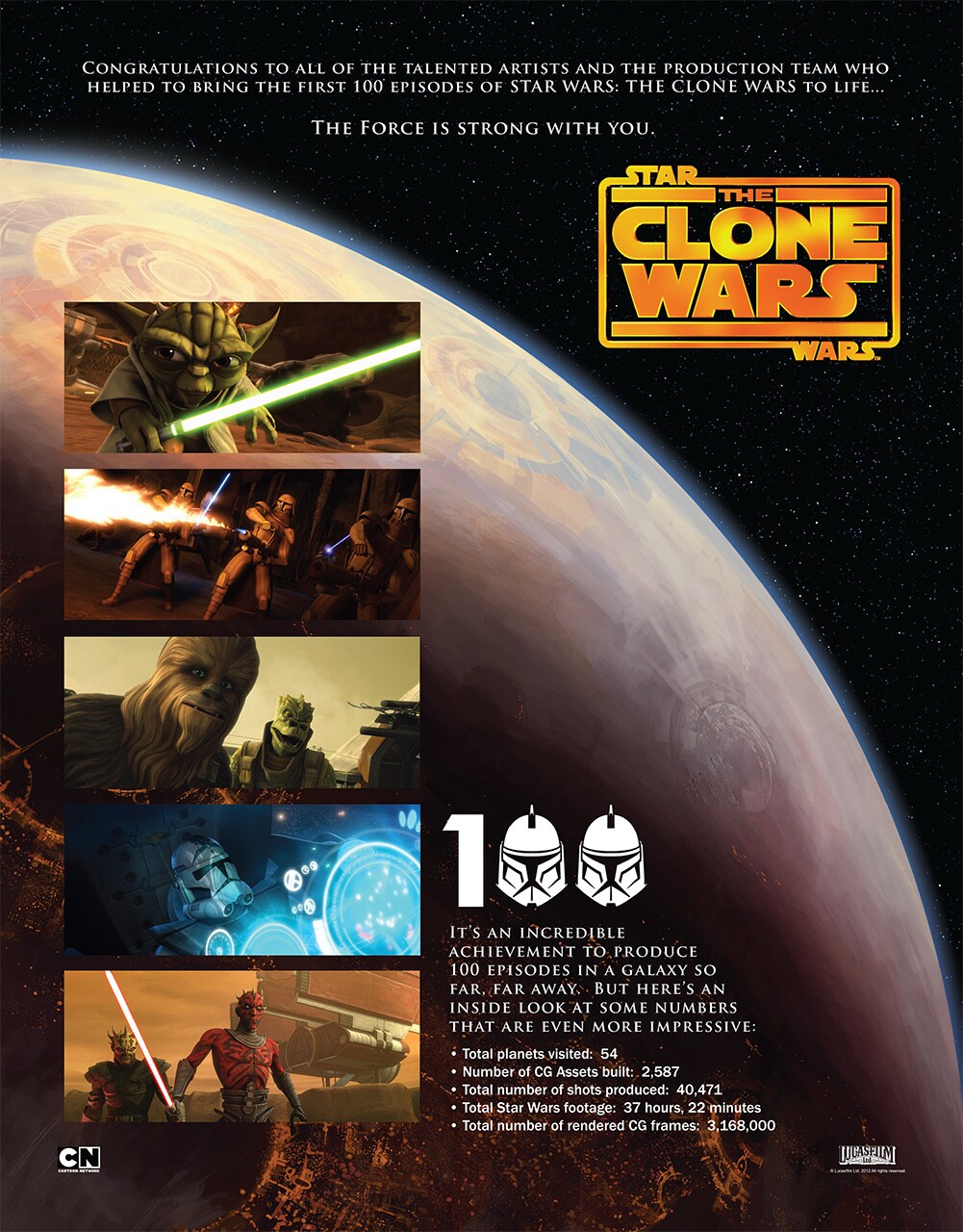 + Enlarge
"Back in 2005, when David Acord and I met Dave Filoni, he showed us a hand drawn video storyboard sequence of Anakin and his new apprentice leapfrogging battle droid STAPs and scaling a cliff with an AT-TE walker. Even from that humble sequence we could tell that this show was special. In between all of us full on geeking out about our love of Star Wars that day, Filoni asked, 'I wonder if you guys wouldn't mind adding some sound effects.' Well, 100 episodes later we still share that bond with our love of Star Wars, and we have all been able to put that love back into the show. Watching this show mature over the last 100 episodes has been gratifying. We proudly hold this show in our hearts like we do the film saga, and are very excited to see what is coming next for our heroes, classic and new!" - Matthew Wood, Supervising Sound Editor and voice of General Grievous in The Clone Wars
"From the beginning, I think we all felt there was something truly special about The Clone Wars. I will be forever proud and grateful to have had the chance to be a part of this show. It has been an obscene amount of fun, I have met the most amazing amazing fans and made friends for life in my Clone Wars family. Congratulations to the whole Clone Wars team on 100 beautiful episodes!" - Catherine Taber, Actress: Star Wars: The Old Republic and voice of Padme Amidala in The Clone Wars
"I was a Star Wars fan long before I was a Star Wars actor... and to now be part of something that has completely re-energized the franchise, and to be entrusted to voice a character as beloved as Yoda... well, the word 'humbled' doesn't do what I feel justice. Thank you to George, Dave, our stellar cast, everyone at Lucasfilm and the Fans, for making this show matter." - Tom Kane, Actor: Avengers: Earth's Mightiest Heroes and voice of Yoda in The Clone Wars
Given the series' title and its backdrop of galactic warfare,
Star Wars: The Clone Wars
often focuses on the valiant and tireless clone troopers tasked to defend the Republic from darkness. The vivid personalities of these soldiers often challenge many assumptions about the nature of clones, and has created a roster of individual heroes. This tradition continues in the 100th broadcast episode, "Missing in Action," with the intriguing addition of Gregor, a Republic clone commando suffering from amnesia who has seemingly forgotten his true nature.
Tune in to see "Missing in Action," and be sure to visit StarWars.com for great Star Wars: The Clone Wars content including streaming full episodes, behind the scenes featurettes, and episode guides.