Fresh off the success of Vader Immortal, the team at ILMxLAB discusses bringing fans into the virtual world of Batuu and entering the era of The High Republic.
It's only been a week since ILMxLAB revealed that Frank Oz is reprising the role of Yoda in Star Wars: Tales from the Galaxy's Edge and this morning we learned even more about what we can expect from this story with the release of a never-before-seen trailer. As told by barkeep Seezelslak, players will experience the tale through the eyes of young Padawan Ady Sun'Zee as she joins Yoda in exploring a mysterious Jedi temple on Batuu. StarWars.com gathered director Jose Perez III, producer Alyssa Finley, and lead experience designers John Nguyen and Ian Bowie on a video conference call to gain some insight into the all new tale and this first installment of Tales from the Galaxy's Edge.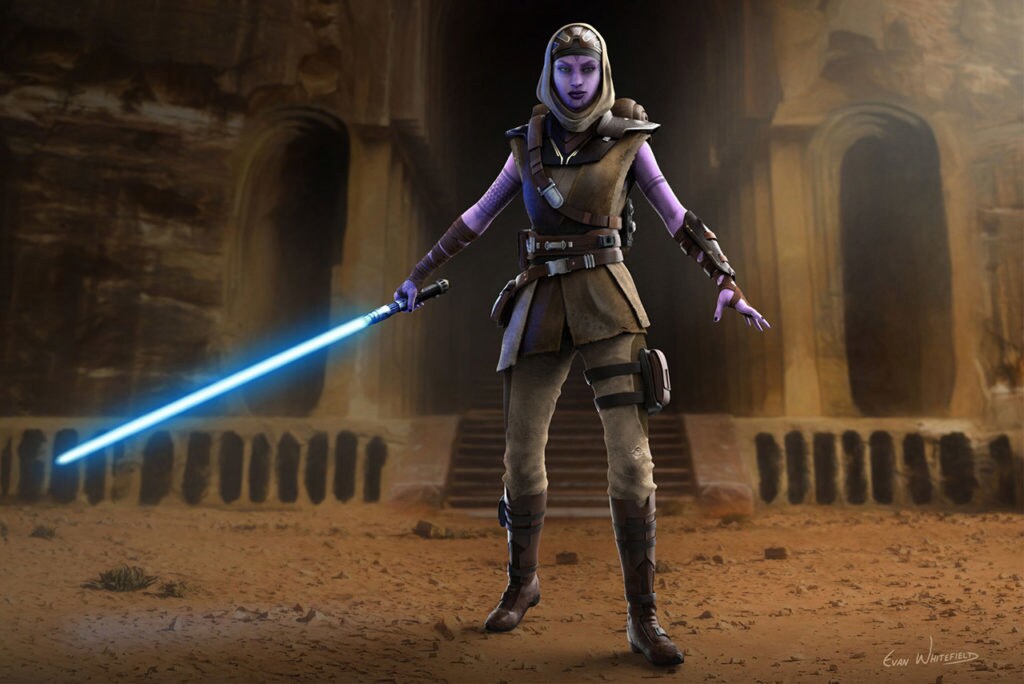 StarWars.com: We now know that Frank Oz will be reprising his role of Yoda for this project. What was it like getting to work with him and hear that voice again?  
Jose Perez III: It was so boring. [Laughs] No, it was awesome -- that was surreal childhood dream stuff. From the second Frank showed up, he had a commanding presence, it was truly like having the wise master in the room. He immediately started quizzing us on things like, "What do you think Yoda is all about?" or "What's one word that you think encompasses Yoda?" It was really interesting to go around the room and hear everyone's responses. I thought Frank's response was really beautiful: for him, the character was all about the struggle -- the struggle of being old and wary and living through generations of battles, constantly pushing for the right thing. There's something really beautiful about this idea that it's not always easy to do the right thing. That manifests in Yoda, in the way he walks and talks because that's something he's always doing, striving to do the right thing.
StarWars.com: Did Frank have any input on the dialogue? 
Jose Perez II: We would talk through every line, some for half an hour. We really dug into the subtext about what we were really trying to say. Yoda's character has a lot of weight and history to it so we needed to make sure we're staying as true to that as possible and Frank was there to make sure that was happening 100%. He was also just really excited about seeing it all in VR and getting to be a part of these new technologies that we're playing with.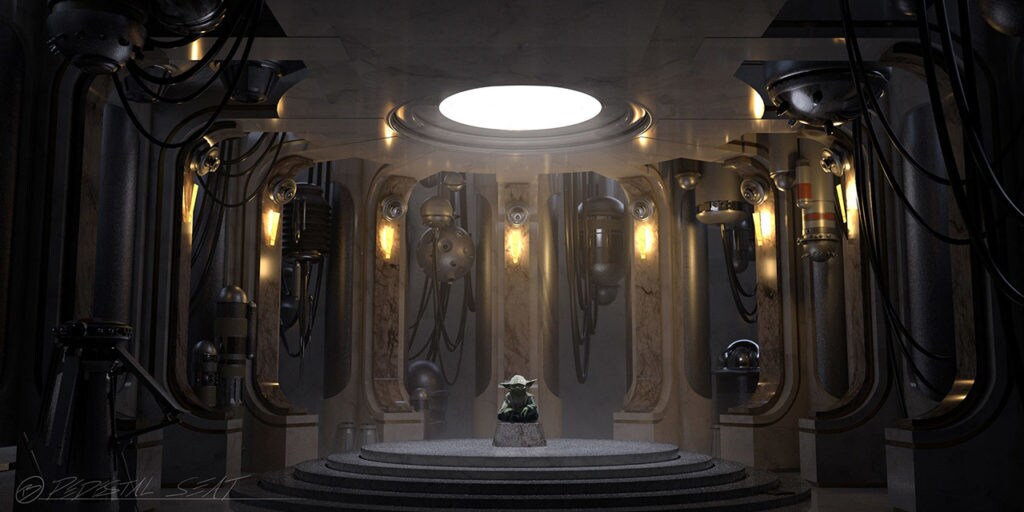 StarWars.com: How did you approach bringing Yoda into the VR world? What changes did you make to the character design? 
John Nguyen: Yoda is so much smaller in VR when you're standing there with him than you imagine when you see him on the 2-D screen. [Laughs] It's just great fun to get to be in VR and see and look at Yoda. He has such a commanding presence no matter his size. Hearing him talk with Frank Oz's voice, he has such a Yoda-ness about him. He could speak for however long and you're just standing there enamored with him because he has such a presence. He's your mentor through this tale and it's really great to get to experience that mentor/Padawan relationship with him.
Jose Perez III: From a pure character design perspective, we're trying to make sure he matches the era that the tale takes place in. So we really dove into all the source material we have at Lucasfilm and ILM, going back to all the original films and talking with Frank about what the essence of Yoda is and bringing all of that into these new headsets.
John Nguyen: Oh, also his ears waggle when he walks. [Laughs]
Jose Perez III: There was too much waggle at one point and someone that had worked on the prequels mentioned that they also had the same issue.
StarWars.com: What can we expect from our interactions and relationship with Yoda as Ady Sun'Zee? 
Ian Bowie: It's very interesting to compare the mentor relationship with Yoda to the relationship in Vader Immortal: A Star Wars VR Series. In that experience, you have Vader as a teacher and mentor so with this new tale, you now see the two different ways you can basically bring someone up in the Force, which is something very cool for our players to experience. Vader has a very different teaching style than Yoda does, and the two different vibes give you a much more complete picture of the Force and what it's like to be brought up in the light side versus the dark side.
Jose Perez III: That was something that definitely influenced our thought process going into this tale. We just told this very dark story with the ultimate evil so what if we flipped that? However, even though this is about the Jedi, there's still a lot of darkness as with any Jedi story.
Alyssa Finley: You're also playing a very different character in this tale with Yoda. You're a young Padawan who's not yet sure of their powers, who really needs to learn about what the Force is. You're unsure of yourself. Part of the story we get to tell within the Yoda tale is a story of self-discovery and figuring out a little bit more about what the Force means to you. That's what was really exciting to me about this project, the idea of taking a totally different perspective within the Star Wars VR world.
StarWars.com: Part II is slated to be released in 2021. Anything you can tell us about what we can look forward to? 
Alyssa Finley: The biggest goal for Tales is to tell a series of stories that give you new and different views into the Star Wars world. Whether it's learning about what it's like to leave the boundaries of Star Wars: Galaxy's Edge as you know it in the park or jump into a tale about Yoda that you haven't heard before. In the long term, we just have a lot of new stories that we're super excited about telling.
Ian Bowie: Yoda is just the beginning when it comes to the stories that we're going to be telling. One of the great things about having Seezelslak tell these stories to the players is that we get to jump around to different locations, different times in the Star Wars universe, which allows us to branch out and explore so many different characters and some really cool mechanics in VR. You'll meet characters that you've never seen in VR before. Yoda is just kicking things off. Like any Star Wars fan knows, there are millions of characters out there that we want to meet. Tales is the perfect opportunity for us to go around and show the audience these different characters, experiences, and stories, which all offer different lessons and holistic experiences that have amazing payoff within this specific medium.

Star Wars: Tales From the Galaxy's Edge
arrives November 19 on the Quest family of headsets
.
Star Wars: Galaxy's Edge is at Disneyland® Resort and Walt Disney World® Resort.
Anina Walas is an associate producer at Lucasfilm with the Star Wars online team and writes the occasional article for StarWars.com. She loves pretty much everything Disney, great weather, traveling, making and eating really good food, and of course, Star Wars. Although Admiral Ackbar was her favorite character, the Child from The Mandalorian has definitely made its way into that top slot.
Site tags: #StarWarsBlog, #ILMxLAB