StarWars.com joins the Resistance and narrowly escapes the clutches of the First Order in the groundbreaking new Star Wars: Galaxy's Edge attraction.
Prior to its December 5 opening at Star Wars: Galaxy's Edge in Disney's Hollywood Studios, the highly-anticipated Star Wars: Rise of the Resistance was hailed as an ambitious, technologically advanced attraction poised to set a new, immersion-ratcheting standard for theme-park entertainment. That's a tall order, especially given that Millennium Falcon: Smugglers Run already reset that bar when the themed lands opened a few months back.
But after experiencing Star Wars: Rise of the Resistance multiple times at a media event ahead of its debut, StarWars.com can happily report Walt Disney Imagineering has done it again. The innovative, story-driven attraction not only meets those lofty expectations, but sees them shattered like a mask that's encountered the wrong side of Kylo Ren's destructive temper.
Whether you're planning to join the Resistance at Walt Disney World® Resort in Florida or sign up when the attraction begins recruiting new fighters on January 17 in Disneyland® Resort, you're in for a ripping adventure to rival the sci-fi saga's most epic silver screen exploits.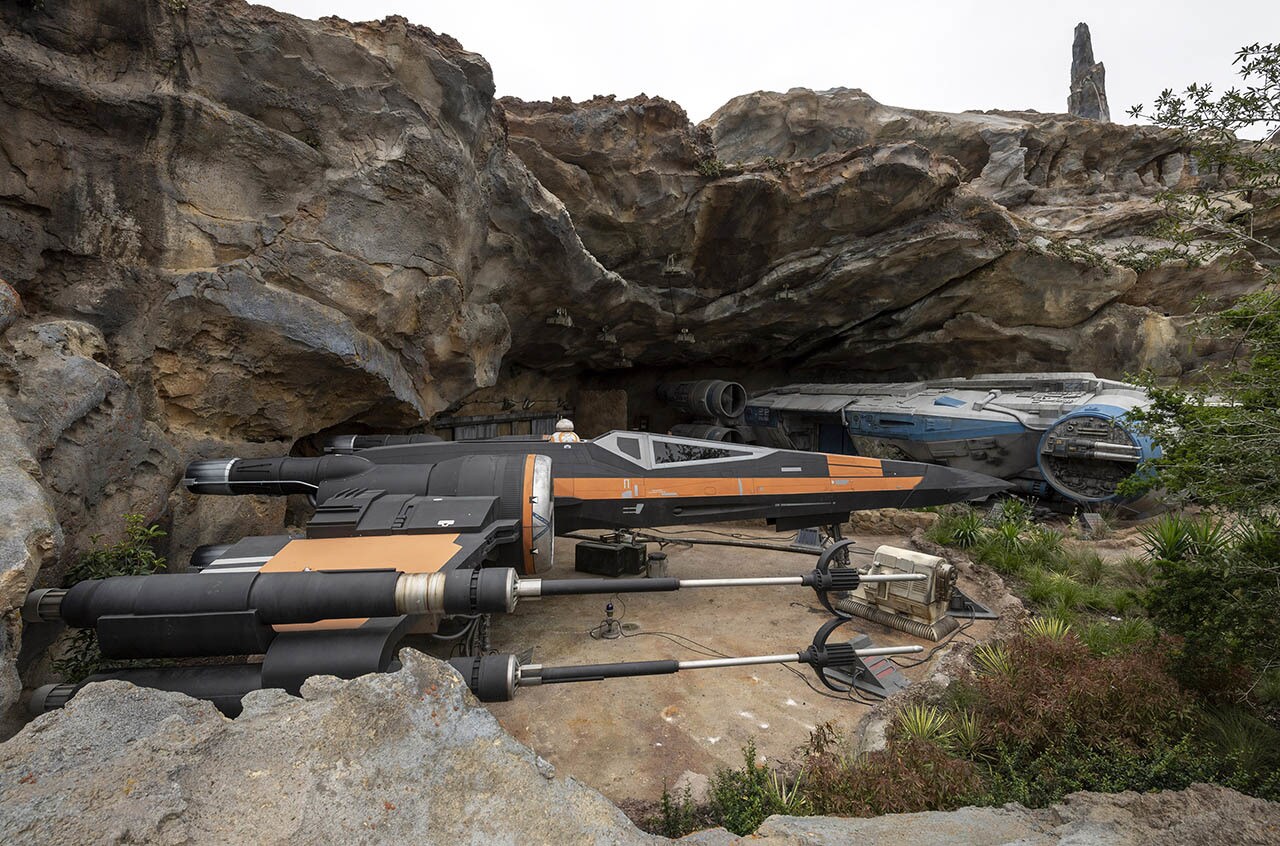 Star Wars: Rise of the Resistance grabs you right out of the gate. Following an emergency briefing with an incredibly convincing hologram of Rey, guests of Star Wars: Galaxy's Edge's newest attraction are whisked onto a transport destined for General Leia Organa's secret base.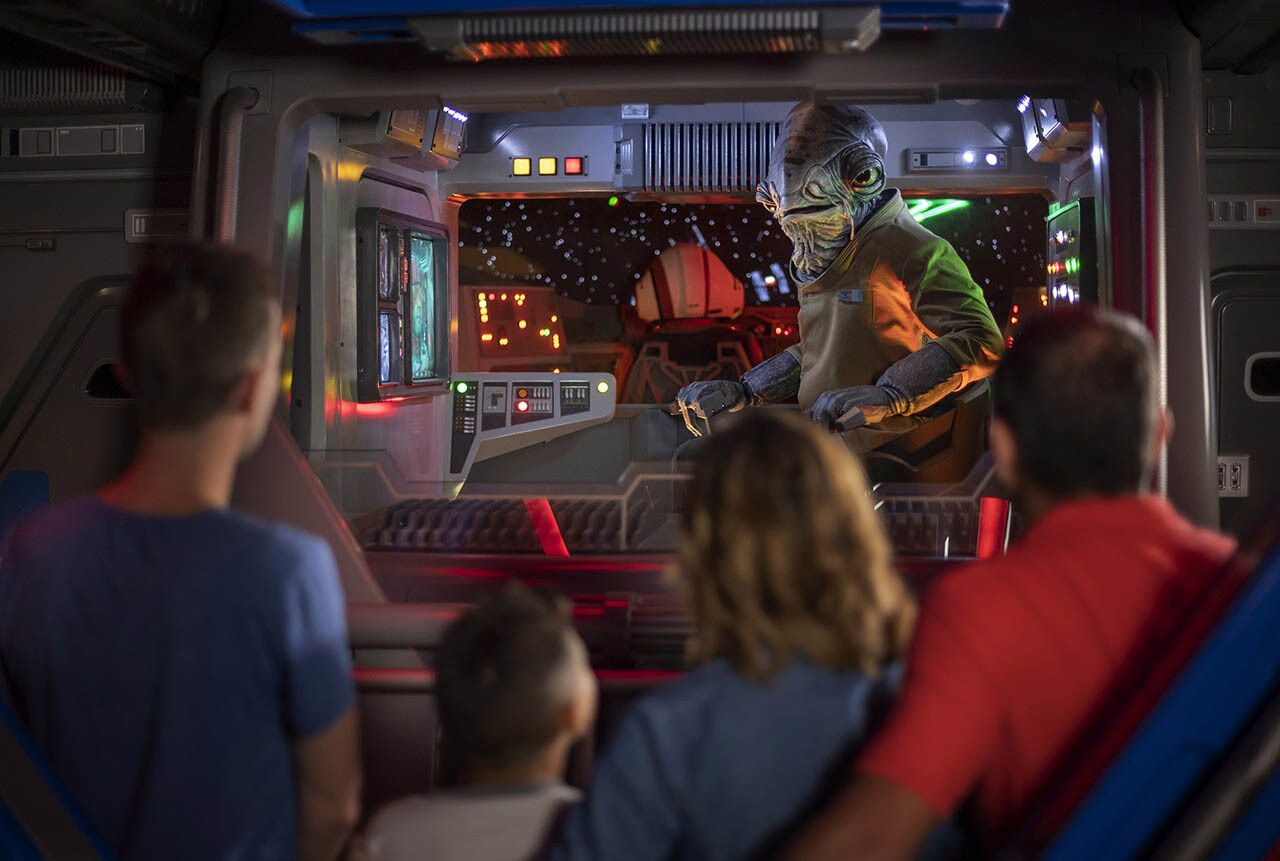 Piloted by fan-favorite Sullustan smuggler Nien Nunb, and commanded by new character Lieutenant Bek -- a Mon Calamari brought to jaw-dropping life with Walt Disney Imagineering's latest audio-animatronic tech -- the civilian craft physically rumbles beneath your feet as it leaves planet Batuu behind.
Of course, by the time a TIE fighter squadron arrives to battle the transport's X-wing escort, a Star Destroyer tractor beam begins pulling it in, and General Hux addresses you and your fellow recruits as "Resistance scum!," you're clutching the vessel's hand-rails, fully engaged in the most ambitious, innovative experience to ever grace any theme park in this galaxy or beyond.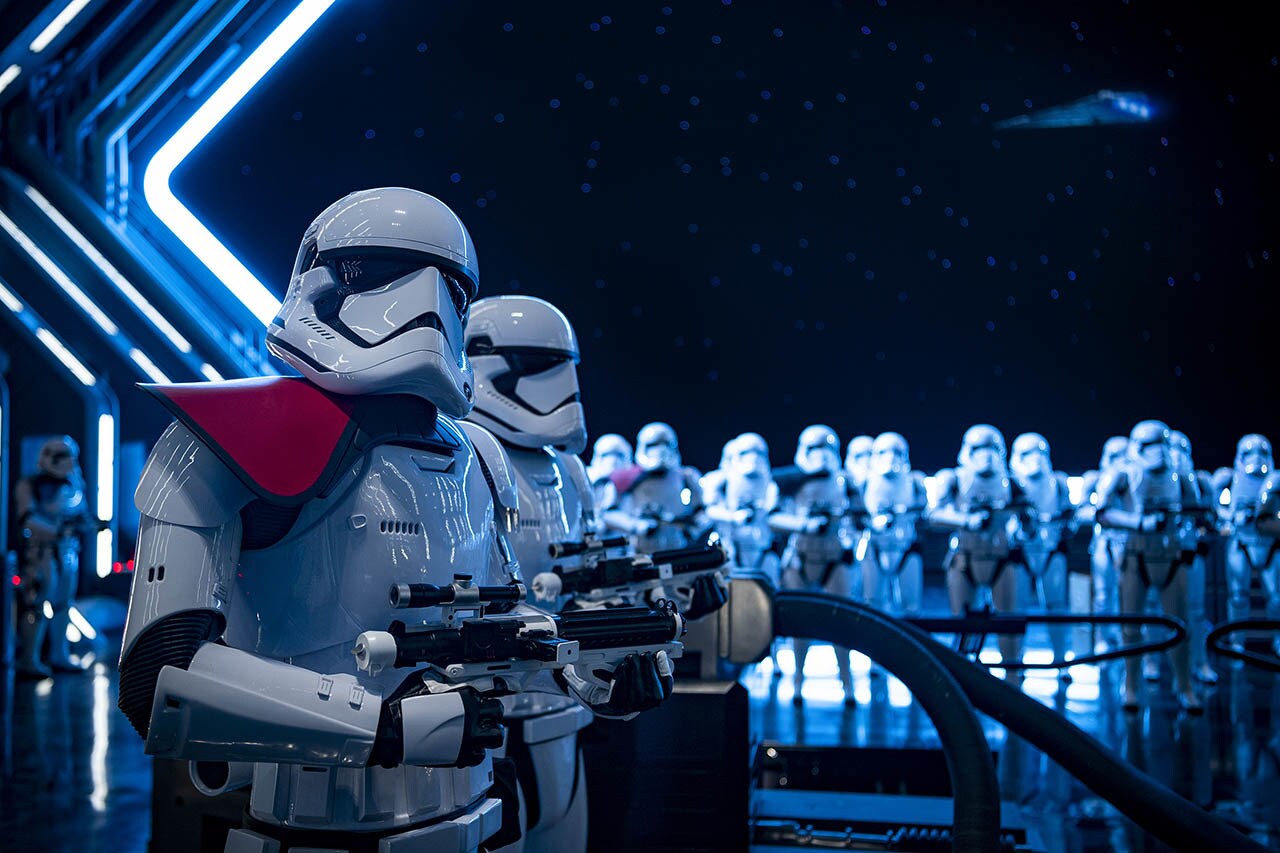 With a familiar, albeit especially ominous, "I've got a bad feeling about this," from Lieutenant Bek, the ship comes to a halt before its doors open to reveal a massive Star Destroyer hangar, complete with a stretching window-view into space and 50 stormtroopers standing at attention. It's an absolutely astounding sight, a spectacle that could easily conclude the attraction on a high note.
But Star Wars: Rise of the Resistance is just getting warmed up. While the thrilling transport trip could work as a standalone attraction on par with other premium motion-simulator experiences, it's only a tease of what's to come. Serving as approximately a third of the 15-plus minute adventure, the moments leading up to your capture by the First Order set in motion a seat-of-the-pants, 360-degree Star Wars story that must be experienced to be truly appreciated.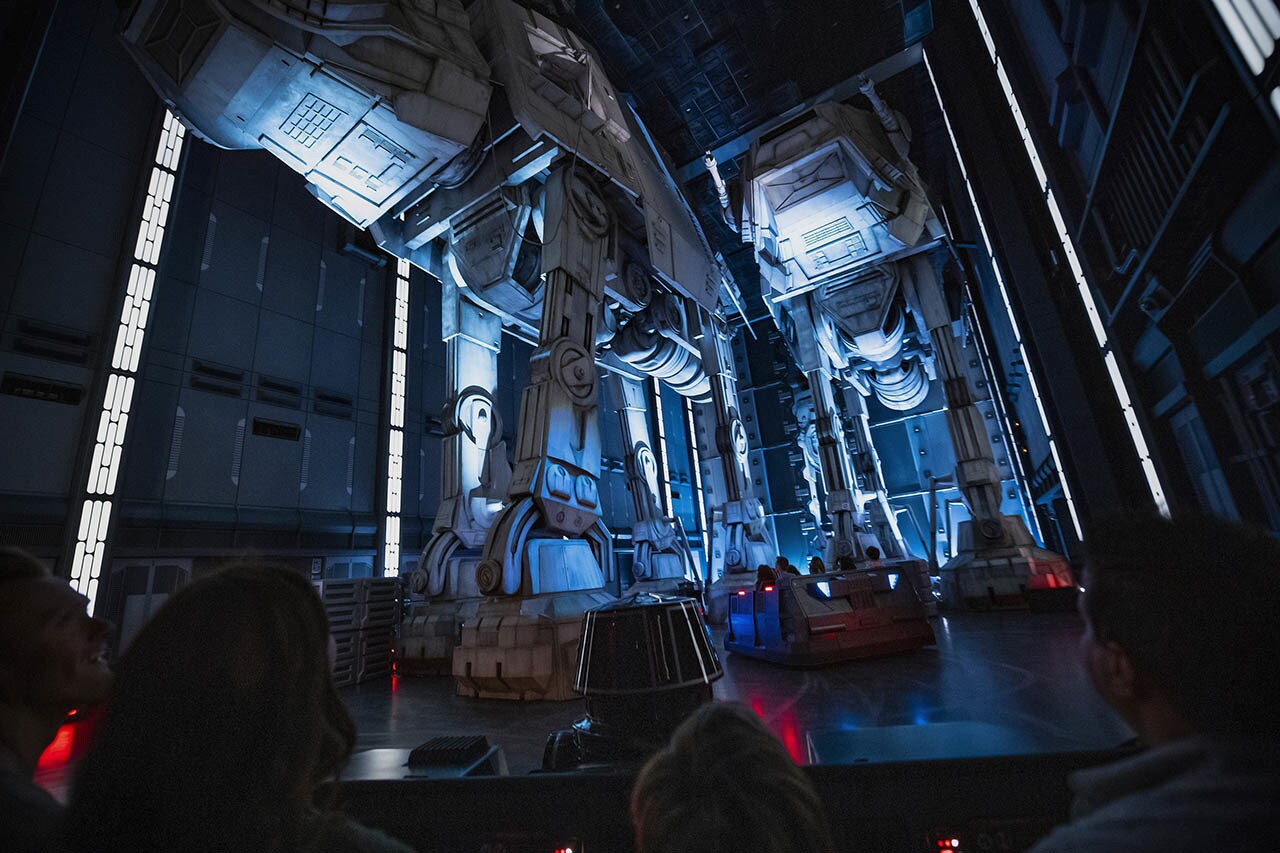 The sort of cutting-edge special effects, sprawling set-pieces, and epic character interactions typically reserved for most rides' finales are the norm in Star Wars: Rise of the Resistance, seemingly popping up at every turn. A full-scale TIE fighter, towering AT-ATs -- armed with wall-scarring blasters -- and massive Star Destroyer canons that lurch forward with each delivered payload are among the props that come to life with cinema-rivaling realism. Slick effects, like a literal wind-through-your-hair trick selling the feeling of nearly being sucked into the blackness of space, also impress as you whiz through one pulse-quickening encounter after another.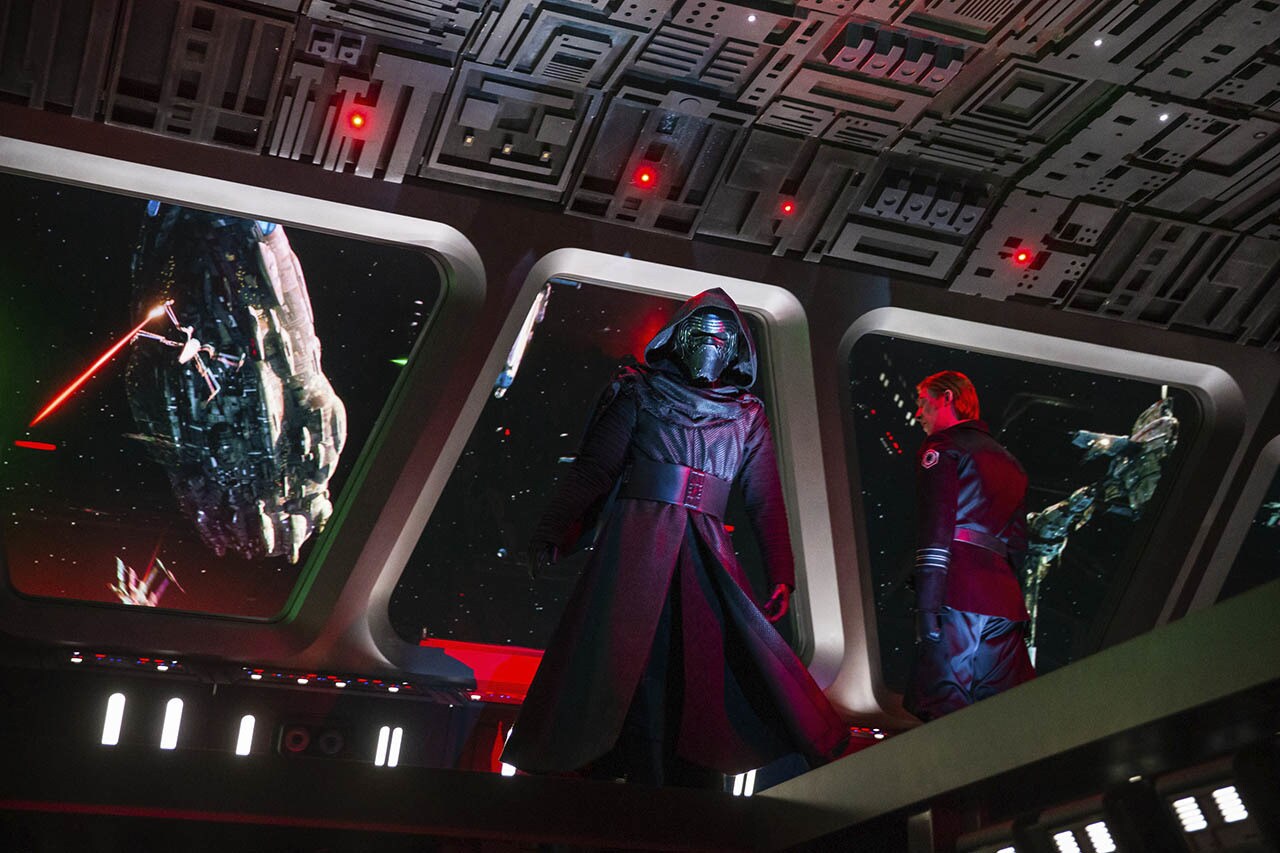 Life-like screen projections and Audio-Animatronics are equally effective, putting you face to face -- sometimes scarily so -- with First Order foes and friends of the Resistance. It doesn't hurt that the ride unfolds much like an action-packed escape scene from one of the films. Whether Kylo Ren's charging you with his cross-guard lightsaber or stormtroopers are unleashing blaster fire at the droid-piloted trackless vehicle you're occupying, the tense feeling of being pursued is always present.
Even when not racing through a series of scenes emulating the white-knuckle thrills and narrow evasions of Star Wars: A New Hope's Death Star detention block escape, Star Wars: Rise of the Resistance offers few chances to catch your breath. In fact, some of its quieter moments, including an early encounter with Kylo and Hux in a claustrophobic prison cell, serve as some of its most memorable. Being corralled and processed for interrogation by stern, no-nonsense First Order officers (played by Disney Cast Members) is also a highlight.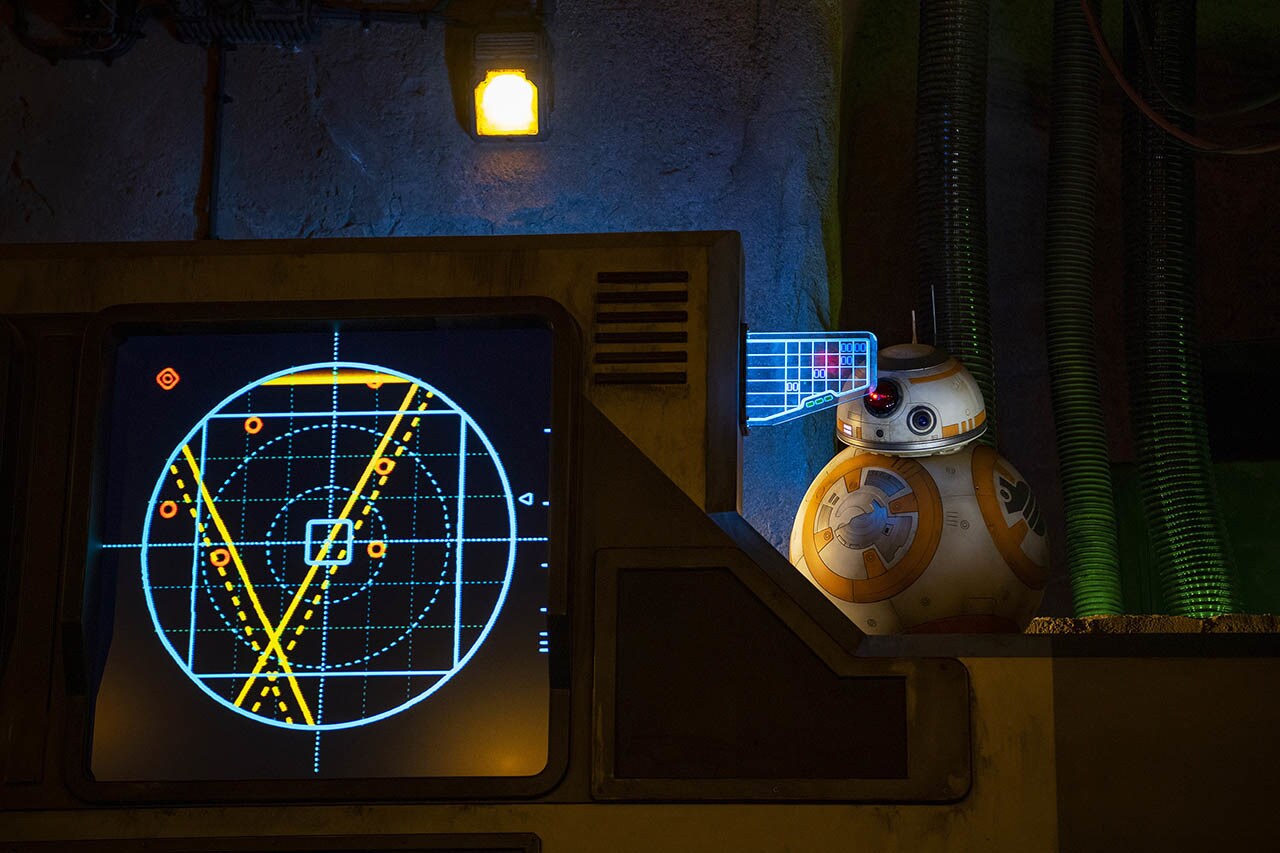 Star Wars: Rise of the Resistance is brimming with individual moments -- and a few Easter Eggs -- you'll be contemplating long after you've safely returned to Batuu, but it's the seamless integration of all its moving parts that make it such a triumph.
From the time Rey welcomes you to "the cause" to that split-second when your stomach drops in time with the release of your Star Destroyer escape pod, this must-experience attraction builds a satisfying sense of urgency that doesn't subside until its epic conclusion.
Star Wars: Rise of the Resistance is now open at Walt Disney World® Resort and is launching January 17 at Disneyland® Resort -- both at Star Wars: Galaxy's Edge.
A full-time freelance writer born in Lizzie Borden's hometown, Matt Cabral has covered film, television, and video games for over a decade. You can follow him on Twitter @gamegoat or find him in the basement of an abandoned building hoarding all the canned goods, med-kits, and shotgun shells.
Site tags: #StarWarsBlog