The creators and cast talk about the Season Two trailer and premiere, exclusively with StarWars.com!
Spoiler warning: This article features discussion of the premiere episode of Star Wars Rebels Season Two.
Celebration Anaheim will go down as a major, memorable event in the history of Star Wars Rebels. The Season Two trailer -- thrilling, joyous, shocking -- debuted at the cast and creators panel before a crowd of thousands. Showing significant glimpses of what's to come this season, it conveys a real sense of escalation in the series, and on multiple levels. The action is more intense, the animation more beautiful and nuanced, the danger -- in the form of Darth Vader -- much, much more immediate. It also revealed the return of several fan-favorite characters: namely, Rex and Hondo Ohnaka, joining Ahsoka Tano from Star Wars: The Clone Wars. As such, the ovation was huge and way beyond warm. The creators noticed.
"It means everything," executive producer Dave Filoni told StarWars.com of the reception. "Especially because some of the biggest reactions were for characters I created before on Star Wars: The Clone Wars. To see those characters get to a point with fans where they're, I guess, as beloved as any other Star Wars character, is really meaningful to my crew and me."
At the panel, the cast, who had yet to see the trailer, had lain down on the stage floor to watch it for the first time. "I was a 17-year-old fanboy, lying on the floor, giggling," said Steve Blum, voice of Zeb in the series. "It was phenomenal, and it exceeded all my expectations, too."
Vanessa Marshall, voice of Hera and bonafide fangirl, agreed. "I wasn't sure if I was going to be able to stand up again," she said. "It took my breath away. It was so wonderful to hear Rex's voice, to hear Hondo's voice. I've read these things on the page, but it's very different when we read it in the room in front of a microphone. To actually see it fully animated, it's like a dream come true."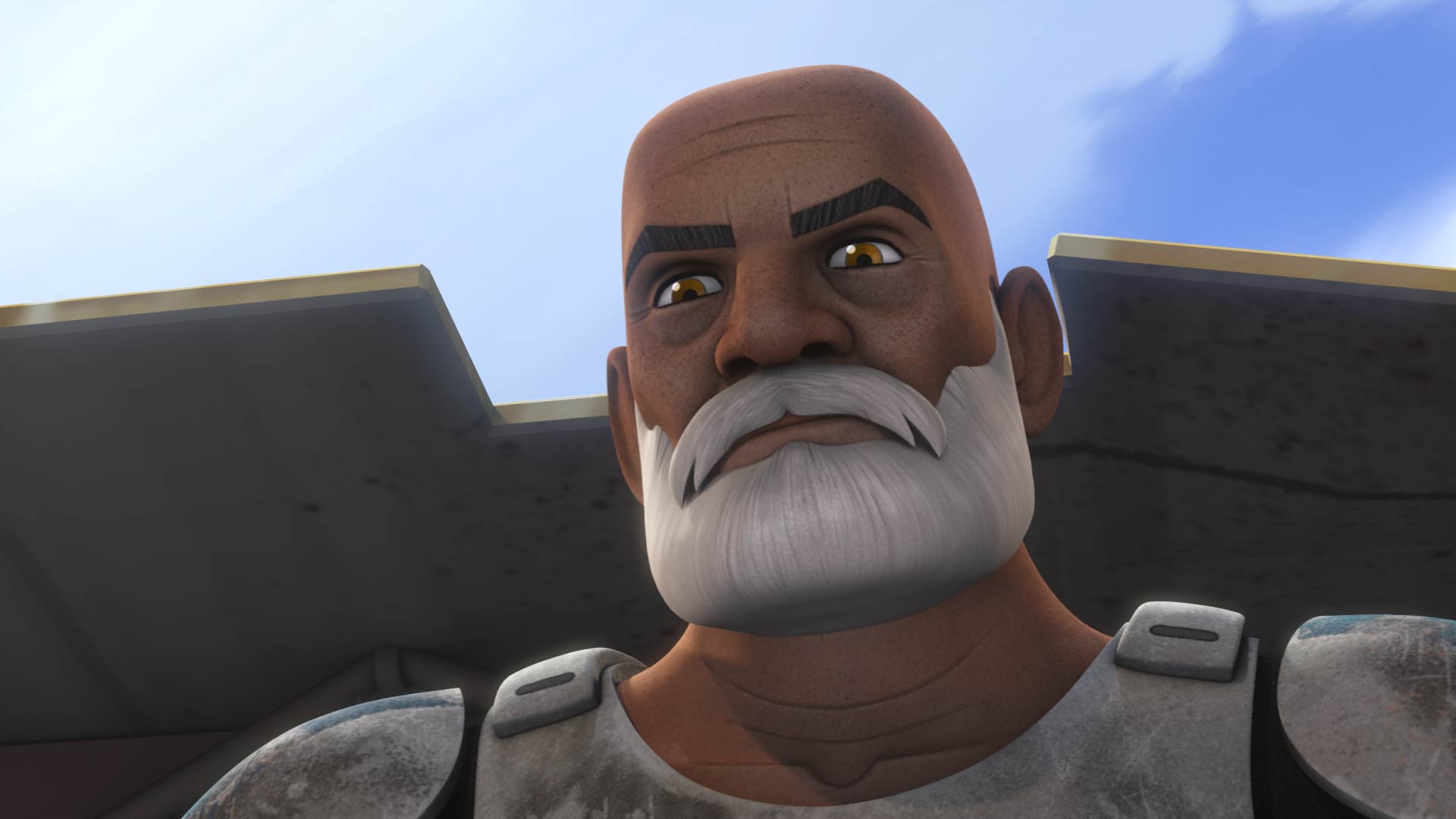 For all the surprises in the trailer, one received a particularly deafening roar: the voice and first glimpse of Rex (and two other clones), seen joining our rebel heroes in the fight against the Empire. Dee Bradley Baker, voice of all the clones, was backstage when the trailer played and he noticed the reception for his character, as well.
"It just makes me feel good," Baker said. "Personally, I've just always felt so bad for those clones. To finish [Star Wars: The Clone Wars] without knowing their fates was hard. So, it's a huge relief to learn that they're back, and it's a marvelous feeling to see how thrilled everyone is to welcome [Rex] back." Baker says that Filoni indicated many months ago that Rex would be returning -- but the voice actor couldn't tell anyone. "It was really, really hard. I had to hold my tongue. In Star Wars, secrecy is a very important element ever since The Empire Strikes Back. The ability to surprise people becomes increasingly impossible in this world, but Star Wars has some surprises."
As Star Wars Rebels takes place well after The Clone Wars, Rex and his two fellow clones are older. Baker has adapted his performance accordingly, while still maintaining the hero's fighting spirit. "For Rex, in particular, I tried to age him up to make him feel a little more weight, a little more tired, a little more gravelly. But as things kick into higher action, he finds his energy." Find his energy, he does; if the trailer is any indication, Rex will see plenty of action this season.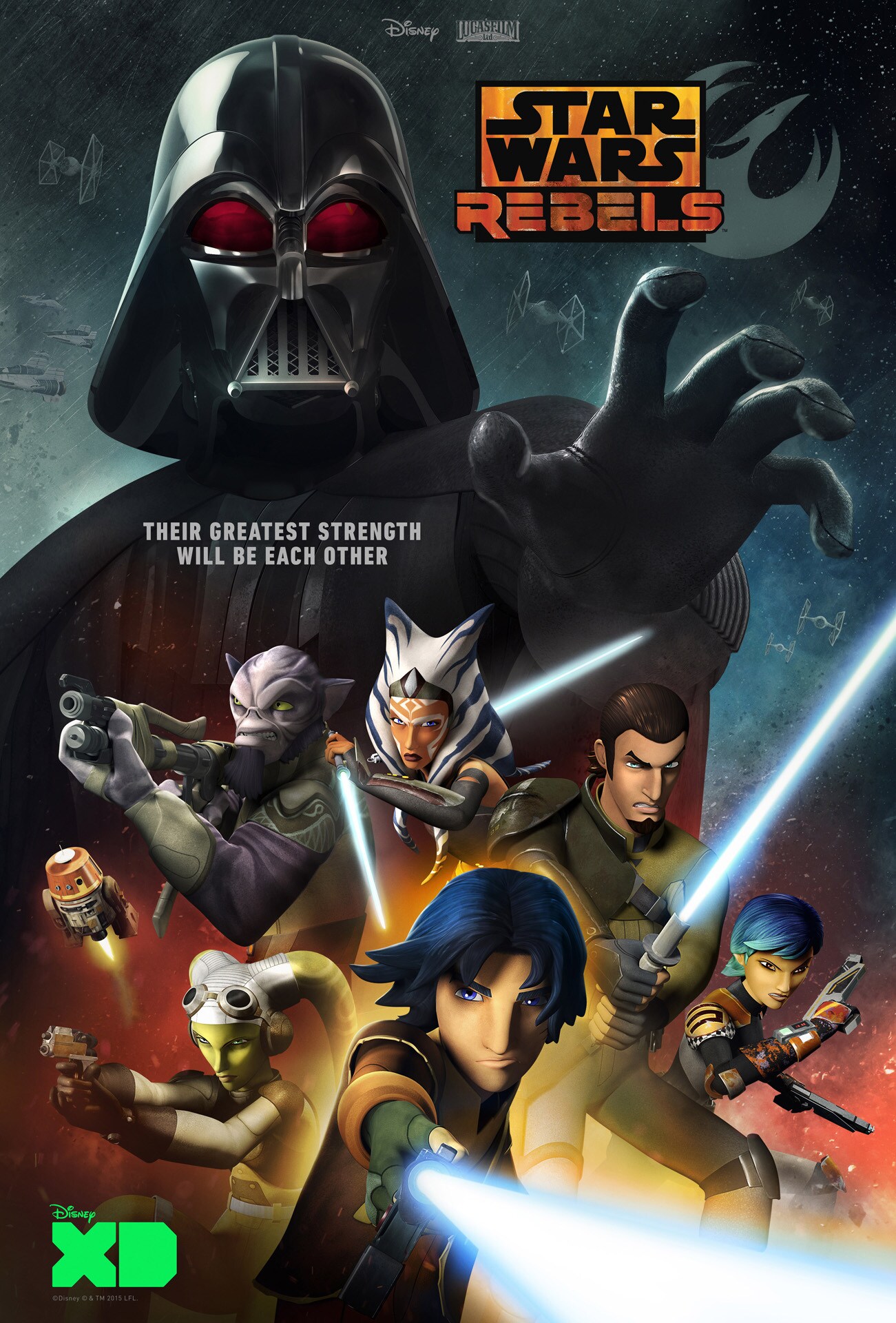 After the panel, however, came a special screening of the Season Two premiere, "The Siege of Lothal." [Spoiler warning, once again!] To the surprise of many, it delivers on almost everything promised at the end of Season One. For those who have yet to see it, rest assured: it is truly great Star Wars, and you will love it. It heavily features Darth Vader -- brought to hauntingly beautiful life in the Star Wars Rebels style -- voiced by James Earl Jones in a chilling performance. He is an unstoppable force here, and makes the Inquisitor look like a minor roadblock in comparison. Indeed, with "The Siege of Lothal," you will remember why Vader is one of the greatest villains of all time. Immediately following the screening, a visibly excited Carrie Beck, co-creator of Star Wars Rebels, shared her thoughts exclusively with StarWars.com.
"I feel incredible," she said. "It's so exciting to be working on it, and to have everyone watch it here together at Celebration. I don't think you can promise Vader showing up [at the end of Season One], and not have a serious interaction with him in the opening of Season Two." In "The Siege of Lothal," Vader plots traps with evil precision, wipes out a rebel fleet, and makes short work of Kanan and Ezra in a lightsaber duel. He is a true terror. "A lot of thought went into the episode," Beck continued. "Especially when you're talking about the return of Vader in new Star Wars content, it was something we discussed for a very long time: how we would see him, how he would behave, the kinds of things we would expect. And, quite frankly, the idea that [the rebels] would just get their butts kicked. I think that really played well -- the idea that Kanan and Ezra really have no idea what they're in for." What they're in for is something unique -- a Darth Vader that pulls on all aspects of the character's Star Wars heritage, from the prequels to The Clone Wars to the original trilogy.
"This show really does bridge all these eras together. It's one of the things we really strive to achieve," Beck said. "How do we take all those aspects of this character and make it true for this moment in time? If you think about it in the context of The Clone Wars, you saw the Anakin that understood strategy really well. So, I think it's really exciting to see this version of Vader: The Vader that was previously the Anakin that we knew from The Clone Wars. You see how good he is at strategy here, and he does not suffer fools at all." Vader, at this point in the timeline, has been in the service of the Empire for 15 years. He is hate-filled, with none of the regret seen in Return of the Jedi or Revenge of the Sith. For Star Wars fans, it's a reminder of how dangerous he was.
"You have to remember that right now," Beck continued, "he's at the height of his power. He doesn't even know that his son exists at this moment. So, he would come in and seek destruction." And finally, the episode tackles another huge question: What do Ahsoka and Vader know about each other? They have their moment -- "The apprentice lives" -- and it ranks with the best Star Wars moments. But was there ever a version of the script where Vader referred to her as Ahsoka, betraying a sense of humanity? "It was always 'The apprentice,'" Beck confirmed. "The idea is that he is not Anakin anymore. He is Darth Vader. He has totally forsaken everything Anakin Skywalker was and what he represents."
Soon, TV audiences will get to see the Ghost crew, Rex, Ahsoka, a completely menacing Darth Vader, and the continuing formation of the Rebel Alliance when Season Two hits the air. With so much Star Wars to draw upon, that may be why the show is so emotionally powerful for fans -- and creators alike.
"I know the era before really well, having told most of the stories," Filoni added, "and I grew up with the era that follows it. It's an incredibly fun time. I kind of have all the great toys in the toy box to play with. Vader's gonna be on screen again, and I can't wait for people to see him."
Dan Brooks is Lucasfilm's senior content writer, and spends his days writing stuff for and around StarWars.com. He loves Star Wars, ELO, and the New York Rangers, Jets, and Yankees. Follow him on Twitter @dan_brooks where he rants about all these things.