StarWars.com looks back at 20 years of Pez and a galaxy far, far away.
Does anyone not know Pez? Tabs of candy that you manually load into a dispenser adorned with, usually, the head of your favorite character, Pez was one of the first brands that made candy interactive and fun. It's been a cultural mainstay, from neighborhood grocery stores to Seinfeld episodes, and remains both a nostalgic and modern favorite.
Created in 1927 in Austria by Eduard Haas III, Pez tabs were initially sold in tins, and only landed in North America in 1952. The now-classic flip-top design hit stores in 1955, leading to well over 1,500 different designs, with over 550 specific heads being sculpted. Today, the candy is produced in Connecticut, while the dispensers are manufactured in China and Hungary.
But it wasn't until 1997 that Pez would meet the power of the Force. Here's a run through the history of Star Wars and Pez, with many of the major releases over the last 20 years.
1997
The first five Star Wars Pez dispensers were released back in the busy saga year of 1997. With the Special Editions at the forefront of people's minds and Star Wars making a high-profile comeback in terms of merchandise, it was the perfect moment for Pez to pick up the license. The Pez range kicked off with a quintet of classic characters -- Darth Vader, Yoda, Chewbacca, C-3PO, and Stormtrooper.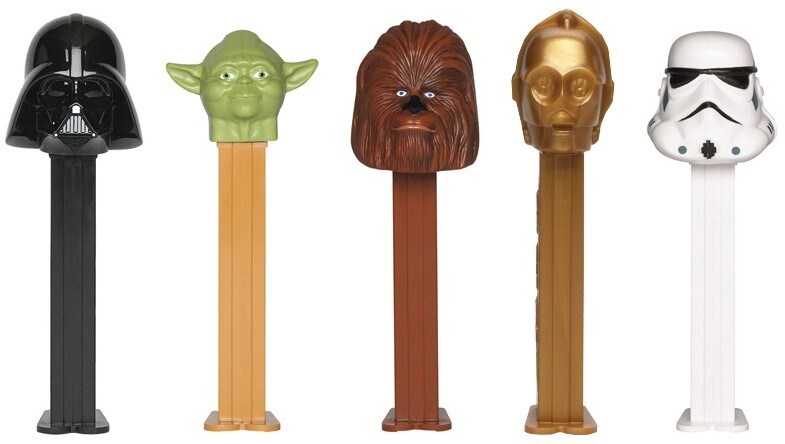 There were also some eye-catching boxes holding the candy packets on shelves for fans of the day to enjoy, which are now highly desirable to collectors.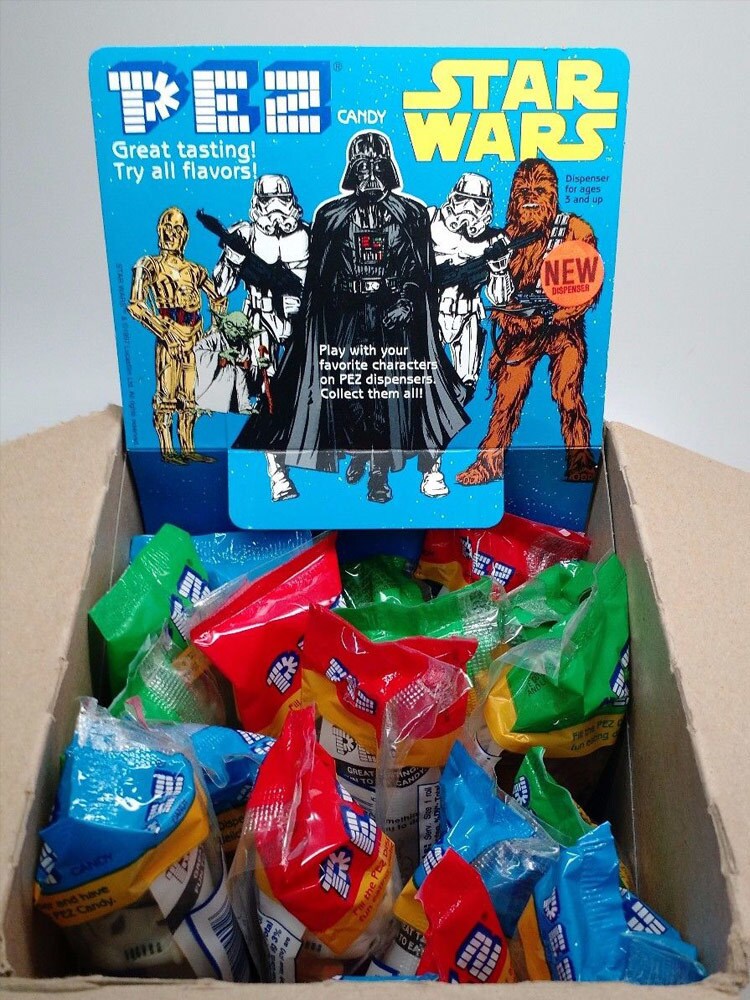 1999
The prequel trilogy kicked off in 1999, and to mark this momentous occasion, Pez released four dispensers in advance of the May 19 premiere of Star Wars: The Phantom Menace.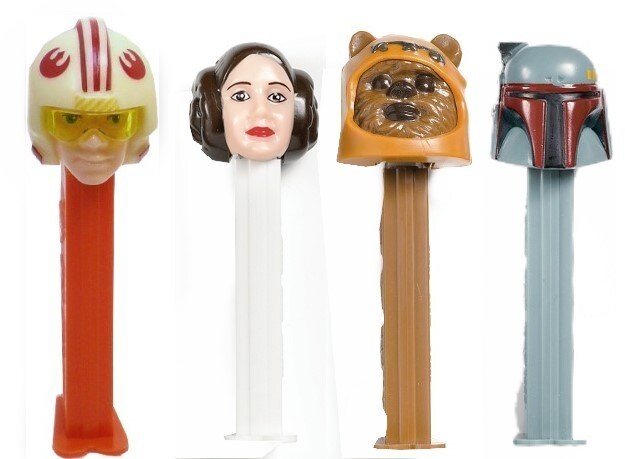 Oddly, none of the regular releases were characters from the prequels. Luke Skywalker in his X-wing pilots helmet, Princess Leia, Wicket the Ewok, and the first release of Boba Fett represented the original trilogy.
However, there was a box set which brought to life a scene from The Phantom Menace.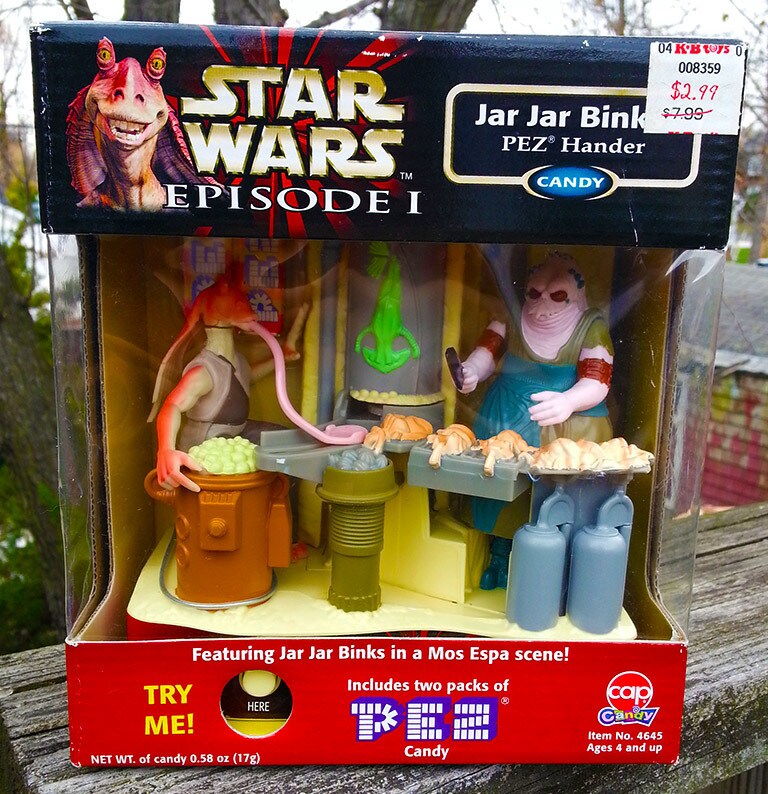 Take a look at the in-depth article by Matt Dracula about this quirky release and enjoy the video of Jar Jar doing his thing. As with many product releases around 1999, this was somewhat out-there and, as such, totally charming. Or creepy, depends on your point of view.
2002
Three Star Wars Pez dispensers were released in 2002, the year Attack of the Clones landed in theaters. The simple man making his way through the universe, Jango Fett, Clone Trooper, and R2-D2 received the candy treatment.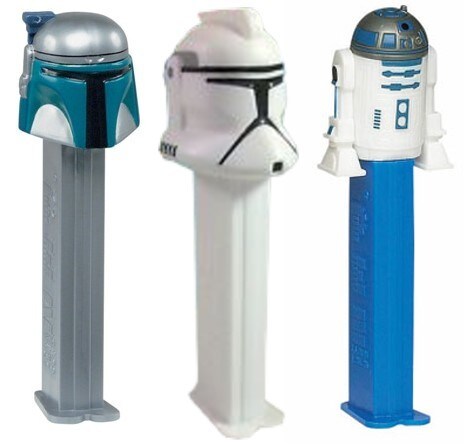 2005
2005 saw the arrival of the film that would (at that time) complete the circle, Revenge of the Sith. Pez went all-out to commemorate this epic event with 14 giant Pez releases.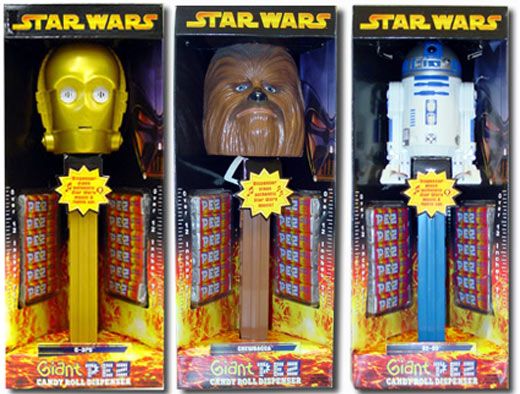 Darth Vader, Clone Trooper, R2-D2, C-3PO, Death Star, Chewbacca, Yoda, General Grievous, and Emperor Palpatine were available in an oversize format, and there were also some variants: Crystal Vader, Crystal Yoda, Crystal C-3P0, Bronze Chewbacca, and Pearl Grievous.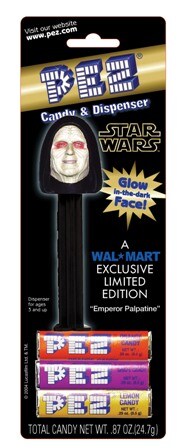 In this celebratory year, a Walmart glow-in-the-dark variant of Emperor Palpatine was released, as well as a Walmart 9-dispenser box set and a standard 9-dispenser box.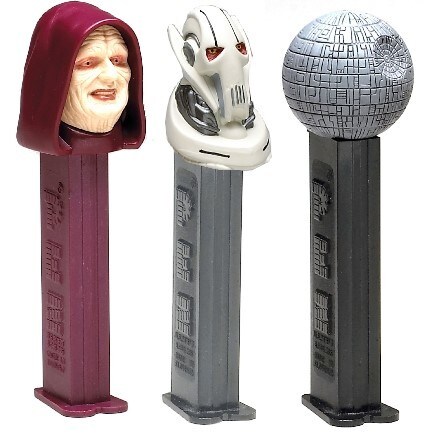 In addition, there were four regular releases including Emperor Palpatine, General Grievous, the Death Star, and a second version of Chewbacca.
2009
The StarWars: The Clone Wars movie hit in 2008, and Pez released three dispensers the following year. We had our first Obi-Wan Kenobi, Anakin Skywalker, and Snips herself, Ahsoka Tano.
2012 and 2013
With the 3D release of The Phantom Menace in 2012, Pez released a duo of characters to commemorate. Darth Maul finally made it as a spring-loaded plastic candy dispenser, and Yoda saw a 2012 refresh. In 2013, we saw a new sculpt for the eternally popular Boba Fett, which arrived with a different paint job.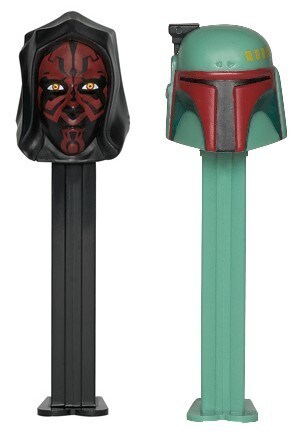 2015
The Force Awakens was the big news of 2015, but before its release, Pez made four limited-edition regular-sized crystal Star Wars Pez. Crystal Vader, Crystal Yoda and Crystal C-3P0 returned, joined by Crystal R2-D2. The four also came in a box set.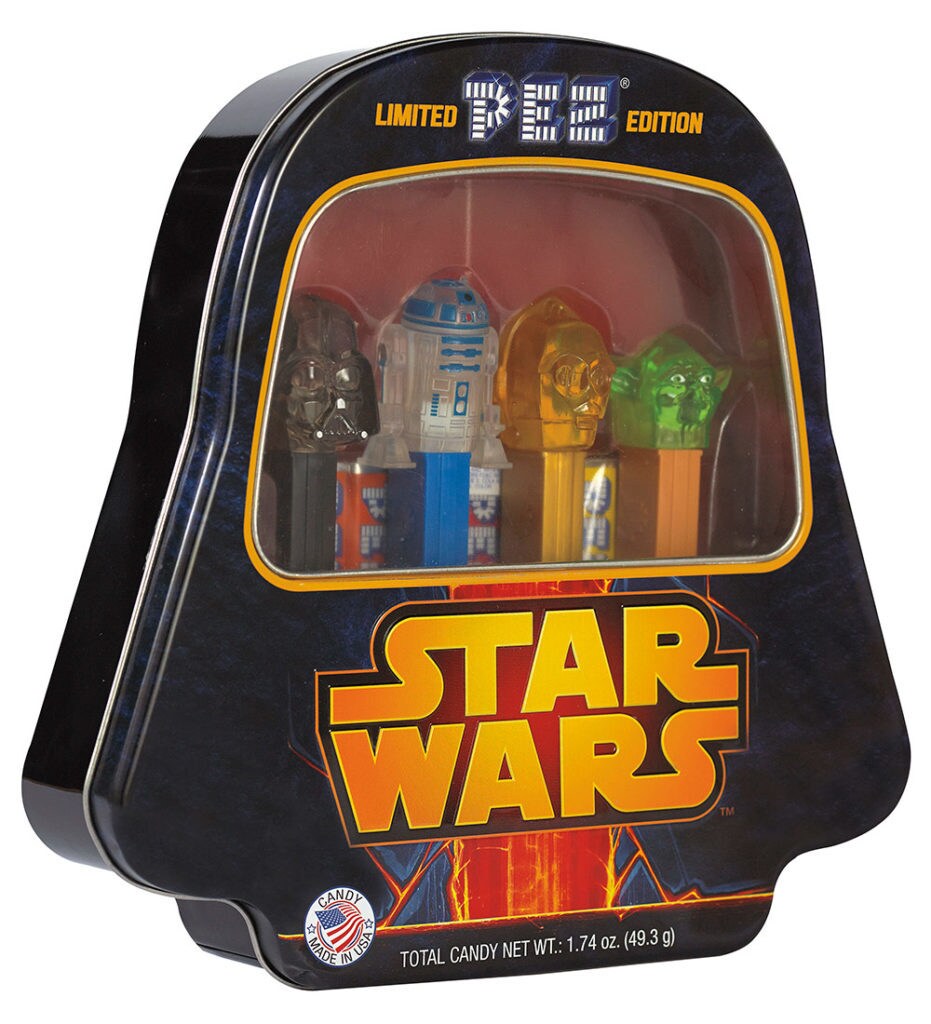 2016
The Force Awakens finally arrived in 2015. Kylo Ren, First Order Stormtrooper, Rey, and BB-8 landed first in Pez form.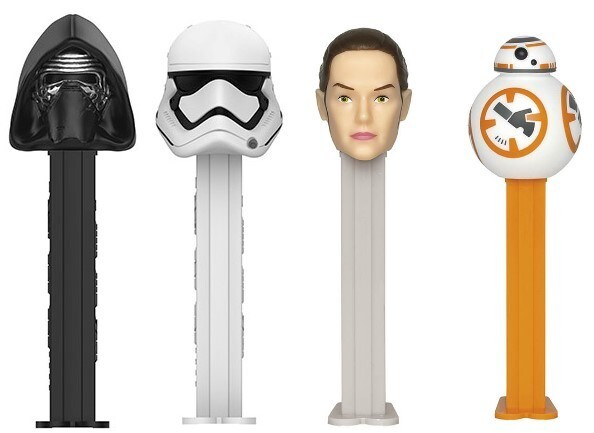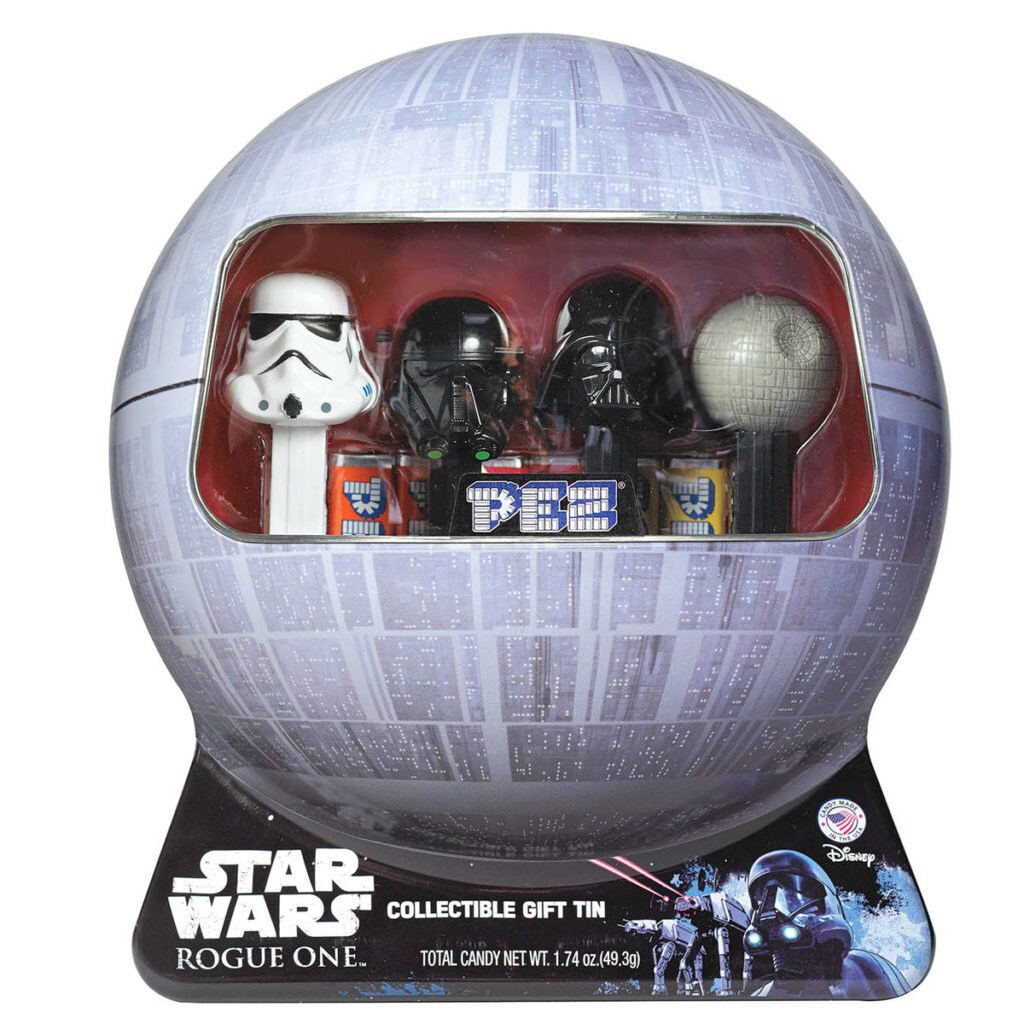 The end of 2016 saw Rogue One releases, including the fearsome Death Trooper and a new version of the Death Star. These, alongside Darth Vader and the original trilogy Stormtrooper, were released in a special Rogue One gift set.
And that's it for 20 years of Pez. Do you have a favorite Star Wars Pez dispenser? Let us know in the comments below!
Pez photos courtesy PEZ Candy, Inc. and Duncan Jenkins.
Mark writes for Star Wars Insider, the Official Star Trek Magazine, Geeky Monkey magazine, and Build The Millennium Falcon partwork, and co-hosts the RADIO 1138 and Take Cover podcasts. He's an honorary member of the 501st and Rebel Legion and when he's not talking, tweeting, or writing about Star Wars, he can usually be found sleeping, where he'll most likely be dreaming about Star Wars.