StarWars.com explores how real-world fairytales and fables helped inspire the kinds of stories that would be passed down in the galaxy far, far away.
Good stories demand to be retold, reimagined, and retold again. Over the last few decades, Star Wars stories have been passed down from one generation to another. Parents show the films to their children, friends loan books or comics to each other, and everyone's retelling of the adventures of Luke Skywalker, Leia Organa, and Rey will be a little bit different depending on the storyteller and their audience. 
Now Star Wars fans can experience and share parts of the galaxy in the style of the classic fairytale through Star Wars: Myths & Fables by George Mann.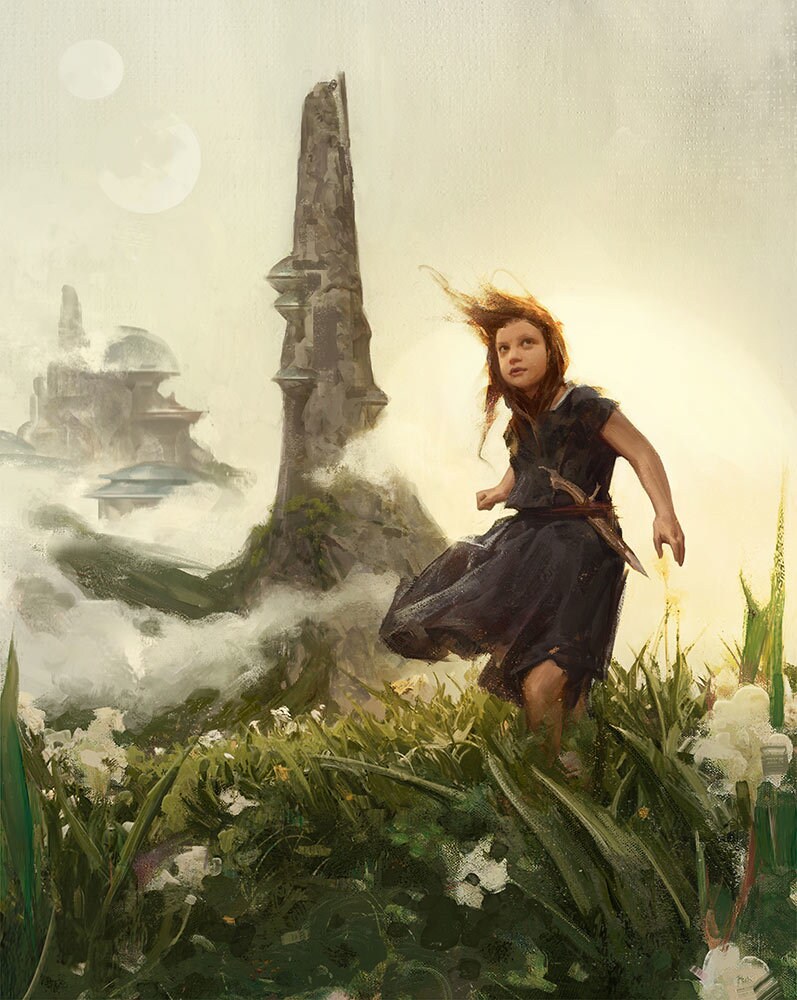 StarWars.com recently sat down with Mann to talk about giving traditional legends and moralistic short stories a Star Wars twist. The complex form of storytelling also called for striking a balance, for stories that are accessible to those who have a deep love of Star Wars and those just taking their first steps into the lore. "The Star Wars universe seems almost uniquely designed for this sort of story," Mann says. "The conflict between the light and dark sides of the Force is fertile ground for the sort of moral lessons delivered by fables such as these -- cautionary stories about not giving in to your anger and hatred. Additionally, we're talking about a universe where monsters are real, so the bogeyman might really come for you if you're not careful or stray too far from home."
Mann has long been a fan of both Star Wars and mythology; Star Wars: The Empire Strikes Back, the first movie Mann remembers seeing in a theater, left an indelible mark on him. In the years since, Mann has enjoyed a variety of Star Wars stories and an immersion in mythology.  "I've been obsessed by mythology and folklore for many, many years," says Mann. "In 2017 I wrote a novel called Wychwood, a spooky mystery story that featured a fictional Saxon mythology that was tied to modern day crimes." After Lucasfilm Publishing's Creative Director Michael Siglain read the book, he tapped Mann to bring that special expertise to a galaxy far, far away. "I leapt at the chance," Mann says.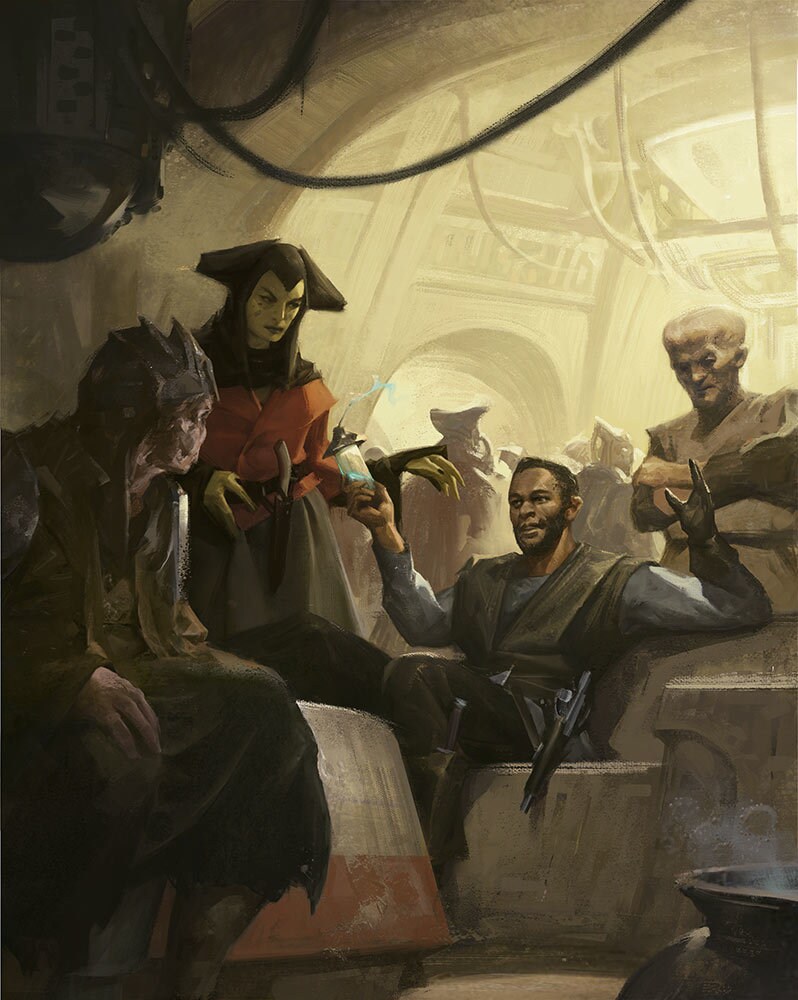 Myths & Fables contains nine stories that take place along different parts of the Star Wars timeline. "These are the stories that were told to Luke and Leia when they were young; the stories passed around in cantinas and casinos or told late at night amongst soldiers; moral or cautionary or scary stories that have become lore," says Mann.
Unlike most new Star Wars novels that tell the story of a particular character's backstory, the stories contained in Myths & Fables are not necessarily to be taken as historical fact. "There's room for debate about the stories in Myths & Fables," says Mann. "Like all such stories, there's often a kernel of truth at the heart of them, but they've grown and changed in the telling," similar to Ken Liu's The Legends of Luke Skywalker. "They're real stories told in the manner the characters in the Star Wars universe might tell them. Whether the events described occurred precisely as they're told here, though, is anyone's guess."
Finding the balance
Before writing Myths & Fables, Mann rewatched all the Star Wars films, Star Wars: The Clone Wars, and read several recent novels. Enjoying Myths & Fables, however, doesn't depend on any prior knowledge of the Star Wars galaxy, he notes. While newcomers won't feel confused or overwhelmed, the stories in Myths & Fables are filled with a web of connections to previous Star Wars stories. "I wanted to seed in those Easter Eggs so that fans could spot all the hidden references and links to existing characters and stories, but for me the thing about myths and fables is that they're the sort of stories that appeal to everyone," says Mann. "Timeless tales filled with archetypes and broad strokes. So, I wrote them very much with that in mind, and I hope we got the balance right." 
Eagle-eyed Star Wars fans will recognize characters in Myths & Fables from stories as recent as the new Thrawn trilogy and the mobile game Star Wars: Uprising. Some of the locations featured in Myths & Fables will also be familiar to Star Wars fans. The homeworld of the Sith, Moraband, and the homeworld to both Kit Fisto and Tobias Beckett, Glee Anselm, both play a part in various stories. The ocean world of Glee Anselm was also worked into a few recent projects from author Cavan Scott after the two authors compared notes.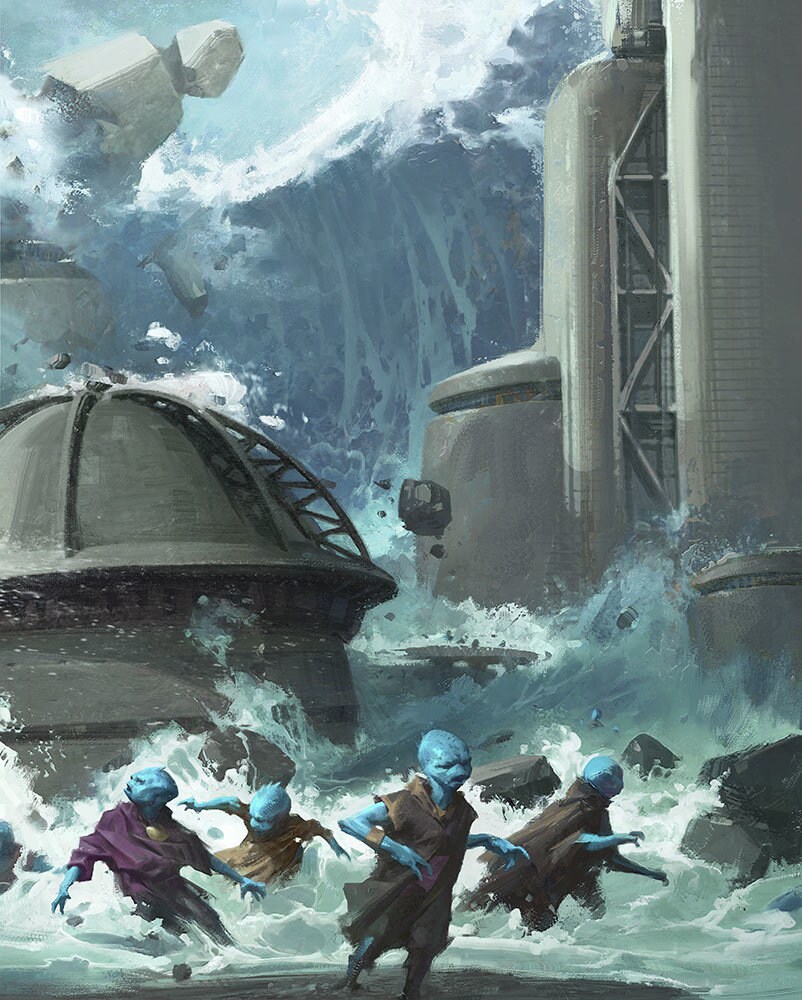 "Cavan wrote a little reference to an Atlantis-like myth in Choose Your Destiny: An Obi-Wan & Anakin Adventure, to give me a good starting point, and I jumped on that, building out from the work he'd already done," says Mann. "There's another little Easter Egg in Dooku: Jedi Lost, too. I talked to Cavan about the ancient Sith Lord I'd created for the story 'Gaze of Stone' -- Darth Caldoth -- and Cavan kindly put a reference to him and his work into his audio script. So there's a fair bit of cross-pollination going on there!"
Two other stories from Myths & Fables take place on Batuu -- the location brought to life inside the new Disney Parks themed-land Star Wars: Galaxy's Edge. Before he wrote those stories, Mann got a sneak peek at the work Walt Disney Imagineers had been up. "It was a hugely impressive body of work," says Mann. "They've created such a detailed, vibrant setting, and it was a lot of fun to dive into it and feel like I was contributing something new."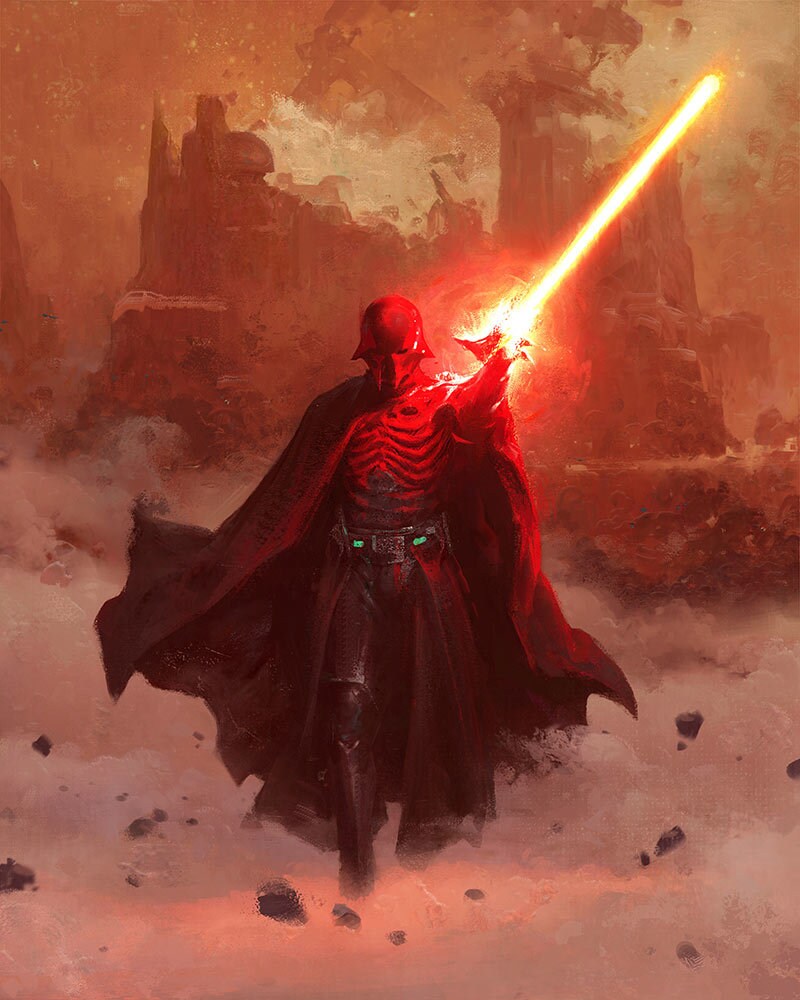 In addition to familiar locations, there are also stories that give a new twist to Star Wars characters like Darth Vader as well as completely new characters to discover, another interesting balance in the book. "There's a risk in tackling such iconic characters that you become a bit overwhelmed," says Mann. "And I must admit there were a few moments where I sat back and thought 'I'm writing a story about Darth Vader!' When you write about a character so beloved by so many people, you just want to do them justice, to portray them truthfully, in keeping with how they've been portrayed before. With the new characters, on the other hand, it feels like a great honor to be contributing something new to the great history of the Star Wars universe."
Myths & Fables adds to both the history of legendary fables from our own past, like Hansel and Gretel and Saint George and the Dragon, which both served as an inspiration to Mann writing this book, as well as expanding on the power of Star Wars stories new and old. "I think Star Wars fans have an unending appetite for all kinds of different types of stories," says Mann. "It's a big, rich universe, and there's scope to tell a variety of different types of tales."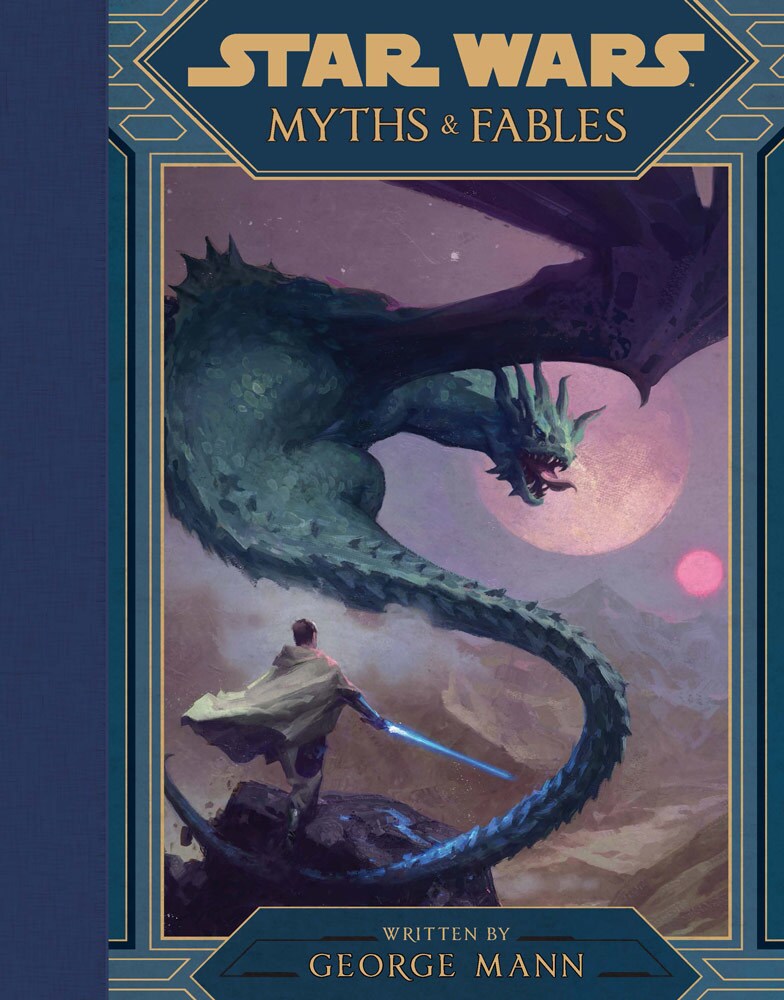 Star Wars: Myths & Fables is available now.
Amy Richau is a writer, lifelong Star Wars geek, and diehard Denver Broncos fan. You can find her on Twitter @amyrichau and more of her writing on FANgirl Blog.
Site tags: #StarWarsBlog