In celebration of Global Running Day, StarWars.com speaks with some Jedi Master runners.
Being able to run is an important skill in the Star Wars universe. You have to run away from explosions, race to board ships before stormtroopers blast you, sprint away from giant creatures with a mass of tentacles -- running is sometimes key to survival. In day-to-day life, running is less of a hazardous activity and more for health and fun. The latter adjective especially comes into play if runDisney is involved.

To celebrate Global Running Day and the joy of putting tennis shoes to pavement, we reached out to fans who have participated in runDisney Star Wars challenges. The race weekends include a 5K, a 10K, and a half marathon. The first such event took place at the Disneyland Resort in January 2015 with the Star Wars Half Marathon - The Light Side. It was the first time I felt inspired to voluntarily put on running shoes, and I wasn't alone.
Holly Frey is a seasoned runDisney participant, running in almost every race weekend at least once. She's completed every Star Wars race on both coasts. (Except kids' races, of course.) Though scoring the medal is one of the most appealing parts about the races for her, she also enjoys the camaraderie: "It's just really fun to run with thousands of fellow Star Wars fans. There are always so many really great interactions and conversations with strangers in any race. Runners are a friendly bunch!"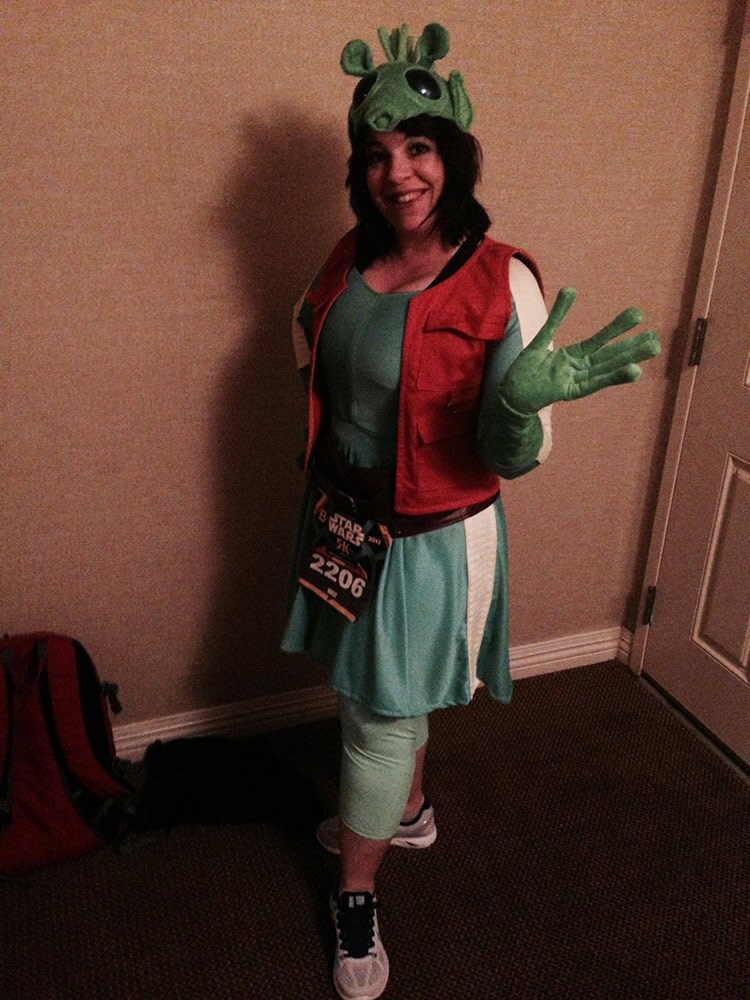 Holly tells me before runDisney, she never thought she would run a mile, much less a half marathon. Knowing she's completed the races despite how impossible it seemed helps her get through challenges in everyday life. And on top of getting through the races in one piece, she often wears different costumes for each race day. She chooses costumes based on a couple of factors. "It's a two-part decision: What character do I love, and can I find a way to make it that will pack easily? For me, the key in adapting a character to a running costume is making sure the primary design lines are all there. For shorter races, like a 5K or even a 10K, you have a lot more leeway than with a half or full marathon -- the more miles you have to go, the more things will start to feel cumbersome/chafe/overheat. Safety always has to be first."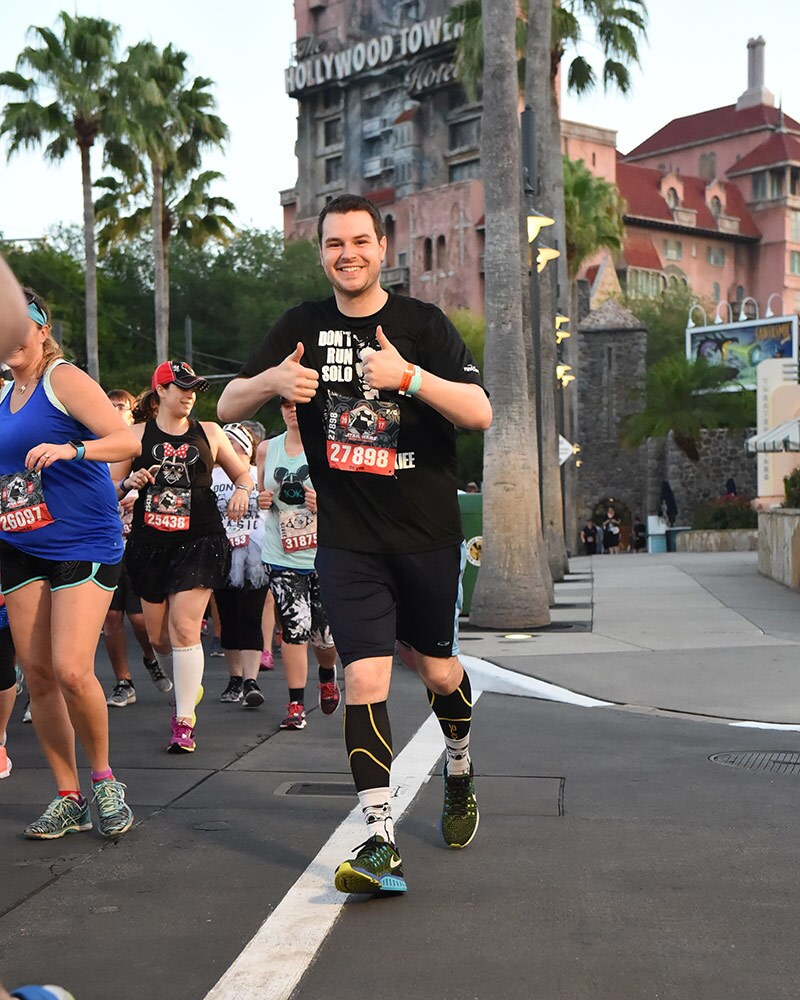 Devin Reed's first runDisney experiences all happened in 2017. He participated in all three race categories of the Star Wars Half Marathon - The Light Side at Disneyland Resort and then the Star Wars Half Marathon - The Dark Side at the Walt Disney World Resort after Celebration Orlando. He was motivated by the galaxy far, far away. Devin explains, "As a massive Star Wars fan, the runDisney events were the perfect motivation to get myself off the couch and back in shape. Plus, if you're a Disney fan like I am, the thrill of getting to experience the parks in a unique way was too good an opportunity to pass up! Seeing the sun rise over Animal Kingdom or basking in the early morning glow at Cars Land -- there just isn't any other way to experience that."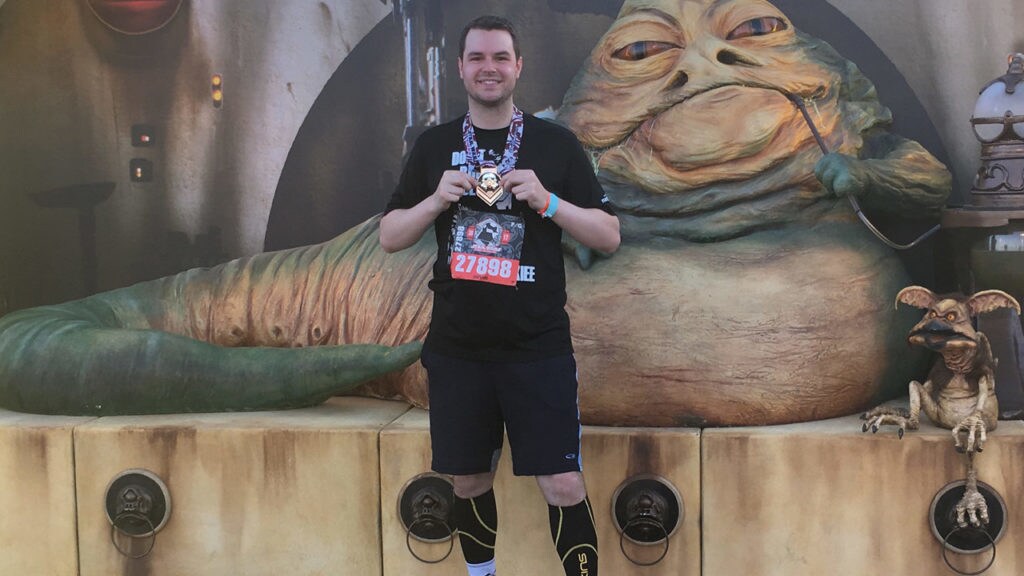 Devin says the atmosphere along the race routes is easily his favorite part of the runDisney experience. "All of the details in the Star Wars races are so great -- characters in costume, John Williams music blasting from speakers, and giant screens playing scenes from the films," he says. "My favorite part of the Dark Side half marathon came during a stretch of road with forest on both sides; speakers, laser lights, and fog machines were strategically placed to replicate the sights and sounds of the Battle of Endor. We literally felt like we were in the middle of the film!"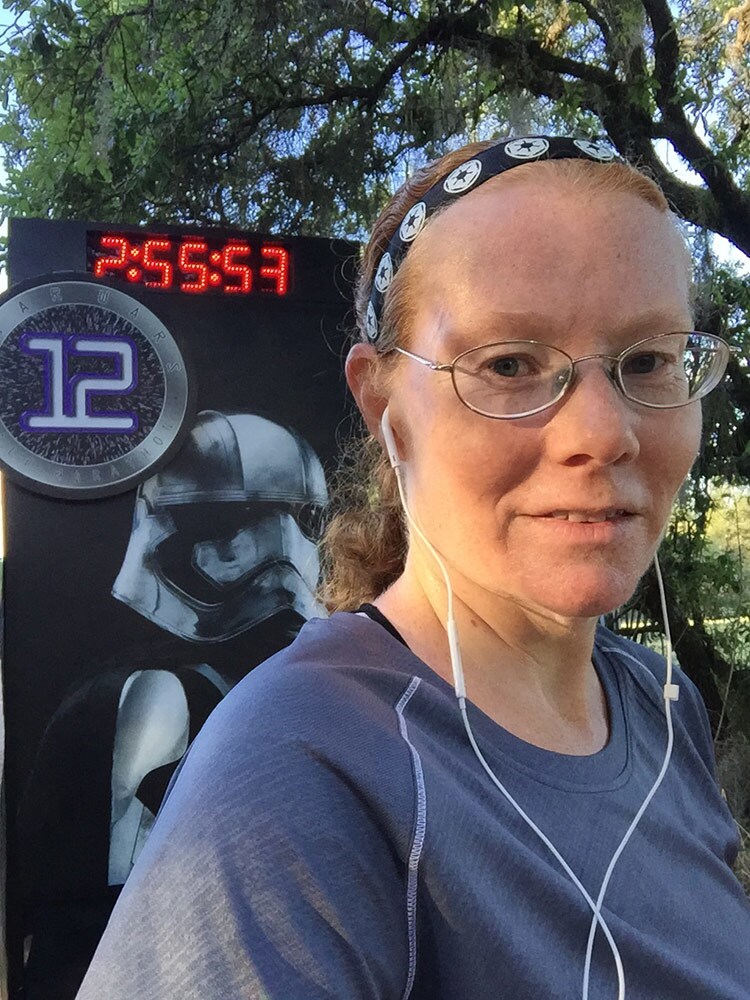 As an experienced runDisney runner, there was no question about Cheryl Flesch joining the Dark Side half marathon weekend. She's been participating in the runDisney program since 2005. She's done other races, but she appreciates the entertainment Disney offers on the course and their bling. "I had originally only signed up for the half marathon this year, but when I saw the Death Star medal for the challenge, I changed my entry," she says. "I had to add that one to my collection."
Because of her Star Wars fandom, she finds the Star Wars race weekends to be as much about familiarity as running. "For me, running the Star Wars races is the most rewarding of the runDisney events, and the Dark Side will likely be the one I stick with going forward. The biggest reason is because the Star Wars races are like so many other Star Wars events for me. It's a family reunion, a Star Wars Celebration for runners. I get to see all my friends. I was telling someone recently that Star Wars friends are the best friends because we are family. It shows at these races. Even if you haven't seen someone for a while, there is always a hug and a smile," she says.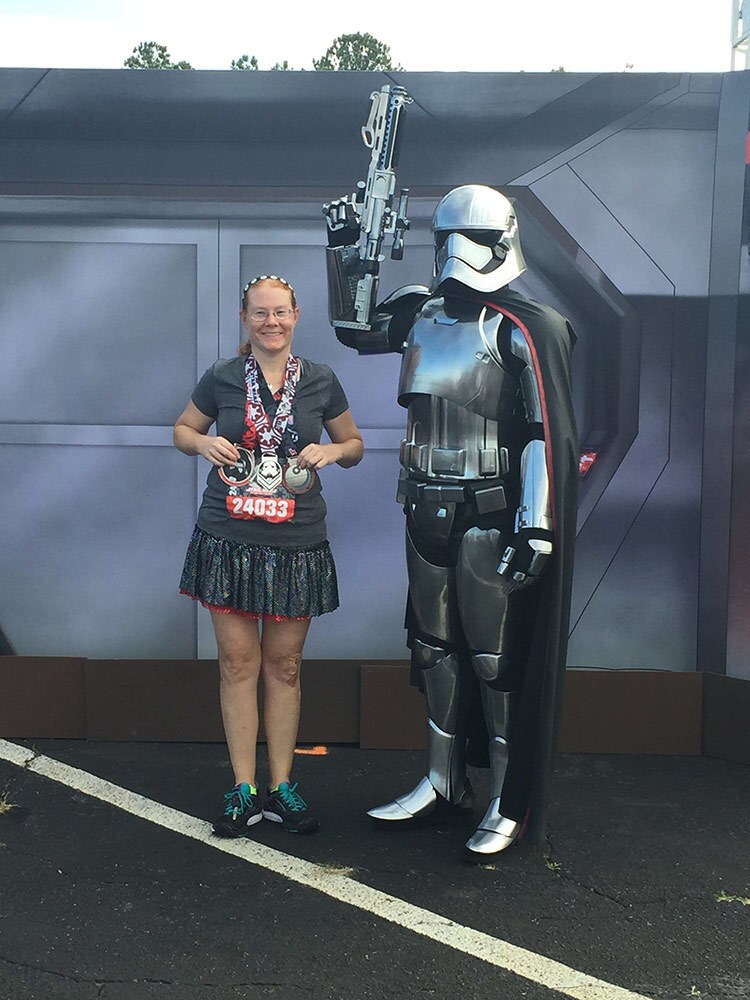 Cheryl agrees completing the race and donning the medal is a satisfying part of the event. "I feel a huge sense of accomplishment just crossing that finish line and feeling that medal around my neck," she says. "Those things are really heavy. You feel like you've won an Olympic event wearing one of the medals and walking around the park with all the cast members greeting you with congratulations."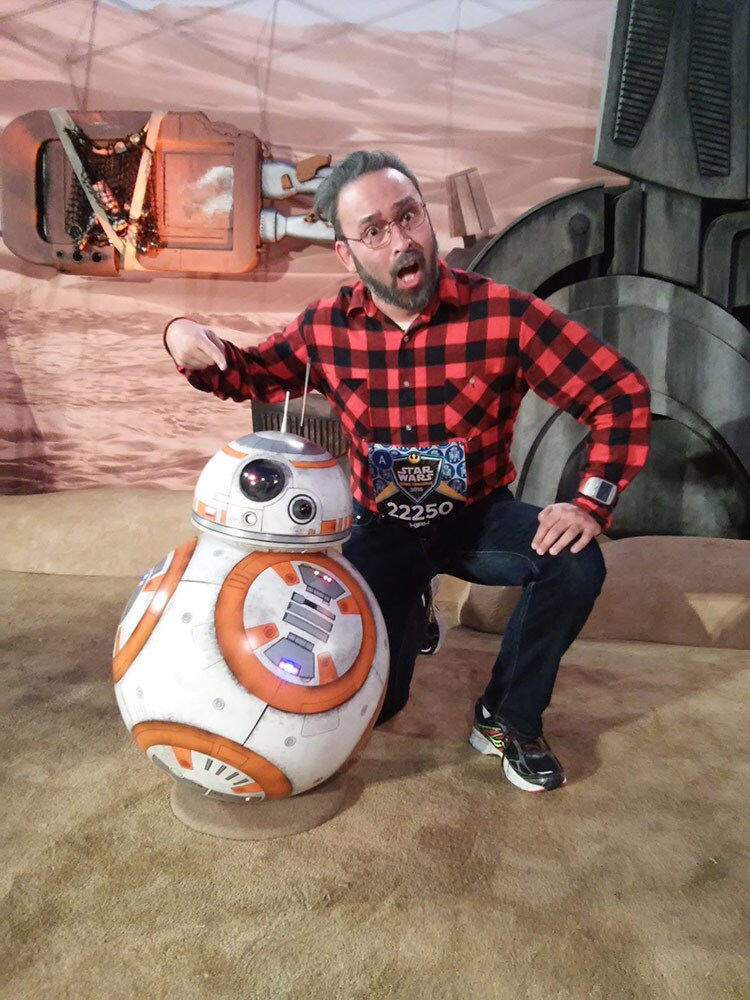 Kirk McDuck's runDisney history started with the Avengers Super Heroes Half Marathon. Since then, he's participated in three Star Wars race weekends total on both coasts. He cites the cheerleaders along the course as a standout moment, specifically 501st Legion members stationed on the route. "They had so much enthusiasm and support, and it was like a jolt of energy when most people are at their low point with exhaustion and fatigue, and it helped me finish out the race," Kirk says.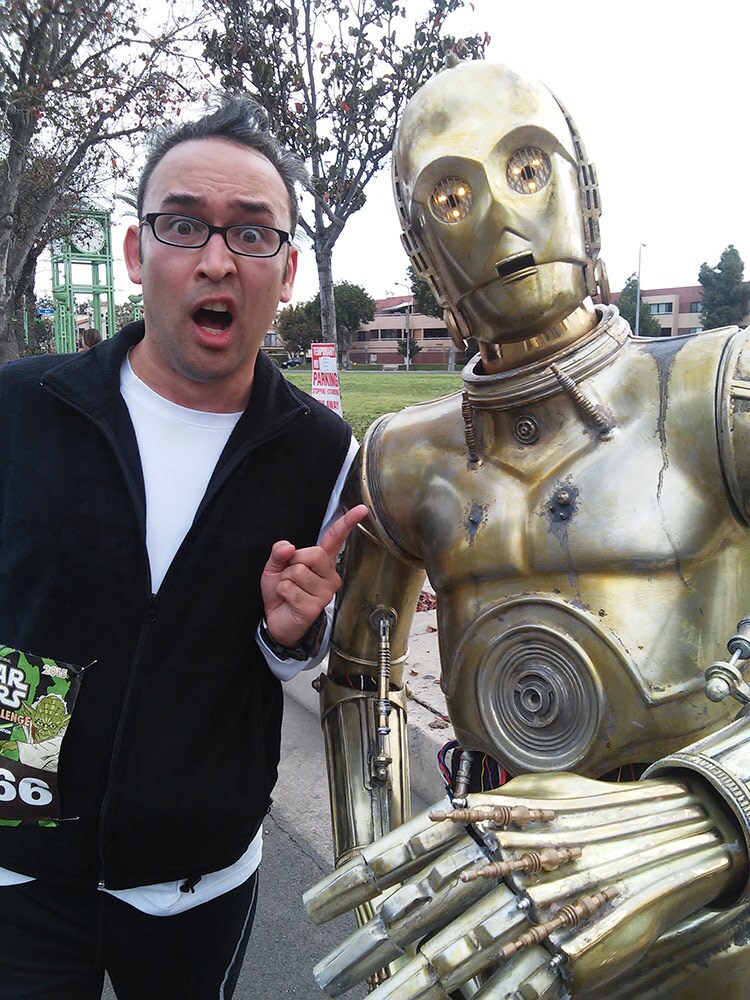 He doesn't really wear the commemorative shirts or do much with the medals from the races, but Kirk treasures the memories. He explains, "I like the feeling of accomplishment of running a 10K and a half marathon, and meeting fellow fans and cosplayers during the weekend is a lot of fun. I keep in touch with them all through social media, and support their outfits in other races."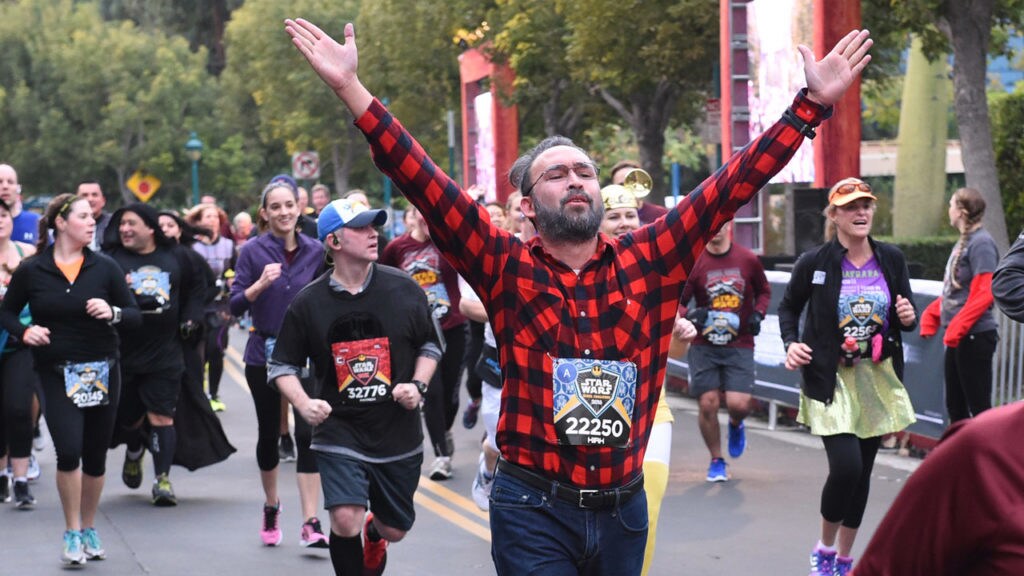 Kirk makes the 10K a little more challenging for himself by wearing a flannel shirt and jeans as part of a George Lucas costume. "I run the 10K as George Lucas, and I wear jeans and a flannel shirt. I don't adapt the outfit at all, even though that would probably be a good idea," he jokes. "It's actually pretty easy in Disneyland, because the weather is nice and a 10K isn't too long (especially with breaks to take pictures with characters), but I was really struggling during the 2016 Dark Side because Florida is too humid."
I can't imagine bringing flannel within a 100-mile radius of Florida, but it's just one of the many ways runners and Star Wars fans show their dedication and enthusiasm during runDisney race weekends. And that's part of what makes runDisney Star Wars events so special.
Have you participated in any of the runDisney Star Wars challenges? Race to the comments and tell us about your experiences!
Visit runDisney.com for more information!
Amy Ratcliffe is a writer obsessed with Star Wars, Disney, and coffee. Follow her on Twitter at @amy_geek.