The artist discusses his surprise StarWars.com exclusive Blu-ray cover for the film!
Phil Noto has quickly become a favorite artist among Star Wars comic book fans. Noto's work, which includes Marvel's Poe Dameron and Chewbacca series, as well as covers for the upcoming Solo: A Star Wars Story adaptation, is arresting. His ability to capture likeness and detail, while still telling a story in a sequential, comic-book style and feel, is almost without equal. And his covers look like movie posters.
That's why we were thrilled to team up with Noto on a StarWars.com exclusive Blu-ray cover for Solo: A Star Wars Story, which arrived on 4K Ultra HD and Blu-ray earlier this week. (You can download the insert cover and slipcase, for free, right now on StarWars.com.) The artist created a beautiful piece in a classic, illustrated movie-poster style, incorporating many elements from the film. StarWars.com had a quick chat with Noto -- now a Star Wars home video artist! -- about his gorgeous, scoundrel-filled cover.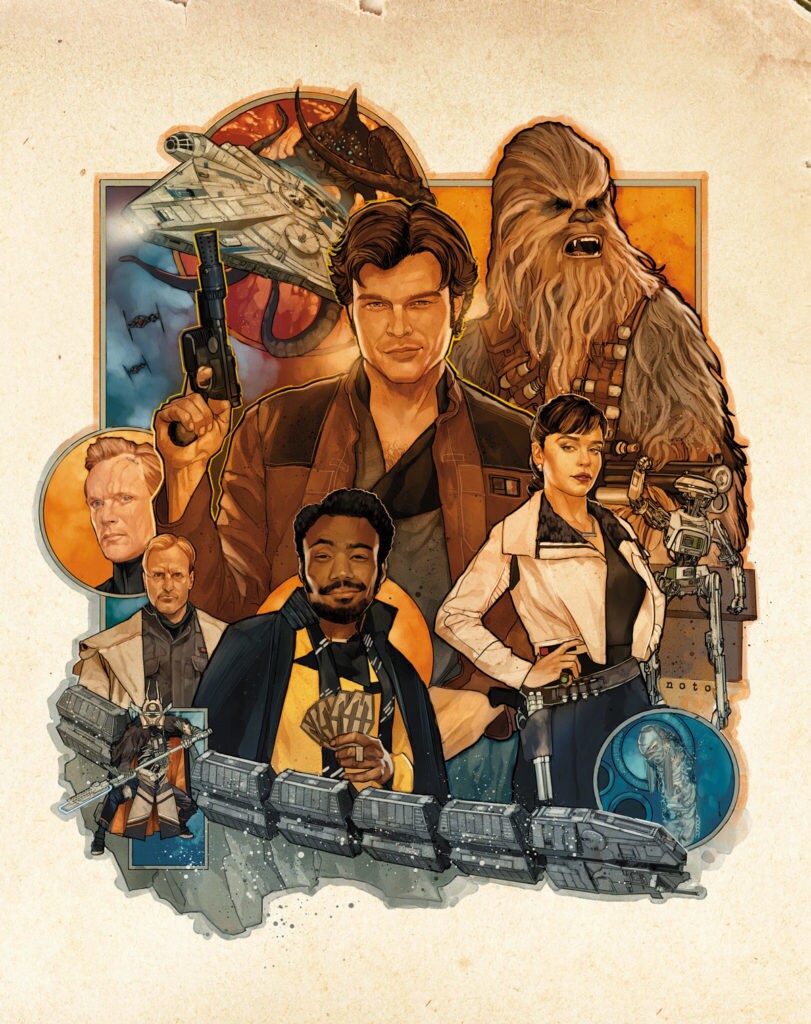 StarWars.com: First, thanks for doing this. We all love the cover.
Phil Noto: Thank you! It was fun!
StarWars.com: You sent in three rough sketches about where the image could go...and they all would've been great! I'm curious how just from a few notes about direction, you can come up with three unique takes that still fit the desired outcome.
Phil Noto: I think that just comes from doing cover images for the last 18 years. I just try to vary the sizes a bit and rearrange the elements to see if anything sparks a further idea for the composition.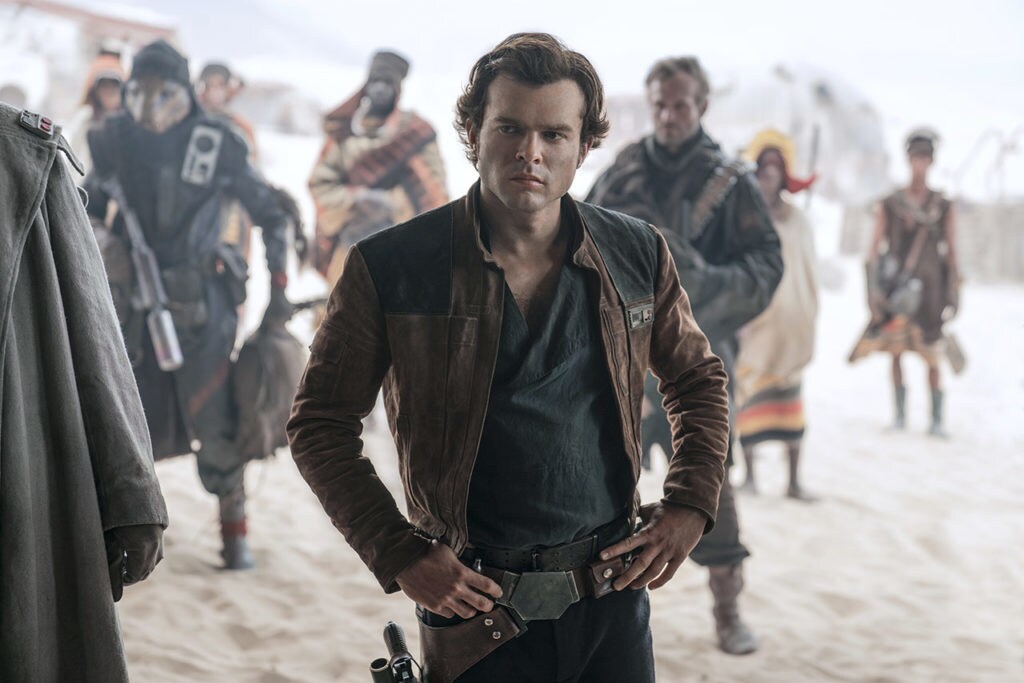 StarWars.com: Tell me about the coloring process -- in particular, using colors to capture the Western feel of Solo.
Phil Noto: I start with the average hues of each character and background element and then start shifting the color balance slightly to separate the elements in the image. Solo was very easy because the colors used in the actual film are very blue and cold in the beginning and then become very warm and golden and vary from sequence to sequence. I used a lot of the warmer tones to get across the Western, sun-drenched, dusty feel of Solo and put the cooler values as accents.
StarWars.com: What I love about the end result is that it really feels like a classic movie poster. Is that a style you're familiar with and enjoy working in?
Phil Noto: Yeah, I went to school for illustration and was always a giant fan of the old movie poster artists like Robert McGinnis, Bob Peak, David Grove, and certainly Drew Struzan. I've studied their art for decades now and I have learned from them the method of drawing the viewer's focus to certain elements first and then have them notice the smaller details, and finally the full composition as a whole.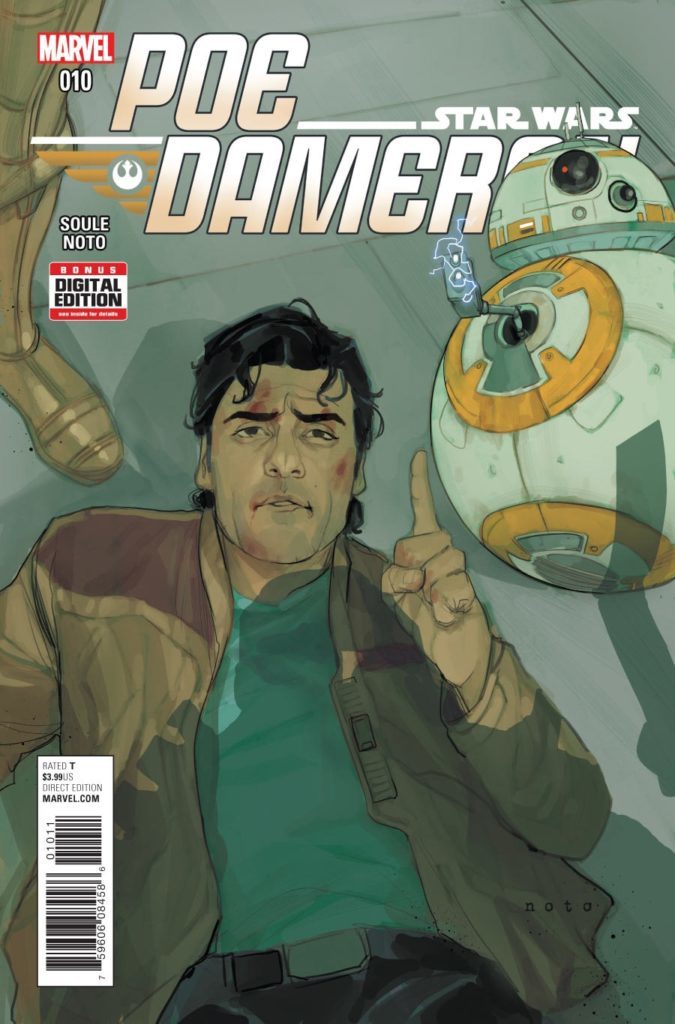 StarWars.com: Did you approach it differently than you would a comic book cover?
Phil Noto: Yes, in the sense that most comic covers don't have that much information in the image. It's only 20 pages and you usually don't want to spoil too much of it on the cover. Also, most covers I do are for monthly books that can't just have an iconic montage/movie poster image every issue. It would be too repetitive and boring.
StarWars.com: What did you think of Solo?
Phil Noto: I loved it! Being a fan of Star Wars since I saw A New Hope at six years old, the '70s nostalgia feel of the movie really delighted me.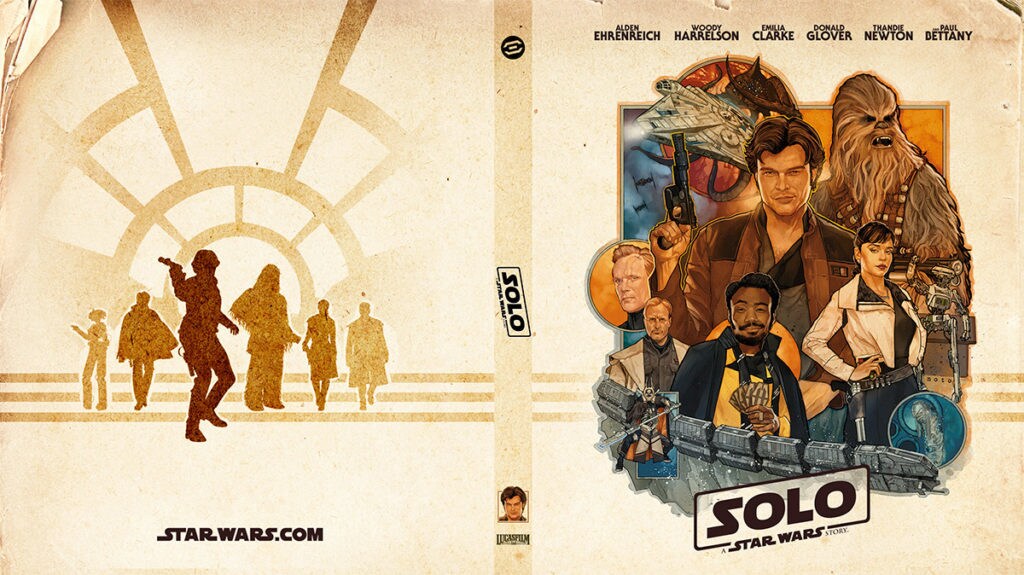 StarWars.com: For fans of Star Wars, the cover art for home video releases is an important thing -- it's its own tradition, and I think we can all remember the VHS, DVD, and Blu-ray covers we grew up with and own. So how does "Phil Noto, Star Wars Home Video Cover Artist" sound?
Phil Noto: It sounds very surreal. I've loved doing various Star Wars art projects for the last three years or so, but an actual movie cover/poster image is something I can now cross off my bucket list.
Solo: A Star Wars Story is available now on Digital and Movies Anywhere, 4K Ultra HD, Blu-ray, DVD, and On-Demand.
Dan Brooks is Lucasfilm's senior content strategist of online, the editor of StarWars.com, and a writer. He loves Star Wars, ELO, and the New York Rangers, Jets, and Yankees. Follow him on Twitter @dan_brooks where he rants about all these things.