The gifted illustrator discusses his Star Wars journey and his paintings for the highly-anticipated book.
A top-secret cache of Rebel Alliance intel, lost after the Battle of Endor, is about to fall into the hands of the Resistance.
Stashed away in a rugged case complete with Death Star plans projected on a pop-up hologram, the new Star Wars: Rebel Files deluxe edition book follows the lead of other in-universe propaganda and lore for an immersive experience full of rebel secrets and galactic intrigue.
Although it won't hit shelves until next month, we took a covert look at the prototype during New York Comic Con Thursday and caught up with one of the artists, Joe Corroney, who helped illustrate the text by Daniel Wallace.
Corroney's work is recognizable from his "Unite!" poster included in last year's Star Wars Propaganda: A History Of Persuasive Art In The Galaxy, and available as prints in Disney Parks and in many recent Star Wars Celebration festivities.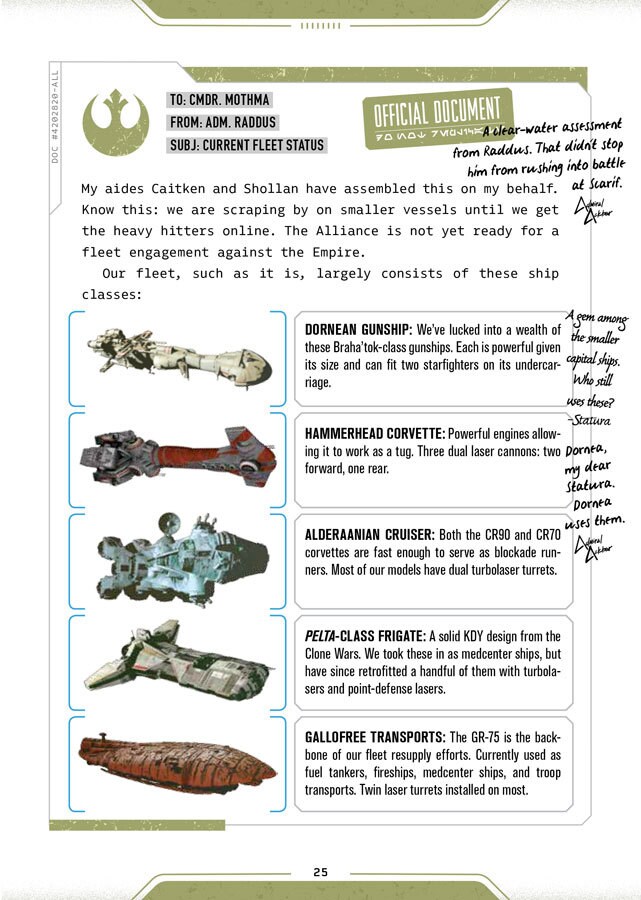 But back when A New Hope debuted, he was just a 4-year-old kid who was afraid of the heavy breathing man behind the gleaming black mask.
"It was one of the very first movies I remember seeing in the theater," Corroney says. "Seeing Darth Vader for the first time freaked me out! In 1977 we had never seen anything like that. He had come through the smoke of the Blockade Runner and the blasted doors. I was like, 'Oh my god, is that a robot? Is that a demon? What is that? What is that thing?'"
Vader would eventually become one of the young artist's favorite characters to draw, but instead of studying the contours of Vader's face mask, he was hiding his own face. "I remember hiding behind the seats like peeking through in between the seats."
Boba Fett is another usual suspect in Corroney's art, allowing the artist to delve into the finest details on the bounty hunter's famously battle-scarred armor. "I know it's kind of cliché, but you have to remember that I grew up back with the original Star Wars back when Vader and Boba Fett were still very mysterious. So as a kid, I was fascinated...We didn't know anything until the prequels 20 years later, so I've carried that torch for Boba Fett my entire life."
After studying art in college, Corroney joined the family of professional Star Wars illustrators by mailing his portfolio off to a now-defunct gaming company that oversaw Star Wars role-playing games on the mid-'90s. He still remembers getting the phone call with the offer. "My knees were clacking because I was so nervous and excited. I couldn't believe I was actually going to do artwork for an official Star Wars book."
Some 20 years later, Corroney continues to create Star Wars art, including several ships seen on the pages of Star Wars: Rebel Files.
"The book is written in-universe for Star Wars citizens and people of the galaxy, so I wanted to keep the artwork as faithful to interpretations of what we see in the film," Corroney says.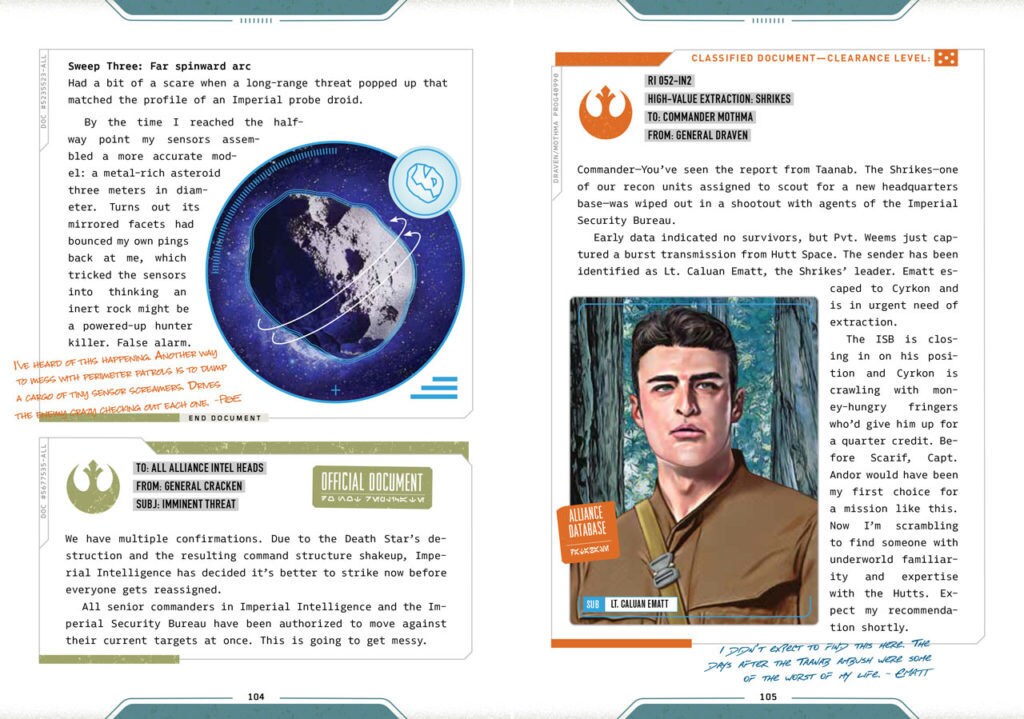 Some of the material will tie in to The Last Jedi. As the story goes, to keep the highly sensitive intelligence out of Imperial hands and avoid the risk of digital interception, the files were kept in a secure case traveling with key members of the Alliance. What's inside traces the Rebel Alliance from its formation through the defeat of the Empire, with rich illustrations, hand-scrawled annotations, strategic details, and the history of key leaders for the cause like General Leia Organa, Mon Mothma, Poe Dameron, and Admiral Ackbar. (As far as we know, no Bothans were harmed...this time.)
"The ships are characters unto themselves," says Corroney, who logged a first in his career drawing the medical frigate among other key ships.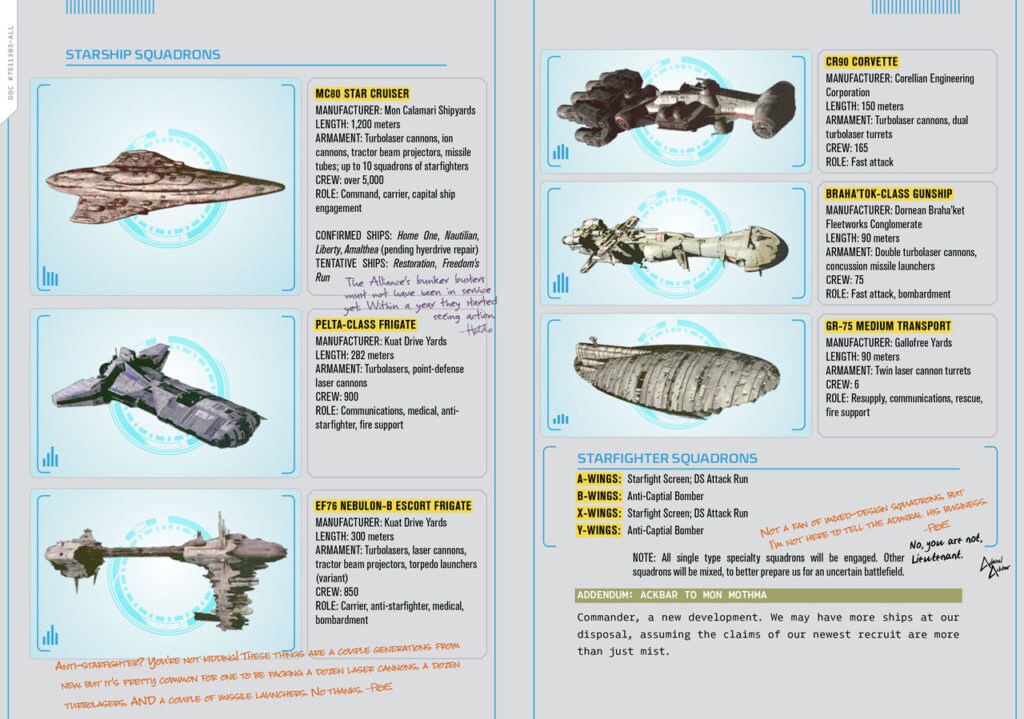 "The little fanboy in me was like, 'Wow, I'm getting to do the medical frigate!' Even the rebel troop transport...I had that toy as a kid, the big white clamshell thing. As I'm drawing it and coloring it, I'm remembering all the times I played with my rebel troop transport. So that's the world I kind of live and work in on an everyday basis. I'm getting to draw and paint Star Wars ships that I played with as a kid. This is crazy."
Star Wars: Rebel Files deluxe edition, $99.99, is set for release Nov. 14.
You can see more of Corroney's work at www.JoeCorroney.com.
Kristin Baver is a writer and all-around sci-fi nerd who always has just one more question in an inexhaustible list of curiosities. Sometimes she blurts out "It's a trap!" even when it's not. Do you know a fan who's most impressive? Hop on Twitter and tell @KristinBaver all about them!