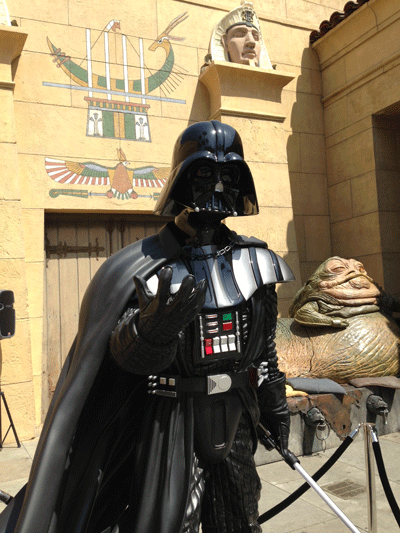 Thirty years ago this month, Return of the Jedi made its debut at the Egyptian Theatre in Hollywood. It seems only fitting then that on May the 4th, a.k.a. Star Wars Day, fans have been celebrating the beloved film's landmark anniversary at the very same place it was first seen by an audience. As Darth Vader once said, "The circle is now complete."
As part of Entertainment Weekly's CapeTown Film Festival, the Egyptian Theatre is hosting four screenings and a festive celebration of Return of the Jedi today, with special guests, costumed characters, props -- including a life-size Jabba the Hutt -- face painting stations, and lots more. Fans arrived en masse and early, making it seem like 1983 all over again. But many had different reasons for coming and different perspectives on the film.
"It means a lot to me because I was raised with Star Wars," said Betty Nguyen, 38. "It was a bonding experience with my family. My brothers and I would continuously watch the Star Wars trilogy over and over and over again. So for me to come here, it brings back good memories." But more than that, the company of like-minded aficionados adds to the experience. "You see a lot of fans, the excitement, the enthusiasm that people project. It's just an unbeatable feeling to be amongst fans."
For many fans, being able to see a Star Wars film on the big screen is a special event itself. "It makes a big difference," said Daniel Wolsey, 32, a.k.a. TK-6684, one of the many Stromtrooper-armor-clad members of the 501st on hand. "You get to see it in all its glory. You gotta watch it on the big screen, or you lose some of the effect."
One fan bought tickets for two of the day's four screenings and made the screening part of a Star Wars movie marathon. "It's very exciting," said Tim McGroarty, 25, from Hollywood. "We spent all week watching all the other Star Wars movies and reserved the last one for this." While McGroarty's favorite Star Wars film is The Empire Strikes Back, Return of the Jedi has a chance to move up the ranks today. "Seeing it on the big screen might push it to number one."
Christina Stevens, 25, came with McGroarty to validate an old affinity she had for certain characters. "I saw it when I was little, so I really like the Ewoks," she said. "As an adult, you hear that people don't like them. I was like, 'Wait, people don't like the teddy bears?' So now I'm going to see if I like them as an adult. I like the cutest thing in any movie." But for Stevens, the effects and the heart of Jedi are still meaningful. "I feel like they don't make movies like this anymore. I'm real excited."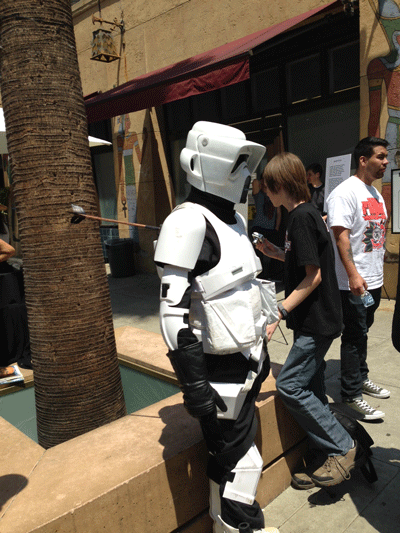 While many fans in attendance have seen Jedi countless times, some have not. Anthony Robles, 44, from Anaheim, came to revisit the film. "I don't think I've seen it since the [original release]," he said, but was still optimistic about how he would react to seeing it again after so long. "I think I'm going to recapture the joy I had when I first saw it."
During the screenings, the crowd applauded when Leia killed Jabba, laughed at Han's "Hey, it's me," line, and cheered when Darth Vader saved his son, redeeming himself and ending the Emperor's reign. Thirty years on, Return of the Jedi is still fun, emotional, and dazzling. Special days like this serve to remind us of what a great film it is.