Producer Josh Rimes talks to StarWars.com about creating the new series of animated shorts, and offers his own commentary on the first installments.
The first Star Wars Galaxy of Adventures animated shorts arrive today on StarWarsKids.com and the Star Wars Kids YouTube channel, and they're charming love letters to some of the saga's greatest moments and icons. But for those behind the scenes, they represent something even deeper: a chance to pass on what they, and all Star Wars fans, have learned.
"We were looking for ways to invite young kids into the saga through exciting and vibrant bursts of animation that didn't talk down to them," Josh Rimes, producer of the shorts and director, animation and live action series development at Lucasfilm, tells StarWars.com. "Hopefully the shorts will leave young viewers newer to Star Wars wanting to discover more about the saga -- from Luke Skywalker and his journey to becoming a Jedi, to Darth Vader and his power of the dark side, to Leia and her path from princess to rebel leader. They're fun, stylish stories that thrust the viewer into the big events of Star Wars, while also exploring its greater themes."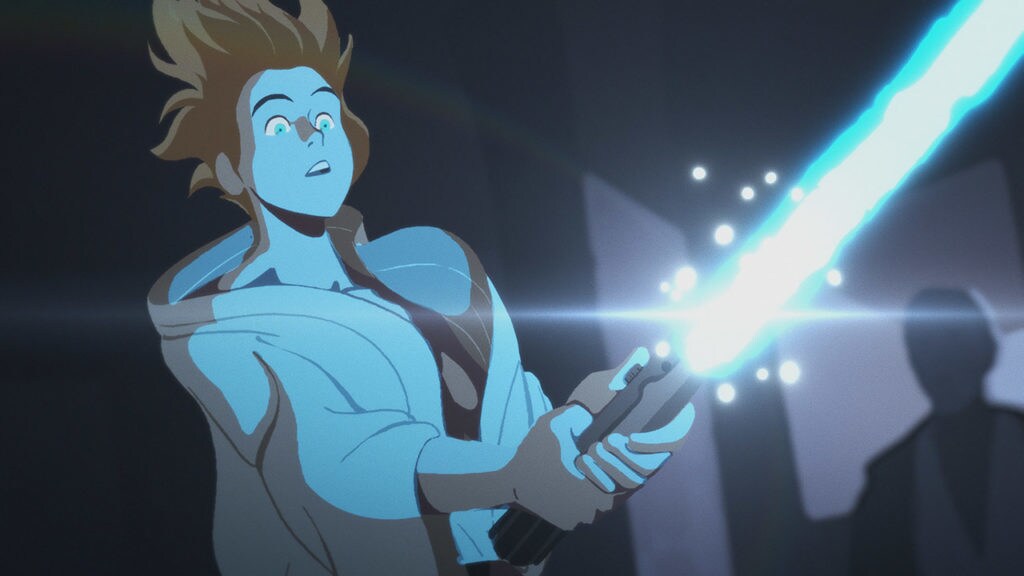 Developed with the animation studio Titmouse Animation, the shorts have a vibrant, modern look, falling somewhere between manga and a Star Wars Little Golden Book come to life. (Indeed, Star Wars Little Golden Books came up in discussion when developing the shorts, Rimes confirms.) Each short encapsulates something about a character, their choices, and their path, taking inspiration from specific scenes and amplifying them. In "The Journey Begins," Luke Skywalker turns on his lightsaber for the first time, and his hair and clothes ripple from its power. Then he practices, cutting left and right, and leaping triumphantly into the air. While it didn't happen quite like this in Star Wars: A New Hope, the energy of the sequence captures the elevated feeling that any kid who's ever held a toy lightsaber has had. And that's why it feels so right.
"The idea of approaching moments with a sense of playfulness was important," Rimes says. "We didn't want to make one-to-one exact retellings of the moments a lot of us know and love. Through the storytelling, design style, and kinetic action, the team really heightened these familiar moments, making the battles big and vivid and exciting, and enhancing many of them with humor and levity."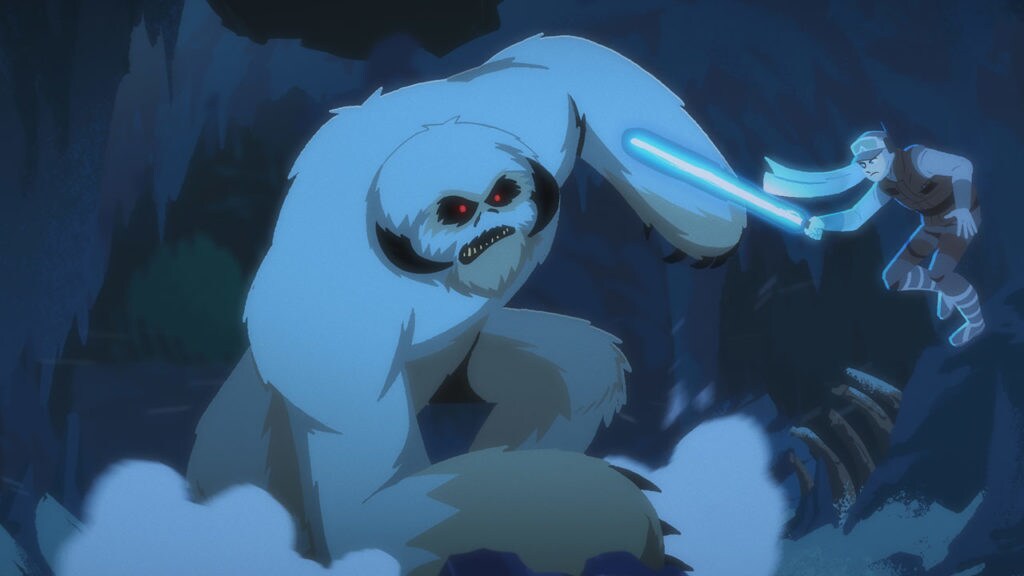 One word that Rimes returns to often when talking about the shorts is "theme," and that's the real driving focus of the project. Each installment of Galaxy of Adventures has something to say -- even the action-driven shorts. "What really guided us in the early days was this idea of theme," Rimes says. "Finding the key iconic moments that we all know and love, and attacking them in this style. When doing that, we always took a step back and were like, 'Okay, what is the theme of this piece? What are we trying to say?' Is it the idea of trust, and Han trusting Chewie to be a good pilot? Is it Luke wanting something more, and going off and finding adventure? Small, little evergreen themes that are baked into the DNA of Star Wars."
The end result is a series that's true to Star Wars but feels fresh. If you're a parent or older sibling who loves Star Wars and want to share it with the younglings in your family, Galaxy of Adventures could be their first step into a larger world. "I hope they resonate with kids," Rimes says. "I hope that kids who know a little about Star Wars find them, and I hope that kids who know nothing about Star Wars find them, and it engages them and brings them into the world."
Watch the first batch of Star Wars Galaxy of Adventures shorts below, with Josh Rimes' personal commentary accompanying each video.

Luke Skywalker - "The Journey Begins"
"From the start, we knew we wanted to kick off Galaxy of Adventures with foundational pieces that set up Luke Skywalker and Darth Vader. This short, which dramatizes Luke's call to adventure, is anchored with him receiving his father's lightsaber from Obi-Wan. Early in the process, we were won over by Titmouse's work-in-progress images and early test animation of Luke turning on the lightsaber, hair-blowing back, looking wide eyed. The heightened style conveyed the weight and power of the moment and that feeling of wish fulfillment any kid would have when they turn on a lightsaber for the first time. When boiled down, this is Luke's first step into a bigger world and the team wanted to make it as impactful and fun as possible."

Darth Vader - "Power of the Dark Side"
"For Vader, we wanted him to make a big entrance so we looked no further than the moment at the end of Rogue One. This one was a real balancing act when it came to just how scary or brutal we wanted to depict him, but we stuck to what is true about the character and emphasized his sheer power above all else. Plus, there's something intoxicating about Vader's fearsomeness. This short really celebrates his iconic design -- his shadow, the red lightsaber, the booming voice -- all of which makes him so unforgettable."

Luke vs. the Wampa - "Cavern Escape"
"One of the challenges that came up later in the process on this piece had to do with making sure a young audience new to Star Wars would recognize Luke since he's in a different wardrobe, is battered, and upside down in a location that might be unfamiliar to them. This hurdle helped us hone in on what the narration needed to be in certain shorts and what it should accomplish. Here, the narration provides context and drives the urgency. It's reminiscent of old short animated serials in that way. One of the team's favorite moments is the final shot of Luke in the snow, breathing that sigh of relief, and then smiling. Titmouse really brought that sense of playfulness to the forefront and it makes a harrowing tale of survival that much sweeter in the end."

R2-D2 - "A Loyal Droid"
"This short shines a light on a determined Artoo. Part of the fun in setting him up is glimpsing Leia setting into motion the events of A New Hope. The playful escape across the Tantive IV is full of danger and little charming nuggets like the little double back with the 'nothing to see here' whistle from Artoo after they nearly run into Vader. Even in such a concise piece, the dynamic between Artoo and Threepio really comes through and is as charming and funny as ever."

Chewbacca - "The Trusty Co-Pilot"
"Capturing different facets of the Han and Chewie dynamic is always so much fun in Galaxy of Adventures. This piece is an action-packed and humorous look at how Han has to rely on Chewie when caught in a jam. While the Millennium Falcon might be a ship, in this short it becomes a character too -- as our heroes fumble their way through fixing it up before they're toast. This is the first short where the creative team used a fast-moving montage to propel us through this adventure, with wit and style to spare."

Darth Vader - "Might of the Empire"
"This piece captures the might and scale of the Empire with Darth Vader as our eyes into that world. As we march with Vader, we see all the wonderful toys he and the Empire have at their disposal and the seemingly impossible odds the rebels are up against. Driven by the iconic 'Imperial March' score, this short was always meant to have a propaganda-like feel."
Stay tuned to StarWarsKids.com and the Star Wars Kids YouTube channel for additional Star Wars Galaxy of Adventures shorts, fun facts videos, and more.
Dan Brooks is Lucasfilm's senior content strategist of online, the editor of StarWars.com, and a writer. He loves Star Wars, ELO, and the New York Rangers, Jets, and Yankees. Follow him on Twitter @dan_brooks where he rants about all these things.