StarWars.com goes behind-the-scenes to learn how designers engineer the playful paper pop-up sculptures bringing Star Wars home for the holidays.
An unassuming white envelope reveals a whimsical winter wonderland where R2-D2 is decked out in Christmas lights, his dome topped by a red Santa hat, while C-3PO and BB-8 build a snowdroid in the distance.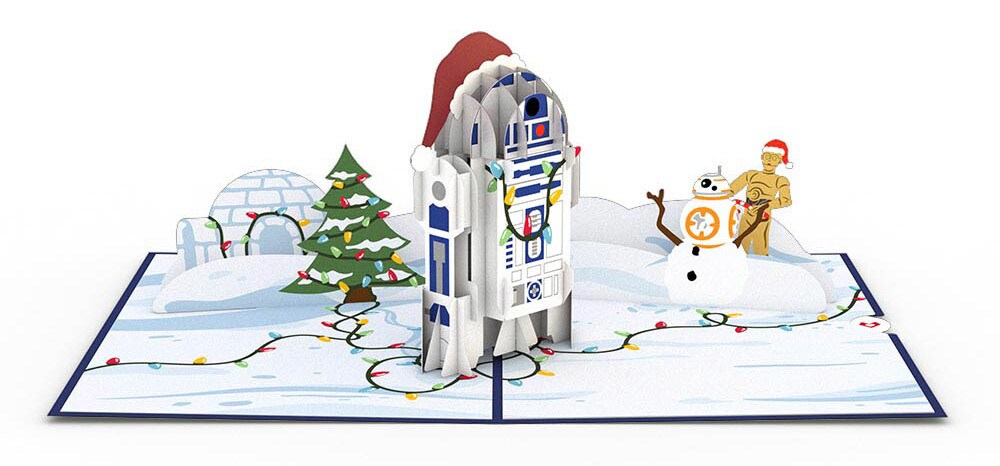 The 3D paper sculpture, designed by Boston-based naval engineers and handcrafted in Vietnam using the Asian art form of sliceform kirigami, is part of a new holiday addition to Lovepop's line of Star Wars pop-up cards.
First released earlier this year, the card maker's Star Wars series has captured everything from climactic scenes like Luke's X-wing trench run and Obi-Wan Kenobi's fateful duel with Darth Vader, to finely sculpted stormtrooper helmets and the mighty Chewbacca roaring in frustration as he's surrounded by curious porgs.
Among the new holiday-themed offerings are the festive frolicking droids, Chewbacca and the porgs teaming up to decorate a Christmas tree, and even Yoda emerging from a wrapped gift box. The latter was a riff on an earlier design, an idea that came out of a meeting involving card engineer Jozef Karpiel. "What if Yoda was slashing his way with a lightsaber out of the present?" Karpiel recalls suggesting.
StarWars.com recently sat down with Karpiel to talk about following in the footsteps of Ralph McQuarrie, who first reimagined Yoda as a jolly old elf, and the challenges of making the perfect paper droid.
Building a droid
Like Lovepop's founders Wombi Rose and John Wise, who studied architecture at Webb Institute and launched their start-up company out of the Harvard Innovation Lab in 2014, Karpiel spent six years training in architecture at Roger Williams University in Rhode Island. But he quickly realized that traditional applications weren't his passion. "I pretty much knew the whole time I wasn't going to stick with architecture."
When Karpiel met the two friends, they were searching for their first card designer, so he quit his day job to join them and explore how his professional background in architecture could be combined with his interests in the arts.
The process to create a Lovepop card begins with a planning sheet to get down the basics of the technical design. "The more experienced you are, the more you know how the pieces will fit together and what kind of folding techniques you'll use," Karpiel says, allowing the design to take shape with specific folds and sizing parameters. Then an artist adds the finer points, like the stylized illustrations in the foreground and background.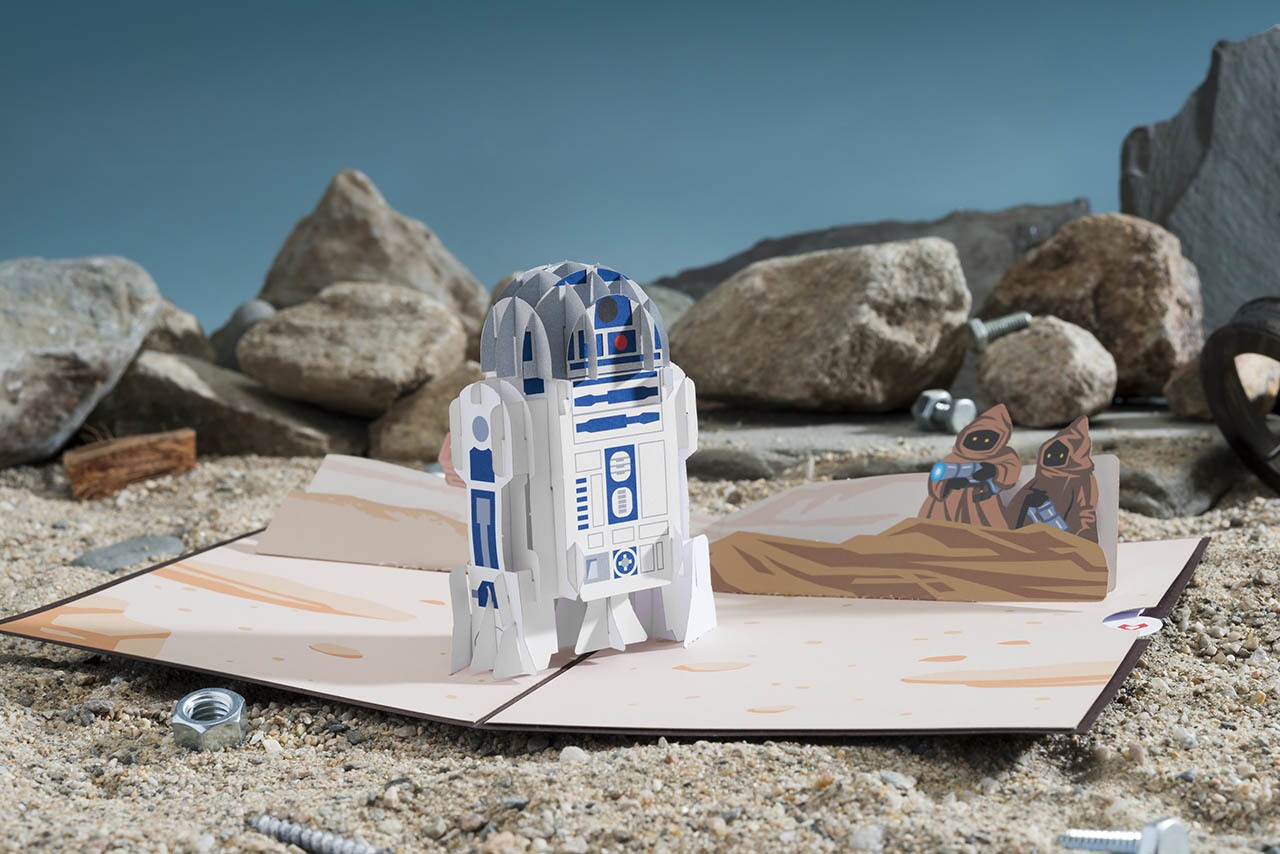 For the holiday line, Karpiel reimagined an earlier design he'd worked on featuring Artoo in the Tatooine desert, positioning the astromech on the card in a similar fashion. The first card gave designers a solid starting point, but other designs can also help influence their work.
Individual folding techniques are named after the first card to utilize them, Karpiel says. For example, a card with a pop-up tree gave designers the honeycomb-like core of their droid build. "A lot of these are 'tree folds,' and the Artoo is a modification of that." But while Lovepop's trees are perfectly symmetrical, the loveable droid is tilted slightly so when the card is closed he can be compressed flat and concealed completely. "To give it more height, we start the sculpture almost at the edge of the card and that grid is at an angle; that can give you a taller sculpture, but that also means the pieces are slanted."
Finalizing the prototype
Once Lucasfilm approved their initial design, Karpiel got to work prototyping the card model. With about 25 different pieces to bring together in the intricate card, it took a few weeks and four or five variations before the droid's wintertime frolic was just right.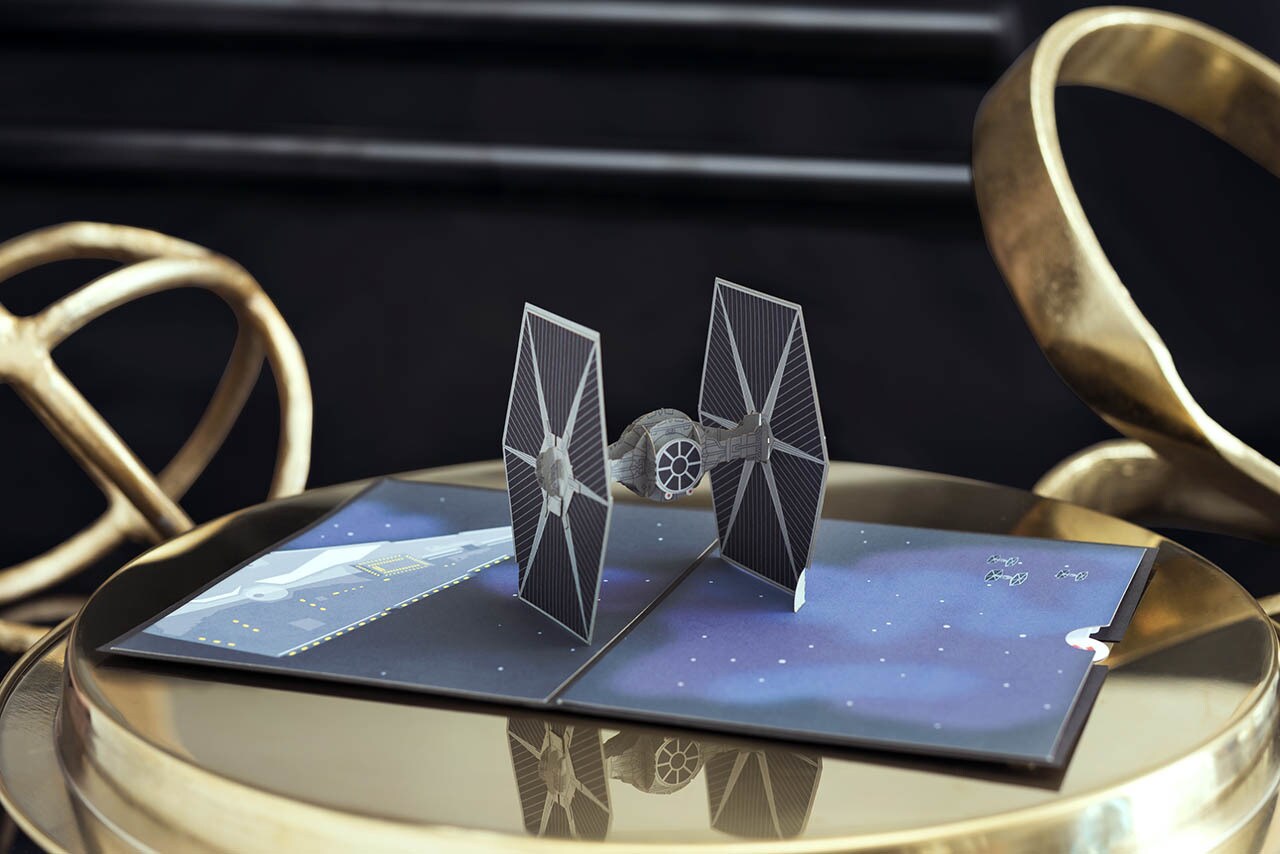 With the art form of sliceform kirigami, new challenges often emerge during the process of creating the physical sculpture. "As soon as you prototype a piece may push on another piece because it's paper, it's loose," Karpiel says. "We'll try to work out the kinks as much as possible…In the computer you can kind of get lost. You can put pieces and the slots in and it's easy to just get lost in there. And then it's not until you prototype that you learn, 'Oh wait, this is really hard to put together.'"
For Artoo, a few of his many pieces were getting caught on each other as the card opened and closed at first. But even with that problem solved, Karpiel had to find a way to engineer a few extra pieces to introduce a shiny silver paper for the droid's dome that would attach seamlessly to the rest of his body. "Because it's not the same as the body, which is white paper, it had to be made separately. Even though they're on the same grid, it's two sculptures that are stacked on top of each other."
A nice oil bath
With the prototype complete, the design and manufacturing team in Vietnam helps to finesse any final kinks and questions. "They can test a lot of these things with the assembly team, so they can take the design and get a few different people to assemble it and see if there's a way to make things better," Karpiel says.
In some cases, that means trying to streamline to process to reduce the number of parts and pieces. "We want the card to be as cool as possible," Karpiel says, and Artoo is among the most complex sculptures from the line.
But even the more simplified cards, like Chewie and the porgs, incorporate painstakingly detailed illustrations and laser-cut edges of individual ornaments, lightbulbs, and tiny porg feet. "The trees are really nice sculptures to work with because they don't require a lot of pieces," Karpiel says. "There's just a lot of rooms for adding detail."
And each card emerges as an individual piece of stunning sculpted paper art, a mini masterpiece to bring good tidings to friends and family.

For a closer look at the full line of cards, visit Lovepop's official website.
Kristin Baver is a writer and all-around sci-fi nerd who always has just one more question in an inexhaustible list of curiosities. Sometimes she blurts out "It's a trap!" even when it's not. Do you know a fan who's most impressive? Hop on Twitter and tell @KristinBaver all about them!