StarWars.com talks with Nik Ehm, LEGO Master Model Designer, about going back to Jakku.
Master Builders and Jedi Masters have something in common to look forward to: LEGOLAND California Resort is bringing the excitement of The Force Awakens to their Star Wars Miniland. Scheduled to be unveiled at the annual LEGO Star Wars Days on March 4 and 5, 2017, a Jakku-themed model display will be built brick by brick in the center of LEGO Star Wars Miniland, showcasing several scenes from The Force Awakens, and will include a 16-foot-long Star Destroyer!
Earlier this month, the Carlsbad, California theme park announced new plans for the resort, including a new addition to their popular LEGO Star Wars Miniland. Currently, Star Wars Miniland is home to several cool displays: outdoor dioramas featuring multiple scenes from worlds from the first six Star Wars films, including Naboo, Geonosis, Kashyyyk, Mustafar, Tatooine, Hoth, and Endor. There's also a giant model of the Death Star, the Death Star Trench, and a gallery of everyone's favorite Star Wars characters built as giant LEGO minifigures.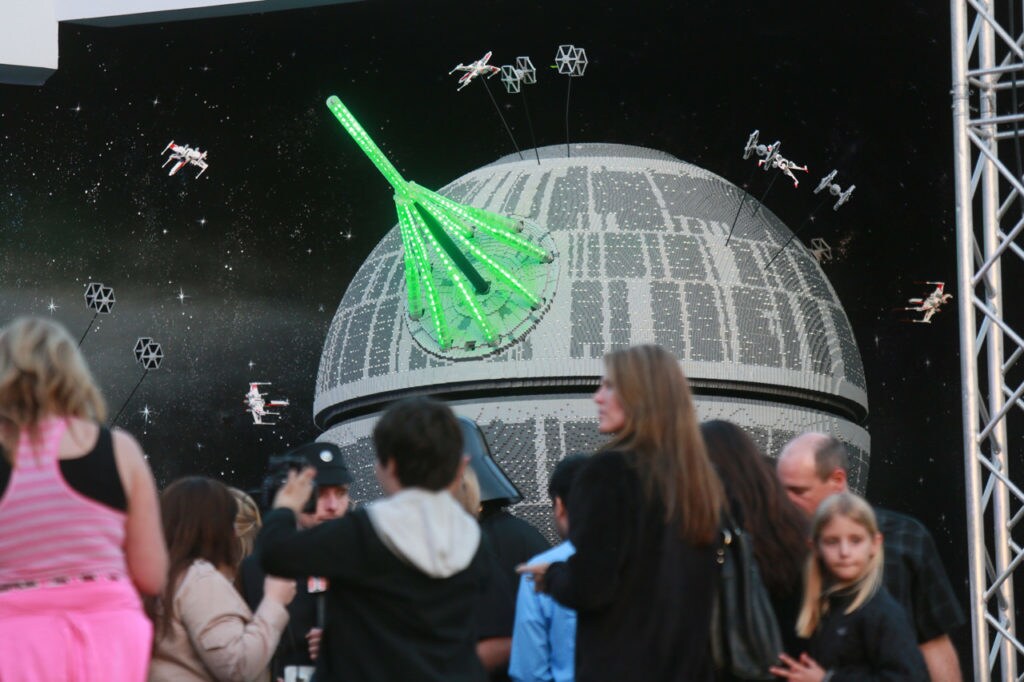 Accompanied by a life-size LEGO R2-D2, LEGOLAND California general manager Peter Ronchetti proclaimed in a September 15 press conference, "Right now, at our secret Model Shop in Carlsbad, Master Model Designer Nik Ehm of our Merlin's Magic Making team is working on creating six scenes that represent the first 30 minutes of Star Wars: The Force Awakens. There are two primary focal points -- the more traditional character-driven scenes on the planet of Jakku, and an enormous LEGO model of the Star Destroyer Finalizer. At 16-feet-long, it will be the longest LEGO Star Wars Miniland model ever created!"
A mammoth First Order Star Destroyer looming over the rest of the display will become a magnificent centerpiece to LEGO Star Wars Miniland, drawing in fans to check out the scenes depicted around the diorama. Of course, creating a build this epic isn't just as easy as constructing a LEGO set from the store, so fans will have to let their anticipation build until next spring.
StarWars.com reached out to Nik Ehm in his office at the secret Model Shop, and the Master Model Designer quickly assembled his response in a colorful pattern of 2-by-4 LEGO bricks for us, or more accurately, he just e-mailed back. Here's an in-depth look at the making of The Force Awakens display for Star Wars Miniland.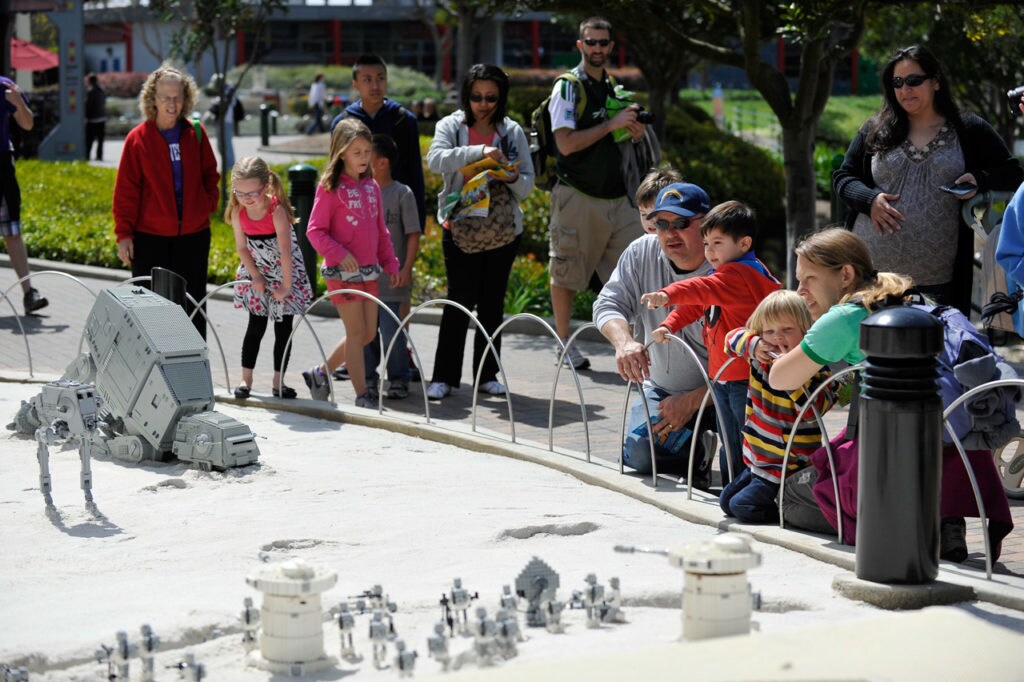 StarWars.com: When developing a Star Wars model display for Miniland, what is the process that you go through?
Nik Ehm: Just like creating a LEGO model on your own at home, it all starts with an idea. My colleagues and I brainstorm new concepts and sketch out new ideas. Once those ideas have been narrowed down and approved, the fun really begins as we start the design and construction phase of the LEGO models. The time needed to design and construct may vary from hours to weeks depending on the size and detail of each LEGO model. Once construction is complete, we work with the team of Master Model Builders at LEGOLAND California Resort to transport and install the models into LEGO Star Wars Miniland.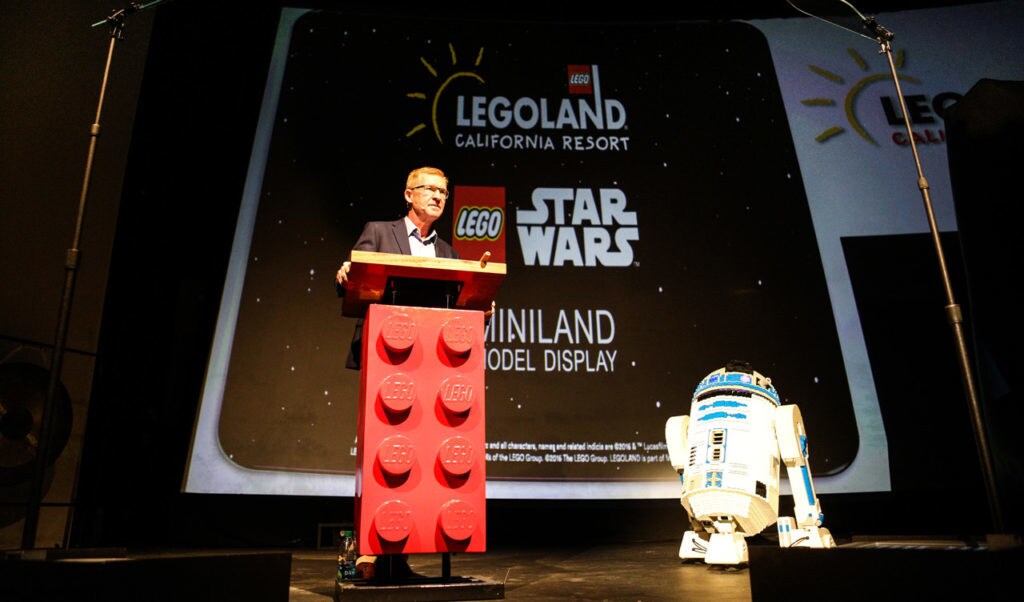 StarWars.com: The new display for The Force Awakens will showcase six different scenes from on and above the planet Jakku. Tell us about them and how did LEGOLAND decide which scenes to include?
Nik Ehm: Similar to how audiences were drawn to the movie, we wanted to draw in guests at LEGOLAND California to the new LEGO Star Wars: The Force Awakens Miniland Model Display. We decided to represent the first 30 minutes of The Force Awakens in LEGO form by including key character moments. The scenes guests will get to enjoy include: Kylo Ren's capture of Poe at planet Jakku; Rey's rescue of BB-8; Poe and Finn's escape from the Star Destroyer Finalizer; the wreck of Finn and Poe's TIE fighter; Rey, Finn, and BB-8's escape from Niima Outpost; and the escape from the starship graveyard. Lights, sound effects, and animation will further bring the scenes and characters to life. All these scenes will be on display in the center of LEGO Star Wars Miniland.
StarWars.com: What are some of the most challenging aspects of a diorama like this one?
Nik Ehm: LEGO Star Wars fans have a great eye for detail, so the design team has focused on making LEGO Star Wars: The Force Awakens Miniland Model Display as accurate as possible. The challenge when creating in Miniland model size is designing the models to be proportionally accurate to one another while including as much detail in the scene as possible. This is a challenge that Merlin's Magic Making team enjoys and takes pride in when constructing the LEGO models and scenes.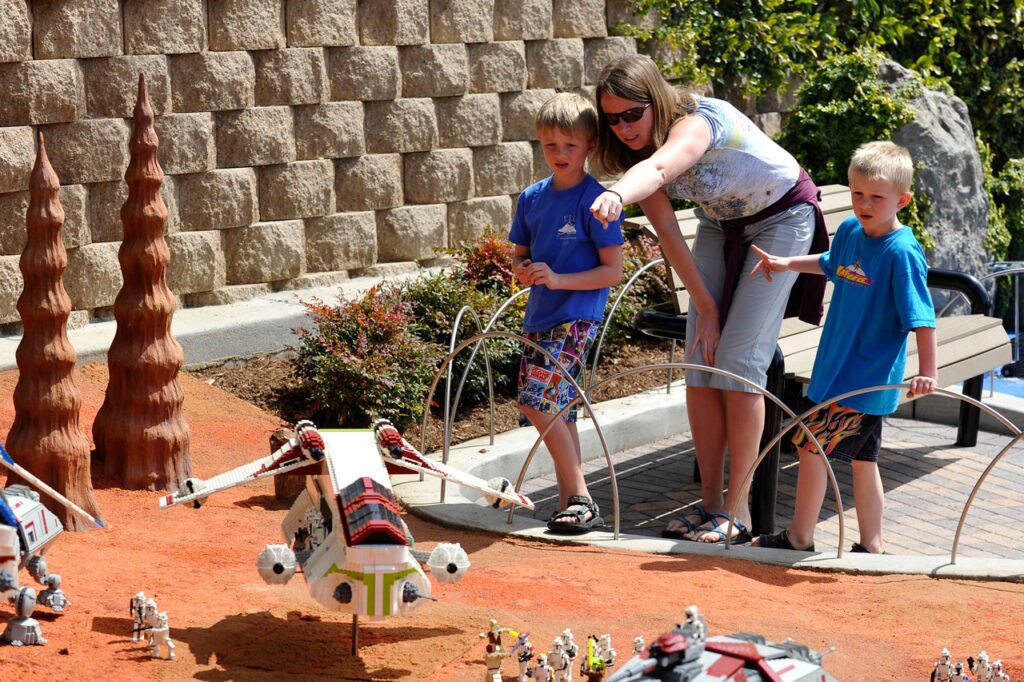 StarWars.com: How would you compare building a diorama for LEGOLAND, that is meant to last outdoors for years, and assembling a LEGO set at home?
Nik Ehm: We have just as much fun building LEGO models for LEGOLAND California Resort as we do building models at home, but we do use some additional tools when designing and building for the Park. The LEGO models for the Park are designed on a computer and don't come from an existing set. We use glue and for larger models steel to make the models more durable and secure for guests to enjoy. Animation and LED lights are also incorporated in the models to help bring a scene to life. The great similarity is we use the same LEGO brick when constructing models at home and building the more than 30,000 LEGO models found in the Park.
StarWars.com: Being a Master Model Designer seems like a dream job -- how did you get to where you are today?
Nik Ehm: LEGO was my favorite toy growing up, and it was a dream of mine to build for LEGOLAND California Resort. Six years ago an opportunity opened up to become a Master Model Builder and I jumped at the chance. I went through rigorous testing and interview process and successfully landed my dream job. I never stopped building since I was a kid and I studied art and animation in college, which has helped me in my position as a designer. Thanks to work, I've now visit LEGOLAND Parks throughout the world!
All photos courtesy of LEGOLAND California Resort.
James Floyd is a writer, photographer, and organizer of puzzle adventures. He's a bit tall for a Jawa. His current project is Wear Star Wars Every Day, a fundraising effort for a refugee aid organization. You can follow him on Twitter at @jamesjawa or check out his articles on Club Jade and Big Shiny Robot.