In celebration of Father's Day, StarWars.com talks with the creator of Darth Vader and Son and Jedi Academy about his fan-favorite series!
With the release of Darth Vader and Son in 2012, Jeffrey Brown's adorable depictions of the cuter side of the galaxy were introduced to moms and dads with a passion for Star Wars. For some parents, this passion included a desire to rope their children into the saga along with them, and Brown's books were the key. Now with several more books under his belt, including Vader's take on parenting daughters, friendship, and even bedtime stories, Brown has made us love these characters all over again through a different lens. StarWars.com got to chat with the illustrator about his influence on young fandom, his most difficult drawings, and his own father/son relationships. We also snagged an exclusive sneak peek at the two prints included with his upcoming box set, which collects Goodnight Darth Vader and Darth Vader and Friends, due out this September!
StarWars.com:
First, I want to ask you about how your books have been praised as a great way for "Geek Dads" to get their kids into Star Wars. When you started writing the books, did you have that intention or was it more something that just came about?
Jeffrey Brown: You know, it was really something more that came about. My original intent was I was just gonna write something to entertain people who were kinda in my shoes, which is having grown up with Star Wars and then, now having kids of my own, just mixing the parenting and the Star Wars with kind of some funny observations of life. But kids love Star Wars already, and kids would see the books, and one of the stories that I hear again and again is the parents get the books, and then the kids just take ownership of them. So really the fact that kids and their parents have been able to kind of reconnect or connect in a different way through the books was just kind of this extra happy accident.
StarWars.com: One thing I really love about the stories is they bring a silly, childlike side to Star Wars. Were you nervous or did you have any apprehensions when you first decided to take the saga in that direction? Maybe about how people would react to it?
Jeffrey Brown: I mean, not really. I think just because I'm coming from a place that I think is the same place that the people who are seeing the books are coming from, which is, you know, I'm a fan! ... I think the fact that, really, where the books were coming from was a very personal place and just kind of [have] a lot of heart in it. I think I was never really too worried. I didn't necessarily think that they would strike a chord with as wide an audience as they did. But I didn't think there would be necessarily any backlash because it didn't fit [continuity] so well.
StarWars.com: Right. I would say that these books go over great with all our fans! How did you decide what each character was going to be like in this new dynamic? Obviously we haven't seen Darth Vader interacting with Luke in this sort of way. Do you have a thought process that you go through before you start writing?
Jeffrey Brown: I think it's pretty organic and I think basically it's kind of taking the relationships the way they are in the movies, and then just tweaking them if those characters were kids and they were in the same situations. The basic dynamics, a lot of the time, are the same. But you know, because they're younger, Luke and Leia have a little bit more of the sibling rivalry, or the way Vader interacts with Luke, Luke's a lot younger so he has to treat him a little differently than he would if Luke was older, but the same kind of relationship is still there.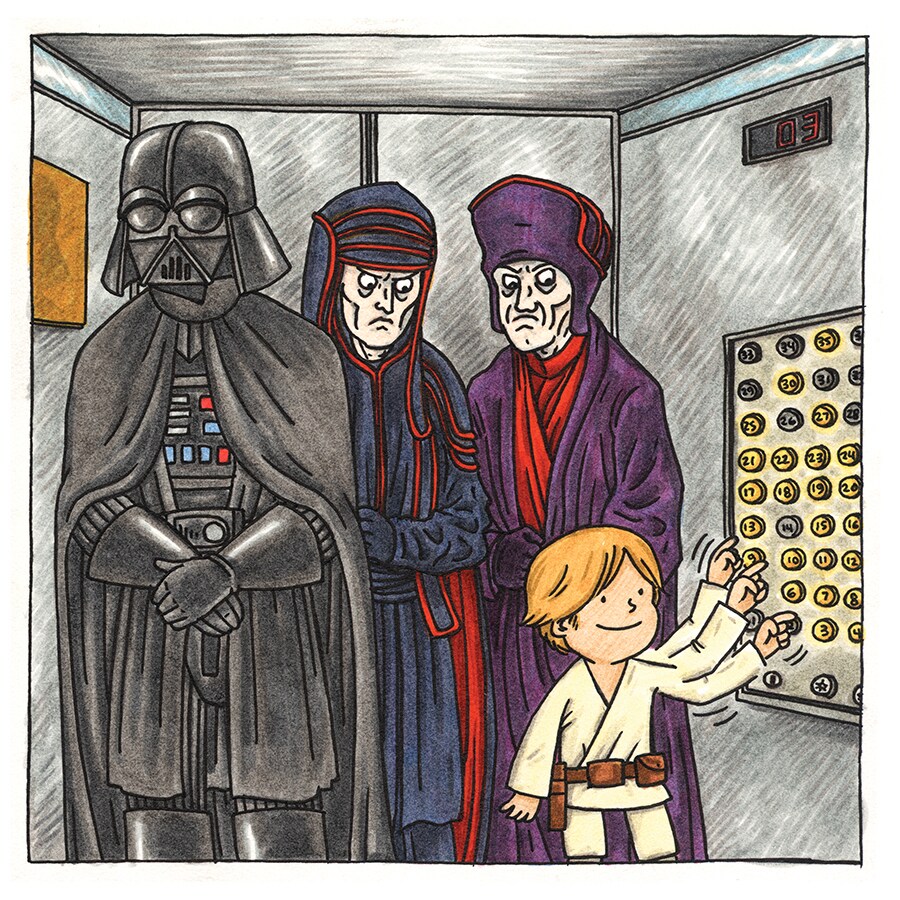 StarWars.com: One thing I really enjoy about the books is sometimes you include some of the more obscure characters. So when I was reading Goodnight Darth Vader and saw that even Jocasta Nu was getting ready for bed, I just loved that! How do you determine which characters you want to include -- do you try to have a mix of prequel and original trilogy characters or do you watch the films and just sort of pick out any cool lesser-known characters?
Jeffrey Brown: Yeah, there's a whole variety of ways. Sometimes it was just, "This is a character that would be fun to draw, so I'm just looking for a place to do them," and with Goodnight Darth Vader and Darth Vader and Friends, the books being a little different than the first two, is when I could really start to do the prequel characters. I managed to fit in the Jar Jar joke in the first book, but because I was dealing with such a focus on Vader and Luke and then Vader and Leia, I couldn't really tackle some of the other earlier characters. Being able to do the nexxu and reek and those creatures and doing battle droids, as difficult being to draw, they're still fun and I wanted to find a place for them. And so sometimes it was just knowing that I wanted to work with a certain character, certain scene, and then sometimes I had a certain idea of an aspect of either friendship, or parenthood that I wanted to tackle and then just thinking about what scene from Star Wars could I draw a parallel to, or which character would be fun to put in that situation.
StarWars.com: Do you have a specific creature that might have been more difficult to draw but you really wanted to get them in there?
Jeffrey Brown: I'm trying to think. You know, the hardest thing, actually, was not a creature but a vehicle. The AT-AT was really hard to draw because, on the one hand, I wanted to fit the whole AT-AT in the image, and so I had this idea in Vader's Little Princess where Vader is, of course, taking Leia to school in the AT-AT. But then to have it fit at scale and have it not look like it's like, a tiny, baby AT-AT, but then also still have the characters drawn with enough detail, was pretty difficult. But overall I think even when it is difficult it's hard to remember because, you know, it's like still I'm just drawing Star Wars! [Laughs] In the end, it's pretty much just fun.
StarWars.com: Yeah, it's just fun! I'm gonna switch gears a little bit in the spirit of Father's Day. Was your own childhood or your relationship with your father an inspiration for any of the stories specifically?
Jeffrey Brown: I don't know that there was any with me and my dad specifically other than, you know, one of the things my dad always did with me growing up was he would sit there and draw with me. Especially, we'd go to restaurants, and he would draw on the place mats and I would draw on the place mats, so, of course, I have Vader drawing with Luke, and that's something I do with my kids, too. A lot of it is just drawn from my experiences with my older son Oscar, who when I first started writing the books was four, and was kinda the inspiration for tackling how awkward Luke and Vader would be if they had these everyday moments, and maybe [I would] make Luke four. In fact the way I draw little Luke is basically how I draw my son as a cartoon character, except he has the more '70s feathered haircut.
StarWars.com: So that was my next question about your own sons. Have the books helped them connect with the saga more, or did they always kind of have that inside them from you being a fan?
Jeffrey Brown: I think they had it inside of them just from absorbing it from the world around them! [Laughs] I mean, before they knew anything about Star Wars they both had Star Wars clothes, and would see Star Wars stuff, and certainly they both love Star Wars LEGOs. At this point, they've seen just about all of the movies to some extent. Neither one has seen all of Revenge of the Sith, but they've both watched most of the movies and now both read the books, so I think they get a little bit more out of them than they would. But it's almost like, I think they would have been really into Star Wars even if I hadn't done the books or even if I wasn't as big a fan.
StarWars.com: Are any of the stories plucked right specifically from a moment you had with your sons, or are they just sort of inspired?
Jeffrey Brown: There are bits and pieces, although they do end up being these sort of universal moments like "the potty dance." [Laughs] You know, like, "Do you need to go to the bathroom?" I think that's a pretty universal thing that I'm sure applies to me as a kid with my dad, too. So yeah, and then some of them, too, like when writing Vader's Little Princess, 'cause I don't have a daughter and I was never a daughter myself, a lot of that was just listening to stories from friends. So in Vader's Little Princess there's a part where Leia interrupts Vader to say she has something really important to tell him, and it's that she just updated her profile picture. That was specifically from a friend of mine.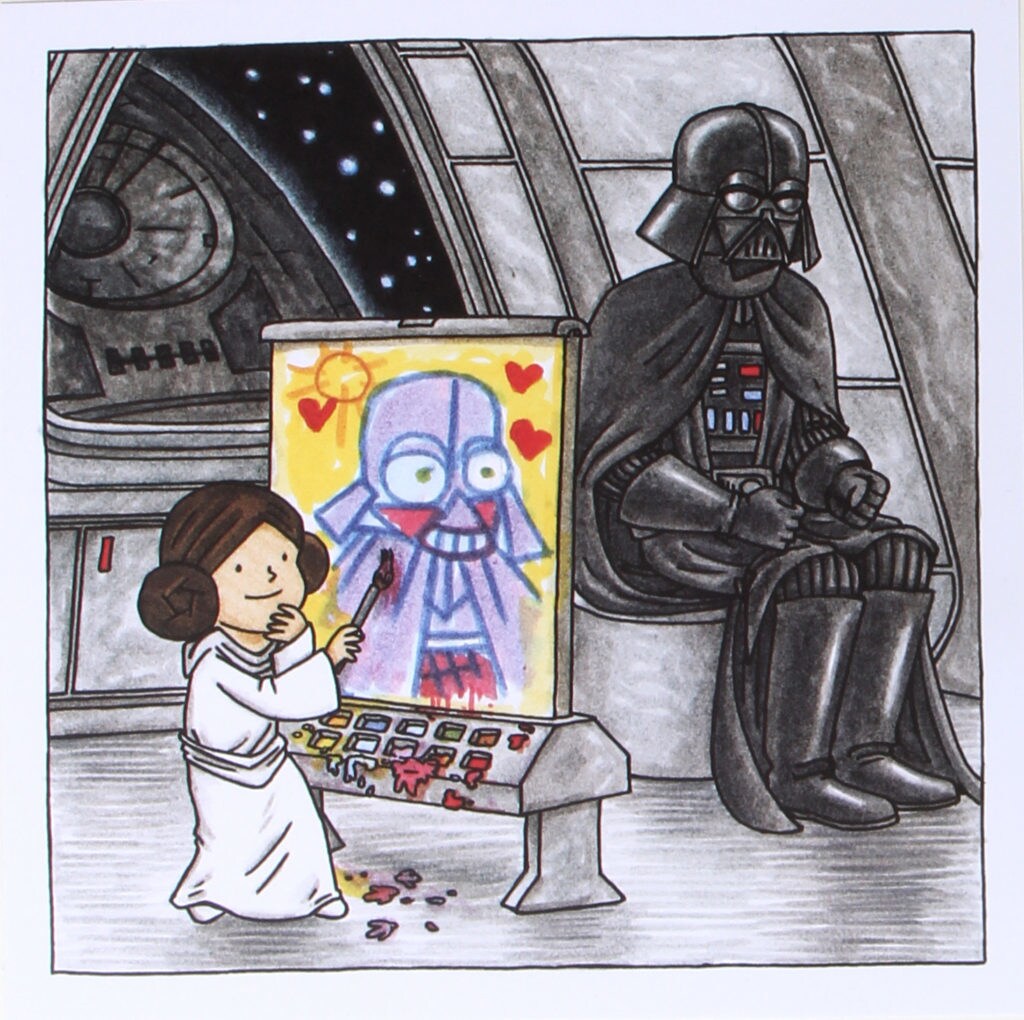 StarWars.com: Oh, that's great!
Jeffrey Brown: So you know, I try to, even when they are something more universal, I still want it to be something as personal and real as possible.
StarWars.com: Is there anything that your sons gravitate toward in the Star Wars universe that you're surprised by or interested by? What do they like specifically?
Jeffrey Brown: They like kind of what I expect, I guess. They like R2-D2, they both like clone troopers and stormtroopers. I was a little surprised when my son said that Jar Jar was really funny [Laughs]. He really liked Jar Jar, but I think that was just a phase?
StarWars.com: Right, he's out of that now? [Laughs]
Jeffrey Brown: Although I should also say, Jar Jar, I really like to draw! [Laughs] So, I don't know what that means about me!
StarWars.com: He's just goofy looking, I think. He's great. So if the books were to go in the direction of The Force Awakens, what do you think a "Darth Vader and Grandson" book would look like with Vader and Kylo? Would that be something you'd be interested in?
Jeffrey Brown: Yeah, it's funny because after doing the two parenting books and the Goodnight book and the fourth book kinda became about friendship, but before that book became about friendship, one of the ideas I was kinda considering before we knew what the new movie would be like or about or anything, I was thinking it'd be fun to do Han and Leia as grandparents, and showing them all as elderly. That would be a lot of fun, but I think it's still early. I might need to wait for Episode VIII to really have a handle on how that would work.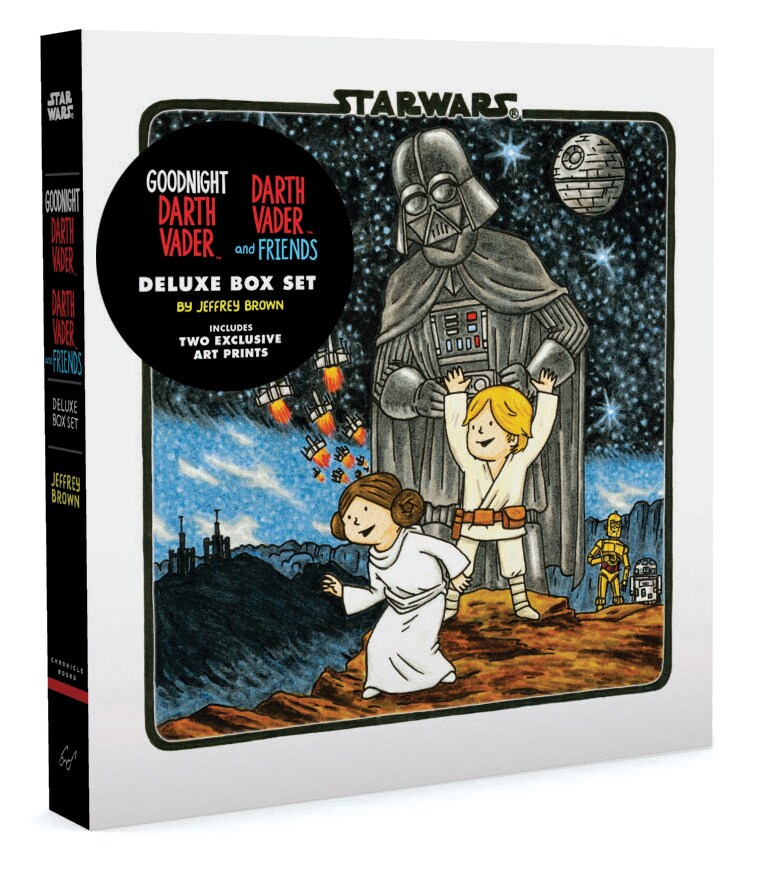 StarWars.com: Yeah, that would be amazing! So the new box set comes out in September, and that's Goodnight Darth Vader and Darth Vader and Friends, and this will feature exclusive prints, right?
Jeffrey Brown: Yeah. I did two new prints for this box set in addition to the new artwork on the box itself. The same that I did with the first box set of two books. One thing that people always ask about is, "Are there different prints available?" So, not a lot of prints, but at least a couple you can have now to hang up.
These [prints] were both new. It basically was the same process that I did with the books themselves, so my editor J.W. Rinzler who, if he did nothing but those huge Making of... books that are so brilliant, that would be enough. But he was just a huge help in guiding these books. So basically I just sketched out two or three times as many ideas as I would actually need for a book. And then we, he and I and my editor at Chronicle, Steve Mockus, we would all go through the ideas and kind of make notes and pick out our favorites, pick out which ones we thought didn't work, suggestions on how they can be made better, or maybe combining different parts. With the box sets, sometimes I picked through ideas that I had liked that didn't make it into the books before and kind of revisited them and tweaked them and then tried to come up with some new stuff. I think we had like eight to ten ideas, or maybe even a dozen different ideas, to choose from for the two prints, and kind of did our little round table of what we thought would be best and what would make the most fun image to use.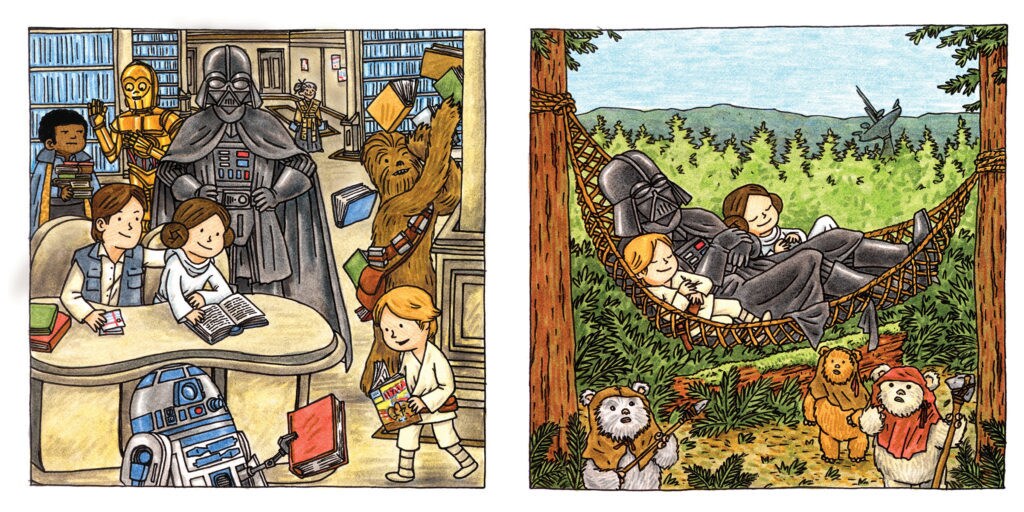 StarWars.com: Very cool. Can you talk a little bit about what you're working on now?
Jeffrey Brown: I've been taking a break from at least the full books of Star Wars. I've been doing bits and pieces here and there, and I've been working on something in the totally opposite direction, which is a middle-grade series called Lucy & Andy Neanderthal, which is about, basically, neanderthal cavemen living 40,000 years ago. A fictional story but heavily researched, with a lot of factual information underneath the narrative. Book one should come out at the end of August and I'm working on book two now.
StarWars.com: Awesome!
Jeffrey Brown: Yeah, so it's been fun to kind of change pace and be able to go watch The Force Awakens without having to think about how I'm going to use it all in my books.
StarWars.com: Right! Well, cool, I'm definitely looking forward to that. Thank you so much for talking with me today, Have a happy Father's Day!
Jeffrey Brown: Thanks!
Dana Jennings is Lucasfilm's senior content coordinator for StarWars.com. You may remember her from such polls and quizzes as, "Who Wore it Best?" and "Which Star Wars Character Should You Invite for the Holidays?" When not acting as chairman of the Nien Nunb Appreciation Society, she can be found working hard to make sure StarWars.com stays fully operational or dressing up as Crocker the cantina alien. Follow her on Instagram for all these things and more!