Costume designers David Crossman and Glyn Dillon discuss the eclectic influences that helped them dress the galaxy of Solo: A Star Wars Story.
Look closely at Lando Calrissian's neck scarf in Solo: A Star Wars Story, and you may see the familiar lights of a Death Star corridor.
The pattern, pulled from an iconic scene in A New Hope, is just one of many eclectic and inspired creations to come from the costume designing team of David Crossman and Glyn Dillon.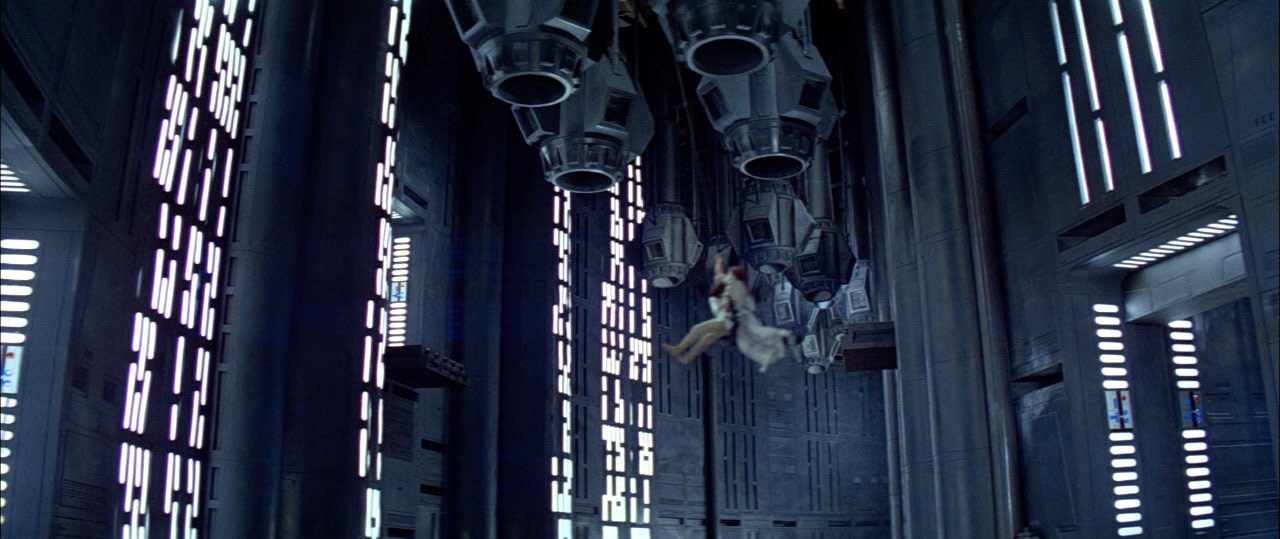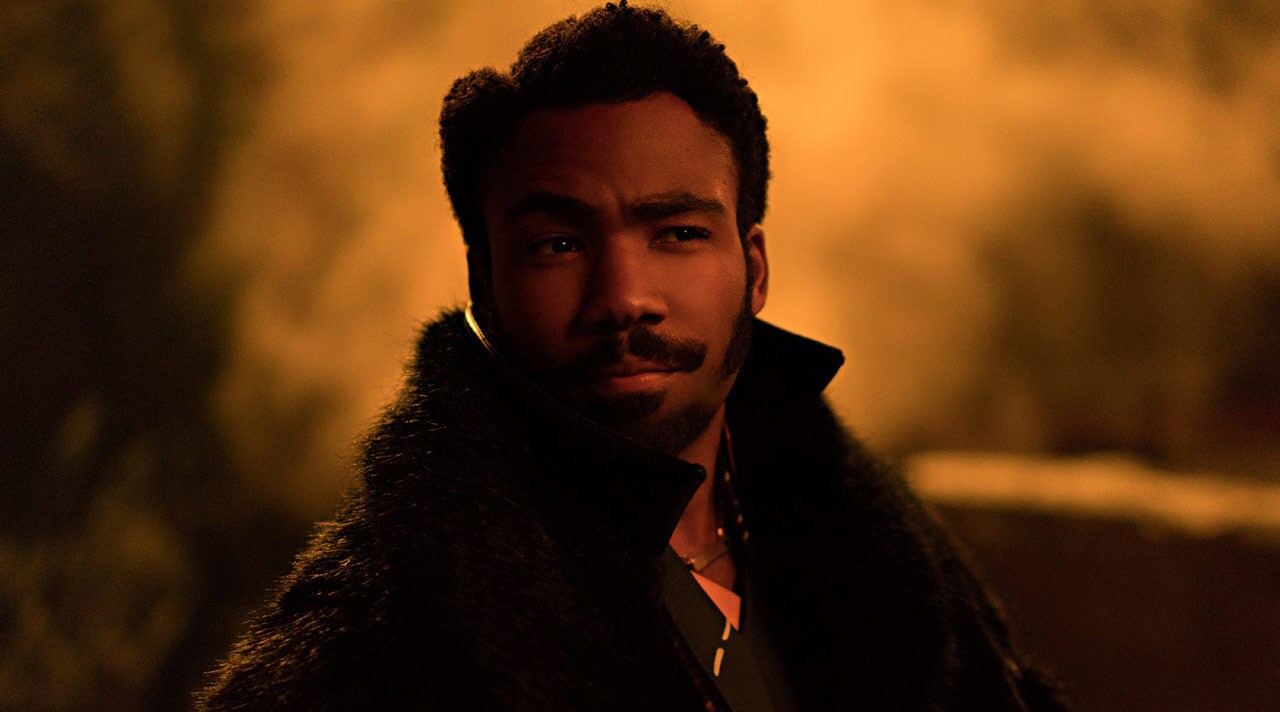 The pair first joined the crew of costume designers on The Force Awakens, where being asked to conceptualize a new era of stormtroopers and mask Darth Vader's grandson was a dream come to life for the longtime fans. They've worked on every new Star Wars film since, including heading up clothing the characters in Solo: A Star Wars Story, an ambitious undertaking that called for more individual costumes than any other film in the galactic franchise before it, the designers say.
To create the gritty world of Han Solo's youth, and the inhabitants of the seedy underworld of smugglers and thieves, Dillon and Crossman pulled inspiration from Ralph McQuarrie's original artwork, the original trilogy, and real-world inspirations as varied as the Vietnam conflict and musicians like Jimi Hendrix, Blondie, and the Clash.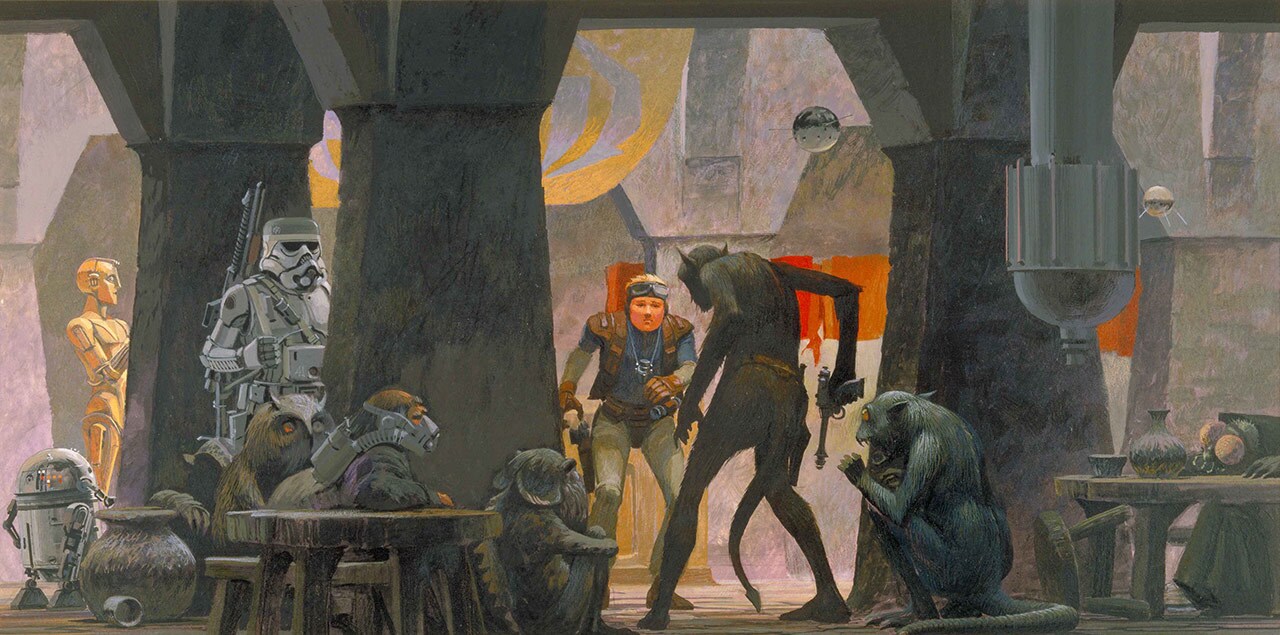 'A very happy day'
Dillon first met Crossman when he came in for an interview to work on the sequel trilogy. He'd only worked on a few films before that, "and then Glyn came in and he had this brilliant picture, which I loved," Crossman said. He was hired.
"It was a very happy day for me because I've been a big Star Wars fan…when I saw it, I was six years old and it blew my little mind," Dillon says. "It was a dream job to work on Star Wars films. Up until that point, and kids these days can't understand because everything has become derivative of Star Wars, but back then in a science fiction film, nothing looked used, everything looked glossy. So when you saw the Millennium Falcon and it looked basically like a used tractor and, you know, it kind of felt so real, it felt part of the real world. And then stormtroopers, they looked like nothing you'd ever seen before. So everything about it was new and innovative."
"It's hard to recapture the feeling of seeing Star Wars for the first time," adds Crossman, who was around the same age when he first saw the film in the theater. "I can remember it clearly and what a magical thing it was. It was mind blowing."
By the time the pair was called in to oversee costuming Solo, they'd already designed Rogue One: A Star Wars Story. But the latest film presented new challenges and several costume changes to account for different locales, inhabitants, and scenes that were years apart in-universe.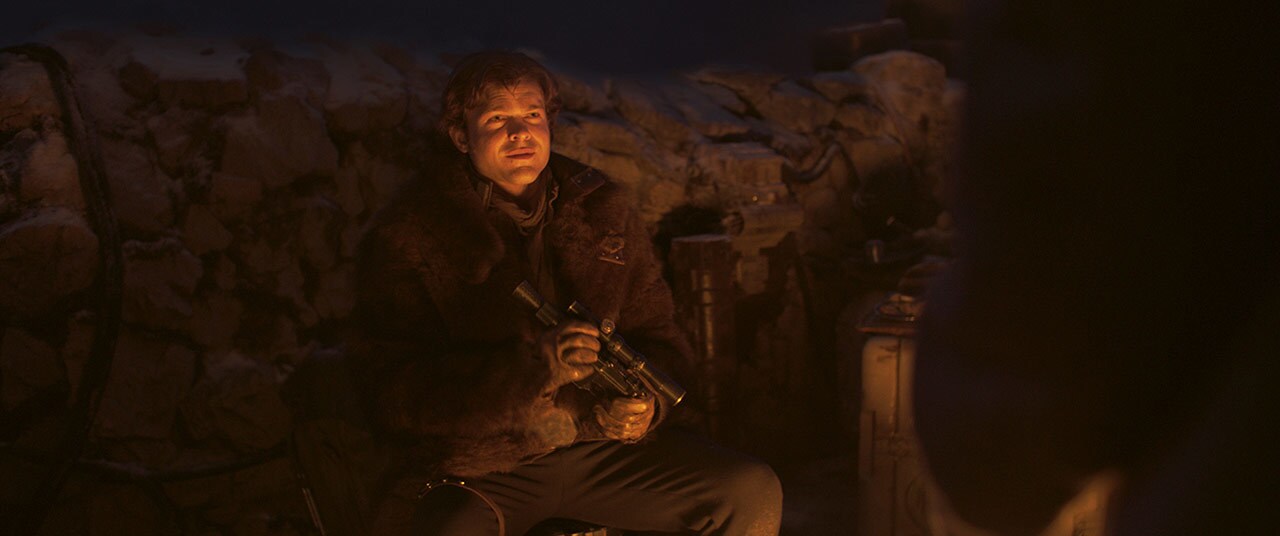 "There's a lot of variety because the story demands it," Dillon says. "Han has what, sort of, six changes of costume and the characters all go through their costume stories. There's a lot more variety."
"There's more costumes on this film than any other Star Wars film," Crossman added. "There's so many different worlds in this film."
'Capes, capes, capes'
And so many different capes.
Designing Lando Calrissian's smooth looks took the pair on a musical tour of the 1970s. "It wasn't quite just capes, capes, capes," Crossman says.
"We were looking at a lot of our favorite rock stars [like] Hendrix, Marvin Gaye. Glyn had a picture of Marvin Gaye with this leather collar with the detail, which we looked at for Lando. And I think the cape thing just kind of grew a bit because even in the original film, Lando, fair enough, he's always wearing a cape but …we're doing this kind of young, aspirant Lando that's kind of using all his money to buy clothes and project himself."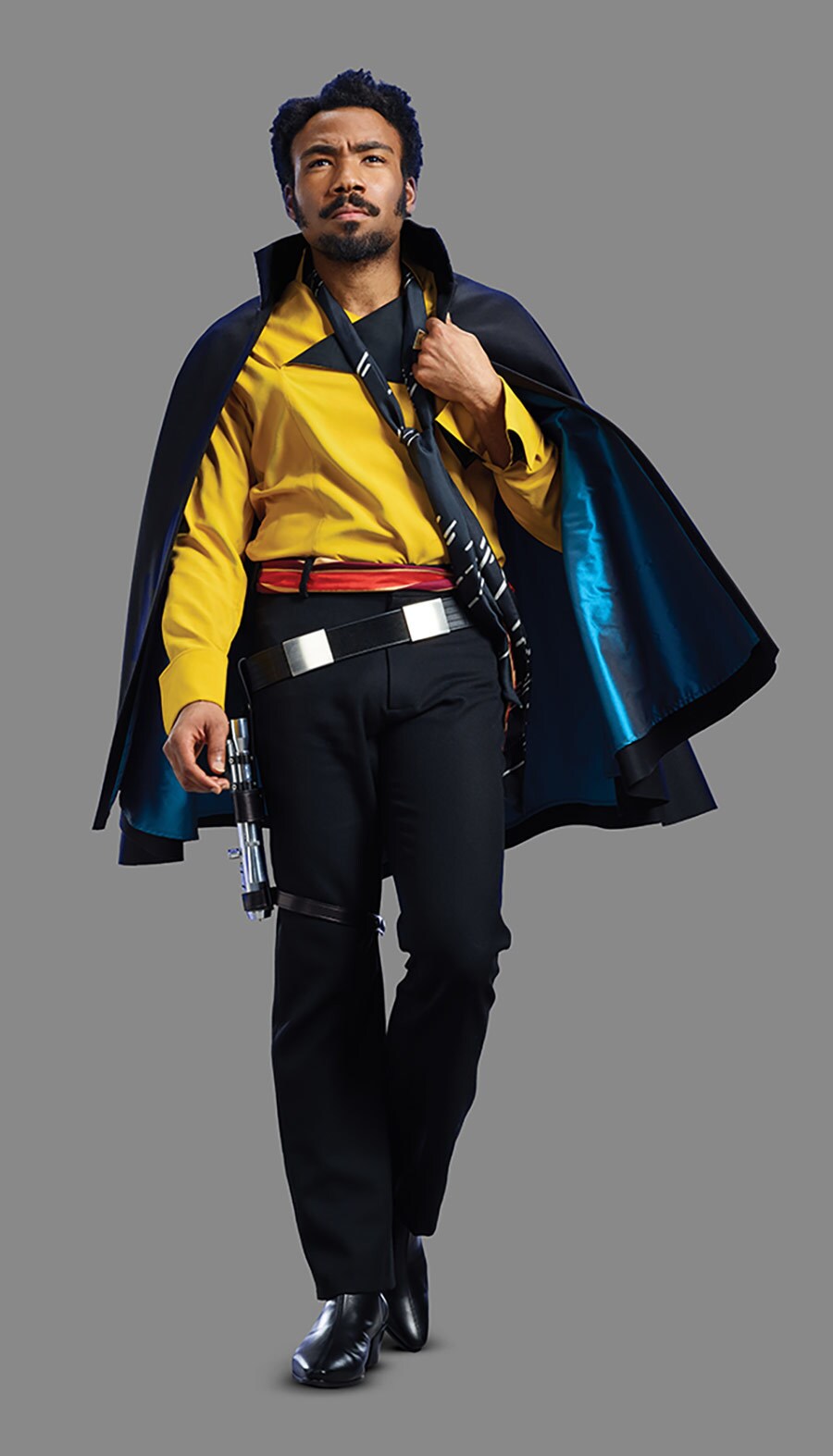 "He's dressing for the job he wants, not the job he has," adds Dillon, listing Prince and James Brown among his other inspirations.
Real-life musicians also informed designs for Han Solo and Qi'ra.
"We definitely looked at music for not only Lando, but also the young Han Solo, as well," Crossman says. "Looking at the Clash and their clothes with the cutoff sleeves and that kind of thing. That was a way of still keeping the vest look for Solo, but giving it a younger feel."
"With Qi'ra [on Corellia], we wanted that kind of '80s girlfriend wearing a boyfriend's big jacket," adds Dillon. "We looked a lot at Blondie and new wave music influences for her."
And, of course, you can't costume a gunslinger without borrowing the aesthetic of a classic Western. "We looked at traditional Westerns for some of the sequences," Crossman says. "Kind of McCabe and Mrs. Miller riding into town."
'Quite proud'
The fans have already embraced some of the new designs, including the cosplayers who lined the red carpet for the film's world premiere earlier this month in Los Angeles, where the pair gleefully posed with a man dressed as their droid creation L3-37. "I think it's incredible work," Dillon says of the build. "And it's very complimentary. When Rogue One came out and we were at Star Wars Celebration, there was a little boy dressed as Krennic. You just feel pride. In England we call it fancy dress, and my dad always put me in fancy dress competitions. From an early age, I was dressed up as a sugar cube or something. I especially like the ones where they make it out of cardboard. They haven't bought it.  I mean, that's amazing."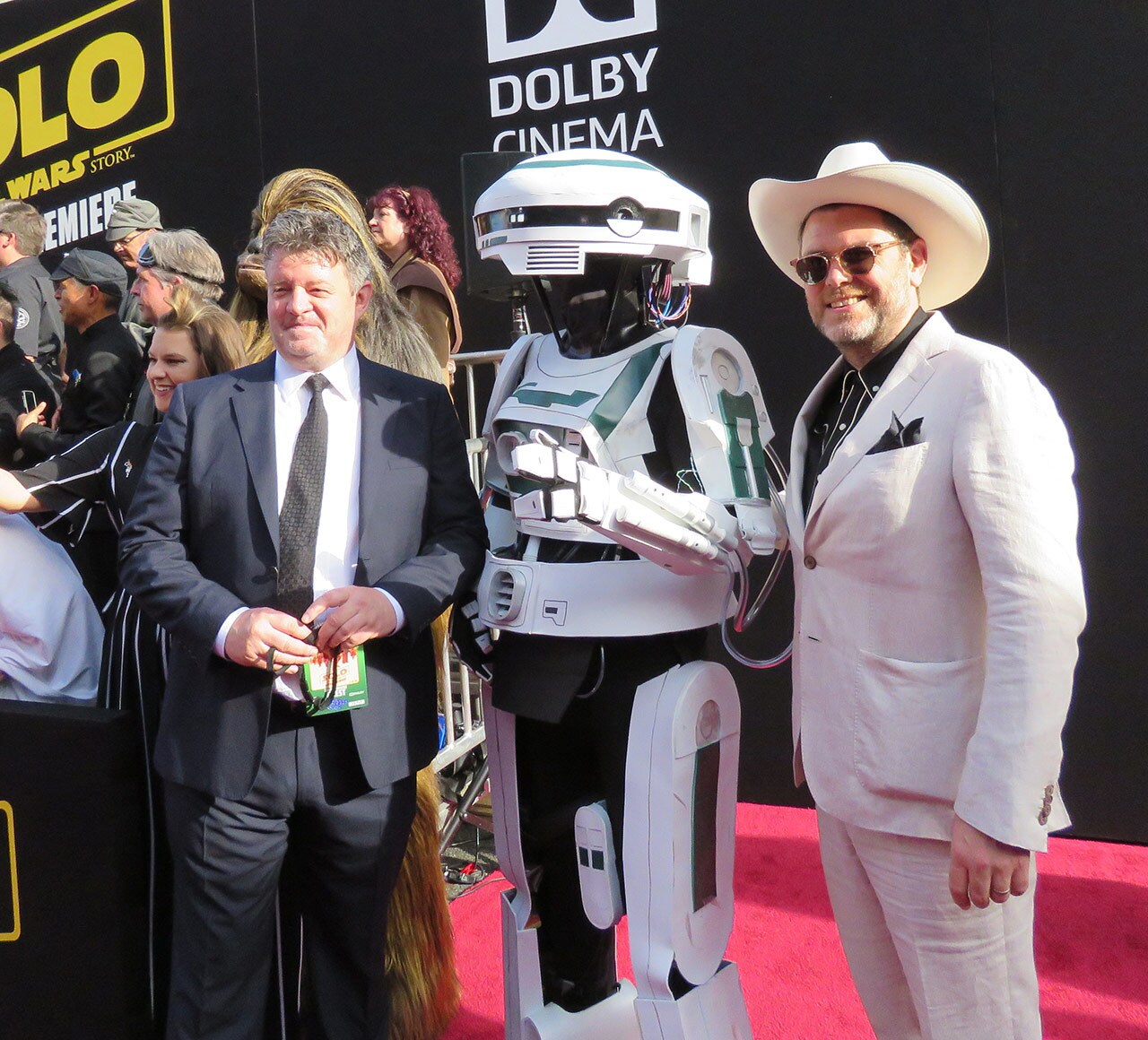 While the creature shop often oversees the aliens and oddities populating the galaxy, humanoid droids are still mostly costume creations.
"I can't wait to see L3[-37] properly because she is mostly costume with Phoebe [Waller-Bridge] painted out," Dillon says. "She wore the head, which you see onscreen, she wore all of that stuff. Obviously the bits where her body have been painted out, it's a nice visual effect. A lot was [motion capture]. Phoebe was actually in that costume."
"I really like what we've done for Han Solo. I'm quite proud of all the looks," Crossman says, unable to choose a favorite among the costume closet. "We love his teen look. His kind of classic hero look with that cropped brown suede jacket, which I think is very nice, I mean hopefully it's something new that will fit into an existing world and it feels very Han Solo but also feels very fresh. We enjoyed his trench look. All our main characters we loved doing. Lando…"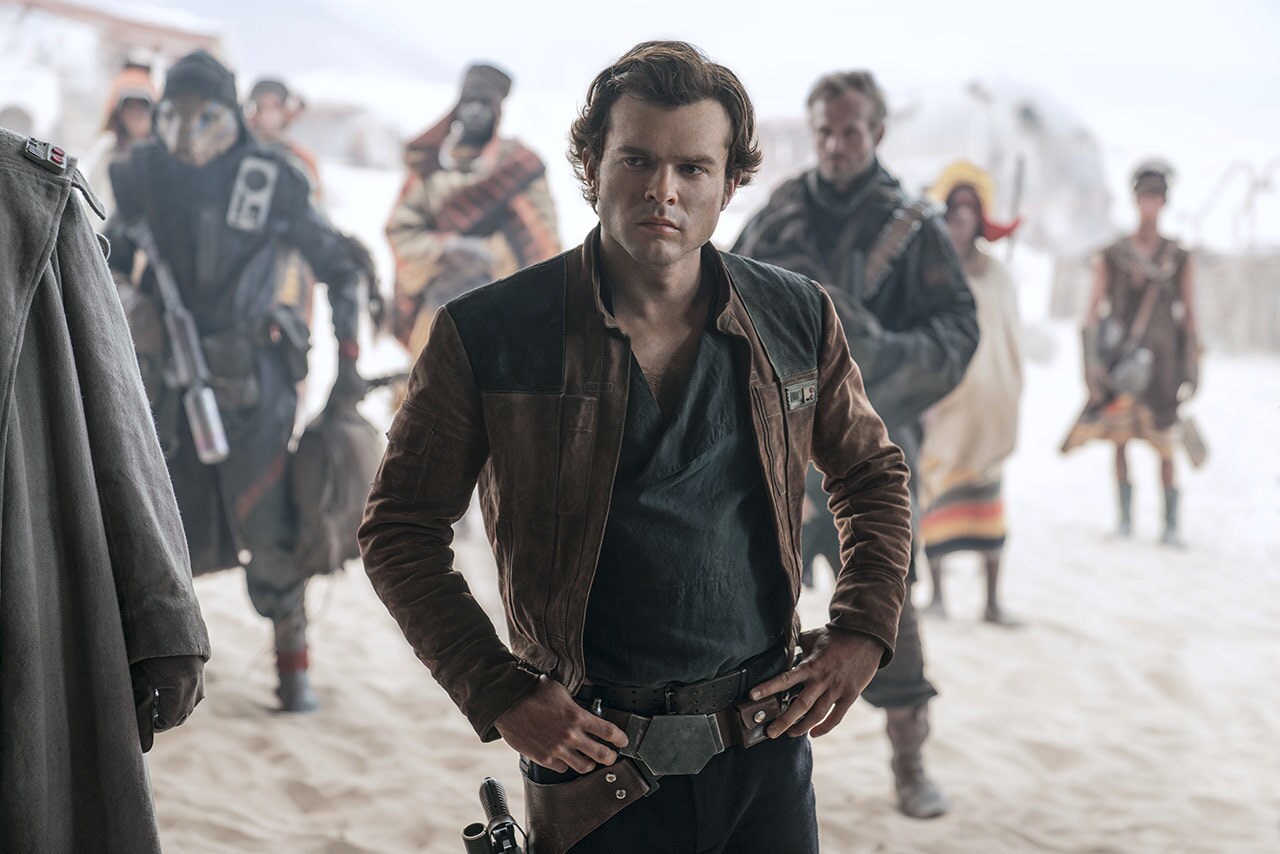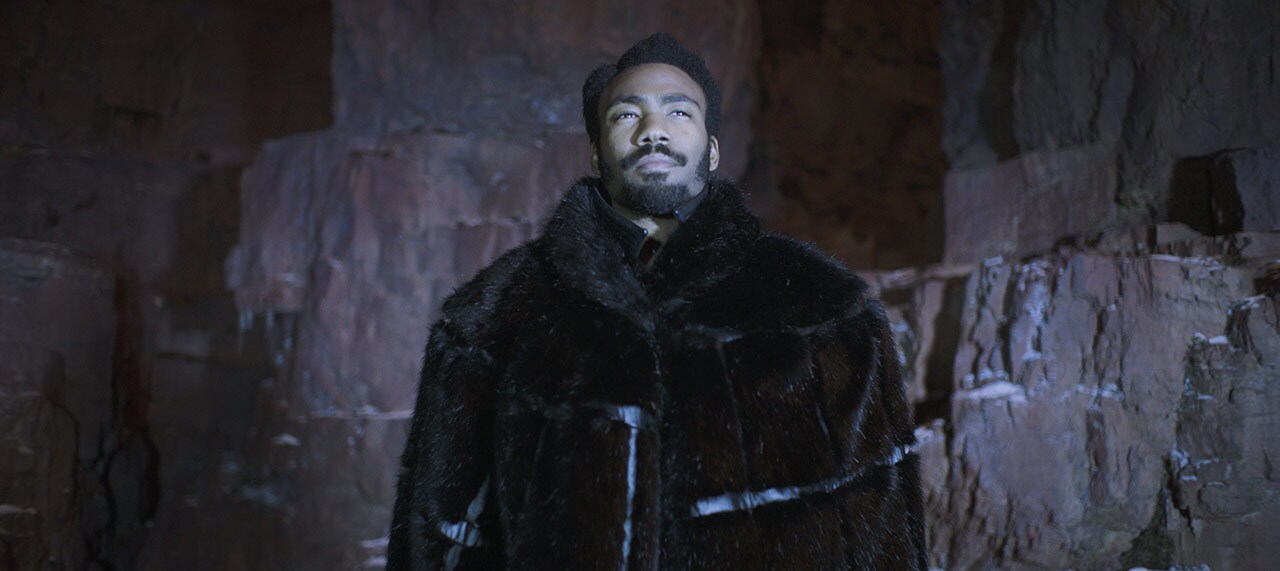 "Lando was a lot of fun," Dillon says.
"It was always such a range. I felt very proud. It's like asking us to choose one of our favorite children. You can't possibly," Crossman says.
Well, maybe Dillon can. For him, it has to be L3-37. "It was a tough one to nail down for a long time, because in the early writing process, we hadn't quite nailed down where she came from. So once it was decided that she was a self-made woman, literally, where she'd made herself from the parts of other droids, it was such a nice idea that she'd built herself up from being an astromech droid into being walking, talking — she'd given herself her voice rather than beeps and boops. And that's a nice idea but that didn't come until quite late in the process. So it was quite a rush. And then it's quite nice when you've got to really kind of hit the ground running and get it all done quickly."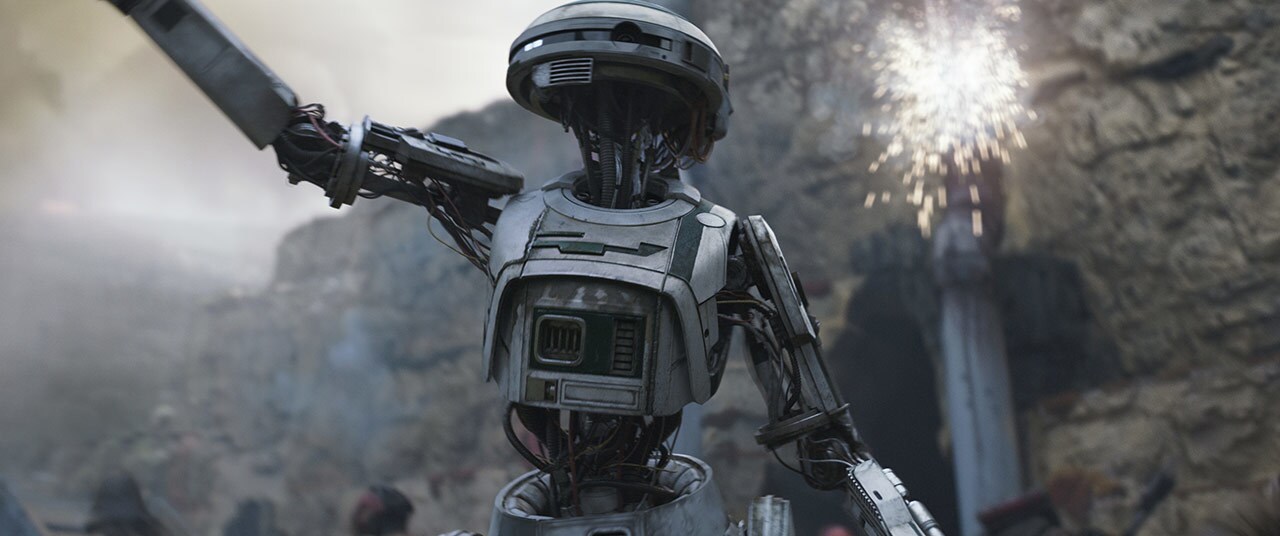 Typically, costume designs go through a painstakingly detailed process to find fabrics, design motifs, sew costumes and then weather the designs to just the right amount of use. And because it's Star Wars, there's no detail too small.
"It's so scrutinized," Crossman says. "I mean, in most films there's a broad rule you always take care of [details] because, whatever you don't want to see, you're going to end up seeing and whatever you do want to see, you're not going to see much of. You have to assume that you're going to see everything, so if you have the time and the budget then you should do your best to sort of make it as detailed as possible. With Lando, you're hoping the cape's going to move when he walks around, you're going to get flashes of that blue against the black cape. It's all worth it, even if you just see things once. You know there will be somebody, somewhere who will either copy it, or draw it. One of the biggest things about Star Wars, because people love dressing up as Star Wars characters, whenever we've got the time, we always try to go as detailed as we can."
The duo had previously helmed costume design for Rogue One: A Star Wars Story, which also made some nods to the Vietnam conflict aesthetic to create the gritty world of the early rebellion against the Empire.
"[Director] Gareth [Edwards] wanted this kind of Vietnam War vibe and we were able to apply that to a kind of rebel look and mix in Vietnam looks," Crossman says, calling his time with Star Wars "a brilliant five years."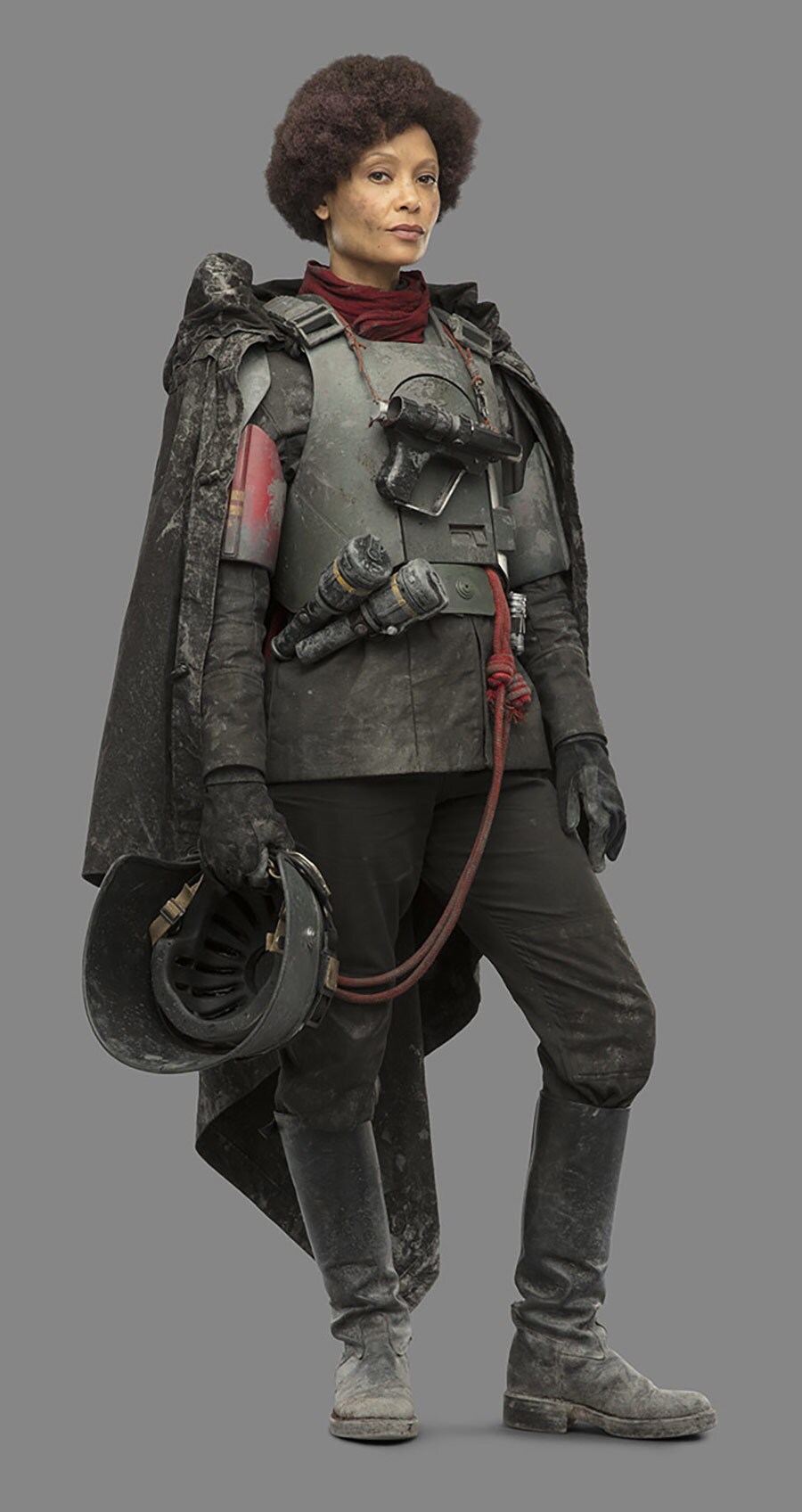 That influence can be felt in the muddy trench scene in Solo, where Val's utilitarian ropes and carabiners, and the pistol hanging around her neck with a piece of old string, were inspired by Vietcong fighters.
"What we like to see in the cinema is that kind of realism rather than things that look like costumes," Dillon adds.
"Which is what we're always striving for, I think," says Crossman. "And even things like the stormtroopers we re-detailed and we tried to make them kind of more HD-friendly for a modern generation. Because the film was set [just] before A New Hope, you were really there trying to recreate that and add to it as well. Literally, we were asked to go back and play with our toys."
But in designing Solo, an earlier timeline, new planets, and strikingly different scenarios gave way to a broader scope of costume designs.
"Rogue One was very centered on the rebel base and the Death Star," Crossman says. "Solo takes you all over the place, it goes all over the universe so it just gives you lots of scope and lots of different situations."
Still, creators behind the new Star Wars films always refer back to the archives and the original masters, like Ralph McQuarrie's concepts, to keep the new creations feeling authentic.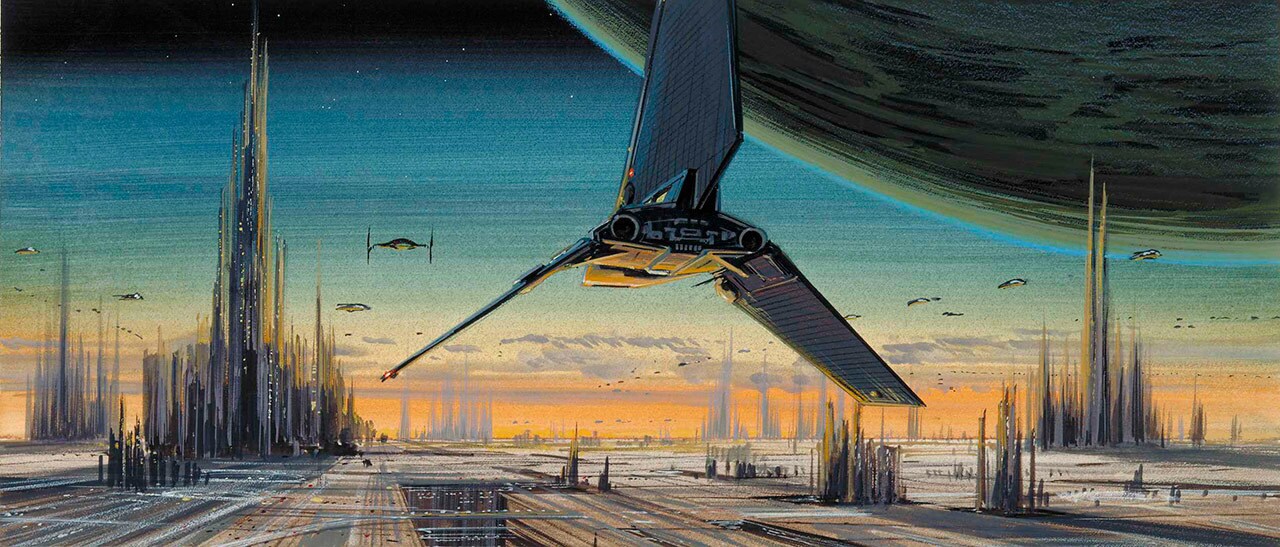 "Another interesting thing about Lando, in terms of detail, is his second outfit, which is a mostly white outfit and the shirt he's wearing has a pattern on it," says Dillon. "In most Star Wars things, you don't think of there being patterns, but because we wanted to do this kind of Hawaiian shirt look, I got an image from the Ralph McQuarrie book and what's on the shirt is one of his ships that looks a bit like a bird. I kind of repeated that with a sunset and a little bit of the ocean underneath … so that it's imbued with the Star Wars-ness of Ralph McQuarrie."
"And the scarf that Lando wears, the print of that is from a still of Star Wars in A New Hope, when Leia and Luke are going to swing across the chasm in the Death Star," Dillon adds. "I kind of turned up the contrast all the way up to just the black and the white of the light and that's the pattern that's on the scarf. If you want to get a bit meta, he's wearing the Death Star lights on his scarf."
Solo: A Star Wars Story arrives May 25, 2018.
Kristin Baver is a writer and all-around sci-fi nerd who always has just one more question in an inexhaustible list of curiosities. Sometimes she blurts out "It's a trap!" even when it's not. Do you know a fan who's most impressive? Hop on Twitter and tell @KristinBaver all about them!