Designer Barry Bradfield talks to StarWars.com about the upcoming release celebrating the fan-favorite Mandalorian.
Thanks to The Mandalorian, last year a larger audience learned what Star Wars: The Clone Wars fans have known for nearly a decade: Bo-Katan Kryze is just about the coolest there is. A Mandalorian who evolved from Death Watch loyalist to freedom fighter, Kryze battled to save her homeworld in the Clone Wars and has stood against both Maul and Imperial remnants, emerging as a warrior and leader who ranks among the best (and most dangerous) of the galaxy far, far away. And there's good news for the Kryze faithful: Diamond Select Toys imprint Gentle Giant Ltd. is celebrating the Mandalorian legend as seen in The Clone Wars with the Bo-Katan Premier Collection 1/7 Scale Statue, revealed here exclusively on StarWars.com. Limited to 3,000 pieces and arriving this fall, the statue measures roughly 11 inches tall and comes with interchangeable parts, allowing Bo-Katan to be displayed with or without helmet, and with blaster or helmet in hand; the base is brilliantly formed from smoke and dust kicked up from her activated jetpack, creating the illusion of flight. The face sculpt, with wrinkled brow, shows the character's sense of determination, while the armor is filled with scratches and battle damage that convey all she's been through. It's highly-detailed and gorgeous take on the character, and StarWars.com caught up with the designer behind the piece, Barry Bradfield, to find out how this striking tribute -- Gentle Giant Ltd.'s first-ever Bo-Katan statue -- came to be.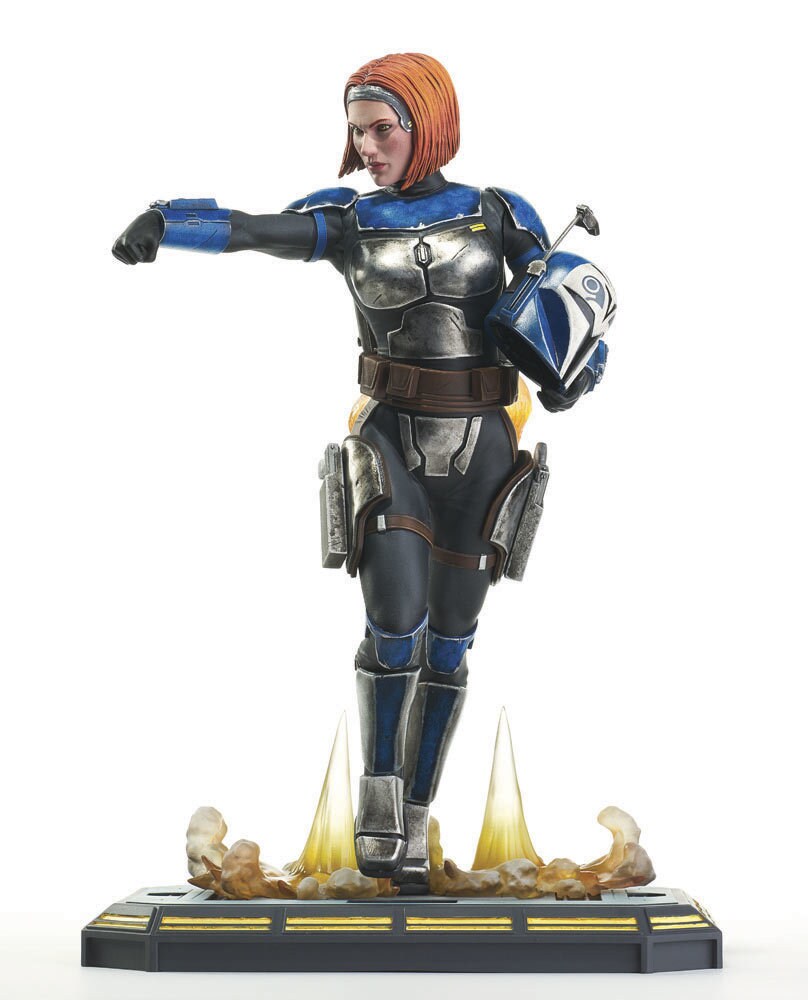 StarWars.com: Your take on Bo-Katan is really quite stunning on a number of levels, from detail to attitude. What were your goals with bringing the character to life?
Barry Bradfield: Thank you! The initial concept was to take the animated Bo-Katan and imagine what she would look like if the final season of The Clone Wars was filmed in live-action. We've used this concept on some statues and busts before, such as the recent Ahsoka with Morai statue that I designed, as well.
As with any of the Star Wars pieces I work on, I wanted to capture her personality in a dynamic piece that would look great on your shelf alone or would be unique amongst your other Star Wars statues. The details of her armor all had to be there, of course, but if the personality wasn't faithful to how she's portrayed on screen, [fans] would know that something's not right. The main goal was to make sure all aspects felt true to Bo-Katan.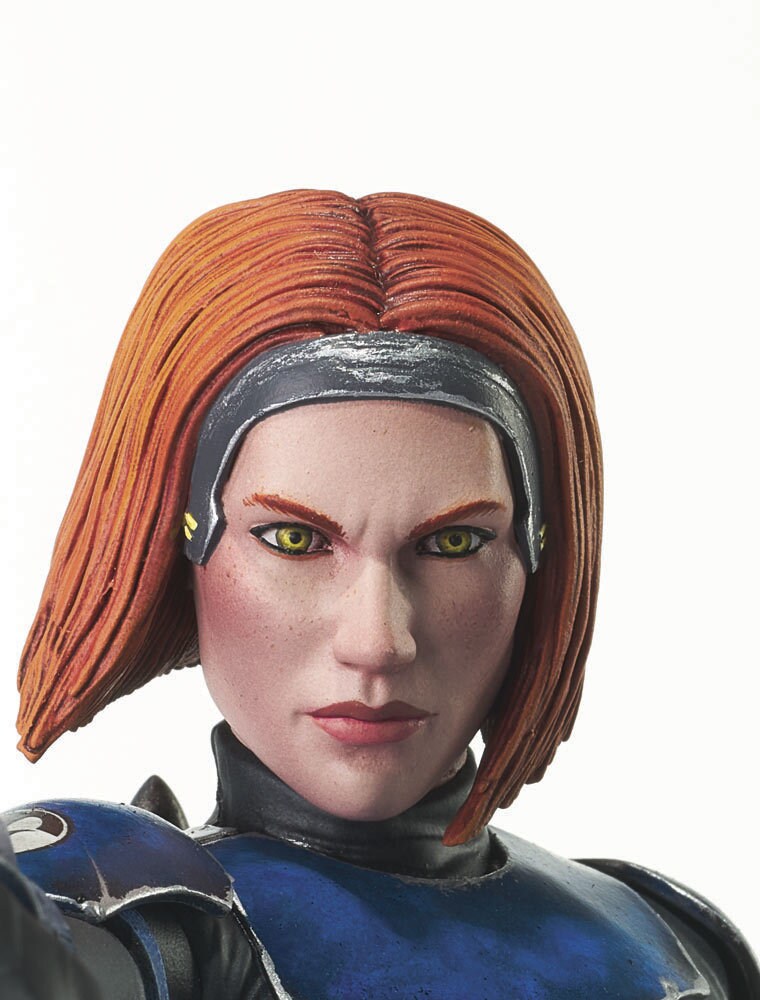 StarWars.com: How did you decide on the pose, which really conveys her no-nonsense personality?
Barry Bradfield: I first watched all her scenes from The Clone Wars again. I've seen those episodes several times before, but once I know I'm designing a statue of a certain character, I find it's a good idea to refamiliarize myself with them. On casual viewings, I might not necessarily be focusing on specific movements or behavior when there [are] other things happening on the screen at the same time. I like to make sure that my memory of the character is faithful to how they behaved in media, whether it be their overall movement or little details like how they held their blaster.
After that, I sketched out some very rough ideas just to see what might work. I then narrowed those down to the best ones I wanted to explore and fleshed them out a bit. At that stage, I posed an action figure to match those sketches to make sure the poses were working. Sometimes a single drawing can look quite nice, but in the end the statue is not going to be a splash-page from a comic book. The pose needs to be interesting from all angles and should lend itself to being turned around instead of staying locked into that one specific "hero shot." It's important to me to not dictate what the "front" of the statue is. That's for the viewer to decide.
Once I have my ideas, I put them forward to product managers Dev Gilmore and Robert Yee. It's then decided on which one would be best to pursue. Even after her pose was locked down and I had started the final drawing, we had some revisions. I found her legs were just not in the right position, so I stepped back and reworked the pose a bit more to flow better. I feel statues should have strong silhouettes, as the best historical ones always did. I hope that's something I can bring to the pieces I design.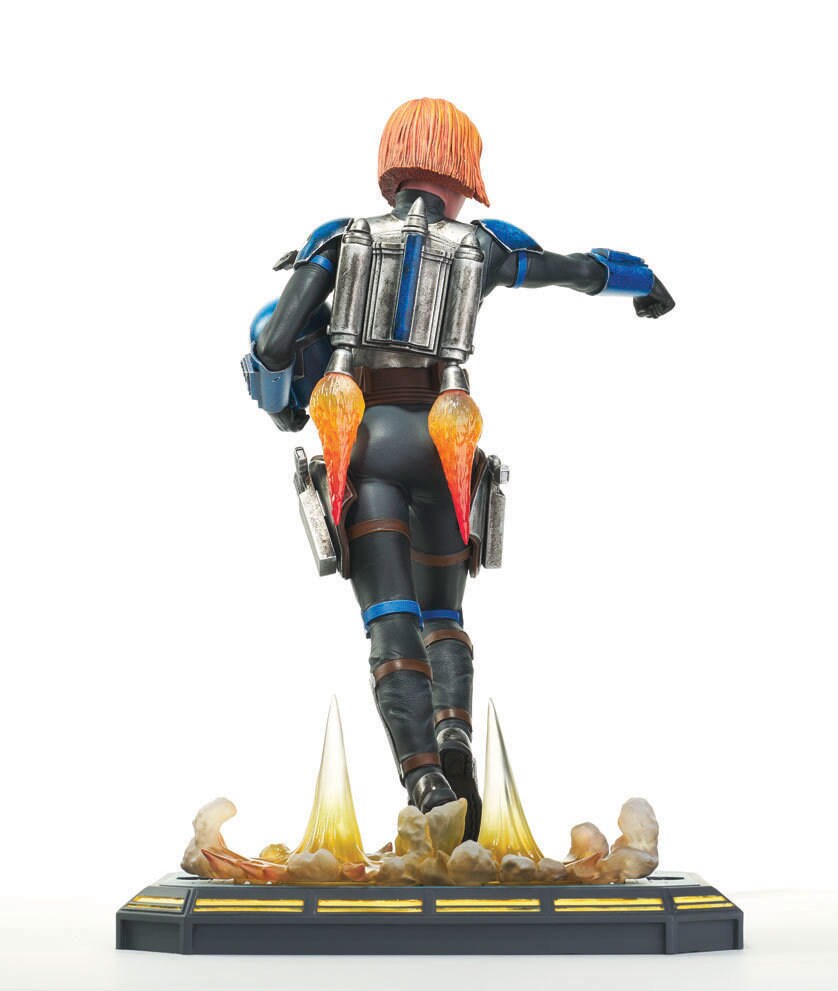 StarWars.com: Tell me about the concept for having the exhaust from her jetpack form part of the base, and pulling it off in a way that looks natural. It's really fun.
Barry Bradfield: I like designing statues that tell a bit of a story and have a sense of movement. Part of this mid-launch idea, instead of being in full flight, also came from the desire to have an unmasked head. It felt off to have her in full flight and not have her helmet on, so the story became that it was the moment just after she fired up the jetpack.
Just having the flames coming from the jetpack didn't feel like enough though, so I added the forced air kicking up dust on the ground to really drive home how much thrust power the jetpack had. I also thought that the cones coming up from the dust visually linked the cloud to the exhaust flames nicely without connecting the two with a smoke trail.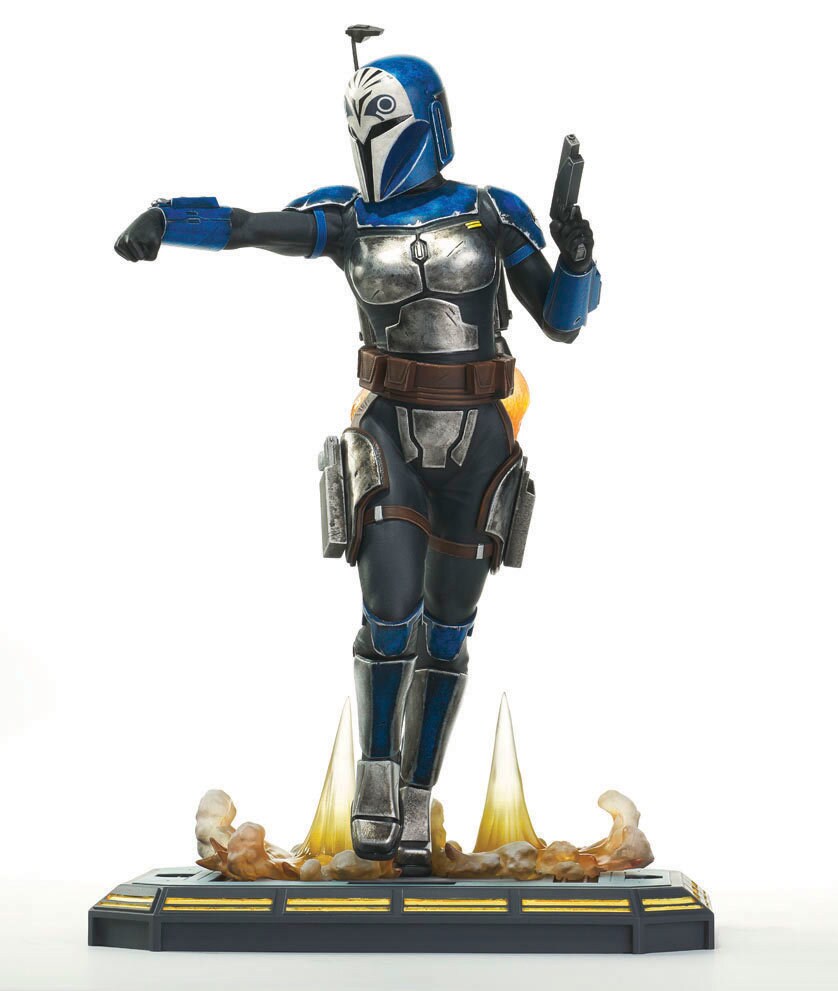 StarWars.com: I love the changeable parts and options for display, including with or without helmet and blaster. Is that something you stumbled upon in the design stage, or was the idea always to offer some level of customization?
Barry Bradfield: We will often look at the potential for alternate parts if it makes sense for the character. It happens the most with characters that have a helmet, which is typically removed. Sometimes that might happen just as an alternate head, but if the pose lends itself to integrating the removed helmet back into the statue then we will do that. For Bo-Katan, I felt having her hold the helmet worked since she was just launching into action. It might not have made sense if she was in full flight, but since she still had one foot grounded, she could have been holding her helmet prior to firing up her jetpack and taking aim. Moments after this pose she's going to be putting it on her head to continue the battle that's begun. Or if you'd like, you can have her starting out with her helmet already in place and her blaster at the ready.
I like when statues have a swap-out element because it lets you engage with it after you've set it on your shelf. You can change it up every so often and it brings a fresh look to the piece.
StarWars.com: What would you like fans of Bo-Katan to know about your statue?
Barry Bradfield: It was created with a great respect and love for the source material. I'm a huge Star Wars fan myself, and always want to do right by the characters. I know how much they mean to fans since they mean so much to me. I hope that Bo-Katan has a place in fans' collections for years to come and know that she'll be in mine, as well.
The Bo-Katan Premier Collection 1/7 Scale Statue arrives fall 2021 and is available for pre-order now.