See photos and hear the stories behind Star Wars collections big and small.
"Collector" is one of those labels that seems tricky to define, but that's only because we make it that way. Some think the word is only applicable to completists who purchase one of every item on the market. Others would argue and say that real collectors buy two of everything so they can leave one in the box to keep it in mint condition and one to display. Still others would say that it's necessary to hit an arbitrary number of items owned in order to be classified as a collector. It's much simpler though: if you collect items in any number or for any reason, you're a collector.
There are different levels of collecting, sure. On the high end of the spectrum, you've got Steve Sansweet and Rancho Obi-Wan and on the opposite end, you've got someone who maybe only has a collection of a few action figures. Countless fans fall in between, myself among them. My Star Wars collection is modest and features a mishmash of collectibles from LEGO minifigs to animated maquettes. I did feel like I committed to a different league when I expended the effort and money to track down with bounty hunter like efficiency every Star Tot given away at panels that were part of the Collecting Track at Celebration VI. The designs, the characters, the cuteness -- okay, especially the cuteness -- I felt like that was a collectible made just for me.
As a collector, I'm always curious about what inspires others to collect so I talked to some fellow fans to see how they got started in the hobby.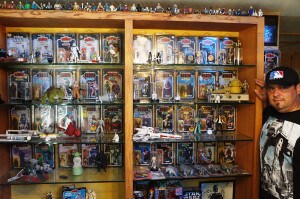 Shawn Marshall doesn't remember a time when he didn't have a collection. He had Star Wars action figures displayed on shelves when he was four and for him, collecting is a way to have a physical piece of the movies. He likes to collect everything, but has a particular affinity for retro items: "I'm most passionate about vintage items because I lost nearly all of my toys as a child when my father took off with most of our belongings. I find my list of "needs" gets longer with each new episode of the Star Wars Collectors Archives podcast (Chive Cast), as they introduce me to more and more "unloved items" that so many of us have forgotten even existed. Like so many toy collectors that were born in the '70s, I'm trying to reacquire my childhood one Kenner Star Wars figure at a time."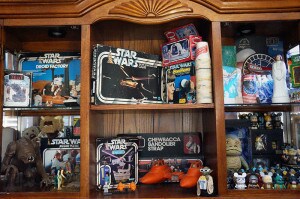 Part of the fun of any collection is organizing. You can organize by product line, or character, or even the elusive "favorite"category, since for many fans these are more than just objects. They're holocrons full of memories and feelings. Marshall has a couple that make his most beloved list. "There are two that vie for number one. First, one of the very few toys that survived my childhood losses is a Kenner carded Snaggletooth figure. I picked this guy up in '86 or '87 and although I was only 10 or 11, I was already into keeping toys mint on card. It's neurotic and odd, but it is always a reminder that I was born a collector and it has a lot of sentimentality because it is one of the few items I have from when I was a kid. Secondly, I think the Kenner Star Wars Death Star playset is about the coolest toy ever made and although I only reacquired one a few years ago, it is such a favorite of mine."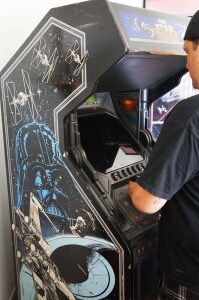 Since his collection encompasses a huge variety of items, displaying it and keeping it organized is a challenge. He relies on a spreadsheet and labeled containers to keep track of everything and uses off site storage to help with space. He estimates that he keeps about 10% of his collection on display -- much like an iceberg.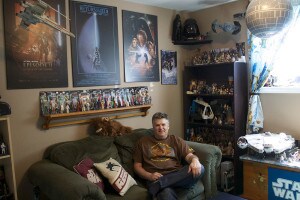 Sometimes collecting happens accidentally. What? It does! You've never just suddenly acquired a stash of 20 Star Wars Vinylmation figures? It can happen! For Mike MacDonald, he only intended to fill a small shelf with action figures from the 1995 Hasbro release for nostalgic purposes. But it grew from there. He likes the fun of placing a figure on the shelf and says there's a calming aspect to setting up the toys in displays.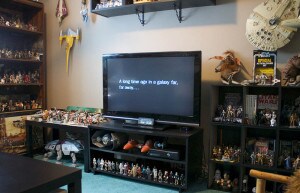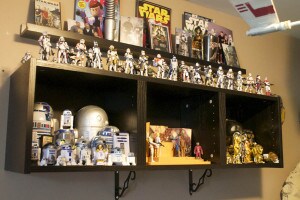 MacDonald thinks the first collectible he purchased was a digest size Marvel Comics adaptation in 1977, and his most recent acquisitions were picked up last month at a convention. He got a Funko POP! figure of R2-D2 and a B-wing fighter from Hasbro. He has about 90% of everything on display and only has to store six boxes. He likes making his displays themed rather than crowding shelves (I should really take that advice myself…I had a shelf collapse last month), and he does everything he can to keep the room dust free. I don't know if you know this, but dusting action figures is not the most engaging activity in the entire world. I think fans with kids should use it as a punishment, in fact.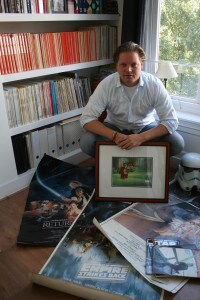 Collecting toys to replace ones lost from childhood seems to be a popular motivation, but AJ kept all of his. He remembers having to save his allowance for Kenner's Imperial Shuttle, and he still has it. He remembers that the first Star Wars toy he bought was a Return of the Jedi Luke Skywalker figure, and his passion continues to this day because at any given time he's walking around in one of his two pairs of Star Wars Vans. Of all the items he owns, he especially loves an original cell from the animated series Ewoks. That's e-e-e-e-endearing!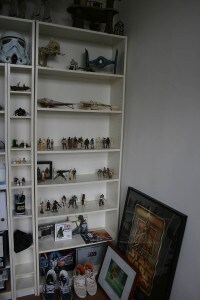 A common thread between all these collectors is that having toys and art related to the Star Wars saga is yet another way to express their fandom and connect to the franchise. I could go on, but if you'll excuse me, I have a box from Gentle Giant, Ltd. to open.
Amy Ratcliffe is a writer obsessed with all things Star Wars, Disney, and coffee. You can follow her on Twitter at @amy_geek and keep up with all things geeky at her blog.